Homes for Sale in Pasadena, CA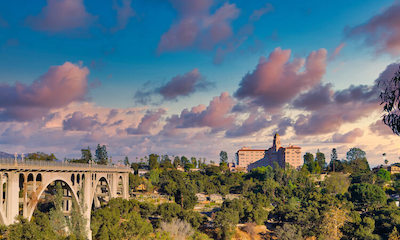 Search all homes for sale in Pasadena, CA. Pasadena is just over eleven miles northeast of Downtown Los Angeles but sometimes feels worlds apart. It is a clean, well-organized city with a small-town vibe partly because of its abundance of trees, landscaped yards, and well-preserved late 19th and early 20th century homes. While tempting to think of it as just a suburb, living in Pasadena is far from boring; the city boasts a rich and distinct mix of cultural, entertainment, and educational opportunities.
Don't forget to register for a free account so that you can receive email alerts whenever a new listing (that matches your criteria) gets listed in the Pasadena MLS.
Latest Pasadena Real Estate Listings
Pasadena Real Estate Market Statistics
March 25, 2023
$1,169,000
Med. List Price
Neighborhoods in Pasadena
Pasadena Real Estate
If you're looking to buy a home in a charming neighborhood with lots of foliage, you'll be impressed with your options in Pasadena.
First, trees are everywhere. So much so that sometimes it feels you're driving through rather than under them as you cruise along the city's bucolic streets. Mature trees - planted decades ago - provide plenty of shade to homes, backyards, and sidewalks.
Second, yards are beautifully landscaped. Flowers thrive in the Southern California sunshine. Bright orange bird-of-paradise plants and ruby red bougainvillea paint Pasadena's neighborhoods with brilliant colors everywhere you go. The fragrant smell of blooming gardenias permeates the air every spring.
Pasadena is big enough that, depending on where you shop for homes, prices vary quite a bit. Home values here start near the Los Angeles County average price but can quickly climb to the multi-million range, especially the Pasedena luxury homes in affluent neighborhoods like Oak Knoll.
Architecture
Home sizes and styles range from condos and charming California Bungalows to large estates. The history of the residential architectural styles in Pasadena follows a predictable timeline that closely matches the rest of Southern California.
Some beautiful and well-preserved homes date back to the late 1800s. During the Victorian Era, many of the larger houses in Pasadena were built in the Queen Anne style. From time to time, one will come on the market that generates a lot of buyer interest.
By the early 1900s, Pasadenans would buy a lot for $1,000 and then mail-order a small Bungalow or American Foursquare house to place on it. My how times have changed! During this period, Pasadena became that national center of the Craftsman genre. Other stick-built homes during this period followed the Colonial or Georgian Revival aesthetic. Neoclassical and Cottage homes were also erected.
During the Interwar Period (1918-1940), home designs followed several branches of the Revival Styles including Tudor/English Cottage, Spanish Colonial, Italian/Mediterranean Renaissance, and California Monterrey. If you drive around and keep your eyes peeled, you'll even find a few French and Regency Revival homes and an occasional Pueblo house.
The Postwar Period (1945 - 1968) brought economic growth and the ensuing suburbanization of L.A. County. Home construction was fueled in part by VA and FHA Loan programs. The rise of car ownership also made America mobile, increasing folks' willingness to travel to and from work each day. Mid Century Modern and affordable single-story California Ranch homes dominated the scene.
Notable Pasadena Neighborhoods
Pasadena is culturally and economically diverse, so home shoppers who think they might be priced out of the market might be surprised at what they find. What's more, different lifestyle preferences - like living within walking distance of restaurants and shops - are possible. Conversely, if you prefer living in relative solitude, there are areas well-suited for that, too.
Here are some of the core neighborhoods that comprise the city of Pasadena, by region:
Northwest
North Arroyo (Upper Arroyo) – upper portion of the Arroyo Seco that contains several small enclaves all of which lie north of the 134 Freeway
Arroyo Terrace – historic district with several homes designed by notable architects
Linda Vista / Brookside Park - neighborhoods that surround the Rose Bowl and contain mostly luxury homes
Northeast
Hastings Ranch (Upper and Lower) – a former ranch dating back to 1882 then subdivided in 1942 into luxury housing tracts
Kinneloa Mesa – an unincorporated area and hillside community below the Angeles National Forest
Central
Orange Heights – historic district, dog-friendly neighborhood with plenty of Craftsman homes
Bungalow Heaven – tight-knit community and historic district with landmark status, preserved houses in styles of Craftsman, Tudor, and Spanish (and, of course, Bungalow)
Downtown / Old Pasadena – bustling business district with mostly condos, near many cafes, shops, and restaurants
Southwest
South Arroyo (Lower Arroyo) – historic district in the lower portion of the Arroyo Seco
Annandale – quiet, shaded neighborhood with lots of hedges that line winding streets
Southeast
Madison Heights – historic neighborhood with houses dating back the late 19th century, annual 4th of July Parade and Picnic put on by the Madison Heights Neighborhood Association (MHNA)
Oak Knoll – prestigious homes and mansions along curving streets south of California Boulevard
South Lake / Caltech – premier shopping district and home to California Institute of Technology
Chapman Woods / Lamanda Park – former walnut grove and warehouse district
Pasadena REALTORS®
Questions about homes for sale in the Pasadena area? We're here to help answer them! If you're interested in buying a home and are ready to view a few of them, contact us today to schedule a private showing. We know the ins-and-outs of the market and our real estate agents can help you get the best deal possible. If you're selling a home in Pasadena, contact us today to get a customized home valuation report based on the most recent home sales data. We can walk you through the current Pasadena real estate market trends, outline the best marketing strategy for your property, list it on the MLS, advertise it on our site, and expertly negotiate the sale of your existing home. We specialize in creating the conditions necessary for the quickest home sale possible.