Homes for Sale in Twin Palms
Twin Palms was the brainchild of modern architect William Krisel who insisted that each homesite contain two trees in its landscaped gardens, hence the name Twin Palms. Fans of Mid-Century Modern architecture will find much to admire in this renowned neighborhood of Palm Springs.
For more information about local homes for sale or to schedule a private tour of any property, don't hesitate to contact us today. Be sure to register for a free account to get alerts when new homes come on the market. For additional local inventory, view all Palm Springs homes.
Twin Palms Listings
Twin Palms Stats
September 23, 2023
$1,678,000
Med. List Price
Open 9/24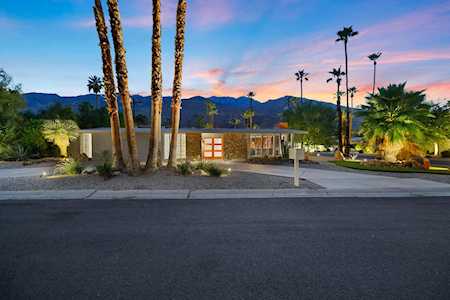 1911 Yucca Place
Palm Springs, CA 92264
Featured Communities in Palm Springs
Twin Palms Real Estate
Each house in Twin Palms was designed with a swimming pool and exterior fencing as standard, and all were built by the Alexander Construction Company, who created around 1200 homes in Palm Springs.
These upmarket homes were favored by celebrities including Frank Sinatra, M.A.S.H. producer Larry Gelbart, and science fiction author Ray Bradbury. Some of the homes not designed by Krisel are equally stylish, including the iconic Trapezoid House, designed by Hal Levitt, and named after the uniquely shaped windows and stonework of its front elevation.
Another notable Twin Palms home is the Trueblood residence, built for a theme park designer. Three interlinked, whitewashed modernist structures are conjoined around a long, elegant swimming pool. Donald Wexler's first designed home was built here in 1955, and 53 years later extensively remodeled in collaboration with the then-retired architect, updating his original blueprint.
There are also half a dozen homes designed by Cary Bigman, all of which feature trademark flying-saucer inspired circular features augmenting their cool minimalism.
Even the local fire station is architecturally elegant. Fire Station No. 4 is built in a 1970s southwestern Mesa-inspired modernist style and was designed by Hugh Kaptur and recently renovated.
At any given time, this beautiful enclave may have only one or two homes on the market. When they do crop up, competition can be fierce. Homeowners here live within a prime slice of American architectural history.
A convention center and small park provide event space in the neighborhood, and the Ruth Hardy and Desert Healthcare Wellness Parks offer green oases with facilities for basketball and sand volleyball, as well as picnic tables.
Palm Springs Realtors®
If you'd like to buy a home in Twin Palms, contact our Palm Springs real estate agents; we're the local experts and can answer all of your home buying and neighborhood questions.
Please contact us if you're considering selling your home in Twin Palms or in the Palm Springs area. Our listing agents can provide dates and prices of similar, recently sold properties and up-to-date Palm Springs real estate market information.