Los Angeles Victorian Homes for Sale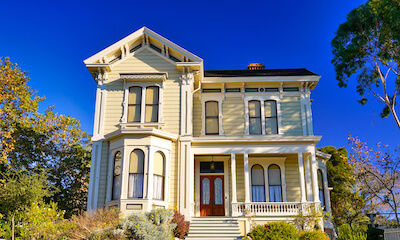 Search all Victorian homes for sale and real estate listings. Victorian homes are a popular architectural style for home shoppers to consider if they are looking to buy a piece of Los Angeles' history. Undoubtedly, you'll own and live in a home built by an influential and privileged citizen of the city's early days.
Find all Victorian houses for sale below (refreshed every 15 minutes from the largest MLS in Southern California) or scroll down to read more about the history of Victorian homes in Los Angeles. And, if you haven't already, be sure to register for a free account so that you can receive email alerts whenever new Los Angeles Victorian listings come on the market.
Victorian Home Listings
Los Angeles Victorian Home Stats
March 21, 2023
$1,774,000
Med. List Price
About Victorian Homes
The Victorian Era is marked by the reign of Queen Victoria (1837 to 1901), which coincides with a period of tremendous growth in Los Angeles when it transformed from a frontier town into a thriving metropolis.
Victorian homes in Los Angeles first came onto the scene on Bunker Hill in Downtown, which also happens to be the first district in the city. In 1867, the land on Bunker Hill was purchased and modest homes constructed. By the 1890s, Bunker Hill was populated with Queen Anne homes (mansions at the time), and it became the de facto neighborhood for L.A.'s elite.
Angelino Heights was the second district in Los Angeles (1886) and is considered its first 'suburb' even though it's only a few blocks from Downtown. Here, upper-middle-class and wealthy families built several Victorian homes (Eastlake and Queen Anne styles) alongside Art Deco, Craftsman, and Period Revival homes, to name a few.
With the introduction of streetcars, Angelinos became much more mobile. Looking for a home in an opulent neighborhood meant venturing only a few miles from Downtown to newer neighborhoods like Hancock Park. Angelino Heights eventually started losing its luster and status; it was no longer the only upper-class neighborhood in town.
Next came freeways, automotive culture, and suburbia so that by the 1950s, the appeal of living downtown was siphoned off. By the late 1960, all the Victorian homes on Bunker Hill were moved or razed.
A high concentration of Victorian-era homes still survive along Carroll Street in Angelino Heights. Architecture and history lovers can take a walking tour (from the Los Angeles Conservancy) among the well-preserved houses. To protect the architectural heritage and character of Angelino Heights, the City of Los Angeles placed its first Historic Preservation Overlay Zone (HPOZ) upon the neighborhood in 1983.
If you're looking to buy a Victorian home in Los Angeles, in addition to Angelino Heights, consider searching other some of the other original neighborhoods like Montecito Heights and Highland Park. Many were torn down, but a few remain, in part due to historic preservation efforts that began in the 1960s. Victorian homes can also be found in the nearby cities of Pasadena (Markham Place Historic District is a good place to hunt) and Burbank.
Victorian Home Search
When you click a listing, you'll get a detailed summary of property information, including photographs. The listing overview includes interior features like the number of bedrooms and bathrooms, major systems (heating/cooling), size (in square feet), and other important details such as:
Number of Days on Market (DOM)
HOA fees, when applicable
Year of construction
MLS Number
When available, information about the Victorian home's surrounding neighborhood will be included along with local schools and similar real estate listings.
If any appliances or fixtures come with the sale of the home, those will also be noted. If you see a property displayed, it is still for sale; this page shows all active Victorian home listings (the seller is still soliciting offers). To view active and pending listings (active, but currently under contract), use search the filters above to select all properties, then click the search button. The updated results will then display all Victorian-era houses for sale in, including those whose owners may be accepting backup offers.
L.A. Victorian Home REALTORS®
If you're buying a home, our full-service real estate agents are at-the-ready to assist you. If you're selling a home in the area, our listing agents will provide current market data, comparison properties (comps), and a highly-tailored marketing plan to make sure you get the best price for your home.