Los Angeles Swimming Pool Homes for Sale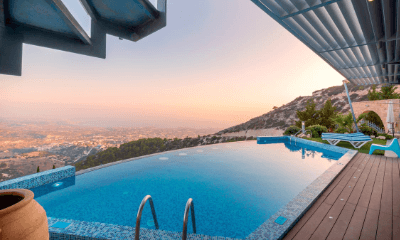 Are you thinking of buying a home in Los Angeles that has a pool? Nothing better expresses Southern California living like swimming and lounging around a backyard pool on hot, sunny day.
Here's the good news: there are many pool homes for sale here. They are in every neighborhood and at every price point; from mansions in Beverly Hills, luxury homes in the Hollywood Hills, to small Postwar tract homes in the San Fernando Valley. Search all homes with swimming pools in Los Angeles below. Be sure to register for a free account so that you can receive email alerts whenever new homes with pools come on the market.
Available Homes with Swimming Pools
Swimming Pool Home Stats
December 4, 2022
$1,900,000
Med. List Price
L.A. Pool Homes
Having a pool is a lot of fun. People love using them to exercise or to just cool off. A pool and a few trees in the backyard can create a sanctuary on a summer day. They're perfect for entertaining, too.
Home Value and Other Considerations
Buying a home with a pool in Los Angeles is cheaper than adding one later in part because depreciation (of the existing pool) and regulatory hurdles (which adds to the cost) of building a new one.
In-ground pools built of gunite (sprayed concrete) or vinyl carry the most resale value for homes sellers and provide the most savings (over constructing a new one) for home buyers. The exact amount of value that pool contributes to the home's overall price would be determined by a professional appraisal, which takes into consideration several factors - the size, condition, and current market - each of which contributes or detract from the final assessment.
A well-maintained in-ground pool (with water that is pH-balanced, regularly cleaned, and not exposed to harsh conditions) will last a long time. The materials also influence the unit's longevity. Depending on how well the previous owners have taken care of it, a pool will last approximately:
Fiberglass: 15 to 30 years
Cement or Plaster: 3 to 7 years
Vinyl: 8 to 12 years
Smaller components like pumps and filters will also require periodic replacement.
Above-ground pools are considered personal property, not fixtures; therefore they do not add to a home's market value.
Condo buildings with pools usually included a shared space around it that include lounge chairs and other amenities. High rises may put the pool on the rooftop which means a great view will be part of the appeal. A few buildings incorporate the pool as part of an indoor fitness center. The value of a pool is in the eye of the beholder and not reflected in the price of a unit in the building. However, there will be a component of the HOA fees dedicated to its upkeep by the condo association.
Routine pool maintenance won't require much time nor money. But a consistent approach (once a week) is wise to keep it in tip-top shape. Occasional fixes may pop up, as would be the case if the pool starts leaking. And the older it is, the more likely these small annoyances will arise.
L.A. Pool Home Search
When you click a listing, you'll get a detailed summary of the, including photographs. The listing overview includes interior features like the number of bedrooms and bathrooms, major systems (heating/cooling), size (in square feet), and other important details such as:
Number of Days on Market (DOM)
HOA fees, when applicable
Year of construction
MLS Number
You can also review exterior features as well as the architectural style of the home. If any appliances are included with the sale, those will also be noted. When available, general neighborhood information is displayed along with local schools and nearby amenities.
Los Angeles REALTORS®
If you're buying a home with a pool, our full-service Los Angeles real estate agents are at-the-ready to assist you. If you're selling a home with a pool in the L.A. County area, our listing agents will provide current market data, comparison properties (comps), and a highly-tailored marketing plan to make sure you get the best price for your home.