Los Angeles Ranch Homes for Sale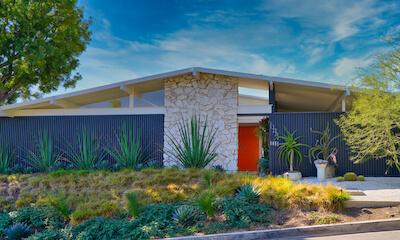 Find all Ranch-style homes for sale in Los Angeles. Ranch houses (a.k.a. Ranchers) are perfect for people who appreciate casual living spaces, simple design, and open floor plans.
The allure of their down-home vibe, infused with modernist ideas, makes them especially appealing to home buyers wanted a slice of Americana. Ranch architecture was born in Los Angeles in the early 20th century, grew in popularity, and become a staple of tract homes 50s and 60s. In fact, by the 1950s, ranch-style architecture was used for one in ten new houses built in California. Be sure to register for a free account so that you can receive email alerts whenever new Ranch homes in Los Angeles come on the market.
Available Ranch Homes
Los Angeles Ranch Home Stats
January 27, 2023
Ranch-Style Architecture
Father of Ranch architecture, Cliff May, developed the single-family, Postwar "dream home." In 1939, he bought land in Brentwood and created the Riviera Ranch tract, a horse-friendly subdivision in Sullivan Canyon. Some of the rustic California Ranch homes in the neighborhood were designed by May himself.
California Ranch homes built before 1964 are considered historic. They faded in popularity by the 1970s but rose again with increased consumer interest in the 1990s for three reasons. First, most of them sat in appealing, mature subdivisions with fully-grown trees. Second, they were smaller and a more affordable as starter homes for first-time buyers. Lastly, single-story dwellings became popular with retirees who found them easier to navigate.
Ranch Home Features
Common characteristics include:
Single story
Low pitched roof
Ground-hugging profile
Extended eaves
Post and beam ceilings
Built on concrete slab
Attached garage
Informal living spaces
Large windows
Sliding glass doors
Interior walls are not load-bearing
Large windows
Sub-Genres / Other Names
Sometimes people refer to Ranch architecture as:
American Ranch
Rambler
California Ranch
Rancher
Contemporary Ranch
Raised Ranch (two-stories)
Ranch Home Real Estate Search
Search all Ranch-style real estate listings above (updated every 15 minutes from the biggest MLS in SoCal). When you click a listing, you'll get a detailed summary of property information, including photographs. The listing overview includes interior features like the number of bedrooms and bathrooms, major systems (heating/cooling), and size (in square feet). If any appliances are included with the sale, they will also be listed. You will also see:
Number of Days on Market (DOM)
HOA fees, when applicable
Year of construction
MLS Number
When available, information about the Ranch home's surrounding neighborhood will be included along with local schools and similar real estate listings.
This page shows all active listings (the seller is still soliciting offers). To view active and pending listings (active, but currently under contract), adjust the search filters above. The updated results will then display all Ranch home inventory, including those whose owners may be accepting backup offers. If you're buying a Ranch home, our full-service real estate agents are at-the-ready to assist you.
If you're selling a Ranch home in the Los Angeles area, our listing agents will provide current market data, comparison properties (comps), and a highly-tailored marketing plan to make sure you get the best price.