Homes for Sale in Los Angeles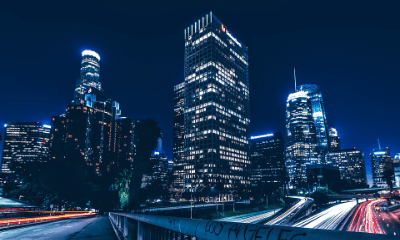 Search the latest houses for sale in Los Angeles, CA and real estate listings below. Get the most comprehensive Los Angeles real estate information pulled straight from the largest Multiple Listing Service (MLS) in California.
RubyHome displays more L.A. properties than national portals. What's more, the information displayed on our site is accurate and up-to-date; if a new home comes on the Los Angeles real estate market or a home price changes, you'll see it here first. And, if you haven't already, be sure to register for a free account so that you can receive email alerts whenever a new listing (that matches your criteria) gets listed in the MLS.
Jump to: Homes for Sale | Los Angeles Real Estate
Search Los Angeles Homes by Price
Los Angeles Real Estate Market Statistics
January 17, 2019
$1,200,000
Med. List Price
Popular Los Angeles Area Neighborhoods
Los Angeles Real Estate Information
Homes in the Los Angeles real estate market are expensive compared to other markets in the United States. The laid-back lifestyle, economic opportunities, and the awesome weather attracts people to the region (as it has for well over a century). The steady influx of new residents keeps a consistent upward pressure on home prices here. Sure, a handful of broader economic downturns create price dips along the way, but housing price bottoms here are shallower and shorter than other parts of the United States. The L.A. market rebounds faster, too.
Home construction in Los Angeles expanded after WWI at the same time the motion picture industry was getting into full swing. This growth spurt transformed the fruit orchards and fields of the L.A. Basin into neighborhoods with houses for sale for the newly-arrived. During the 1920s, movies stars, entertainment moguls, and wealthy industrialists bought large Revival homes in one of several new toney enclaves tucked into the Hollywood Hills.
The next rapid expansion came after World War II, partly because of VA loans (a benefit of the G.I. Bill) and the desire of returning servicemen and women to start families. During the postwar era, Los Angeles neighborhoods built in the nearby San Fernando and San Gabriel Valleys during the 1920s began filling in, forming a population growth pattern of outward, concentric circles starting in Downtown Los Angeles.
Given the build-out of suburbia in the 40s and 50s, most new construction homes in Los Angeles; today are found in older neighborhoods now undergoing renewal. New subdivisions or tracts in Los Angeles are a rare thing. More often, contractors and homebuyers will find and fixer-upper homes to keep or sell at a tidy profit after a thorough rehabilitation. While a remodeled home isn't technically new, a comprehensive retooling (such as new roofs, upgraded appliances, and HVAC systems) can make them good-as-new.
With less space available, the trend today is to 'build up' rather than 'build out.' This can be seen with the many new condominiums and lofts (converted commercial buildings) found in Downtown Los Angeles and Hollywood - districts that have been around a very long time.
Types of Properties for Sale
Single-family homes in Los Angeles are spread across the L.A. Basin and San Fernando Valleys. The housing stock in Downtown Los Angeles is primarily made up of condos and lofts.
The highest concentration of luxury homes is found in the neighborhoods near the foothills and on the slopes of the Santa Monica Mountains, the east-west spine that divides the L.A. Basin from the San Fernando Valley. You might recognize the names neighborhoods like Bel Air, Brentwood, and Hollywood Hills. Pockets of older neighborhoods within the city, like Hancock Park, also contain luxury homes and estates. Westside communities like Pacific Palisades and Venice have their fair share of magnificent multi-million dollar homes as well.
Condos, luxury condos (high-rise and low-rise), and lofts also readily available - with more coming online all the time to support housing demand.
Architectural Styles in Los Angeles
Finding a house for sale in Los Angeles with Mediterranean or Spanish aesthetics is easy, regardless of the neighborhood or market price. Residences with tiled roofs and stucco siding are standard everywhere.
The architectural style of homes in Los Angeles also include Contemporary, Mid-Century Modern, French, Ranch, Cape Cod, Traditional, English, and Tudor.
No doubt you will recognize the name Frank Lloyd Wright, one of many notable architects to design homes here. Lovers of great architecture will swoon over the Case Study Houses by Richard Neutra and Raphael Neutra (to name a few).
Classic California Bungalows and Craftsman homes may also be found in many of the city's historic enclaves. Older neighborhoods like Victor Heights and parts of Burbank have a healthy number of Victorian homes.
If you prefer searching for homes by style, be sure to visit our architectural style directory.
About Los Angeles
Los Angeles is best known for its film, television and music industries, collectively comprising the "Entertainment Capital of the World." But did you know the city is home to aerospace, fashion, apparel, manufacturing, and technology companies? Or that it is Southern California's financial and banking center? Or that it is the No. 1 city for international trade in the United States? So now you're probably asking: How big is this place?
Los Angeles contains four million residents that occupy 503 square miles of land that spans a sprawling basin, up mountain slopes, and across desert valley floors. It's also the most densely populated urban area in the United States with roughly 7,000 people per square mile. Some neighborhoods are packed; Koreatown has over 42,000 people per square mile. Yep, this city is huge.
No matter which neighborhood in which you chose to buy a house in Los Angeles, you'll be near a park, community center, and library. Read more about the best neighborhoods in Los Angeles.
SoCal Climate
Los Angeles has a Mediterranean climate, characterized by dry summers and a short winter rainy season. Year-round sunny skies and mild-to-warm temperatures are the norm here. Daytime temperatures can get hot in the summer, but ocean breezes routinely cool down the L.A. Basin at night.
February is the wettest month of the year, in which only 3.25 inches of rain falls on average. There is no lingering, day-long drizzle like you'd find in the Pacific Northwest. Rainstorms in L.A. tend to move quickly over the city, producing heavy precipitation lasting maybe a few hours before subsiding.
It's no surprise that a lot of people choose to live in Los Angeles for the sunny weather, swaying palm trees and beautiful beaches. Those reasons are as valid as any to buy a home in Los Angeles. It's a fun place to live, work, and play.
Parks & Recreation
The city is full of big parks and pocket parks, and there's a pretty good chance you will wind up living near a trailhead or jogging path, of which there are many. Angelinos keep fit and busy, taking advantage of the many swimming pools, athletic fields, playgrounds, skate parks, fitness areas, senior centers, youth camps, tennis courts, dog parks, sports leagues, and classes.
The City of Los Angeles Department of Parks and Recreation operates 16,000 acres of parkland, 444 park sites, and 13 golf courses. Even larger, the Los Angeles County Department of Parks and Recreation manages 63,000 acres of land including 180 parks, lakes, trails, parks, and 20 municipal golf courses.
Libraries
The massive Los Angeles Public Library (LAPL) system operates 72 neighborhood branches, providing the city's residents with access to 6 million volumes. It's the largest public library system in the United States. The Los Angeles Central Library is a beautiful Downtown Los Angeles landmark.
Shopping
Given the area's massive population and relative prosperity, residents of Los Angeles enjoy world-class shopping. Sure, all the big chain stores are here. But if you're looking for one-of-a-kind items, you'll be thrilled to shop among the many small boutiques operated by independent designers. Check out Downtown Los Angeles, Sunset Plaza, Melrose Avenue, and Robertson Boulevard. Nearby Rodeo Drive in Beverly Hills (part of the Golden Triangle) is perhaps the best-known place to shop, especially for a high-end retail experience.
If large shopping malls sound more appealing to you, you'll love The Grove, Beverly Center, and Westfield Century City. Big malls can be found in nearby Glendale and Burbank.
Food Scene
Did you know that Los Angeles is the birthplace of the Cobb salad and French dip sandwich?
Angelinos enjoy a wide array of dining choices, from restaurants owned by celebrity chefs to iconic institutions like Musso & Frank Grill and Pacific Dining Car. The longest surviving restaurants in town tend to be steakhouses and delis. I'm sure there's cultural anthropologist somewhere who could explain why. If not, it sounds like a good topic to research.
Some of the best food in Los Angeles is found in small neighborhoods at 'mom and pops' restaurants and from the counters of food trucks. If you dig into the nooks and crannies of L.A.'s neighborhoods, you'll find culinary innovation and comfort food alike. Intrepid foodies willing to do their research will find the best tamales, pad Thai and Korean barbeque.
Coffee lovers can score excellent third-wave espresso at the myriad of independent coffee shops and cafes around town. You can bring your laptop with you and bang out a new script or the next great American novel.
Angelinos tend to be health conscious, which helps explain the popularity of farmers markets with their organic, fresh, locally-sourced produce. There are dozens of convenient neighborhood farmers markets to check out on the weekends and a few that operate mid-week, too. The Original Farmers Market, which adjoins The Grove shopping center, started in 1934 when a dozen farmers and other merchants began selling produce from the back of trucks.
Museums
Intellectual curiosity and the pursuit of cultural enrichment are both easily satisfied in Los Angeles. Popular museums include LACMA, The Broad, Hammer Museum, Peterson Automotive Museum, and The Getty. NASA's retired orbiter Space Shuttle Endeavor is on permanent display at the California Science Center; it's always an impressive sight for kids and adults alike.
Cinema
Movie-goers have a choice of taking in the latest films at one of many classic theatres around town like the Vista Theatre in Los Feliz or the Chinese Theatre on Hollywood Boulevard. Arclight Cinemas offer a modern cinematic experience, and you can even reserve your seat online. If you love independent film and documentaries, Laemmle Theatres (a small chain with seven locations) should serve as an invaluable resource.
Music
The gorgeous Disney Concert Hall, in the heart of Downtown Los Angeles, is home to the Los Angeles Philharmonic (L.A. Phil). The Frank Gehry-designed hall is known for its excellent acoustics and stunning architecture.
The combination of live entertainment and fantastic weather is perfectly expressed by the beloved triumvirate of amphitheaters nestled in the Hollywood Hills: Ford Theater, Greek Theatre, and Hollywood Bowl (home to L.A. Phil during the summer).
The music scene in L.A. is perpetually alive and kicking. You can check out excellent shows at one of the several iconic clubs on the Sunset Strip, intimate venues in hipster neighborhoods like Silver Lake and Echo Park, or the much larger Staples Center when your favorite artist comes to town.
Plays
Live theater is alive and well in Los Angeles, too. There are several small, independent playhouses as well as large, classic venues like the Hollywood Pantages Theatre.
Los Angeles Schools
The Los Angeles Unified School District (LAUSD) is the second largest public school system in the nation, serving 640,000 K-12 students in 900 schools and 187 public charter schools. The best way to find a school by name or zip code, as a part of your house hunting process, is to use the school district's search tool.
There are 259 private schools in Los Angeles (1,171 in the county) including Montessori, faith-based, alternative, and special needs schools.
Los Angeles REALTORS®
Planning on buying or selling a home in L.A.? RubyHome's Los Angeles real estate agents would love to help you negotiate the quickest sale possible. Our REALTORS® are neighborhood experts who can provide the most recent data for comparable home prices, sales history for any property, and information about the broader real estate market in Los Angeles. We're here to provide all the information you need to ensure that you make the best financial (and personal) decision possible.