Homes for Sale in Whitley Heights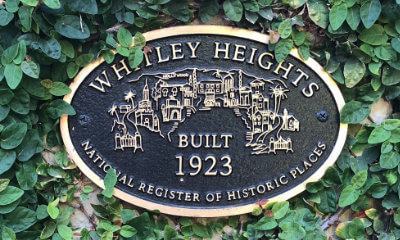 Search all Whitley Heights Historic District homes for sale and real estate listings. Whitley Heights is a residential neighborhood in the Hollywood Hills West area of Los Angeles with deep roots to the history of the motion picture industry. The earliest of Hollywood's elite made their homes here. In fact, the enclave is listed in the National Register of Historic Places and carries the designation of a Historic Preservation Overlay Zone (HPOZ) bestowed by the City of Los Angeles.
Whitley Heights is a hidden gem worth exploring. Be sure to register for a free account so that you can receive email alerts whenever new Whitley Heights properties come on the market.
Jump to: Whitley Heights Homes | Whitley Heights Info
Whitley Heights Real Estate Statistics
December 6, 2019
Neighborhoods in Hollywood Hills
Whitley Heights Neighborhood
Home prices in the Whitley Heights Historic District are pricier when compared to the L.A. County average. The housing stock in the neighborhood consists of single-family residences and luxury homes.
Hobart Johnstone Whitley bought the land between 1901 and 1903 and later commissioned Architect Arthur Barnes to visit Italy and research Mediterranean design and landscaping. Upon Mr. Barnes' return to Los Angeles, he designed many of the houses in Whitley Heights that were built between 1918 and 1928. The architectural style of the earliest homes was Mediterranean.
While the neighborhood is full of Mediterranean Revival homes, other architectural styles appeared in the enclave over the ensuing decades such as Spanish Colonial Revival, Modern, Traditional, and Contemporary.
Home Search
Click a listing above to get a detailed description and property photographs. The listing overview includes interior features like the number of bedrooms and bathrooms, major systems (heating/cooling), size (in square feet) and other important details such as:
Number of days the property has been on the market
HOA fees
Year the house was built
MLS Number
You can also review exterior and interior home features as well as the architectural style of the home. If any major appliances are included with the sale, those will also be noted.
When available, Whitley Heights area information will be included along with local schools and similar homes for sale in the 90068 zip code area. Additional information about the historic district may be found on the Whitley Heights Homeowners Association website.