Vacation Rental Statistics (2023)
Posted by Tony Mariotti on Monday, August 21, 2023 at 9:29:07 AM
By Tony Mariotti / August 21, 2023
Comment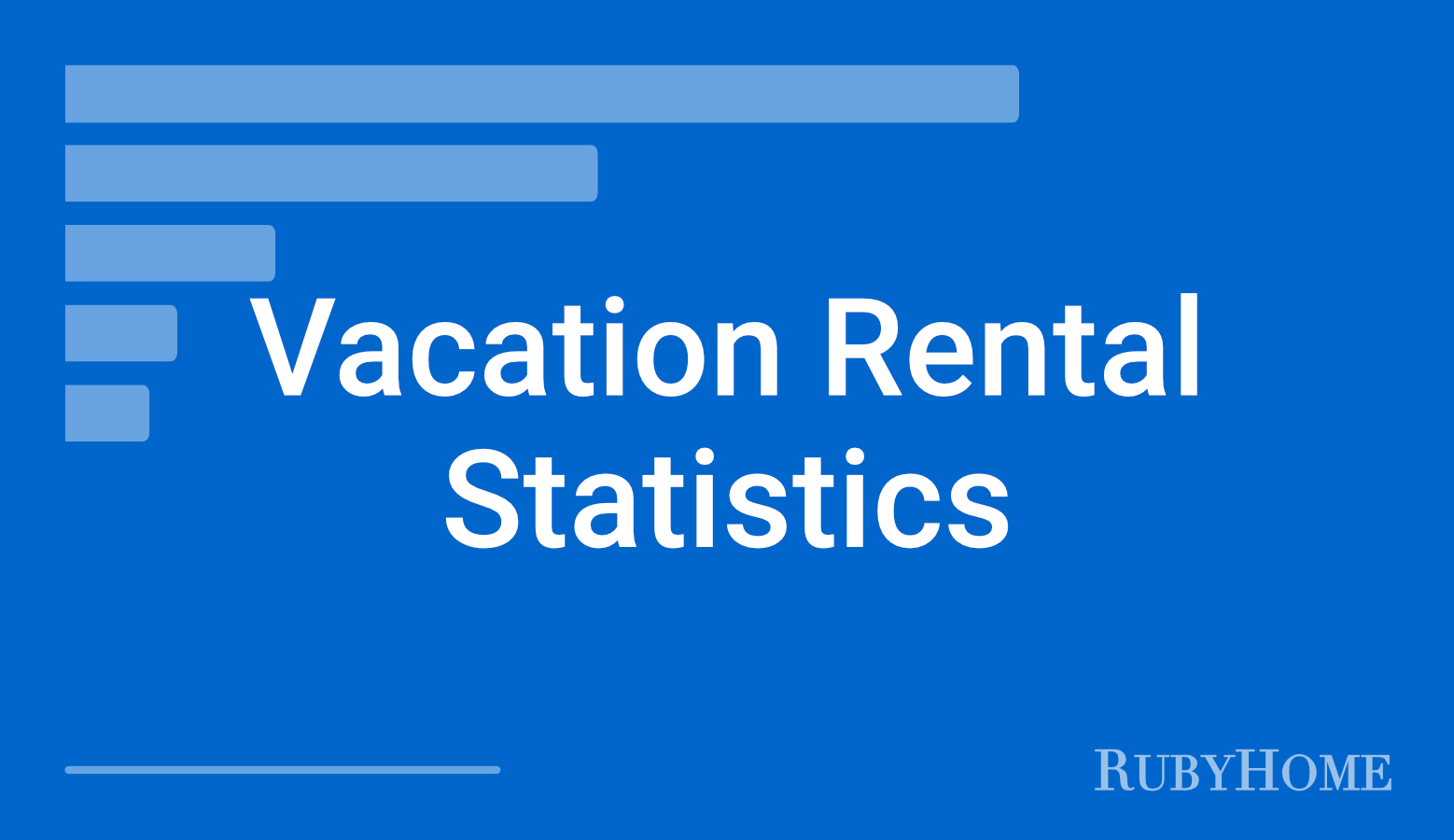 Vacation rentals are like a home away from home, giving travelers a taste of living like a local while away. In this article, we'll take a closer look at the vacation rental industry in the United States, part of our real estate stats series. We'll dive into market size, the major companies, what travelers like, and how much rentals cost.
Key Vacation Rental Stats
The estimated U.S. vacation rental market size was $15 billion in 2021.

There are an estimated 1.3 million vacation rentals in the U.S.
Airbnb (7 million) and Booking.com (6.6 million) boast the largest numbers of vacation rental listings.
60 million people stayed in a vacation rental in the U.S. in 2022.
The average daily rate for a short-term rental in the U.S. was $259 in 2021.
How Big Is the Vacation Rental Market in The U.S.?
Grand View Research estimates the U.S. vacation rental market was $15 billion in 2021.
Over the next several years, the U.S. vacation rental market is expected to grow at a rate of 3.9% per year.
The U.S. currently accounts for around 20% of the global vacation rental market.
Europe has the largest share of the global vacation rental market, capturing nearly 35%.
According to AirDNA, there are an estimated 1.3 million vacation rentals in the U.S.
During the COVID-19 pandemic, the U.S. travel industry experienced a staggering $500 billion loss on travel spending starting in 2020. However, as of 2023, the vacation rental market has returned to normal, pre-pandemic levels.
What Are the Largest Vacation Rental Companies?
The vacation rental industry is divided between and online listing platforms and vacation rental management companies.
Largest Vacation Rental Listing Platforms
Vacation rental sites attract millions of visitors every day and act as the primary way that guests find where they want to stay. Here's a breakdown of the largest online vacation listing platforms by number of vacation rental listings: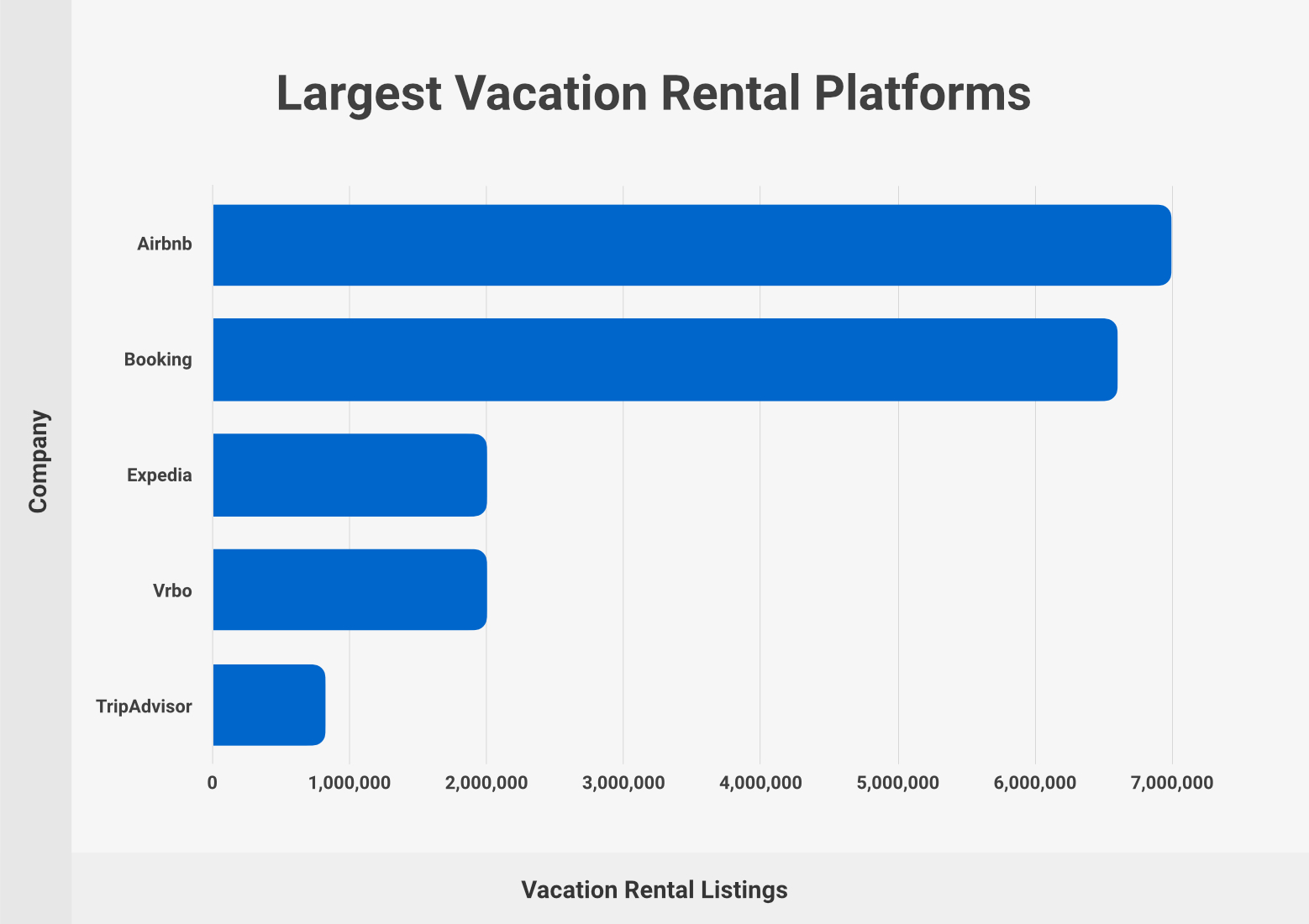 Airbnb offers over 7 million listings to guests in over 100,000 cities around the world.
Booking.com offers 28.2 million listings, 6.6 million of which are homes or apartments for short-term rentals.
Expedia is an online travel agency offering an array of services like flight booking, car rentals, and more. They offer around 3 million vacation rental listings, 2 million of which are alternative accommodations, and nearly 900,000 hotels.
Vrbo offers over 2 million listings. It recently merged with HomeAway and is part of the Expedia Group.
TripAdvisor is travel website broadly covering information about hotels, restaurants, and local things to do while on vacation. It offers nearly 1 million short-term rental listings.
Largest Vacation Rental Management Companies
Vacation rental management companies handle the logistics for owners to rent their properties. From cleaning, property management, contact with guests, handling check-ins and check-outs, keeping things stocked, marketing, and sales, these companies manage all of the day-to-day tasks associated with running a vacation rental.
The following table shows some of the largest vacation rental management companies in the U.S. and the approximate number of properties they have under management in 2023:
| Company | Properties Managed |
| --- | --- |
| Vacasa | 35,000 |
| Evolve | 19,000 |
| VTrips | 7,000 |
| Casago | 4,000 |
| Brett/Robinson | 1,700 |
| Meyer Vacation Rentals | 1,000 |
Estimates put the number of vacation rental management companies in the U.S. at 25,000.
90% of U.S. vacation rental companies are considered small or medium-sized businesses.
How Many People Stay in Vacation Rentals?
The following stats give insight into the number of people who stay in vacation rentals in around the world:
60 million people stayed in a vacation rental in the U.S. in 2022.
In the same year, there were a total of 138 million nights booked in vacation rental listings in the U.S.
Approximately 700 million travelers used vacation rentals around the world in 2022.
394 million nights and experiences were booked on Airbnb globally in 2022.
On average, people stay in an Airbnb booking for 4 nights.
Average Vacation Rental Prices
Vacation rental prices vary based on the location, property size, amenities, time of year, and local demand. In this section, we'll give you a rough idea by looking at what vacation rentals cost based on region and size.
Vacation Rental Prices By Region
Vacation rentals are the most expensive in North America, averaging $208 per night in 2021. This was a little over 50% of the global average which was $137 per night. Here's a breakdown of average daily prices by region: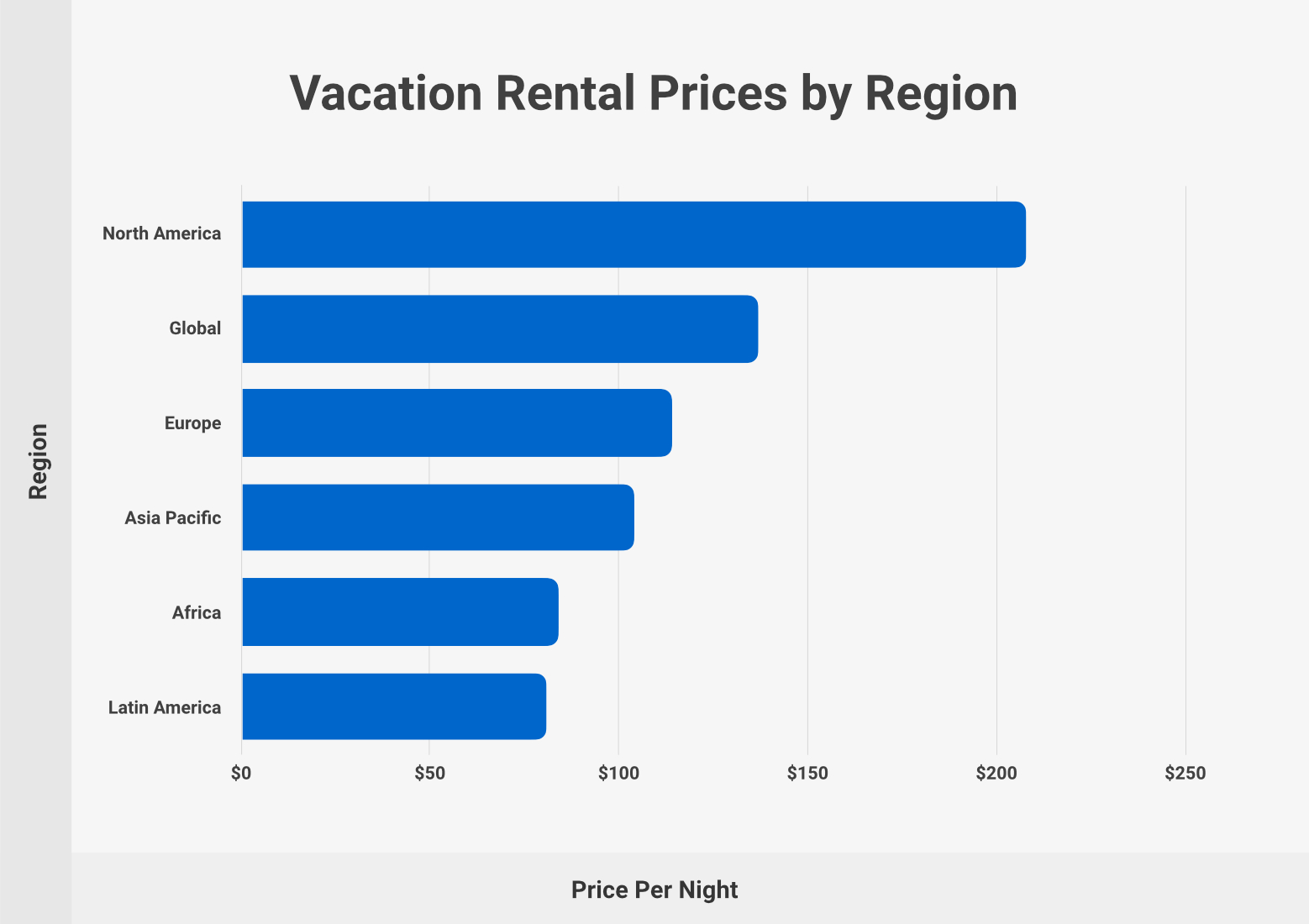 Rates are considerably higher in large metro areas like Los Angeles and San Francisco.
According to AirDNA, the average daily rate for a short-term rental in the U.S. was $259 in 2021.
AirDNA forecasted that the average daily rate would increase to $278 by 2023.
Vacation Rental Prices by Room Count
Typically, the larger a vacation rental is, the more expensive it is. Here's a breakdown of average costs per night by the number of rooms: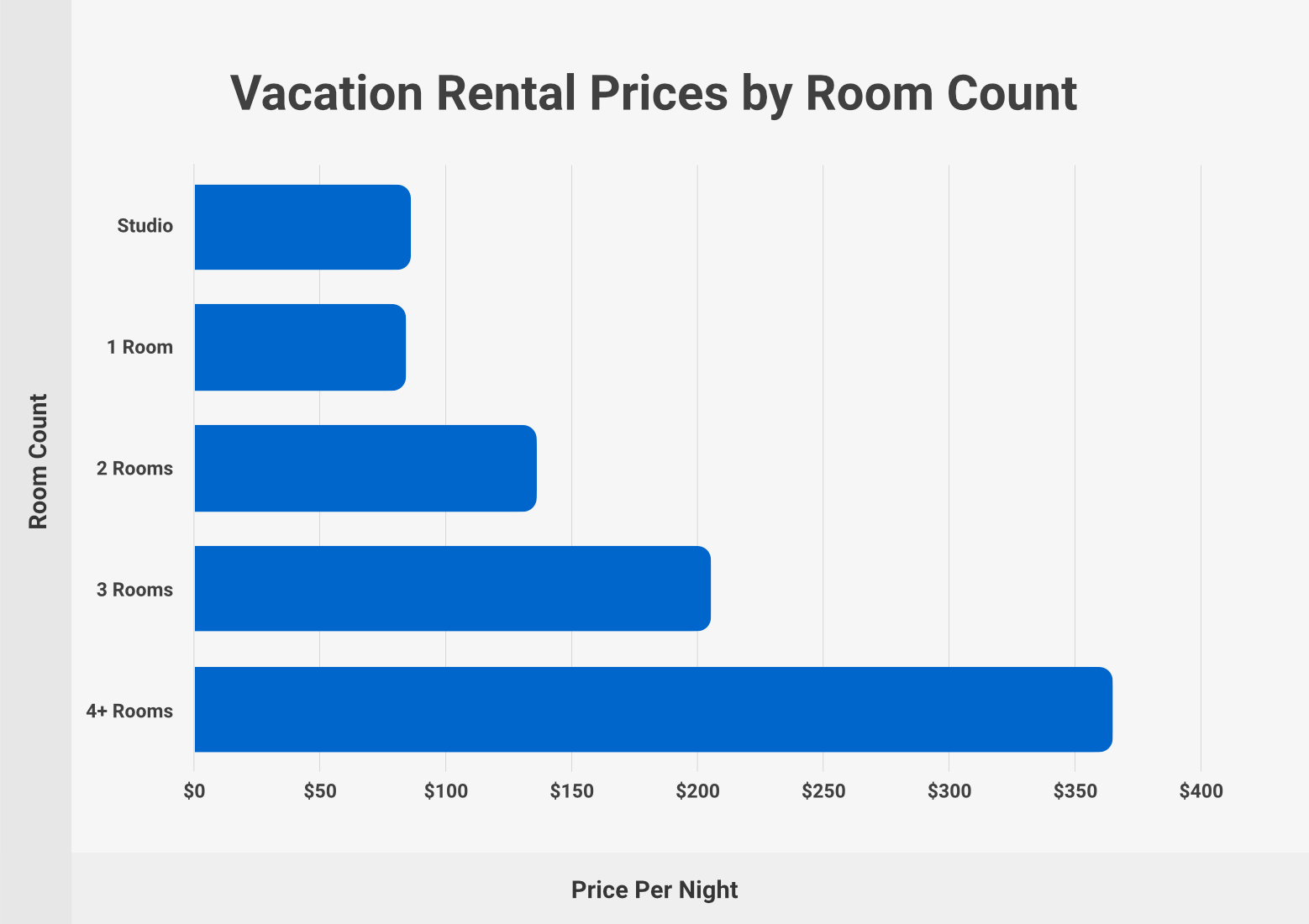 Pros & Cons of Staying in a Vacation Rental
Staying in a vacation rental has its own set of advantages and disadvantages compared to traditional accommodations like hotels. The suitability of a vacation rental depends on individual preferences and needs.
Pros of Staying in A Vacation Rental
Space and Privacy: Vacation rentals generally offer more space than hotel rooms, often including separate living and sleeping areas. This can be particularly beneficial for families, groups, or couples seeking privacy.
Home-like Amenities: Vacation rentals come equipped with amenities such as a kitchen, laundry facilities, and sometimes even a backyard or patio. These amenities can enhance comfort and convenience, especially for longer stays.
Local Experience: Staying in a vacation rental allows you to immerse yourself in the local community and experience the destination like a local. You can shop at local markets, cook your own meals, and engage with neighbors, giving you a more authentic experience.
Cost-Effectiveness for Groups: For larger groups or families, vacation rentals can be more cost-effective than booking multiple hotel rooms. Splitting the cost of a rental property can lead to significant savings.
Flexibility: Vacation rentals often offer more flexibility in terms of check-in and check-out times, and they can accommodate special requests more easily.
Cons of Staying in A Vacation Rental
Limited Services: Unlike hotels, vacation rentals don't provide services like daily housekeeping, room service, or concierge assistance. This means you'll need to take care of cleaning and maintenance yourself.
Varied Quality: The quality of vacation rentals can vary widely, as they are individually owned and managed. Reviews and ratings can help, but there's still a degree of uncertainty about the actual condition of the property one rents.
Hidden Costs: While the initial rental cost might seem reasonable, additional fees such as cleaning fees, booking fees, and security deposits can add up and make the total cost higher than expected.
Less Consistency: Hotel chains typically maintain a certain level of consistency in terms of amenities, services, and cleanliness. With vacation rentals, experiences differ from one property to another.
Isolation: Depending on the location of the vacation rental, you might feel more isolated from the tourist scene or attractions, unlike staying in a hotel that it centrally located.
Limited Amenities: While many vacation rentals offer amenities like kitchens, some may lack certain hotel amenities such as on-site restaurants, pools, gyms, or spa facilities.
Conclusion
With roughly 60 million Americans staying in vacation rentals in 2022, these accommodations are increasingly popular and allow travelers to 'live like a local' wherever they go.
With a whopping $15 billion market value in 2021 and over 1.3 million rentals available, consumers have many options from which to choose.
This style of travel weaves together comfort, uniqueness, and a touch of complexity, making it a top choice for today's adventurers.
Sources