VA Loan Programs: Pros & Cons
Posted by Tony Mariotti on Wednesday, June 28, 2017 at 12:00 PM
By Tony Mariotti / June 28, 2017
Comment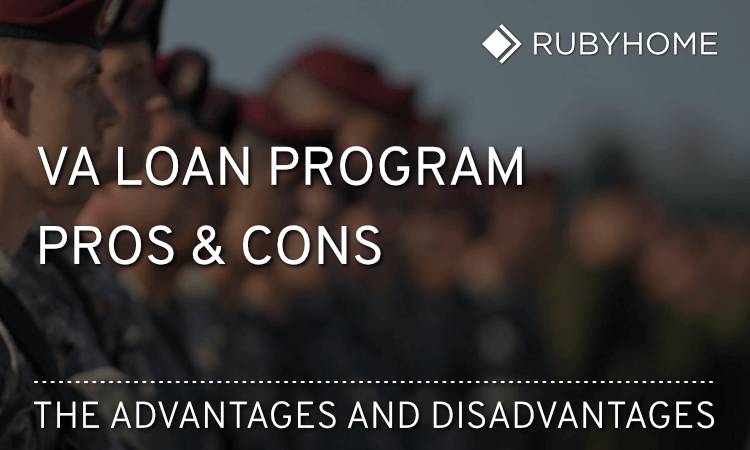 VA home loans are guaranteed (but not made) by the US Department of Veteran's Affairs (VA). The actual loans are underwritten and funded by private institutions (mortgage companies, credit unions and other lenders). The VA's guarantee to private institutions is a form of insurance against losses should borrowers default on their loans. The net result of the guarantee is that private lenders – knowing that the VA has their back – can extend more loans to more people with better terms. VA loans are usually the best deal in town. When weighing VA loan pros and cons, more often than not a VA program will be your best option.
VA Home Loan Advantages
No Down Payment Option
With a FHA or conventional loan, a range of 3% to 20% down payment is the norm. VA loans are available with 0% down payment ("zero down"). As you might imagine, the vast majority of borrowers take this route. However, some borrowers with more aggressive timelines to own a home free and clear will opt to put as much money down as they can afford.
Lenders may require a down payment it if the purchase price exceeds the value of the property as determined by a VA appraisal.
Higher Debt-to-Income (DTI) Ratios are Allowed
Debt to Income (DTI) ratios are used by lenders to safeguard borrowers from buying homes they cannot afford. DTI is a percentage calculated by comparing a borrower's gross (pre-tax) income to the amount of the borrower's proposed monthly loan payments plus any other monthly debt payments.
VA loans allow for a very favorable Debt to income benchmark of of 41% as compared to a conventional loan program with might be as low as 36%. Example:
Joe makes $5,000 per month.
His car payment and other debt payments add up to $500 per month.
His proposed mortgage payment is $1,500 per month.
Total monthly debt payments (car + mortgage) are $2,000.
Divide $2,000 by $5,000 and you get a DTI of 40%. That's less than 41% so it's all good.
Loan Origination Fee Limited to 1%
The maximum fee a lender can charge to originate a VA loan is 1% of the total loan amount. So there's an origination fee and whatever reasonable and customary amounts for things like appraisals, pulling credit reports, processing fees or interest rate lock-in fees.
Competitive Terms
VA loans have competitive terms like lower interest rates, lower monthly payment amounts and lower closing costs.
However, there are a few conditions one must meet in order to get the most favorable terms. Borrowers must have satisfactory credit, sufficient income and live in the property.
No Private Mortgage Insurance (PMI) Required
PMI is an insurance policy that is required when borrowers put less than 20% down on a home loan, say when folks get take out a conventional mortgage or FHA loan. PMI covers a lender's loss should the borrower not be able to pay back the mortgage. PMI is paid for by borrowers as a monthly premium, part of their monthly mortgage payment.
In the case of VA loans, borrowers are not required to carry PMI. Essentially, the VA guarantee replaces PMI. Uncle Sam's got your back.
Limited Closing Costs
VA closing costs are limited to 1% of the loan amount compared to 3% or more when borrowers take out a conventional mortgage. This typically represents a potential cost savings in the thousands of dollars. In some cases, you may be able to negotiate with the seller of the home you want to buy and get them to pay your closing costs.
No Prepayment Penalties
You can pay off the loan early without a fee leveled against you.
Assumable Loans
Like FHA, government backed loans, VA loans are also assumable. Assumable means your loan may be transferred – or assumed -- by another borrower when you sell your home. They take over the monthly payments and legal responsibility. To make this work, the new borrower must also qualify for a VA loan, both meeting service eligibility and standard underwriting guidelines (capacity, credit and collateral).
Assumptive mortgages can act as an extra incentive for buyers when you sell your home. Assuming your mortgage may represent a better deal than putting bides on other homes for sale in your market. For example, your VA mortgage may carry a better interest rate that current rates available. Lenders might not require a new appraisal on an assumption, another potential cost-saving benefit.
The fact that veteran homeowners often live in clustered communities (near bases, etc.) makes assumability a real potential perk for holders of VA mortgages.
Reusable VA Benefits
Did you know VA entitlements can be used more than once? If you've used the home loan entitlement in the past, it can be restored and put to good use again on another purchase.
Previous home purchased with VA entitlement has been sold and loan has been paid in full
Previous VA loan has been assumed by another qualified veteran who swaps in their entitlement
Previous home purchased with a VA loan has been paid off but is still owned by the veteran (as would be the case when veterans rent a previous home and buy a new one with their VA benefit)
VA Home Loan Disadvantages
VA Funding Fee
VA home loans require a funding fee that is paid by the veteran. The fee is 2.15% of the loan amount if it is the first time the borrower has used the VA benefit. The fee is 3.3% if you've used your VA benefit in the past.
One could argue that it's lame that the VA funding fee exists in the first place. However, including the funding fee as a "disadvantage" isn't a little misplaced. The fact that VA loans can be 100% financed means the funding fee is a small bump in the road along an otherwise completely smooth and friendly highway.
By the way, a veteran receiving VA disability compensation is exempt from the fee.
The fee may change from time to time based on VA guidelines. The funding fee structure is determined by a combination of several factors:
A percentage of the loan amount
Type of loan
Borrower's military category
Whether the borrower has used a VA home loan in the past
Size of down payment if any
The fee may be funded from the loan (rolled into total loan amount) or paid in cash by the borrower at closing. Here's a look at funding fees.
VA Funding Fee Tables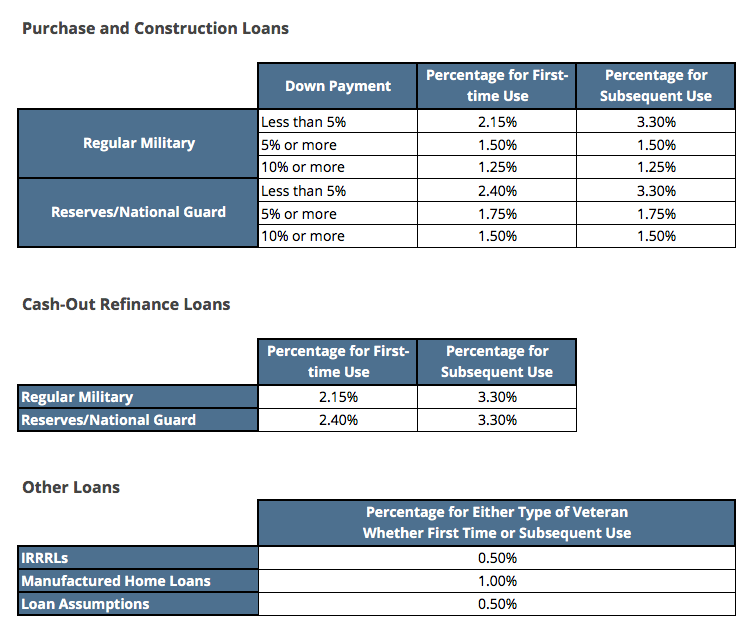 Only for Primary Residence (Owner Occupied)
VA loans cannot be used for an income property. That means borrowers can only use VA loans where the borrower will occupy (in the case of a purchase loan) or previously occupied (in the case of a refinance) the property.
VA Loan Limits
You can't buy a posh Hollywood mansion with a VA loan. While the VA doesn't set loan limits, they do limit the guarantee they make to private lenders to 25% of the loan amount. This does produce a side effect of tapping the brakes on getting a multi million-dollar home.
Seller Perception
Real estate agents and the sellers they represent can sometimes look unfavorably at offers from VA borrowers. At one time, there was some truth to the belief that VA loans took longer to close or that VA appraisals were stingy. Today, those beliefs are largely misplaced. Automated underwriting has largely removed barriers and accelerated underwriting lead times. Just like any business process, standardized inputs and computer modeling leads to smoother, faster operations.
TIP: As a buyer, it's a good idea to be proactive at dispelling this myth with your real estate agent and with any seller with whom you come into contact.
Summary: When to consider VA versus Conventional
In the vast majority of cases, veterans get the best deal buy taking advantage of their VA benefit. Later in life, if you've owned a home for several years and have built up equity, there may be instances when other loan products are better than VA programs. First, for folks that are 62 years or older, VA doesn't offer their version of a reverse mortgage. Your loan officer can always run different scenarios to find the best deal given your unique circumstances.