VA Approved Condos: Here's What You Need to Know
Posted by Tony Mariotti on Wednesday, April 20, 2016 at 11:17 AM
By Tony Mariotti / April 20, 2016
Comment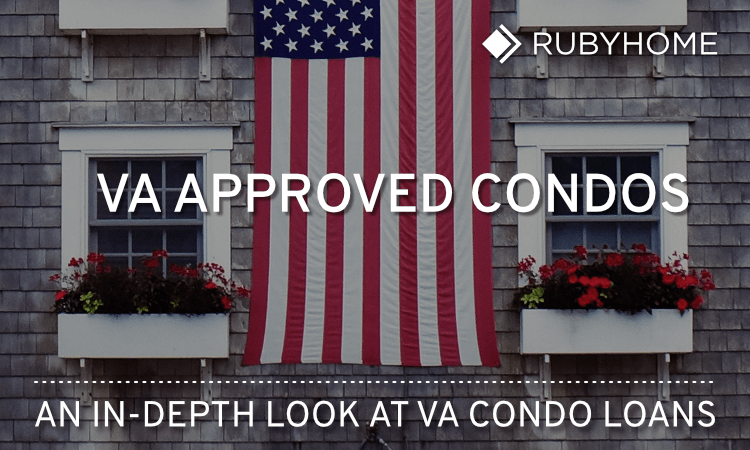 What Are VA Approved Condos?
VA approved condos include any townhouse or condominium unit within a VA-approved project. The word project refers to all the individually-owned condominium units plus the common areas combined. The VA puts a stamp of approval on the entire condominium project, not just individual units.
Condo boards or homeowners associations (HOAs) apply to the VA to have their condominium projects approved. With approval, all the units within it are VA-eligible properties. Meaning, borrowers can purchase any one of them with a VA-guaranteed loan.
Where Do I Find VA Approved Condos?
There are three recommended tactics to find VA approved condos.
You can conduct a VA condo search on the Department's website. It happens to be a very clunky user interface. If you're of a certain age, you'll recognize the look of the search form as something from the late 90s.
Real estate agents can search their local Multiple Listing Service (MLS) and create a list of local VA-eligible condominiums very quickly. Each property listing in a MLS includes what kind of loan (VA, FHA, USDA, etc.) can be used to purchase it. Most home buyers work with a real estate agent anyway, so starting your home search through an agent can be really efficient.
The third way is a bit of hack. You can conduct a search on the Department of Housing and Urban Development (HUD)'s website. Most HUD-approved condos are also VA-eligible properties. HUD's condo search tool just happens to be a little is easier to use. The overlap between HUD approved condos and VA approved condos is very high. It's worth checking out.
How Do I Qualify for a VA Condo Loan?
In 1944, Congress passed -- and President Roosevelt signed into law -- the Servicemen's Readjustment Act. More commonly known as the G.I. Bill, this legislation has been responsible for improving the lives of veterans for decades. One of the benefits included in the Act was a provision for low cost mortgages. In fact, over 20 million VA loans have been made since the 1940s.
VA loans are some of the best deals in the mortgage lending universe. Here's an overview of how to qualify for them.
Certificate of Eligibility (COE)
The first thing you need to do is get a hold of your Certificate of Eligibility (COE). Your COE proves that you are eligible for a VA home loan benefit. Your loan officer can order your COE for you or you can contact VA on your own through the eBenefits portal.
Loan Limits
VA loan limits are set each year and adjusted based on the area in which a condo is located. Usually the limits are set by county, but in some cases they are more precisely set by city. The reason for this adjustment is because homes are typically more expensive in big cities than rural areas. Prices for Los Angeles condos are quite different (higher) than condos in Vancouver, WA. Because of these differences, the VA makes upward adjustments for high cost areas to level the playing field, so to speak.
With your VA benefit, may be able to buy a condo with zero down of you have a pretty good credit score. The typical loan limit is $424,100 in most counties. There are 235 high-cost counties and cities where a VA loan may go as high as $636,150.
What follows are the additional factors reviews by underwriters to determine how much loan you'll qualify for when you apply.
Credit Score
Most VA lenders will fund loans for borrowers with a credit score between 620 and 640 on the low end. This assumes other factors like a borrower's debt, income etc. are acceptable. Ellie Mae (a mortgage software company) puts out periodic mortgage origination reports that show average credit scores for VA loans. Here's a recent look at average borrower credit scores where loans were approved and rejected:
704 - average FICO score for approved and closed VA purchase loans
648 - average FICO score for denied VA purchase loans applications
These are averages, not absolutes. Starting a loan application is the only way to know for sure if you'll qualify. Also keep in mind that other important factors contribute to mortgage approval or denial decisions.
Employment and Income
Two (2) years with the same company is considered a solid baseline in terms or a borrower's recent employment history. If you recently change companies for a promotion or higher salary, it is certainly not frowned upon.
Income
Your monthly income goes toward calculating how much home you can afford.
Debt
Debt includes things like student loans, auto loans, alimony, credit card balances, etc.
Debt-to-Income Ratio (DTI)
You may have heard of both front end and back end ratios from other loan programs. Well, the VA is only interested in back end ratios. They are pretty accommodating and allowing it to go up to 41. What that means is that a borrower should be spending no more than 41% of their gross monthly income on all their monthly recurring debt payments. (All means every recurring debt payment plus monthly mortgage payment.)
Property
The value of condo unit will need to be determined by a VA-approved appraiser. It's important for you to know that VA appraisals are not inspections. Inspectors pore over a dwelling in close detail to find any defects such as mold or faulty wiring. While not mandated by VA, you are highly encouraged to order an inspection.
VA Condominium Requirements
Condominium / VA Definition
As one would expect, the working definition of a condominium varies by government agency. The Federal Housing Administration (FHA) has one version. Veterans Affairs has another. While the vocabulary is slightly different, they pretty much mean the same thing.
VA calls condominium projects and Planned Unit Developments (PUDs) Common Interest Communities. A common interest community is basically a subdivision that shares land and common areas (like a parking lots and recreation facilities). The common property is jointly owned and managed by a condo association or homeowners association (HOA). All the people in the common interest community must belong to the association and pay dues. No freeloaders. In fact, if folks aren't paying dues, it's a red flag that will most likely disqualify the condo project.
VA Condo Approval Status
The status of a condominium projects can be one of three things:
Accepted Without Conditions - borrowers can take out a VA loan on any unit in the project
HUD Accepted – this means HUD approves the project and it's very likely that VA has approved them, but it's a good idea to make a quick follow up call to regional VA office to verify
Unaccepted - no VA loans may be used
The path with the least friction to buy a VA approved condo is to pick one that is already accepted and listed on VA's site. However, if you find a condo you really, really like that is within a complex that is not approved, you can can ask the HOA to apply.
VA Condo Approval Process
If you find a condo you want to buy but the condominium project is not already approved, you can ask the homeowner's association to apply with the VA. Let's be realistic though, this is going to take time (weeks) and the condo association will have pay money to get approved (as they typically hire an attorney to handle the approval process). It's not impossible, but if you chose this route, you should go into it with eyes wide open.
If the HOA goes forward and seeks an approval, they will send a written request to VA with a copy of their condo association's organizational documents.
While not required, the application can be accompanied by an Attorney Opinion Letter. In fact, the VA strongly encourages it and they go so far as to say they will expedite VA approval process for a condo project if one is included.
The VA will review the documents and render a decision based on whether the condominium complex is in compliance with VA requirements. Speaking of documents, let's take a brief look at them.
VA Condo Documents
There is a litany of (27 last time I counted) documents that condo association may need to have on hand to get VA approval. Some are required. Some are conditional. All of them are listed in Chapter 16 of the VA Handbook.
Regional VA offices vary in terms of the documents that they require as a part of the VA-approval process. And there are so many documents required that they don't even expect the initial submission to contain all of them. Meaning, they just need the basics to get started and they'll let you know what else is required as they go along. Again, it could be worthwhile to get an attorney involved to help expedite the VA review.
Here are some of the core documents the VA will want to see, right out of the gate:
Declaration of Covenants, Conditions and Restrictions
Bylaws for HOA
Articles of Incorporation for HOA
Plat, map and/or air lot survey of project
Development plan and schedule
Current financial statements and reserves of project
Minutes of last two HOA meetings
Recorded annexation document for subject phase
SUMMARY:
The intent of this article was to help folks know more about VA approved condos: what they are, how to find them, and some of the guidelines to get a VA loan. The last third was a little drier and more detailed. But for some people, it may be a useful overview of the property guidelines and approval process.