Things to Do in San Clemente
Posted by Tony Mariotti on Sunday, October 28, 2018 at 1:13 PM
By Tony Mariotti / October 28, 2018
Comment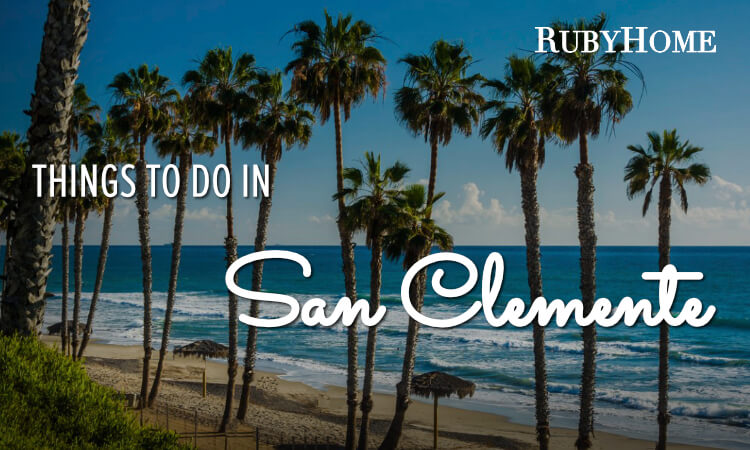 San Clemente has a variety of outdoor activities perfect for individuals and groups. From some of the most beautiful and famous beaches in California to miles of hiking trails and parks, a multitude of year-round activities is just outside your door.
Beaches
San Clemente, more than anything else, is known for its beaches and surfing legacy. San Clemente has some of the best beaches in California and is home to Surfing Magazine, The Surfer's Journal, and Longboard Magazine.
Trestles
Trestles, the southernmost beach in San Clemente, is considered part of San Onofre State Beach. This beach requires a long hike down a trail, and therefore, is not ideal for everyone. This is one of the most popular surfing spots in the world.
Calafia State Beach
This state beach just north of Trestles offers overnight camping, barbeques, and firepits. This is another popular surfing spot and a great beach to visit.
Riviera
This is primarily a local's beach with access via the Riviera neighborhood. This is a great surfing and swimming beach.
Beach House
This secluded beach is named for the beach houses located directly behind it. The easiest way to access Beach House is to park in the Pier Bowl and walk south down the sand.
The Pier
This beach and area is one of the most popular areas in all of San Clemente. There is a large public parking lot just up Avenida Del Mar, along with limited street parking. There is good surfing off this beach, and the Pier features places to eat, fish, and play volleyball.
Linda Lane
This is a quiet beach that is just north of the San Clemente Pier. There is parking off Linda Lane, with many metered spots. This is a good beach that caters to beachgoers of all ages.
204
204 lies just south of North Beach. The easiest access to this beach can be had by parking at North Beach off PCH and Avenida Pico and walking south down the coast.
North Beach
Located at PCH and Avenida Pico, this beach is ideal for a large groups due to its easy access, a snack bar, and playground equipment. North Beach is also where the Amtrak/Metrolink station is located in San Clemente, making it ideal for visiting or having friends meet you.
Golf
San Clemente is home to three public golf courses and a private golf club. Below is the name and basic information for each golf course in San Clemente.
San Clemente Municipal Golf Course
San Clemente Municipal Golf Course, or the San Clemente Golf Club, is a championship 18-hole golf course located in Southeast San Clemente. Juniors are always half price, Fridays are considered weekdays, and you can walk the course if you choose. This course is located one mile from the Pacific Ocean, and select holes offer ocean views. Residents play for half price with the purchase of a $50 discount card and proof of residency. Seniors can purchase ten rounds for $230 for weekday use only. The pro shop can be contacted at (949)361-8384, and the course is located at 150 E. Avenida Magdalena.
Shorecliffs Golf Club
This golf course dates back to 1964 and has the feel of a seaside links course. Shorecliffs Golf Club is located in the Coast District and Northern area of San Clemente and plays on the west and east side of Interstate 5. This is a par 71 course with a total length of 6,280 yards. Shorecliffs Golf Club is located at 501 Avenida Vaquero, and reservations can be made by calling (949)492-1177.
Talega Golf Club
Talega Golf Club is a par 72 course designed by Fred Couples that was awarded four stars by Golf Digest's Best Places to Play 2007. The course is located three miles from the Pacific Ocean in the rolling hills of Talega and is the newest addition to San Clemente golf courses. Reservations can be made by calling (949)369-6226, and the course is located at 990 Avenida Talega.
Bella Collina Towne & Golf Club
Bella Collina Towne & Golf Club is located at 200 Avenida La Pata on the outskirts of Rancho San Clemente. This course is designed by golf legend Gary Player and offers three 9-hole courses: Carnoustie, Muirfield, and Royal Lytham. Each one of the courses is a par 36 and is championship length. The club offers a practice facility, locker room, sauna, jacuzzi, and golf shop. In addition, there is a 30,000 square foot clubhouse with a mixed grill, cocktail lounge, and dining room. As this is a private club, we suggest contacting them directly at (949)498-6604 for membership information.
Parks
San Clemente parks include trails, baseball and soccer fields, basketball courts, tot lots, open playfields and restroom facilities. Thousands of acres are devoted to both public and private parks throughout San Clemente. Furthermore, the Vista Hermosa Sports Park, a 45-acre park, features sports fields and an aquatics complex with recreational and competitive swimming pools.
Bonito Canyon Park
Calafia Beach Park
Forster Ranch Community Park
Leslie Park
Liberty Park
Linda Lane Park
Marblehead Park
Max Berg Plaza Park
Mira Costa Park
Parque Del Mar
Ralphs Skate Court
Rancho San Clemente Park
Richard T. Steed Memorial Park
San Clemente State Park
San Gorgonio Park
San Luis Rey Park
San Mateo State Park
Talega Park
Tierra Grande Park
Verde Park
Vista Bahia Park
Trails
The city of San Clemente maintains five major trail networks that ranging from coastal paths to canyons and ridgelines. Folks are apt to spot wildlife on their adventures as the area including birds, coyote, deer, and an occassional bobcat. Bikes and dogs are welcome on all paths and a few are open to horses.
Cristianitos North
This is a 0.7-mile trail located in the easternmost area of the Talega neighborhood that is moderate in difficulty. The trailhead may be accessed at the end of Avenida Talega.
Cristianitos South
A 2.8-mile trail that is moderate in difficulty, Cristianitos South is entered at the end of Avenida Talega (turn right for the South trail, left for North).
Forster Ridgeline Trail
The longest trail in San Clemente, the Forster Ridgeline trail is 4.2 miles long and features some fantastic views of the city and coastline.
Prima Deshecha North
This is a 1.8-mile trail that traverses through Talega and is moderate in difficulty.
Prima Deshecha South
Prima Deshecha South is a 3.1-mile trail that goes into the back hills of Talega and Rancho San Clemente.
Rancho San Clemente Trail
The Rancho San Clemente Trail has some fantastic views of the city and rolling hills, and the sunsets are beautiful at dusk from here. This is a 3.5-mile trail with a few stopping points.
San Clemente Coastal Trail
A newer trail in San Clemente, the Coastal Trail, is a 2.3-mile coastal trail that starts in North Beach and goes all the way to Calafia State Beach. Please be aware of trains as you will have to cross the tracks at multiple points, but the coastal breezes and access to all San Clemente beaches make this the most popular trail in San Clemente by far.
Talega Trail
The Talega Trail is a 2.8-mile elevated trail situated high in the hills of Talega. Some excellent views and a challenging hike welcome those willing to experience this trail.