Things to Do in Laguna Beach
Posted by Tony Mariotti on Sunday, March 21, 2021 at 10:56 AM
By Tony Mariotti / March 21, 2021
Comment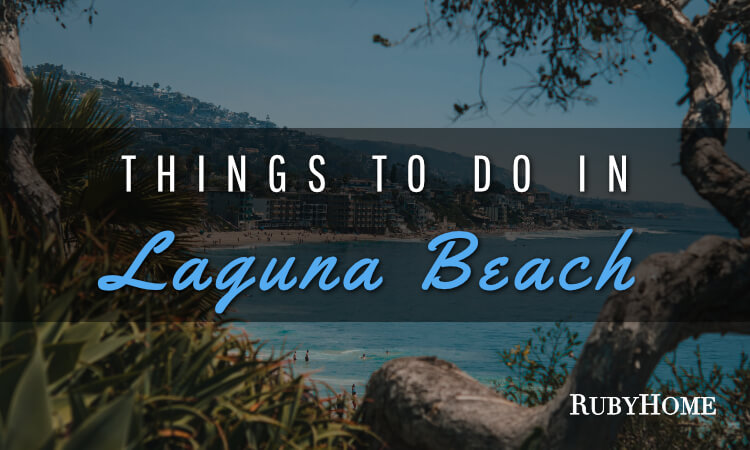 Laguna Beach is one of the most charming and popular beach towns in Southern California. While Laguna is widely known for its Art Festivals, Pageant of the Masters, and other summertime activities, visitors and residents play here year-round. As those fortunate enough to live in Laguna Beach already know, there is never a lack of things to do here.
You can take a morning stroll on a gorgeous beach, head for the hills for an incredible 360-degree view of the area, or hang out in town to shop and have a wonderful meal overlooking the water.
Maybe you'll decide to surf, explore, or sunbathe at the beaches. Some will opt to hike, play tennis, golf, go to the theater, or watch a fantastic sunset over Catalina. Laguna promises all of this and much more.
Laguna Beach Activities
Take an early morning walk on any of the dozens of beautiful beaches, coves, and scenic walkways in Laguna when the sun is new and the air is crisp and clear. The perfect way to start the day!
Explore tide pools. You can enjoy many tide pools along the shoreline reefs if the tide is out. However, due to the ecosystem's sensitive nature, please do not touch the sea life or remove even one shell. It's much more enjoyable to see it in its natural state.
Eat a tasty breakfast at a village café, several of which have outside seating overlooking the beautiful coastline. And there's always lunch and dinner, too. The truth is, Laguna boasts a wide and varying collection of restaurants as you'll find anywhere for a range of palates and preferences. Yeah! Eating in Laguna can be the high point of your Laguna experience.
Hang out in the village. Charming Laguna has countless boutiques, art galleries, stores, and cafes to peruse and explore, with interesting, one-of-a-kind items to seek and find. But you don't have to be shopping or doing anything to have fun. Just hanging out, sitting on a wall in the village, you can people watch, take in the activity, listen to a street musician, eat ice cream. You can bask in the unique atmosphere of Laguna, hear the rumble of the ocean, and enjoy being in this remarkable place.
Enjoy the art scene. Laguna started as a tiny artist colony in the 1930s, and the tradition is still alive today with numerous galleries and local art. Peruse the galleries on your own or join the monthly First Thursdays Art Walk with a free shuttle service between galleries from 6 pm to 9 pm. Summer is brimming with creative juices at the Sawdust Festival, Festival of the Arts, and the Art-A-Fair, not to mention the world-famous Pageant of the Masters, which sells out months in advance – so book way ahead if you're interested.
Hike! Laguna is surrounded by a dramatic landscape of pristine mountains and picturesque canyons that conservationists fought to preserve. Adjacent parks to Laguna are Laguna Coast Wilderness Park, Crystal Cove State Park, and Aliso and Woods Canyons Wilderness Park. Go to the James and Rosemary Nix Nature Center on Laguna Canyon Highway to overview all the natural preserves in the area; it is a perfect point of departure for several beautiful hikes.
Enjoy panoramic views. Here's a very secret tip – don't tell anyone! Take a five-minute drive up Thalia Street to Laguna's "Top of the World" area. A fire road runs along the ridgeline at the south end, where you can take a refreshing walk. You can take in 360-degree panoramic views of Laguna village, the undulating coastline, Catalina, and the San Clemente islands. You will see the San Gabriel mountains, inspiring canyon and wilderness views, and much of South and East Orange County in the distance.
Surf the waves. While Laguna surf breaks are challenging because of reefs and shore breaks, the waves mellow out some days, and even beginners can give it a go. You can book lessons or rent surfboards at any of the numerous surf shops in town.
Go scuba diving or snorkeling. When conditions are right, usually in winter, Laguna has some of the best beach-access diving in all of southern California, sometimes offering visibility of up to 50 feet and full of sea life, including dolphins, bat rays, seals, pacific halibut, tons of garibaldi. Laguna Sea Sports will set you up and bring you out.
Go ocean kayaking. Sometimes the Pacific Ocean lives up to its name, and the ocean is as tranquil as a summer lake. That's your cue to take a kayak out and explore by sea Laguna's amazing coastline – its nooks, crannies, beaches, and coves, encountering seals, sea lions, dolphins, and sea birds along the way. Guided tours by La Vida Laguna from March through October, conditions permitting.
Play beach volleyball or half-court basketball at Main Beach Park. Nets are provided. Just bring your ball.
Hit the links at the stunningly beautiful nine-hole Ben Brown's Golf Course. Nestled in a gorgeous, meticulously manicured canyon surrounded by towering cliffs rising 1000 feet in the sky, this executive course is short but challenging and one of the prettiest you'll ever play. There are other great courses nearby in Newport Beach and Monarch Bay, but this is Laguna's very own.
Visit the Laguna Art Museum. Located on Coast Highway, a short walk from Main Beach and the village area, the Art Museum is open daily, including Mondays and most holidays. It contains a stimulating mix of historical, contemporary, and fun "pop culture" exhibitions.
Watch a movie. Laguna South Coast Cinema is located on Coast Highway in the Heart of the village and offers first-run films and Saturday and Sunday Matinees.
Stroll at sunset. There's nothing like a sunset stroll on the Main Beach boardwalk or at lovely Heisler park with someone you love. It's truly inspiring when the sun sets down over Catalina Island and sets the sky ablaze in a fury of orange, pink, yellow, and lavender.
Explore the nightlife. Laguna is a busy town day and night, filled with friendly pubs and live entertainment. The Sandpiper, Marine Room, and Hennessy's are just a few local hang-outs offering live music and a relaxed atmosphere. Sometimes, however, especially on the weekend, the best entertainment is a walk through town after dinner where talented music artists sing on a corner under the stars gathering a crowd of impressed onlookers. What a way to end the day!