Smart Home Statistics (2023)
Posted by Tony Mariotti on Sunday, August 6, 2023 at 3:15 PM
By Tony Mariotti / August 6, 2023
Comment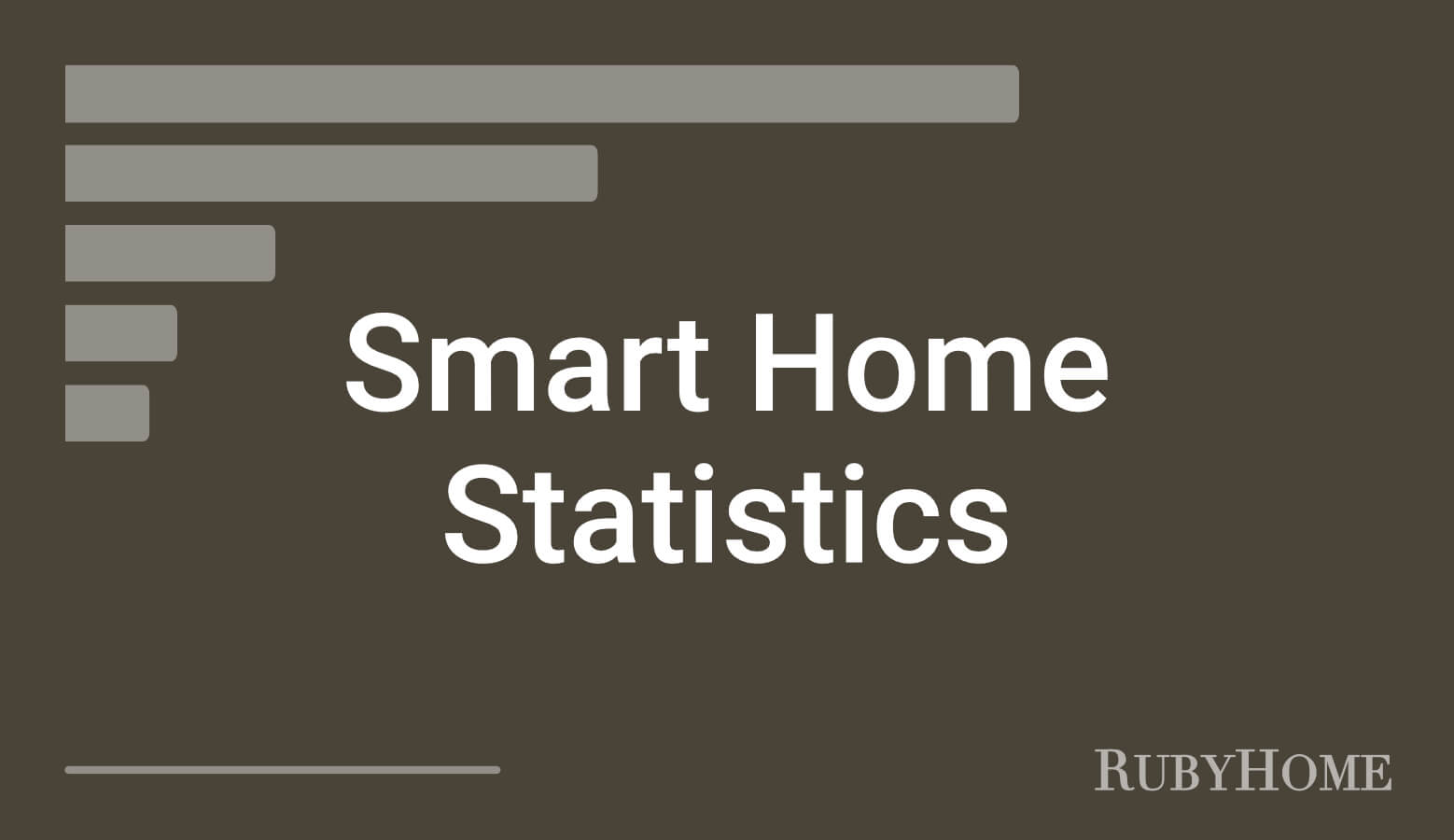 A smart home enables homeowners to remotely control various appliances, lights, thermostats, and devices through smartphones or tablets, utilizing internet connectivity. These homes can be established using wireless or hardwired setups, offering both convenience and cost-efficiency. In this article, we will explore relevant smart home statistics and the following topics in greater detail. For more industry data, view all real estate stats.
Key Stats
63.43 million homes in the United States actively use smart home devices.

Consumer electronics, such as smart speakers and entertainment systems, make up over a third or 35% of the smart home devices market.
The smart home market in the U.S. was valued at $31.5 billion in 2022.
7 in 10 homebuyers are actively looking for a smart home.
78% of homebuyers would be willing to pay more for a smart home.
How Many Smart Homes Are There?
As of 2023, there are approximately 63.43 million homes that are actively using smart home devices in the U.S. This equates to nearly half (45%) of all homes in the U.S. containing smart devices.
Here are some more stats to illustrate the size of the global and American smart home market:
The global smart home market was valued at $80.45 billion in 2022 and is expected to increase to over $500 billion by 2032.
The U.S. accounted for an estimated $31.45 billion or 39% of the global smart home market.
The average revenue per installed smart home in the U.S. is $546.50.
By 2027, it is projected that over two-thirds or 68.6% of homes in the U.S. will have smart home devices.
What Are the Most Common Smart Home Devices?
Smart home devices can fall into several categories such as consumer electronics, safety and security devices, climate control, lighting control, and energy and water control.
Market Share by Device Type
Consumer electronics are the most common smart devices in homes today. Here is a breakdown of the global smart home market share by device type: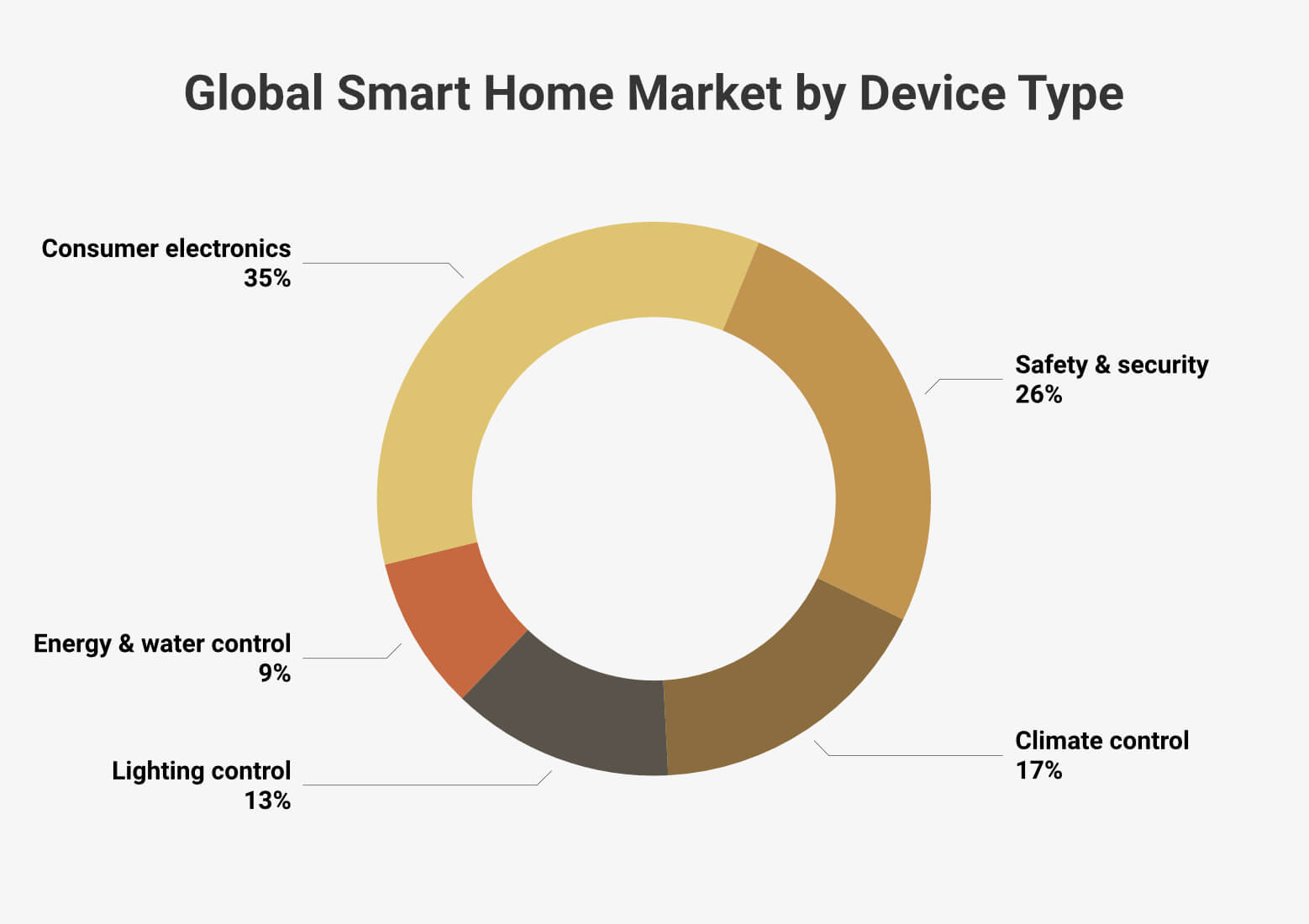 Consumer Electronics
This category encompasses smart devices that enhance your entertainment and communication experiences at home. Smart speakers provide voice-controlled virtual assistants for tasks and information, while smart TVs and entertainment systems offer access to streaming services and content control through integrated apps and voice commands. Typical products include:
Smart Speakers
Smart TV and Entertainment Systems
*Important Note: Over 70% of Americans own a Smart TV or Smart TV plug-in such as a Chromecast or Apple TV which can connect to the internet. Because this is so common, we don't automatically qualify Smart TV owners as having a smart home, unless the TV can control physical aspects of the home like locks, cameras, lights, etc.
Safety and Security Devices
Safety and security devices are designed to protect your home and provide peace of mind against potential property crimes. Smart cameras and doorbells allow you to monitor your property remotely, while smart locks provide secure access control to thwart burglaries.
Additionally, smart smoke and carbon monoxide detectors alert you to potential hazards, like a house fire, and can differentiate among the types of threats.
Here are the most common products in this category:
Smart Cameras and Doorbells
Smart Locks
Smart Smoke and Carbon Monoxide Detectors
Climate Control
Climate control devices, such as smart thermostats, enable you to manage your home's temperature remotely. These devices often feature learning algorithms that adapt to your preferences over time, saving energy, lowering electricity bills, and ensuring optimal comfort. Moisture sensors can help homeowners prevent mold.
Lighting Control
Smart lighting devices offer convenient control over your home's lighting. You can remotely adjust brightness, color, and schedule lighting to suit your preferences or create different atmospheres for various occasions. Smart blinds and shades provide similar control over natural light and privacy.
Here are the most common products:
Smart Lighting
Smart Blinds and Shades
Energy and Water Control
This category focuses on managing energy consumption and water usage in your home. Smart appliances, including refrigerators, ovens, and washing machines, can be monitored and controlled remotely for increased efficiency.
Smart plugs allow you to control ordinary devices and track their energy usage. Smart sensors provide insights into energy consumption patterns.
Smart sprinkler systems help you manage and optimize watering schedules for your garden or lawn, conserving water.
Here are common products in this category:
Smart Appliances
Smart Plugs
Smart Sensors
Smart Sprinkler Systems
U.S. Smart Home Market Growth
The U.S. Smart Home market is expected to show an annual growth rate of 10.2% over the coming years. Here is a look at how the market has grown in recent years: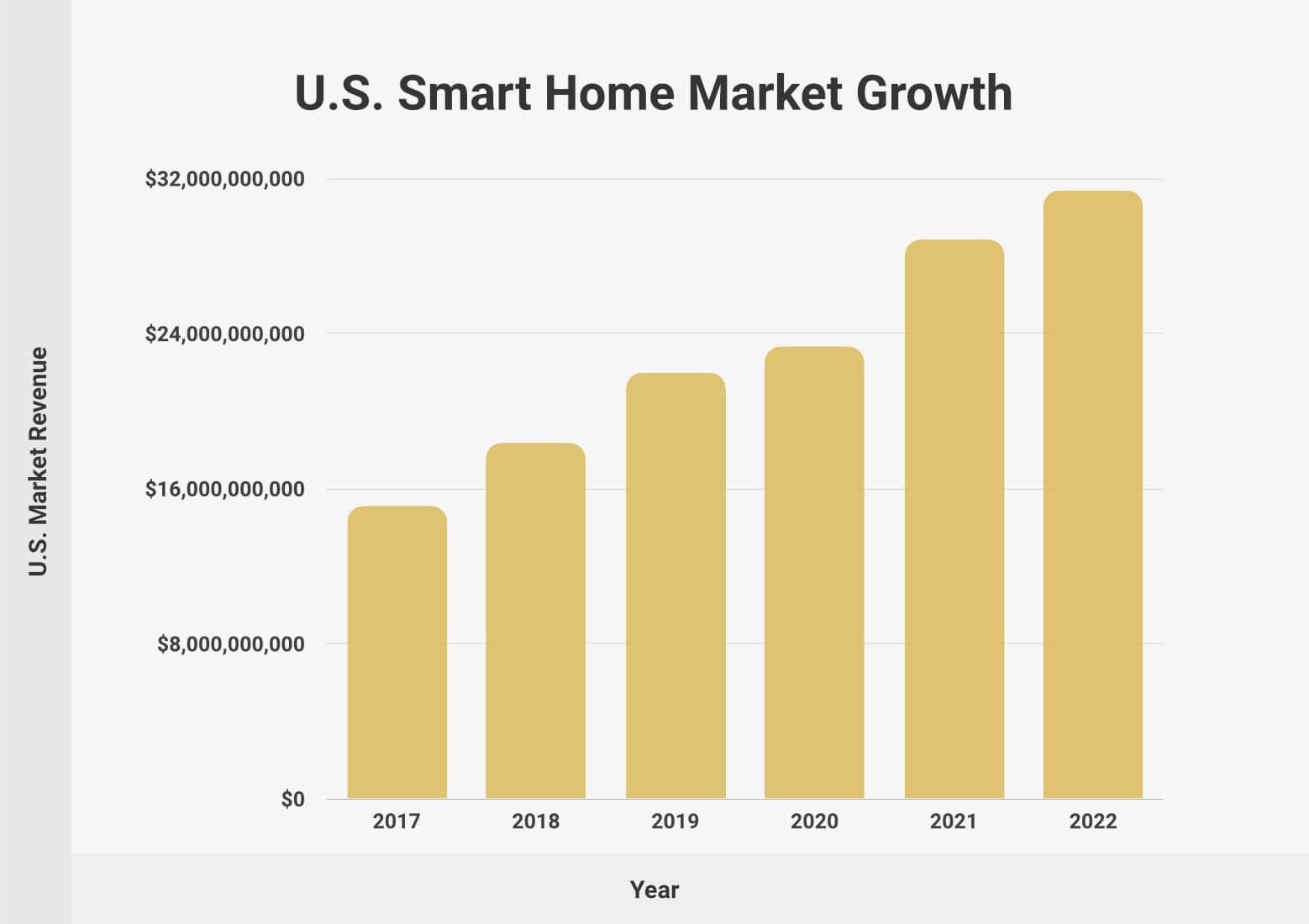 In 2017, the Smart Home market amounted to $15.1 billion. By 2022, the Smart Home market had doubled to $31.5 billion.
In 2027 the Smart Home market is expected to reach $52.19 billion in the United States.
Smart Home Demand
A survey by security.org discovered that many home buyers find smart homes more desirable.
7 out of 10 home buyers are actively looking to buy a smart home.
78% of home buyers would be willing to pay more for a smart home.
82% of renters want at least one smart home device.
For 35% of renters, owning a smart home device was either 'important' or 'extremely important'.
Convenience and time saving are the top two desired benefits of smart home devices.
The survey also found that the most desired smart home products right now are smart speakers and hubs that feature voice commands.
Conclusion
The popularity of smart home devices is rising fast, with nearly half of U.S. homes currently using them as of 2023. It is estimated that by 2027, over two-thirds of homes will be actively using smart home devices.
Consumer demand is high, with 7 out of 10 homebuyers actively looking to buy a smart home. With this in mind, we can expect the trend to continue, with more of our speakers, appliances, lights, and more to be connected to the internet in the future.
Sources