Sierra Interactive Review
Posted by Tony Mariotti on Saturday, August 7, 2021 at 8:33 AM
By Tony Mariotti / August 7, 2021
Comment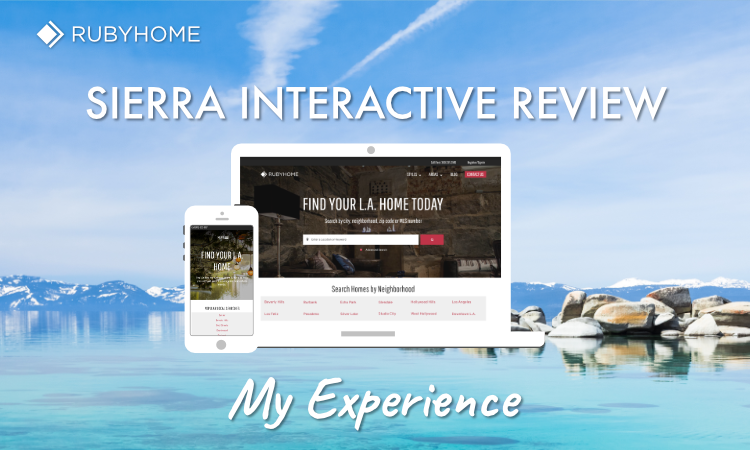 Last updated: August 7, 2021
On November 15, 2018, I finished migrating one of my luxury real estate websites, RubyHome, to the Sierra Interactive platform. What follows is a Sierra Interactive review based on setting up and re-deploying the site.
If you're considering Sierra Interactive, feel free to call me at (323) 678-9004. I'll speak candidly about my experience and answer your questions.
As a part of this review of Sierra Interactive, it might be helpful for readers to know my background. I spent over two decades in tech startups in roles ranging from sales to marketing and in senior leadership positions, including CEO, COO, and co-founder.
I also own multiple real estate websites - some that are seedlings deployed on IDX plugins and some that are mature that require a full-featured platform like Sierra Interactive. Before migrating RubyHome to Sierra, it was a self-hosted WordPress website deployed with an IDX plugin.
Another thing you should know: The Holy Grail of internet marketing, for me, is organic traffic. I view marketing through the prism of inbound marketing, and this 'worldview' informs how I evaluate website technology.
So, why change my website in the first place? Previously, RubyHome performed well in the SEO department, generating significant organic traffic to blog posts and community pages (a.k.a. neighborhood pages). Unfortunately, it never got much organic traffic to property listing pages despite good domain authority and plenty of high-quality content on the rest of the site.
I've come to realize that platforms generally rank better than WordPress websites for listing pages, thus generating more organic traffic lower in the sales funnel (street address queries have higher commercial intent). While any content management system or platform will perform roughly the same for blog posts or community pages, I wanted a better shot at ranking the listing pages.
Based on my desire for improved SEO, and after careful analysis and consideration of other real estate software solutions, I decided to migrate from WordPress to Sierra Interactive.
Goals for my Sierra Interactive Deployment
Increase the ranking and organic traffic to listing pages, the pinnacle of real estate website performance.
See no loss in SEO rankings or organic traffic to existing community pages and blog posts.
Generate 60% of RubyHome's organic traffic directly to listing pages over the long run.
Farther below, in this review of Sierra Interactive, I show the post-launch SEO performance data. But there are a few other topics we should first explore.
Website Design Considerations
There are two types of web design to consider that impact how your real estate website performs: branding and usability. Real estate agents and brokers need to concern themselves with the way their website looks (visual design and branding) and how it functions (code-level design, crawlability, and user experience). Here's how Sierra stacks up:
Branding
Sierra templates have a contemporary aesthetic and an uncluttered look.
While Sierra Interactive websites use templates (which limits how much you can customize the front-end, like using custom fonts), the overall look of the Pro template is quite pleasant. While Premier sites are fully custom, all Sierra Interactive websites have a similar aesthetic.
Usability
Front-end navigation is intuitive for website visitors and can be customized by you.
Page layouts and their modules are easy on the eye.
Sierra websites follow web design and UX best practices, including accessibility.
Like any other website, HTML and Javascript should be clean and efficient, particularly true for real estate websites where listing pages can have many property photos that add extra file weight. Poorly architected page structure or crummy code can be a drag on page speeds. Poorly coded web pages can also impede search engine crawlers, thus affecting your crawl budget and overall SEO performance. Good website code is especially important given Google's mobile-first indexing.
One thing I can say for sure, Sierra websites have no extraneous, weird code running on the front end. The templates are clean. Some competing real estate platforms I've seen have very poorly coded or bloated HTML, things like references to fonts that the website isn't using. Very bush league.
Onboarding and Setup
It took me 40 days to migrate content from the old version of RubyHome from WordPress to Sierra's platform, about 600 pages all told. The process could have taken less time, but I did extra work merging and 301'ing several underperforming blog posts. What's more, I moved a few articles to an entirely separate domain.
After getting the pages and content squared away, it only took a few days for the Sierra team to customize my main navigation and make some other custom tweaks. (Sierra released additional backend tools so that customers are no longer required to seek their assistance to make changes to the top navigation links).
Sierra created two custom queries to get non-standard data out of my MLS (for custom property types that have no corresponding input fields in CRMLS). It took them several days to develop them, but I'd asked at the very beginning of the setup process, so they were ready to go by the time I was prepared to push the site live.
The onboarding specialist from the Sierra Interactive team answered several questions (roughly 50), some much more technical than others. She was incredibly sharp and understood the platform's capabilities at a deep, technical level, which I always appreciate.
Sierra Interactive Performance
The first month after launching the new version of RubyHome, I kept a close eye on several key website stats. Here's what happened:
Page Speed
Websites hosted by Sierra Interactive have fast pages. In the image below, from my Google Search Console account, you can see the crawl speed improvements since migrating to Sierra Interactive. If you're a geek like me, you're probably already asking yourself about my previous hosting setup. RubyHome was hosted on a premium virtual private server (VPS), and the listing pages were packaged and delivered to my site via my IDX provider. A few years ago, before adding IDX to my site, my page speeds were 200 milliseconds. Accounting for all the variables, I attribute the recent speed improvement to Sierra alone.

Page speed dropped from roughly 1400 ms to 800 ms.
The average time to download a page was nearly cut in half since launching in mid-November. My website delivers a better user experience; visitors will spend much less time waiting for a page to load.
What's more, Googlebot can do its thing (crawl) more efficiently, theoretically improving my site's crawl budget. Real estate websites are notoriously large, with thousands of listing pages of both active and sold homes. I want the most efficient page load speeds possible so that Google crawls, indexes, and ranks as many listing pages as possible.
Engagement
Google emphasizes - more than ever -- engagement as a measure of searcher satisfaction. And, user satisfaction drives rankings in the search engine page results (SERPs), which matters a great deal.
Real estate agents who own and operate websites want to drive up page views per visit and the amount of time their visitors spend onsite. What's more, you want to decrease the bounce rate (the percentage of visitors who navigate away from your site after viewing only one page).
For the three key engagement metrics that I routinely track, here's what happened when I switched to Sierra Interactive:
Pageviews per session increased from 1.27 to 2.00.

Time spent on site nearly doubled from 0:46 to 1:21.

Bounce rate decreased from 89.49 to 79.26.

Indexed Pages
10x as many pages were indexed by Google after moving to Sierra. Prior to the migration, the average indexation of my site included 2,500 pages. Today, the average is 25,000 pages.
Organic Traffic to Listings
With the previous IDX service, the site got roughly 100 organic landing page visits to property detail pages each month.

Organic landings to property pages.
With Sierra Interactive, the site can get 100 organic landing page visits to listing pages in a single day.

Organic landings to property pages.
I fully expect the initial burst of organic traffic to listing pages to dip in the coming months (you can already see a slight fade) and then rebound. Industry consultants and observers have seen SEO improvements pop after switching to Sierra (or other comparable real estate platforms with good SEO characteristics) then fade for 3 to 4 months. However, after the lull, sites recover and eventually surpass the initial gains. (Update 08/07/21: RubyHome sees steady traffic to listing pages consistent with the recovery that was expected a few months after launching.)
Sierra Interactive Website Features
Real estate platforms have varying degrees of backend functionality. Some are very robust, and some only have barebone features. Sierra's backed blows most out of the water.
I can say about Sierra Interactive that it is a robust platform, not just a jumble of half-baked features. Each feature is thoughtfully designed. There are lots of configuration options to make each of them work the way you want. As a site owner and operator, you get a lot of control.
While making configurations in the Sierra backend, more often than not, I'd say to myself, "Oh, they already thought of that."
What's more, the UX and workflows are intuitive. When you think of a tweak you want to make, there's a command button or input field right in front of you in the user interface. The layouts are clean and simple, different than some of the clunky interfaces I've seen from other IDX vendors.
Instead of reviewing every feature (there are too many to reasonably cover), I'll call out a few that are very smart that you should know.
Configurable Listing Sitemaps
Most IDXs (platform or WordPress plugin) create one XML sitemap of all listings that you'd submit to Google Search Console. Sierra allows its customers to create their own!
First, you can create as many listing sitemaps as you want instead of only having one all-encompassing listing sitemap.
Second, the ability to narrow the listings (price, location, etc.) that get included in each custom sitemap is incredibly smart.
Sierra's individual and granular sitemap creation is a particularly big deal if your MLS has over 100,000 listings and covers a large geographic area (as mine does); CMLS carries some properties that are several hundred miles away.
While Google will crawl your site any damn way it pleases, Sierra's level of control over sitemaps helps you "tell" Google what listing pages you consider the most important. In the case of my website, I prioritized a few key neighborhoods where I'd like to do the most business in hopes that the properties within those areas would be crawled, indexed, and ranked.
Advanced Registration Settings
You can set a registration modal to appear to site visitors based on different traffic sources - another brilliant feature.
For example, you can force site visitors from a PPC campaign to register before viewing a property detail page. Conversely, you can let organic visitors navigate to any page of your website unencumbered (no registration required).
Traffic segmentation - by source - does two things. It keeps user organic traffic engaged (more pageviews, more time spent on site), which is good for SEO. Segmentation also forces users from paid campaigns to register right away, which improves advertising ROI (lower cost per lead).
Advertising
Sierra offers a way to remarket listings using Facebook Dynamic Ads. By adding a Sierra-controlled Facebook Pixel to your site, you can populate Facebook Carousel ads dynamically with property listings viewed by the end-user when they were on your site. If you already have a Facebook remarketing pixel running, you'll still need to add Sierra's custom pixel.
Carousel ads with listings are smart. I'm glad Sierra has created this option. My first listing-specific remarketing campaign costs less than $.20 per click (CPC), so it's a pretty cheap way to generate return visitors. I do not have a forced registration requirement, so I can't comment about the cost per lead (CPL) using this remarketing tactic.
Open API
If you love pushing data between applications (say, between your CRM and ESP), Sierra Interactive is one of only a few IDX vendors in the market with a public API.
Sophisticated marketers can push data around without needing third-party systems like Zapier, though a Zapier integration is available, too. Sierra supports dozens of direct integrations with leading real estate and general marketing vendors. While it's nice to know Sierra built direct integrations, I'm happiest when platforms make APIs available.
Sierra Interactive CRM Features
In addition to the platform features above, Sierra Interactive customers enjoy a backend CRM that is modern and chock full of advanced features that expert marketers can put to good use. Here are some of my favorites:
Automatic Listings Updates (Auto E-Alerts)
You can configure Sierra to assign listing alerts to site visitors upon registration. A few other platforms I've used also do this. I'm surprised to find that real estate websites and platform vendors still do not offer this feature.
At the time of my deployment, Automated e-Alerts were in beta. They did not work every time. However, the kinks are slowly getting ironed out, and this feature looks very promising.
Action Plans
Action plans are a sequence of timed communications with leads and customers. Sierra's action plans are fully customizable. You can send emails (one-off or part of a drip campaign), texts, phone calls, and voice mail drops, and so on.
Sierra Interactive's action plans come in two flavors:
Fully Automated Action Plan (FAAP) - each step happens automatically
Traditional Action Plans - steps happen manually or automatically
Steps are based on a lead replying (an agent can manually pause the action plan, too).
Drip Campaigns
A drip campaign is a sequence of emails sent to registered users (leads, current customers, or past customers). Sierra's drip system is integrated with the platform, so you'll not need to spend money on a third-party drip marketing tool.
The drip campaign builder is very intuitive and but not very robust. The fact that an easy-to-use drip system comes with the Sierra platform at no extra cost is great. However, some very important features are missing:
No detailed reporting
No drag and drop re-ordering of emails in a sequence
No A/B testing
Dialer
The platform includes an integrated dialer for outgoing calls, incoming calls, and texting. Again, here's a fully baked feature that you might typically have to buy separately but is included in your monthly platform license fee.
Texting
Texting can be configured to send based on events or performed manually by assigned agents or inside sales agents (ISAs). The setup is speedy and painless; Sierra seamlessly pulls a phone number from Twilio, and then your dialer is ready to go.
Voicemail Drops
You can send pre-recorded messages to one or more leads at a time. In the case of the later, this is called mass voicemail. The voicemail drop system is fully integrated; you record and store messages in the Sierra backend. In fact, you can save several messages for re-use in the message manager.
Onsite Messages
Onsite messages are a very smart way to communicate with any lead in your CRM who comes back to your website. Just look up the lead in the CRM and create a message for them. The next time they visit the site, they are greeted with a popup that displays your message. Some Sierra customers have used videos to welcome people back to their website, which is an especially clever method of connecting with unresponsive leads.
Support
During the critical onboarding stage, support was incredible. Answers from the team were helpful and thorough. It could take a few days to get a reply, but not bad. The front end of Sierra Pro sites is a template, and I generally tweak as much as I can from templates and content management systems. If you're not the type of person who obsesses over your site structure (e.g., how your page taxonomy affects SEO), you may not have as many questions during your setup.

From the thoughtfulness, completeness, and accuracy of most of the answers I've received from Sierra's support team, I can tell that the company has smart, caring people. That said, the turnaround times are quite slow. It pains me to write this because I've worked in small, fast-growing software companies, and I know how hard it is to keep up with support tickets with a small team. It's hard to keep up. I cringe when reminded of my own experiences in the customer support trenches. (Update 10/21/19: Over the last several months, Sierra has been able to hire more support staff, and turnaround times have been much shorter. When a ticket is submitted, I'm given an estimated time of completion, which goes a long way in terms of setting expectations.)
Documentation
I'll admit it; I'm probably not like most customers. I prefer to never interact with a support team for any software product I use unless there's an outright emergency. I like being self-sufficient and find I can do so if I have a good user manual. I don't mind reading the documentation and figuring things out for myself.
Here's the rub: Sierra's documentation is overwhelmingly sparse. While the platform features are incredibly robust (power users and advanced marketers can squeeze a lot out of some of the more sophisticated features), it's hard to get them configured without some back-and-forth with the support team.
At the time of writing this Sierra Interactive review, I find the platform documentation lacking. It's not hard to configure basic features, but setting up the advanced features - the really awesome things built by Sierra's highly competent team - is not as DIY as it could be.
For example, setting up the Facebook Dynamic Ads retargeting pixel – the one used to create carousel ads that dynamically populate with listings -- was a complete pain in the ass to get running. In my mind, a listing feed is very much like an e-commerce product catalog feed. In the course of my prior work consulting with online stores, I've had a much easier time configuring and connecting product catalogs to Facebook Ads in the past. I also don't know why Sierra uses a pixel for this feature when an XML catalog feed would work. Perhaps there are MLS rules that prevent a standard XML feed implementation.
Conclusion: Sierra Interactive Review
I'm bullish on how I think Sierra Interactive will help RubyHome grow. It has some of the best backend tools and CRM I've seen, and I look forward to putting them to good use.
More importantly, as an inbound/SEO-focused marketer, I see a lift on organic visits to listing pages. None of the backend tools will matter unless the site generates traffic and leads, right? Traffic comes first. So far, so good.
This Sierra Interactive review reflects my experience setting up my website plus the first two months of performance after pushing the site live. I will update this page as more data comes in. If you care to follow along, please consider bookmarking this page.