Neighborhoods in Santa Monica
Posted by Tony Mariotti on Sunday, March 6, 2022 at 12:13 PM
By Tony Mariotti / March 6, 2022
Comment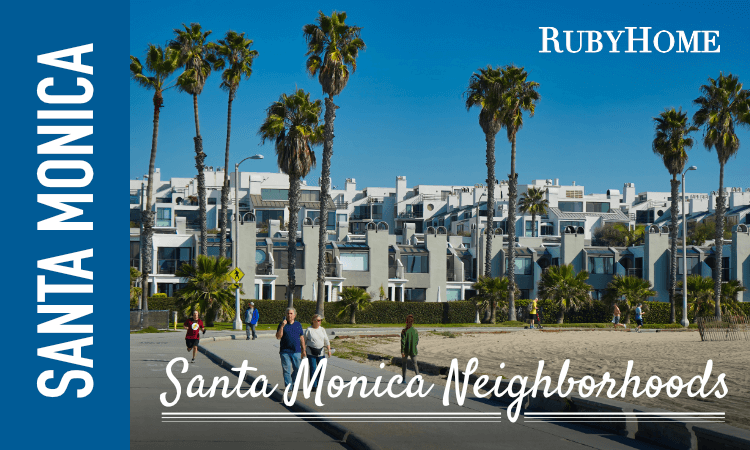 Santa Monica, California is an upscale beach town and one of the best suburbs of Los Angeles. It is a longtime stomping ground for professionals, retirees, artists, and well-heeled residents who appreciate its beautiful surroundings, laid-back vibe, and countless amenities.
With multiple beaches, parks, and hiking trails, locals love taking advantage of Southern California's stunning vistas, access to nature, and perfect weather. If you're living in Santa Monica, you probably spend a lot of time outdoors.
Each Santa Monica residential neighborhood has a unique vibe based on its history, architecture, terrain, and proximity to the ocean.
Santa Monica Neighborhoods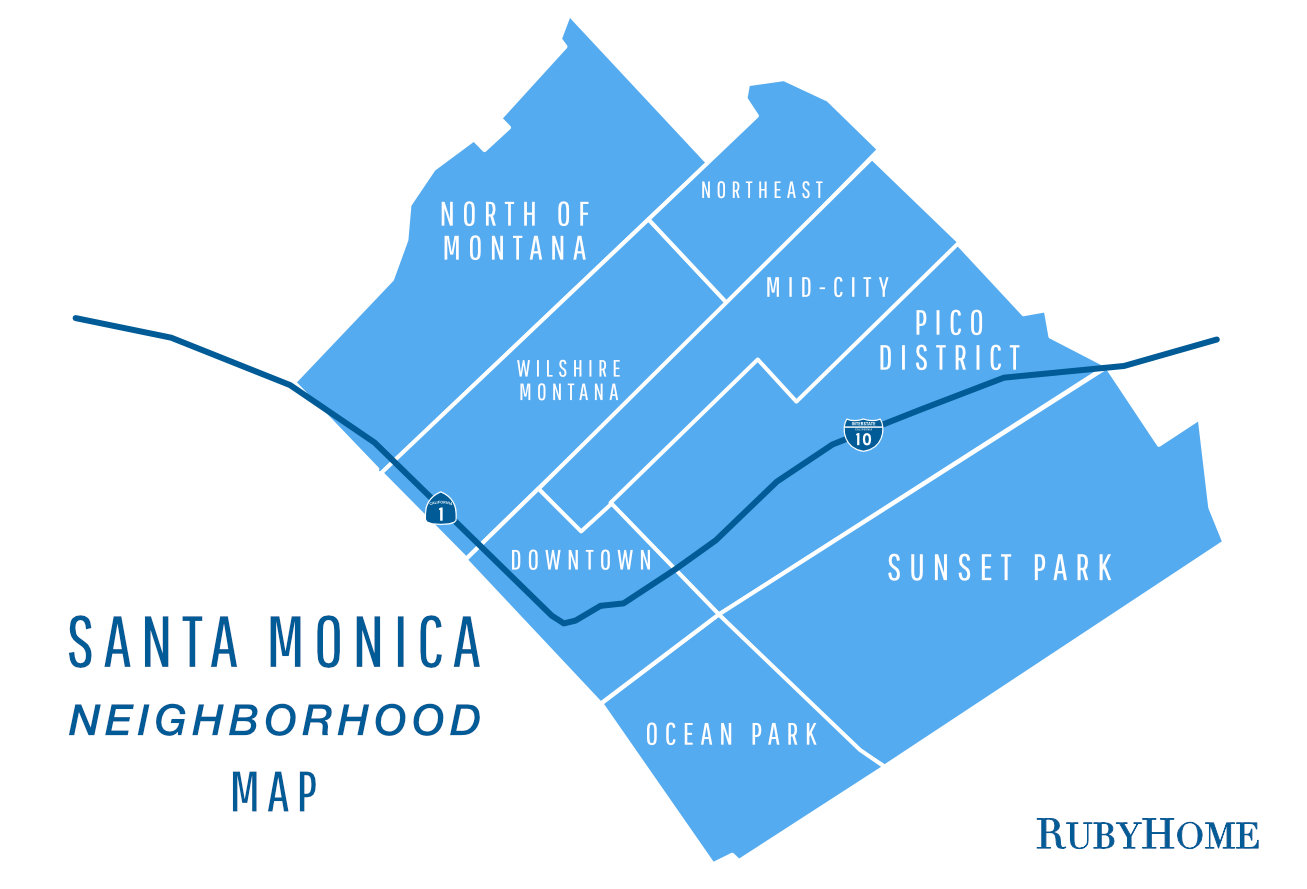 Downtown Santa Monica
Downtown Santa Monica is a busy place with lots of people and cars. The Third Street Promenade, a pedestrian-only outdoor mall, and nearby Ocean Avenue get packed with foot traffic from locals and tourists alike. Attractions like the Santa Monica Pier and Santa Monica State Beach bring a heavy flow of people to the downtown commercial core, especially on weekends.
Ocean Avenue is the main drag of Downtown that runs parallel to the coastline. It is wide and lined with restaurants and hotels. Palisades Park runs along the avenue's western edge and includes walking paths, park benches, and superb ocean views. The downtown area rests on cliffs above the beach, giving the vistas a little extra horizon.
Downtown Santa Monica that offers most urban, or compact, lifestyle. Residents get convenient access to public transportation that will take them in any direction. Entertainment venues, movie theaters, cafes, restaurants, and bars are just steps away. In addition to the nearby beach, a few pocket parks also provide places to chill and decompress. Most of the homes for sale in Downtown Santa Monica are high-rise condos and townhomes.
Mid-City Santa Monica
Mid-City (a.k.a. Mid-City West or Midtown Santa Monica) is a low-key part of town. It's a narrow section of Santa Monica that runs from Downtown to Centinela Avenue.
Two main thoroughfares, Wilshire and Santa Monica Boulevards, form two of its borders. Restaurants and retail shops line both of them. Daily errands in the neighborhood are a breeze. The ever-packed Whole Foods sits on Wilshire.
A UCLA Medical Center and St. John's Hospital, two highly regarded medical facilities, are in the neighborhood. The Santa Monica Public Library, another cherished resource, sits in the Mid-City district.
The housing stock in Mid-City Santa Monica consists primarily of condos and townhomes with a few single-family homes interspersed. Condos and townhomes comprise most of the available homes for sale in Mid-City Santa Monica. However, house hunters will find a few single-family homes interspersed.
North of Montana
North of Montana runs from 26th Avenue down to the Pacific Coast Highway (PCH) and sits between Montana Avenue and the gently curving, coral tree-lined San Vicente Boulevard.
Upscale shopping district Montana Avenue abuts the neighborhood's southeastern border. It is known for its many chic boutiques stocked with apparel, gifts, and home décor. The district sports plenty of restaurants and is an excellent area to hunt down and quaff third-wave espresso.
The westernmost part of the area is near the beach on bluffs above the PCH, overlooking the Pacific Ocean. The high-rise condominium buildings along the cliffs have unparalleled, front-row views of the ocean and coastline.
Some of the most expensive real estate in Santa Monica is found in the North of Montana neighborhood. Luxury homes have big and beautifully landscaped yards; the average lot size here is 8,971 square feet. Even larger estates can be found north of San Vicente Boulevard. Click here to search homes for sale North of Montana.
Northeast Santa Monica
Northeast Santa Monica runs from Centinela to 22nd Street between Montana Avenue and Wilshire Boulevard. Its northwest border abuts the Brentwood Country Club.
Most folks drive right past the Northeast SaMo neighborhood without giving it a second thought. In many respects, it's a quiet neighborhood with nothing flashy to catch one's eye. However, there are several unique gems here like Douglas Park's lawn bowling green, home to the Santa Monica Lawn Bowls Club. And the park's most unique amenity - one you won't find in any other nearby park - a fly fishing area!
Franklin Hill sits at the northeast corner of the district, and its elevation gives homes along the west side of Franklin Street killer views all the way to the ocean. Conversely, homes on the east side of Franklin Street have excellent city views, which are particularly beautiful at night. A few of the multi-story homes on top of the hill get a full 360-degree view of the L.A. Basin and Santa Monica Mountains.
Another great feature of the neighborhood: a green belt runs between Wellesley Avenue and South Carmelina/Centinela Avenue. It is a wooded ravine, and the homes that run along either side of it have a forested backyard, plenty of shade, and privacy. Large property lots in Northeast Santa Monica are the norm, a real bonus for people who love having a yard. Check out the homes for sale in Northeast Santa Monica.
Ocean Park
In many ways, Ocean Park is the soul of Santa Monica. The neighborhood is a little less ostentatious than some of the pricier areas of the city and certainly less touristy than nearby Downtown SaMo; it has a laid-back vibe more fitting of a beach community.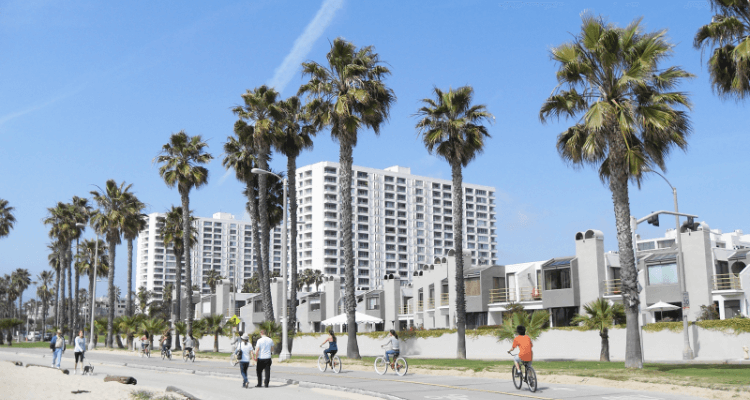 Ocean Park, Santa Monica
Main Street runs north/south through the heart of the neighborhood. High-end boutiques, casual bars, patio cafes, and international restaurants line the busy shopping district. Ocean Park is known for being very pedestrian and bike-friendly. In fact, the weekly farmers market has a bike valet to keep track of all the of beach cruisers that descend on Ocean Park, storing them in an orderly manner.
Ocean Park has the liveliest nightlife in SaMo, attracting a younger crowd. Residents can burn off any extra calories from last night's margaritas with an early morning surf session or exercise class - cycling and yoga being the two most popular.
The housing stock in Ocean Park is a mix of condos, townhomes, and single-family homes. Inland from the beach, Bungalow, Craftsman, Mid Century Modern, and Spanish-style homes dominate. If you keep a close eye on the local real estate market, occasionally you will find pristine turn of the century beach homes for sale. Click here to search homes for sale in Ocean Park.
Pico District
Pico District is another mellow neighborhood of Santa Monica. Its divided down the middle by the 10 Freeway. The district has two notable parks, the smaller Gandara Park and the much larger Virginia Avenue Park (9.5 acres).
Virginia Avenue Park hosts one of Santa Monica farmer's markets every Saturday from 8 am to 1 pm. The Community Center offers after-school programs for teens and has excellent athletic facilities that include two regulation basketball courts (lighted for night games), a playground, a splash pad, picnic tables, and a patio.
The sprawling, five-acre Bergamot Station holds 25 tenants in 62,000 square feet of building space. Occupants include architects, galleries, a florist, the Bergamot Café, and the City Garage Theater. The city-owned arts complex has free parking and conveniently sits right on the Expo Line. It is open daily. Most galleries operate Tuesday – Saturday, 10:00 am to 6:00 pm.
Like many working-class Westside communities, prices for homes for sale in Pico District in continue to rise at an accelerated clip.
Sunset Park
Sunset Park is home to two venerable institutions, Santa Monica College and Santa Monica Airport.
The neighborhood is chock full of Bungalows and smaller single-family homes, many built to fulfill housing demand for factory and white-collar workers at McDonnell Douglas in 1930s and 1940s. At that time, Santa Monica Airport was Clover Field.
Beginning in the early 2000s, the Sunset Park district began transforming into an upscale neighborhood vis a vis what one might call "mansionization." Developers happily tore down modest 1,000 square foot homes and replaced them with 3,700 square foot luxury homes. This still happens today; there is never a shortage of buyers who want to move into the neighborhood who prefer larger homes. Click here to see the latest homes for sale in Sunset Park.
Airport Park has an excellent synthetic turf sports field, off-leash dog park (with separate areas for small and large dogs), playground, picnic tables, and BBQ grills Two smaller parks in the neighborhood, Clover Park and Marine Park, get their fair share of use, too.
Wilshire Montana
Wilshire Montana (a.k.a. North of Wilshire) stretches from Centinela Avenue to the Pacific Coast Highway between Montana Avenue and Wilshire Boulevard.
The northern border shares the Montana Avenue shopping district which offers plenty of boutiques and high-end stores. Because two main thoroughfares (Wilshire and Montana) run the length of the district, you can fan out in any direction to dine or shop. Residents at the southwest corner of Wilshire Montana live just steps from Third Street Promenade, which opens up an even more expansive set of dining and entertainment options.
The housing stock in the district is comprised primarily of condos and townhomes; it's one of the few places in Santa Monica where the number of multi-unit homes exceeds single-family homes. Condos and townhomes are more expensive in the Wilshire Montana neighborhood when compared to the surrounding Santa Monica neighborhoods, but not as pricey as the properties in the North of Montana neighborhood next door. Click here to see the homes for sale in Wilshire Montana.
Santa Monica Architecture
Residential architectural styles of homes for sale in Santa Monica run the gamut; no single style dominates the city's housing stock.
Some of the earliest homes built in Santa Monica are Shotgun or Bungalow. Several Ranch homes were built in the mid 20th century. If you like styles from the Postwar era, be sure to house hunt in the Sunset Park or Ocean Park neighborhoods. By the 1950s, Modern homes came on the scene, followed by Contemporary styles from the late 1970s onward.
Luxury condominium towers line Ocean Avenue, while Contemporary condos are more evenly spread out across the city.
Mediterranean and Contemporary homes make up much of the real estate for sale north of Montana Street. The lots in this area are also big enough for backyard pools. Recently-built homes include solar panel arrays and tech upgrades like electric vehicle charging stations and smart home capabilities.
Several office buildings and hotels Downtown are Art Deco and Beaux Art-style. The Sears store (built in 1947) is an excellent example of Late Moderne architecture. It sits at the junction of 4th Street and Colorado Avenue and is a registered historic landmark.
Santa Monica Real Estate
Home prices in Santa Monica are higher than the Los Angeles County average. As one might expect, the closer the property sits to the ocean, the higher the price. However, living in this remarkable beach city is not entirely out of reach given the widely available inventory of condos and townhomes; they help balance out SaMo's affordability.
If you're looking for a potential fixer-upper, regrettably, bargain hunters with a knack for DIY rehab work have remodeled most of the older housing stock. The pickings are slim (to none). Most of the major construction on existing properties is done at the high end of the market. Older luxury homes undergo a complete "rip and replace," leaving only the pad and a wall or two of the original house. The replacement is typically 30% to 100% larger.