Neighborhoods in San Clemente
Posted by Tony Mariotti on Wednesday, October 27, 2021 at 7:36 AM
By Tony Mariotti / October 27, 2021
Comment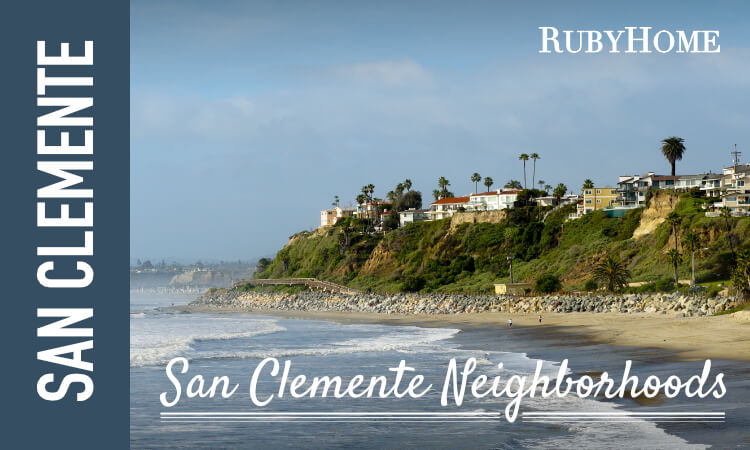 San Clemente, the southernmost coastal city in Orange County, has a large and unique inventory of real estate in terms of property type, size, age, and amenities. San Clemente real estate listings offer a variety of home choices, from beach condos and newer townhomes to single-family properties and luxury custom estates. San Clemente is broken into nine neighborhoods that feature an assortment of property types and features, from newer homes in Talega and Marblehead to established neighborhoods with beach-style living like what is found in Central San Clemente.
Central San Clemente
The widest variety of real estate in San Clemente
Central San Clemente offers an assortment of custom beach homes, oceanfront condo complexes, and several builder tracts containing single family real. The main draw to this area is Downtown San Clemente and its multitude of boutique shops and eateries.
Coast District
Single-family homes on large lots
Coast District real estate is situated in the northern hills of San Clemente. Some of the largest lot sizes are found in the Coast District, and many homes feature panoramic views of the surrounding hills and the distant Pacific Ocean.
Forster Ranch
Large neighborhood tucked into the eastern hills
Amongst the hills of San Clemente is the large Forster Ranch neighborhood. Featuring an assortment of single-family homes and newer condo communities, Forster Ranch maintains a serene atmosphere while boasting fantastic views and a convenient location.
Marblehead
Gated communities and panoramic views
Marblehead residents enjoy an elevated location near the central part of San Clemente. The homes and condo communities are built amongst the rolling hills and canyons just east of Interstate 5, and many homes are situated in gated communities. The Marblehead Coastal area is one of the last new coastline developments in Orange County. The Marblehead Coastal development features some of homes along the Pacific coastline. Marblehead Coastal contains luxury villas and custom homes along and a few commercial developments.
North San Clemente
Some of the more affordable subdivisions in San Clemente
North San Clemente offers a nice mix of condo communities, single-family tracts, and large custom homes. Some of the oldest homes in the city are found in North San Clemente, and many offer fantastic views of the coastline and Catalina Island.
Rancho San Clemente
Private location and a beautiful, natural setting
Perched high in the hills, Rancho San Clemente homes and condos overlook the entire city and offers some of the most beautiful views found in South Orange County. Rancho San Clemente enjoys a private location and is close to a variety of hiking trails.
Southeast San Clemente
Some of the best view homes in San Clemente
Some of the best panoramic views in the city are found in Southeast San Clemente. Many of the homes and condo communities are located high in the southern hills, and the winding streets and multitude of cul-de-sacs create a peaceful atmosphere.
Southwest San Clemente
Some of the most expensive luxury homes in San Clemente
Southwest San Clemente is one of the most popular and exclusive neighborhoods in the city. Featuring an assortment of custom homes and beach condo complexes, Southwest San Clemente offers a little something for everyone. The district was etched in San Clemente's history (and national history) when former President Nixon purchased his retirement home here.
Talega
Newer homes in a master-planned suburbia
One of San Clemente's newer districts, Talega, is a master-planned neighborhood comprised of over 40 distinct builder tracts and condo communities. Talega features homes built in 1999 to present day along with fantastic amenities.