The Salary Needed to Buy a House (2023)
Posted by Tony Mariotti on Wednesday, December 7, 2022 at 10:30 AM
By Tony Mariotti / December 7, 2022
Comment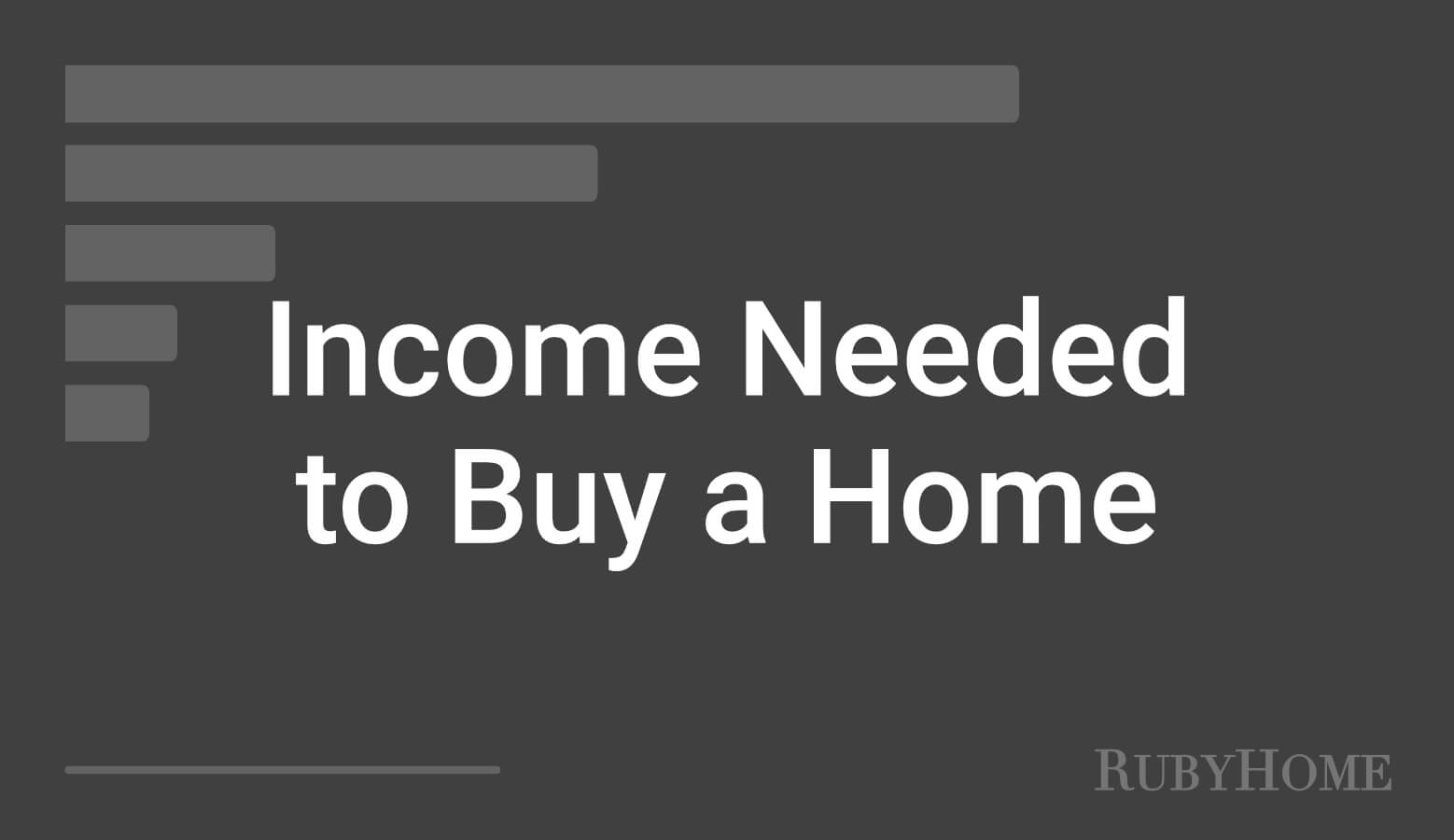 The team at RubyHome compiled and computed real estate market statistics to show the income needed to buy a single-family home in the United States. We made year-over-year comparisons of median home prices and interest rates -- along with taxes and insurance calculations -- to generate monthly mortgage payment figures, and then computed the necessary salary to cover those payments.
Here's a summary of what you'll find on this page:
Home Affordability Key Stats
The salary need to by the average single-family home in the United States is $103,389.
Mortgage interest rates moved from 3.10% to 5.82%, an 88% increase since summer of 2022.
Homebuyers face 20-year-high mortgage rates, but still below the 8% historical average.
Year-over-year pending home sales are down 37%.
The Average Income Needed to Buy a House
Comparing recent home buying data, the income required to buy the average single-family home in the United States rose from $75,391 in 2021 to $103,389 in 2022, an increase of $27,998.
What a difference a few months make. In the early summer of 2022, interest rates hovered at 3.1%. Then, the Federal Reserve began its effort to combat inflation by implementing successive interest rate hikes (.75 basis points each) until mortgage rates reached nearly 7%. Accounting for some fluctuations, the average 30-year rate in Q3 2022 was 5.82%.
Suffice it to say, the cost of borrowing money (vis a vis interest rates) became much more expensive: monthly mortgage payments are now significantly higher.
Factors that Influence Home Affordability
The relationship between home prices, interest rates, and household income drives home affordability.
At any given time, one variable may outpace the others, but eventually, they return to equilibrium.
What's more, each variable moves at a different pace. For example, the Federal Reserve's interest rate change will immediately impact loan rates. However, household income and home prices change much slower, usually by months, if not years.
Current Real Estate Market Summary
Interest rates remained low until the summer of 2022, but the cost of borrowing went up quickly in the latter half of the year.
During the pandemic, home price increases outpaced household income. Today, home prices are somewhat stable, though a few hotter markets during the pandemic are seeing significant declines.
However, year-over-year pending sales are down 37%.
In the last half of 2022, salaries have grown, but only modestly.
As you might have guessed, home affordability is out of whack now. Interest rates are having the most impact on the market; they have the most significant change in velocity right now among the variables that influence how much income is required to buy a house.
The likely near-term scenario is that home prices will decline until a balance among the variables is restored.
Below you will find year-over-year changes in the income needed to buy a single-family home in the United States, both by national average and among the top cities.
Salary Needed to Buy a Home in the Top 50 Cities
| U.S. Metro | Q3 2022 Mdn Price | Income Needed | Q3 2021 Mdn Price | Income Needed | Y-O-Y Income Change |
| --- | --- | --- | --- | --- | --- |
| National Avg. | $398,500 | $105,248 | $367,100 | $76,698 | $28,558 |
| Atlanta | $371,200 | $98,037 | $325,700 | $68,041 | $29,997 |
| Austin | $541,600 | $143,042 | $498,400 | $104,119 | $38,923 |
| Baltimore | $390,600 | $103,161 | $370,300 | $77,358 | $25,803 |
| Birmingham | $308,800 | $81,557 | $273,600 | $57,157 | $24,400 |
| Boston | $698,900 | $184,586 | $657,800 | $137,418 | $47,168 |
| Buffalo | $243,800 | $64,390 | $231,800 | $48,424 | $15,966 |
| Charlotte | $400,600 | $105,802 | $363,500 | $75,937 | $29,865 |
| Chicago | $349,400 | $92,280 | $337,800 | $70,568 | $21,711 |
| Cincinnati | $268,400 | $70,887 | $253,500 | $52,958 | $17,929 |
| Cleveland | $227,700 | $60,138 | $212,900 | $44,476 | $15,662 |
| Columbus | $312,100 | $82,429 | $286,300 | $59,810 | $22,619 |
| Dallas | $390,100 | $103,029 | $345,200 | $72,114 | $30,915 |
| Denver | $666,000 | $175,897 | $614,800 | $128,435 | $47,462 |
| Detroit | $266,000 | $70,253 | $259,500 | $54,211 | $16,042 |
| Hartford | $344,100 | $90,880 | $314,700 | $65,743 | $25,137 |
| Houston | $349,500 | $92,306 | $309,900 | $64,740 | $27,566 |
| Indianapolis | $301,400 | $79,603 | $269,000 | $56,196 | $23,407 |
| Jacksonville | $398,000 | $105,116 | $339,000 | $70,819 | $34,297 |
| Kansas City | $314,500 | $83,062 | $283,300 | $59,183 | $23,879 |
| Las Vegas | $463,500 | $122,415 | $411,800 | $86,027 | $36,387 |
| Los Angeles | $893,200 | $235,902 | $860,900 | $179,847 | $56,056 |
| Louisville | $263,800 | $69,672 | $245,500 | $51,286 | $18,386 |
| Memphis | $276,700 | $73,079 | $254,000 | $53,062 | $20,017 |
| Miami | $570,000 | $150,542 | $490,000 | $102,364 | $48,179 |
| Milwaukee | $358,300 | $94,630 | $333,000 | $69,566 | $25,065 |
| Minneapolis | $381,100 | $100,652 | $362,000 | $75,624 | $25,028 |
| Nashville | $408,300 | $107,836 | $355,400 | $74,245 | $33,591 |
| New Orleans | $278,900 | $73,660 | $275,400 | $57,533 | $16,127 |
| New York | $627,400 | $165,702 | $586,800 | $122,586 | $43,116 |
| Oklahoma City | $235,300 | $62,145 | $198,500 | $41,468 | $20,677 |
| Orlando | $425,000 | $112,246 | $365,000 | $76,251 | $35,996 |
| Philadelphia | $349,200 | $92,227 | $324,800 | $67,853 | $24,374 |
| Phoenix | $474,400 | $125,293 | $429,600 | $89,746 | $35,548 |
| Pittsburgh | $210,250 | $55,529 | $243,300 | $50,827 | $4,702 |
| Portland | $594,300 | $156,960 | $549,200 | $114,731 | $42,229 |
| Providence | $453,800 | $119,853 | $416,900 | $87,093 | $32,760 |
| Raleigh | $460,500 | $121,622 | $403,500 | $84,293 | $37,329 |
| Richmond | $384,100 | $101,444 | $355,300 | $74,224 | $27,220 |
| Riverside | $567,000 | $149,750 | $524,000 | $109,467 | $40,283 |
| Sacramento | $535,000 | $141,299 | $512,000 | $106,960 | $34,339 |
| Salt Lake City | $561,200 | $148,218 | $500,800 | $104,620 | $43,598 |
| San Antonio | $342,700 | $90,510 | $300,900 | $62,860 | $27,651 |
| San Diego | $900,000 | $237,698 | $850,000 | $177,570 | $60,129 |
| San Francisco | $1,300,000 | $343,342 | $1,350,000 | $282,023 | $61,320 |
| San Jose | $1,688,000 | $445,817 | $1,650,000 | $344,694 | $101,122 |
| Seattle | $741,300 | $195,784 | $708,400 | $147,989 | $47,796 |
| St. Louis | $256,800 | $67,823 | $235,700 | $49,239 | $18,584 |
| Tampa | $405,100 | $106,991 | $341,000 | $71,237 | $35,754 |
| Virginia Beach | $327,300 | $86,443 | $290,000 | $60,583 | $25,860 |
| Wash. D.C. | $581,300 | $153,527 | $548,600 | $114,606 | $38,921 |
Methodology
RubyHome's analysis is based upon the following data and assumptions:
Quarterly median single-family home prices (NAR)
Mortgage rates: 3.10% in Q3 2021, 5.82% in Q3 2022, St. Louis Federal Reserve Bank
Loan: 30-year mortgage
Down payment: 20%
Debt-to-Income (DTI) Ratio: 28% (front end ratio)
Taxes: 1.25% of purchase price
Insurance: 0.5% of purchase price
Property type: Single-family home
Cities defined by Metropolitan Statistical Areas (MSAs): U.S. Census
Excluded:
HOA fees
Closing costs
Mortgage insurance
Additional data:
for Pittsburgh, we use data from Redfin