5 Great Recreational Bike Rides in Los Angeles
Posted by Tony Mariotti on Thursday, July 25, 2019 at 3:58 PM
By Tony Mariotti / July 25, 2019
Comment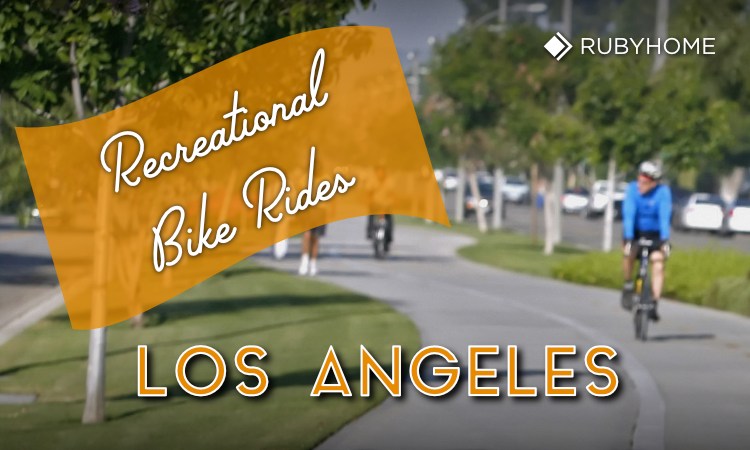 Los Angeles is a notoriously auto-centric city. Traveling by car here reigns supreme over other forms of transportation. However, that is slowly changing thanks to the Los Angeles County Bicycle Plan and other initiatives that aim to change and improve how Angelinos get around.
While Los Angeles has a bit of catching up to do in terms of widespread adoption of commuter biking, recreational cycling has always been popular in Los Angeles County, especially near its beach cities and in the larger metropolitan parks. And why not? Southern California has year-round weather that is perfect for it.
Below is a curated list of recreational bike paths in Los Angeles to help you plan your next outing. Each route is geared (pun intended) for casual riders at all skill levels. We've picked paths with mostly flat terrain (classified by L.A. County as moderate or easy in difficulty) that are not overly taxing to most riders. The routes have little or no traffic, so they are considered safe (Class 1 or Class 2 as identified by the county).
The bike routes below are also meant to appeal to your sense of exploration; you'll catch the scenery you might otherwise miss in your car. You'll see new details and discover the lesser-known nooks and crannies of Los Angeles.
Recreational Bike Routes in Los Angeles
Orange Line Bicycle Path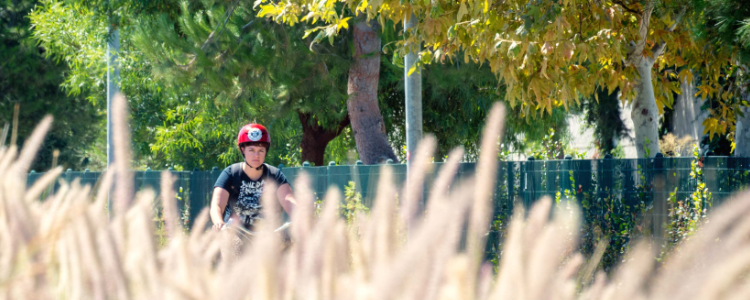 The Orange Line Bike Path cuts across the heart of the San Fernando Valley from North Hollywood to Chatsworth and parallels a Metro Rapid bus path, the Orange Line. The route runs for 18 miles, and the lanes are wide with dedicated bike paths in each direction, plus a pedestrian lane. Locals who frequently use the Orange Line Bike Path appreciate its smooth, comfortable ride.
While the path provides a traffic-free, safe ride, users have to stop when crossing streets that run perpendicular to it. For cyclists, stopping every so often reduces their overall ability to maintain the flow of an uninterrupted ride. That's why the Orange Line Bicycle Path is suitable for casual, recreational riding over hardcore cycling or training.
On the eastern end of the Orange Line, cyclists and pedestrians can continue on the Chandler Bike Path that will take them into Burbank. Combining both paths results in an overall 21.3-mile route.
Griffith Park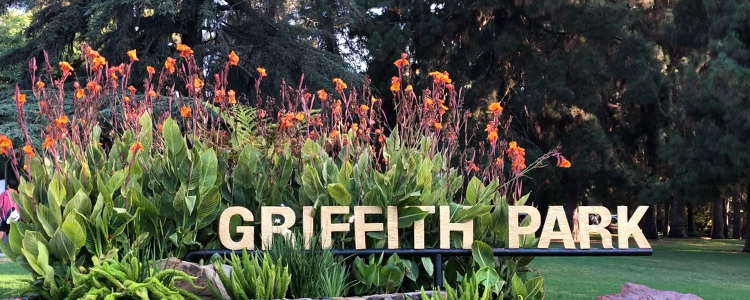 Griffith Park is massive; it occupies 4,210 acres of natural parkland. You can golf, hike, ride horseback, ride a miniature train, visit a zoo, and attend a concert at an amphitheater (to name just a few activities).
There are several routes and loops for bicyclists, some that are rather hilly. Casual riders will want to focus on the out-and-back ride between Travel Town Museum and Griffith Park Southern Railroad.
If you're packing your bikes here in a car, there are parking lots at both ends of this Griffith Park route. The course described below stays within the park boundaries.
Start at Travel Town Museum and follow Zoo Drive toward the Los Angeles Zoo. The road turns in to Western Hermitage Way as it passes the zoo and then continues as Crystal Springs Drive. For what it's worth, stay on the main road, and their names will change, but you won't even notice. Continue on Crystal Springs Drive along a straightway that cuts between the Wilson & Harding golf courses. You'll turn around at the parking lot near the Griffith Park Southern Railroad and Griffith Park Pony Ride.
You can rent bikes from Spokes 'N Stuff at the Ranger Station Parking Lot (4730 Crystal Springs Drive).
Glendale Narrows Elysian Valley Bike Path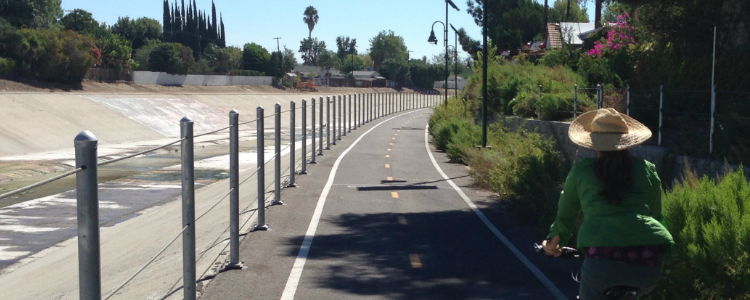 The Glendale Narrows is a 7.4-mile segment of the Los Angeles River bicycle path that starts at Griffith Park and runs through Atwater Village and Elysian Valley before terminating at Egret Park near the Historic Figueroa Viaduct.
The Glendale Narrows is part of the City of Los Angeles' river revitalization effort to improve and even restore portions of the L.A. River to a more natural state, before its chanelization (the pouring of concrete to control flooding). This section of the L.A. River is unique because it has a natural bottom. However, it still has concrete banks.
As you ride, you can take the scenery which includes views of the San Gabriel Mountains. You'll undoubtedly spot wildlife and birds like ducks, geese, hawks, and herons. You'll probably also see kayakers floating along and people fishing from the banks.
There are several bike access points along the route.
Ballona Creek Bike Path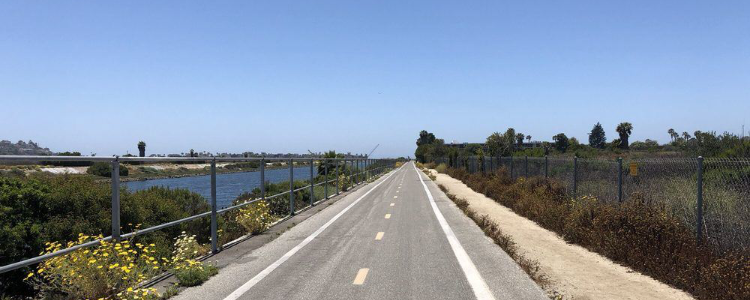 Ballona Creek Bike Path runs along an east/west axis through Los Angeles' Westside. The path runs for 6.7 miles between Culver City to the Pacific Ocean where it terminates at Marina Del Rey's South Jetty.
Ballona Creek is channelized in the 1930s with concrete to prevent flooding much like the L.A. River. The creek follows a ditch, so the bike path is lower than the surrounding surface streets. There are several access points along the route. Several entrance gates have ramps that let cyclists ride down from the surface street to the bike path below. If there's a chance of substantial rain that could lead to flash flooding, the access gates will be locked.
Marvin Braude Bike Trail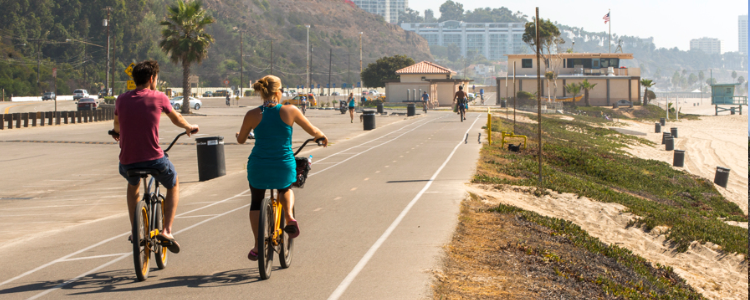 The Marvin Braude Bike Trail is a 22-mile bike path that follows the Pacific Ocean shoreline from Will Rodgers State Beach to Torrance State Beach.
Riders can park at either end or access the trail from several neighborhoods along the way. You can take a full day and ride the entire length out-and-back or pick off the portion of it that appeals to you most. Here are the main sections of the Marvin Braude Bike Trail that interconnect:
Will Rogers State Beach - the northernmost part between the park (Temescal Canyon Road and Pacific Coast Highway) south to Santa Monica city limits.
Santa Monica - the section along the beach within Santa Monica's city limits. You can take a small detour to pop into the Farmers Market in Santa Monica's Ocean Park neighborhood.
Venice Beach - the section along Venice Beach between Santa Monica's city limits and Marina Del Rey (Washington Boulevard).
Marina Del Rey - this section of the trail wends its way inland and follows the shores of the marina until it meets up again with the coastline at Marina Del Rey's South Jetty.
Dockweiler State Beach - this section runs from Marina Del Rey, through Playa del Rey, Dockweiler State Beach to the El Segundo city limit.
The Strand - runs from El Segundo to Torrance through the South Bay communities of Manhattan Beach, Hermosa Beach, and Redondo Beach.
Deciding when and where you want to ride could be shaped by the day of the week. Weekend pedestrian traffic can get rather heavy in a few spots like Santa Monica Pier, Venice, Dockweiler State Beach, Manhattan Beach, and Redondo Beach.
Using this path on weekday mornings is almost always rewarding not only for the exercise and endorphins but for the views. If you make the path a part of your morning workout routine, you'll see sunbeams lighting up the white crests of waves as they break, surfers getting the first rides of the day, and assorted marine life bobbing in and around the shoreline.
L.A. County Master Bike Plan
When people move to Los Angeles from cities like New York and San Francisco - where they formerly relied on subways and busses (in fact, may not have owned a car) - they invariably make an adjustment to a life in L.A., a city that is far more spread out and car-dependent. The L.A. Bike Plan aims to make Angelinos less dependent on automobiles.
Commuting: Local municipal governments are gradually adding more bike lanes and dedicated bike paths across the county. Because each section is a carefully orchestrated part of the overall master plan, newly built trails connect and form an extensive network. This network serves many cities, neighborhoods, and unincorporated areas. More and more commuters are finding safe and efficient bike rides in Los Angeles to-and-from work.
Recreational Riding: The expansion of bike paths in the county increases opportunities for recreational riders all across the Los Angeles Metro area. Now, cyclists have more dedicated bike lanes than ever to get from their neighborhood to a larger recreational bike path or park.
In sum, the L.A. County Bike Plan is slowly transforming Los Angeles into a bike-friendly city.
Definitions
Class I Bike Lanes - completely separate from traffic
Class II Bike Lanes - marked bike lanes on the street
Class III Bike Routes - a street with signs indicating that it is a bike route

Bike Maps and Planning Tools