16 Reasons Appraisals Come In Low
Posted by Tony Mariotti on Wednesday, April 26, 2017 at 5:54 PM
By Tony Mariotti / April 26, 2017
Comment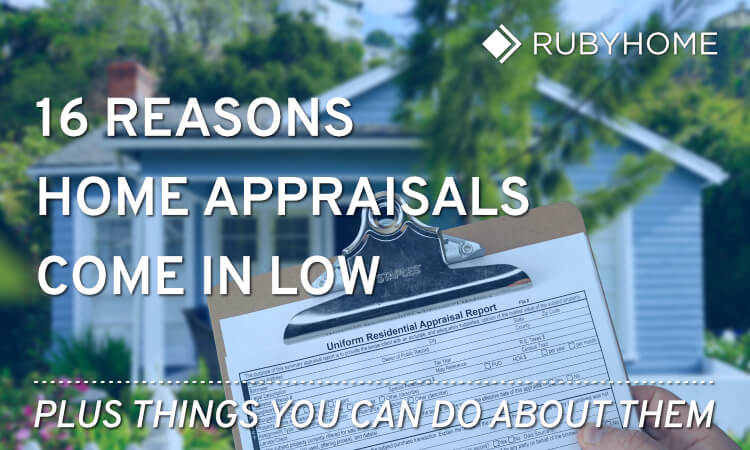 There's no bigger emotional turning point in the home buying process than the moment a buyer makes an offer on a home. The transition from merely shopping to formally putting some skin in the game introduces higher levels of anticipation for everyone involved in the transaction. Things get very real.
At this stage of the mortgage loan process, the appraisal is ordered.
Low Appraisals and Loan to Value (LTV)
Appraisals help lenders make better decisions. In fact, lenders only underwrite loans for the purchase price or appraised value, whichever is lower. This is part of the system of checks and balances in the lending universe.
One really important underwriting guideline is the loan-to-value (LTV) percentage. The maximum LTV will vary depending on the loan program, whether it FHA, VA, etc. But rest assured, there will always be one.
When appraisals come in low, the LTV ratio changes for the worse. In order for the deal to go through, the difference needs to be reconciled but borrowers may not have the cash to cover the gap. Here's an example:
A borrower is approved for 80% LTV or $80,000 on a $100,000 home. The borrower has $20,000 for the down payment. All the stars are aligned.
However, the appraisal comes in low at $95,000 which becomes the new maximum home value. Recalculating the 80% LTV on the new $95,000 appraised value pushes down the maximum loan amount to $76,000.
The seller holds steady at their $100,000 asking price.
The borrower originally had $20,000 but now needs a down payment that covers the difference between the $100,000 asking price and the $76,000 loan amount. Now they need $24,000, a $4,000 gap from their original down payment.
A low appraisal can pump the brakes on a deal faster than anything else.
The Role of Comps
A big component of the appraisal process is the use of comparable sales, or comps. Three (3) comps are included on the Universal Residential Appraisal Report (URAR), also known as the Fannie Mae Form 1004.
Appraisals are meant to be supported by research, proper methodology and thoughtful analysis. Comps should similar to the subject property in style, location, square footage and sold within the past few years.
Below you will find 16 reasons why appraisals can come in low and 12 things you can do about it.
16 Reasons for Low Appraisals
MARKET CONDITIONS
1. Hot Markets
When markets move faster than normal, appraisal values lag market prices. As mentioned, the appraisal process compares recent past sales. Backward looking data -- no matter how recent it is -- won't keep pace with present prices in high-velocity markets.
You might be in a hot market if you see:
A short number of days from the time homes list on the MLS and when they sell
Frenzied buyer bidding (people see a home and bid on it the same day)
Multiple bids on a property
People in your social and work circles talk constantly about real estate
For example, let's say it's currently the month of April and an appraiser is looking at recent comps from a three months ago, in January. But the April market -- boosted by few sunny weekends -- has put the real estate market into full swing heading toward summer. There's more than just pollen in the air. All the desirable homes are getting bid up by 10% over the seller's asking price. Yep, things can move that quickly.
2. Cold Markets
Of course, the flip side of a hot market is a sluggish one. Cold markets are characterized by:
Fewer buyers
Inventory build up
Slow turnover
If fewer homes in your area of comparable size and quality have been sold in last 6 months, the dearth of comps is going to make it trickier to get the market value of the subject property right.
APPRAISERS
3. Appraiser Shortage
Maybe the Federal Reserved dropped interest rates a few weeks ago and home sales volume shot up 10%. That doesn't mean there are more appraisers available to do the work. Plus, when interest rates go down, not only does purchase volume go up, but refinance activity also spikes. Hot markets can easily double the demand for appraisers. But the supply appraisers is not as elastic.
4. Rush Jobs
So what happens when appraisal demand goes up and there aren't enough appraisers? Well, there's less time to do the work. What happens when people are rushed? The quality of the work goes down. Less time means less follow-up and research.
5. Lack of Local Market Knowledge
It's not uncommon in Southwest Washington State for an appraiser to be licensed in both Portland, Oregon and Vancouver, Washington. It's also not uncommon for an appraiser to do most of his or her work in Portland but occasionally drive across the I-5 Bridge for a gig in Vancouver. You can see that's less than ideal.
Appraisers may not be aware of unique neighborhood characteristics. For example, they may not know about the award winning elementary school three blocks down the road.
6. Lack of Experience
Some appraisers are new to the profession or have not performed an appraisal on a specific type of property.
"Sometimes you know you're in trouble from the get-go," Says Paul Shapard, long-time Southwest Washington Realtor. "I had an appraiser show up and let it slip that he'd never appraised a condo before." The appraisal on the unit came in low. The deal was scuttled.
7. Housing Crash Hangover
The lingering hangover from 2008 housing crash and the ensuing regulatory regime has had a chilling effect on the appraisal business. Before the housing crisis, appraisers had close relationships with other professionals involved in the real estate transaction. Today, appraisers no longer have direct relationships with real estate agents and lenders. And appraisers are generally a more cautious when assigning value to a property.
COMPARABLE PROPERTIES
8. Bad Comps
A comparable property may have been in horrible shape when it was sold but has since been rehabilitated by new owners. When an appraiser has no idea about the property history, the rehabbed home would be a bad comp.
9. Missed Comps
A classic missed comp is a similar property which recently sold but was not yet recorded at the time your appraisal took place. This can happen when counties are backlogged and tax information (and thusly MLS info) aren't yet a matter of public record.
10. Foreclosures
If there are only a few foreclosures nearby in an otherwise healthy market, but one is used as a comp, this is a really unfortunate situation. If there are many foreclosures nearby, like in the years immediately following the 2008 housing crises, well...that's just the overall market in decline.
11. Bank-Owned Sales Nearby
When a foreclosed property fails to sell, it becomes a bank-owned or real estate owned (REO) property. When REOs are used as comps, they suck down the value of the subject property unless an appraiser adjusts for marketing conditions. REOs can also be - and often are - in worse physical shape. An adjustment for the condition of the property should also be made.
12. Distressed Properties
Homeowners may need to sell a property quickly due to conditions not directly related to the overall real estate market. Death and divorce come to mind as two of the big ones. Sellers motivated only by the desire to get rid of a property will often lower the price to entice buyers. It's unfortunate when a distressed property is used as a comp because the price is distorted, but not from broader market conditions.
SUBJECT PROPERTIES
13. Misallocated Capital
Having the only house in the neighborhood with high-end fixtures, appliances or landscaping may not work out as well as one would hope. If homeowners go bananas to make their house absolutely fabulous -- way over and above the style of nearby homes -- they will probably not get the return on their investment that they expect. There's an old saying, "Never own the most expensive house in your neighborhood."
By the way, improvements made to the main level of a home get more weighted value than improved basements. So blowing $5,000 on a rad "man cave" in the basement for football season is not an efficient use of capital (if you're expecting a monetary return).
14. Disheveled There no polite way to say this. A dirty, messy home on the inside or outside isn't going to get a free pass. A tired property is going to take a hit. There's a price for ugliness and it's a negative number.
CONSUMERS AND AGENTS
15. Expectations Out of Whack
Is the appraisal actually low or are seller expectations too high? If anyone sets their hopes based on a Zestimate (Zillow's algorithmic estimate of home values) they may be doing themselves a big disservice. By Zillow's own admission, Zestimates are inaccurate by roughly 8% nationally and are sometimes off by much more (we found evidence of 21% discrepancy) in one California county.
Another source of anguish and pain comes from real estate agents who convey an exaggerated home value to a seller just to get their listing.
16. Laziness
Real estate agents need to be prepared to meet with appraisers and make a case with their own list of comps. Hard-working, smart agents don't like surprises. They want to make sure nothing is missed.
12 Ways to Handle Low Appraisals
Before the Appraisal
1. Be proactive
Agents and/or sellers can meet with the appraiser during the appraisal and provide a list of comparable properties. Be ready to politely point out features of the home as well as the neighborhood.
2. Don't Annoy the Appraiser
Don't be a putz. Making a case to an appraiser should not come across as coercion. Your only goal is to make sure nothing is missed. In fact, one of the best tactics is to convey information as a question, such as, "Did you notice that all the appliances were Energy Star compliant?"
3. Bring Pictures
Did you make any upgrades or do some rehab work to your home? It'll help to show before and after pictures of any improvements to the property. It wouldn't even hurt to show receipts.
4. Clean Up
Having a clean home on the inside and out is huge. Eliminating clutter and dirt is basic and necessary. Not only will it contribute to the fight against a low appraisal but it's also essential to marketing and showing the property to prospective buyers.
5. Keep Emotions In Check
If you put in some upfront effort, like creating a package of information about your property for the appraiser, you should be able to relax a bit. Being prepared is the best medicine. And if an appraisal comes in low, there are still measures one can take.
After a Low Appraisal
Hopefully, you prepared for the appraisal. But in spite of those efforts, what happens when appraisals come in low? Well, this is obviously a tougher situation. But not a hopeless one.
6. Follow Up
Agents need to be available for phone calls to answer any of the appraiser's follow up questions. Of course, this requires that the agent knows the details of the subject property and something about the comps.
7. Negotiate
In an ideal negotiation, both parties are willing to find a way to get the deal done. Here are some scenarios:
The seller goes down to appraised value.
The buyer goes up to asking price.
Both parties split the difference - buyer puts in more, seller comes down. The parties reach a split such as 50/50 or 70/30. Sometimes sellers can cover the closing costs as a way to make up ground.
8. Look for Errors
Double check all the data in the report. Look for any errors in the square footage, the number of bedrooms and bathrooms, etc.
9. Challenge It
Maybe you don't feel the comps were representative or adequate, especially if there are short sales or foreclosures nearby and no market adjustment was made. You have the right to challenge the appraisal.
10. Order a New Appraisal
Borrowers can also start over with a new lender and a fresh appraisal. This is pretty undesirable for many buyers who don't want to put out more cash. This is especially true when there's uncertainty that the second appraisal may not be any different. But it's still an option and not without merit.
11. Cancel
Sometimes the best choice is bail out. Buyer can always walk away. An appraisal contingency in the purchase contract gives you that right.
SUMMARY:
Appraisals can come in low for a variety of reasons. Many factors are at play including market conditions, the appraiser doing the work, the subject property being appraised and the comps. Sometimes the appraisal is not even low; misplaced expectations were merely set too high.
There are measures sellers and real estate agents can take prior to the appraisal to help reduce the odds of a low appraisal. And there are countermeasures that can be taken after a low appraisal.