Real Estate Statistics (2023)
Posted by Tony Mariotti on Friday, August 25, 2023 at 5:45 AM
By Tony Mariotti / August 25, 2023
Comment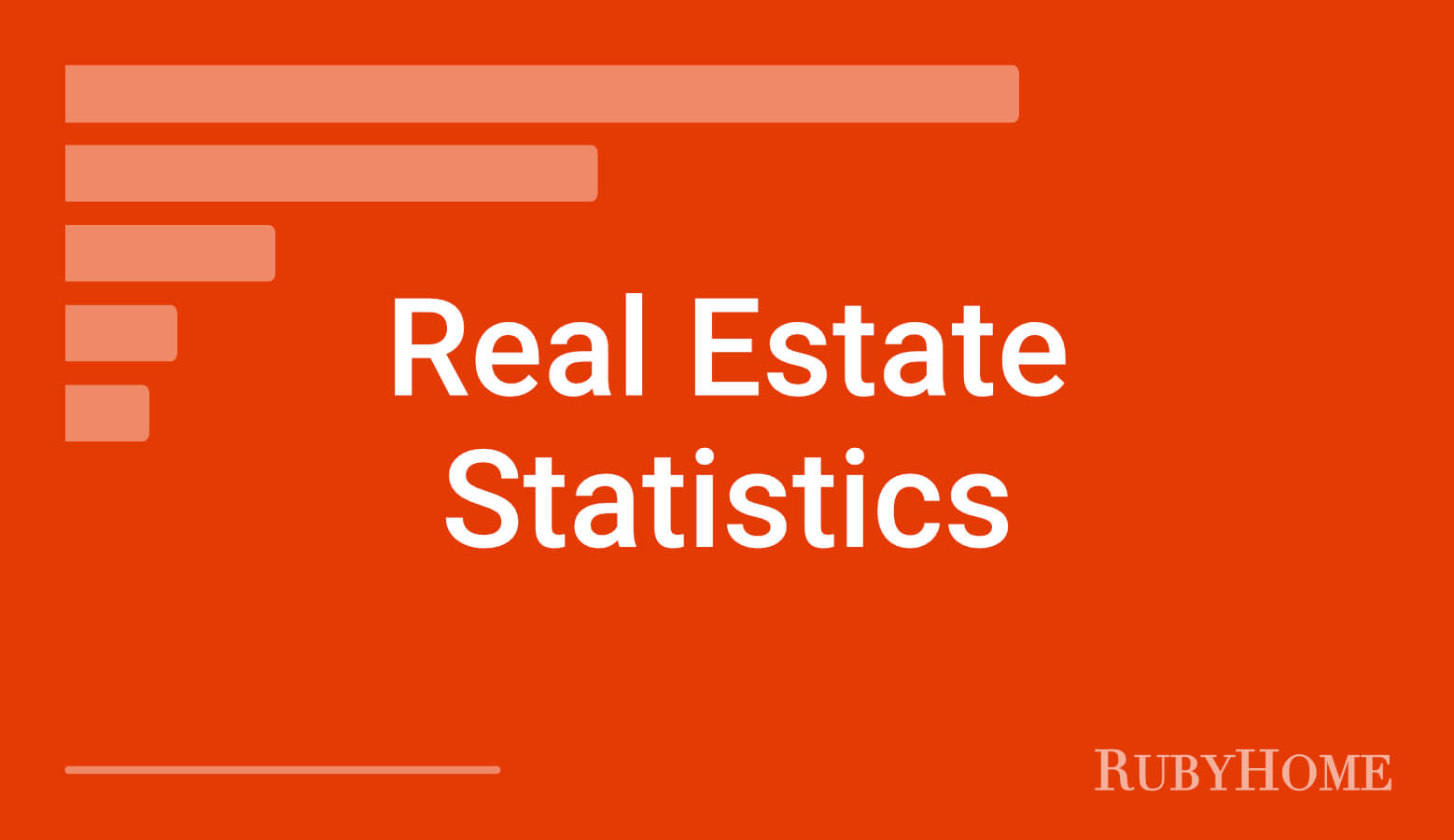 RubyHome compiles data and research to make it easy for consumers, journalists, and researchers to get data and information they need quickly. In this high-level article, we cover the following topics:
Key Real Estate Stats
There are 1,566,354 Realtors in the United States.
27 million Americans move each year.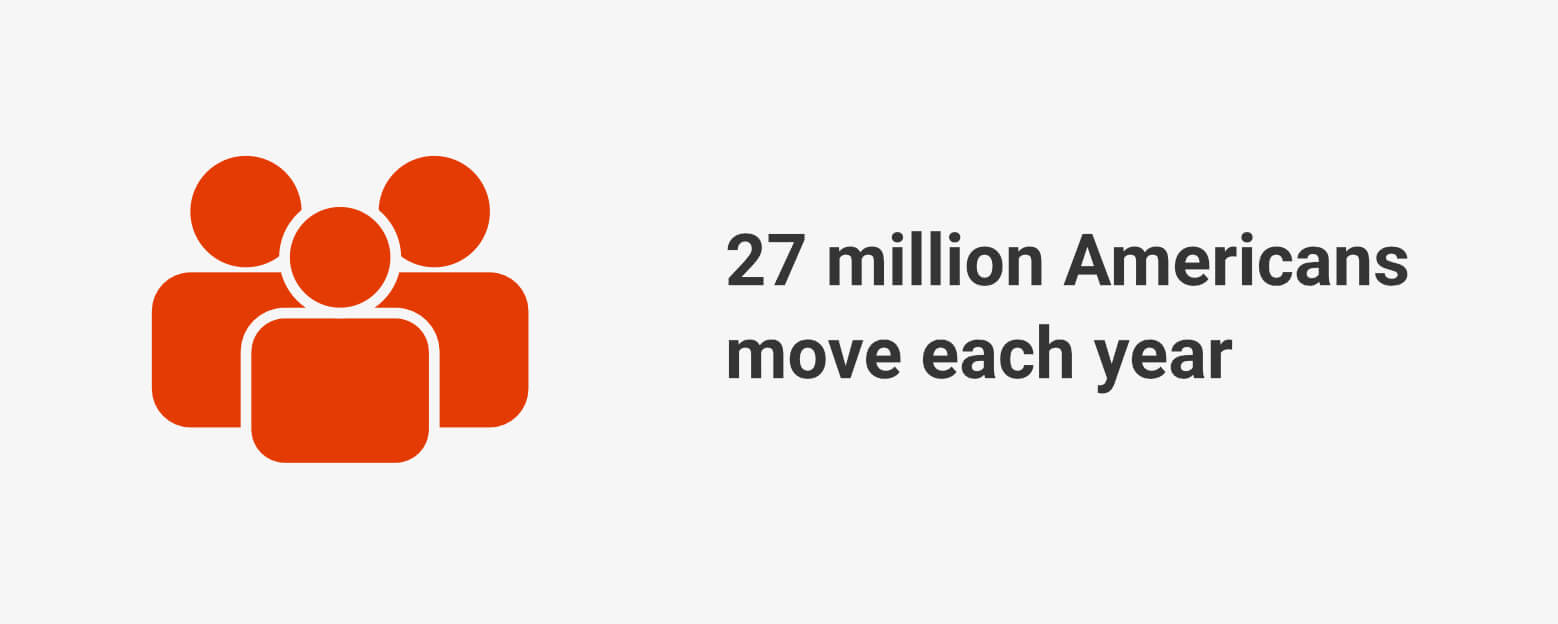 The salary need to buy the average single-family home in the United States is $102,557.
The median home price in the United States is $422,550.
The median duration of homeownership in the U.S. is 13.2 years.
65.9% of American homes are owner-occupied.
Approximately 26% (74 million) of the U.S. population lives in HOA communities.
Real Estate Companies and Agents
Biggest Real Estate Companies by Website Traffic
Zillow is the largest real estate website in the United States, ranked by visitor traffic. It averages 60 million monthly visitors.
The top 3 most popular real estate websites (Zillow, Realtor, and Trulia) earn revenue primarily from selling leads to real estate agents.
With 10.2 million monthly visitors, Redfin is the top-ranking website for a full-service brokerage (works directly with consumers rather than selling leads).
Read more about the most visited real estate websites.
Number of Real Estate Agents in the United States
There are 1,566,354 Realtors in the United States.
There are 106,548 real estate brokerages in the United States, or 14.7 Realtors for every brokerage.
There are approximately 2 million real estate agents (Realtors plus state-licensed agents who are not members of the National Association of Realtors).
Among the states, Florida has the most Realtors and Vermont the fewest.
Among cities, the Miami Metropolitan Area has the highest concentration of real estate sales agents.
Check out the full article about the number of agents in the U.S.
Buying a Home
Home Prices
The median home price in the United States is $422,550.
Hawaii ($966,572) and California ($762,981) have the highest median home prices in the nation.
Since 1963, home prices have seen a 23x increase; or roughly 10.4% on average per year.
Get additional details about average home prices.
Income Needed to Buy a Home
The salary needed to buy the average single-family home in the United States is $104,016.
Mortgage interest rates moved from 3.82% to 6.37% from 2022 to 2023 a 67% increase.
Homebuyers face 20-year-high mortgage rates, but still below the 8% historical average.
See the full breakout of the salary needed in each state.
Selling a Home
Staging Homes
Staged homes can sell for more money: 38% of buyers' agents said staging increased their clients offer over similar non-staged homes. 41% of sellers' agents reported an increase in dollar value offered by buyers for staged homes compared to similar non-staged homes.
Staged homes can sell faster: 48% of sellers' agents report a decrease in days on market (DOM) for staged homes.
The average cost of staging a home is $1,776/month.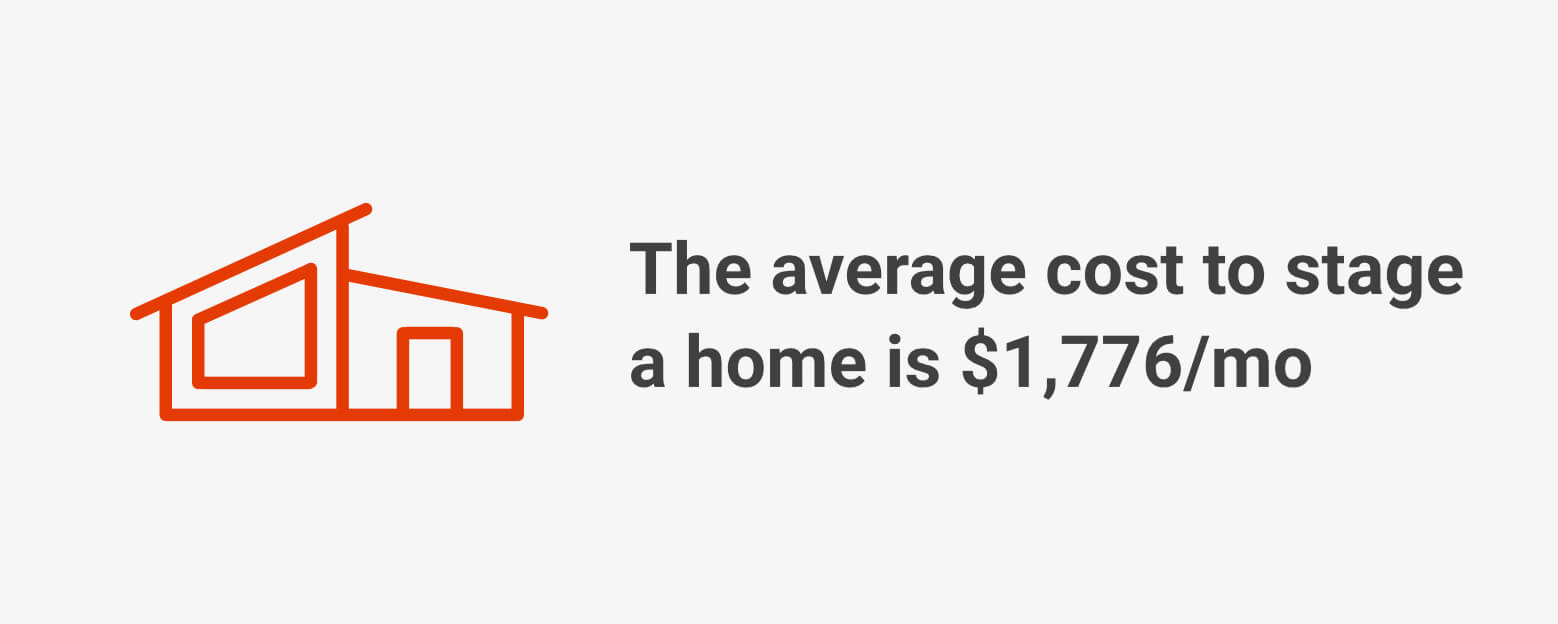 The average cost of staging a vacant luxury home is $6,800/month.
The living room is the most important area for staging, and the guest bedroom is the least important.
Review the full set of home staging stats.
Real Estate Photography
The average cost for residential real estate listing photos is $230.
97% of homebuyers start their home search online, which is why the first impression when marketing a home begins with great images.
Real estate listings that include professional photography sell 32% faster.
Homes with aerial photos sell 68% faster.
Homes listings with videos get 403% more inquiries than those without them.
63% of people who bought a home in 2020 made an offer for a property based on a virtual tour.
Get more info about real estate photography and average prices.
Homeownership
Basic Homeownership Stats
65.9% of American homes are owner-occupied.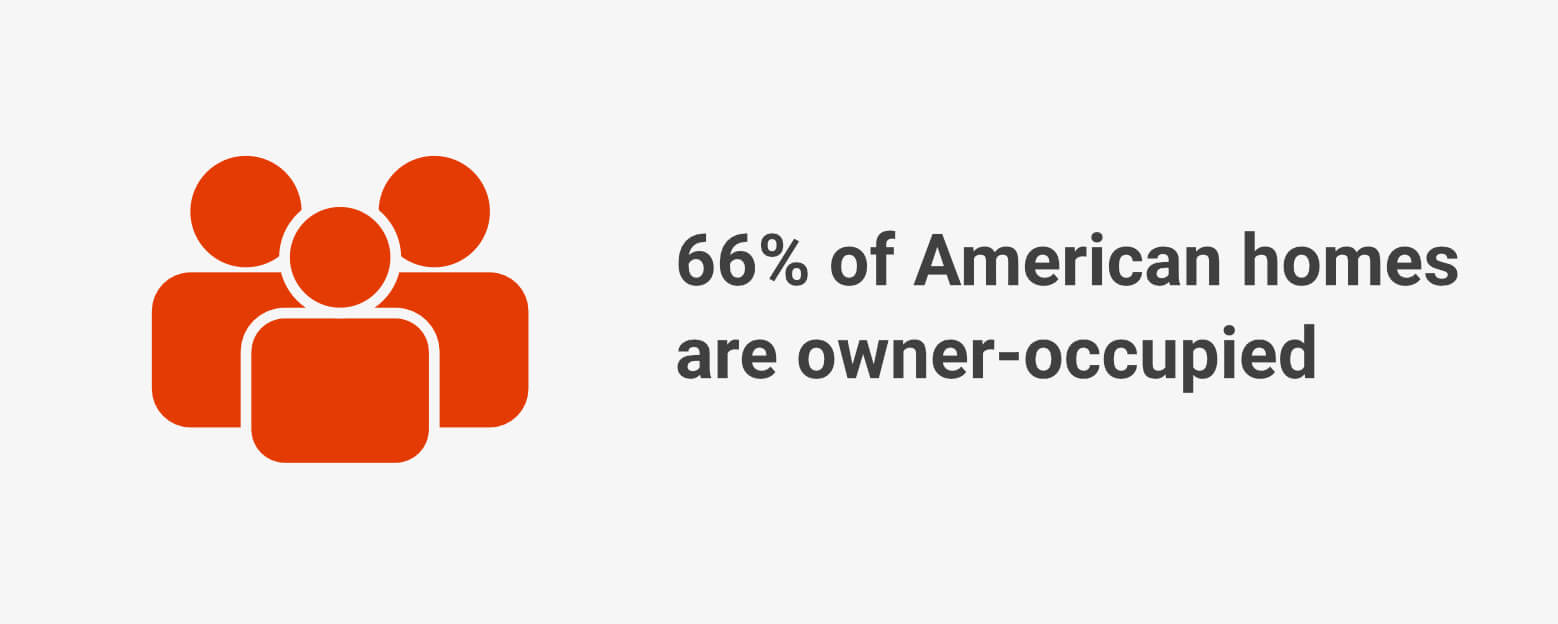 New York (54.3%), California (55.3%), and Hawaii (61.3%) have the three lowest rates of homeownership among states.
Homeownership rates are higher with older Americans. 79.1% of those over the age of 65 are homeowners, nearly double the ownership rate for those under 35.
Over the past 58 years, the homeownership rate in the U.S. has stayed between 63%-69%.
For additional data, view all homeownership statistics.
Average Length of Homeownership
The median duration of homeownership in the U.S. is 13.2 years.
The median length of homeownership has increased by 31% since 2012.
Homeowners in the Northeast stay in their homes the longest.
In large metros like New York City and Los Angeles, homeowners stay in their homes for 15 years, slightly longer than the national average.
Homeownership tenure in the Mountain States is the lowest.
A study showed that people own homes 47% longer on average when built before the year 2000 versus after.
Review more info about the average length of homeownership in the U.S.
Homeowners vs. Renters
Over 70% of U.S. homeowners are 45 or older, while more than a third of renters are younger than 35.
The median age of U.S. homeowners is 56, and the median age of renters is 39.
75% of U.S. homeowners are White.
The median household income of U.S. homeowners is $86,000, and the median income of renters is $42,500.
Homeowners tend to have an "excellent" credit score rating, while the rating of renters is "fair."
U.S. homeowner have a net worth 40x higher than renters: $225,000 vs. $6,300.
Review the full set of homeowners vs renter stats.
Home Maintenance & Repair
Home Remodeling Statistics
The top three home improvement projects are interior painting, bathroom remodeling, and installing smart home devices.
Median spending on home remodeling was $18K in 2021.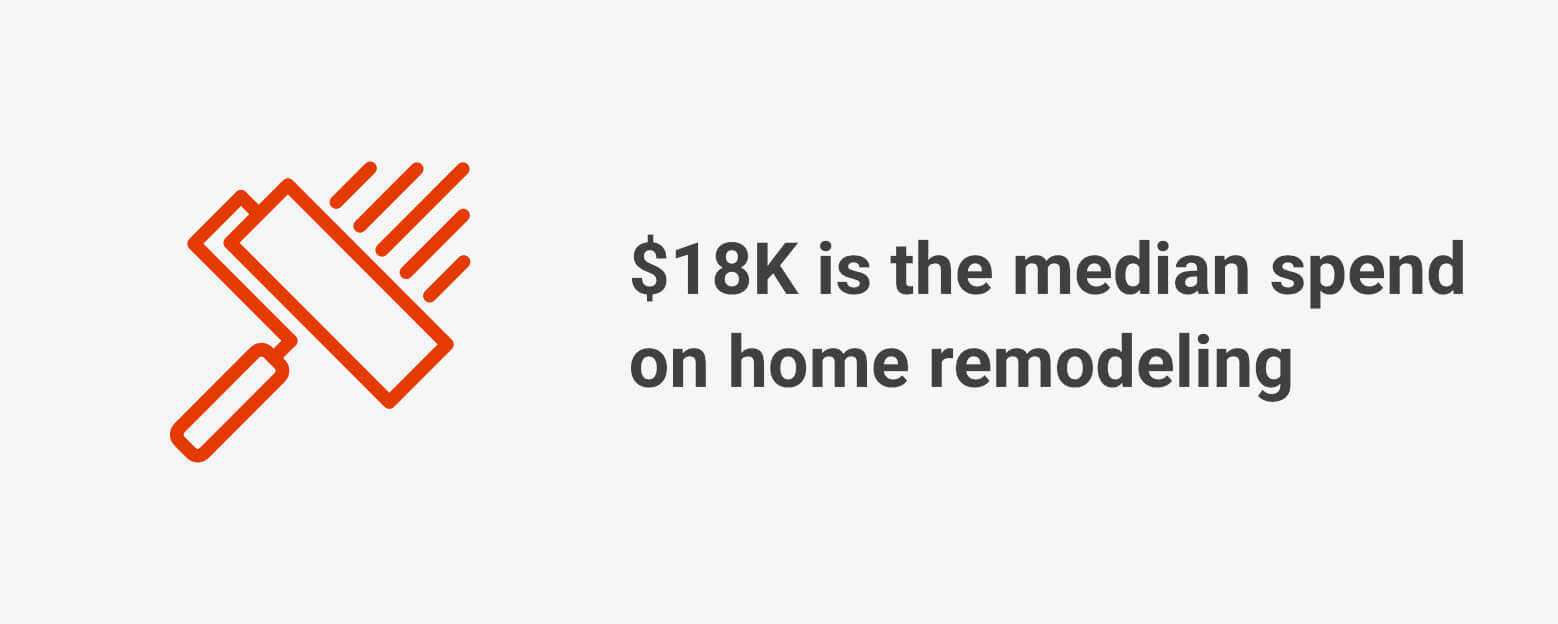 Median spending for interior remodeling areas increased 38% from 2002 to 2021.
A home remodeling project's average cost recovery rate (return on investment) is 56%, but some projects generate double-digit returns.
Homeowners who've lived in their house longer than six years account for 60% of remodeling activity, yet spend 50% less than recent homeowners (owners who've been in their home less than one year).
Check out the full article about home remodeling.
Landscaping
The typical price range for landscaping projects is $2,600 - $13,700, with the average project costing $8,150.
Landscaping maintenance typically costs between $100 - $200 per month.
Taking a home from no landscaping to well-planned and executed landscaping can increase the home's value between 5.5% - 12.7%.
Review the comprehensive list of landscaping statistics.
Gardening
55% of U.S. households (71.5 million) garden.
The U.S. is one of the top 3 gardening countries.
55% of people garden to create a beautiful space, and 43% garden to grow food.
Tomatoes are the most popular homegrown vegetables and found in 86% of food gardens.
The average U.S. garden is 600 sq.ft. and produces $600 worth of food.
A 100-200 sq.ft. food garden can feed one person year-round.
People garden 5 hours a week on average.
Get more gardening statistics.
Smart Homes
63.43 million homes in the United States actively use smart home devices.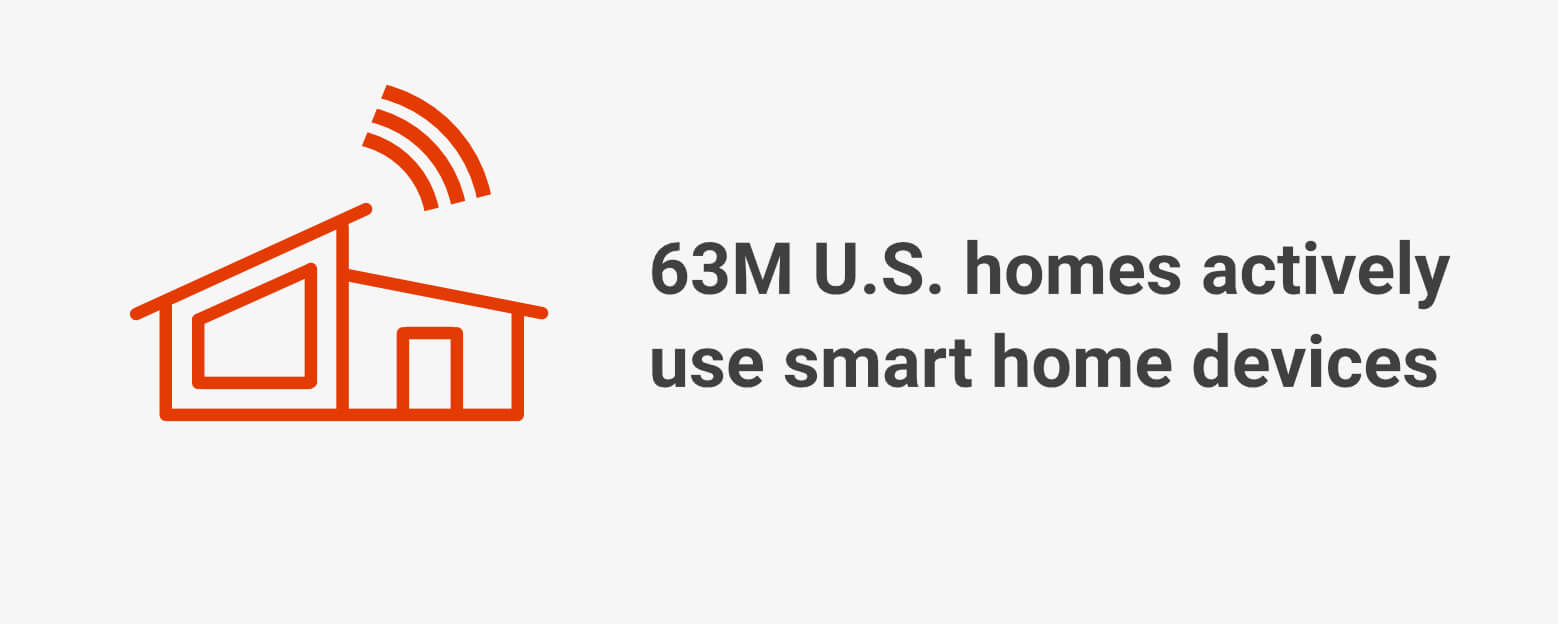 Consumer electronics, such as smart speakers and entertainment systems, make up over a third or 35% of the smart home devices market.
The smart home market in the U.S. was valued at $31.5 billion in 2022.
7 in 10 homebuyers are actively looking for a smart home.
78% of homebuyers would be willing to pay more for a smart home.
Stay current with up-to-date smart home info.
Homeowners Associations
Approximately 26% of the U.S. population lives in HOA communities.
Over 74 million people in the U.S. live in a homeowner association community.
67% of newly completed homes in 2021 are part of HOA communities, up 18% from 2011.
Houses in HOAs are worth 5-6% more than similar homes outside of HOAs.
Typical HOA membership fees for single-family homeowners is $200-$300/month.
Get a full look at average HOA fees by state.
Utilities
The average utility bill in the U.S. is $469 per month.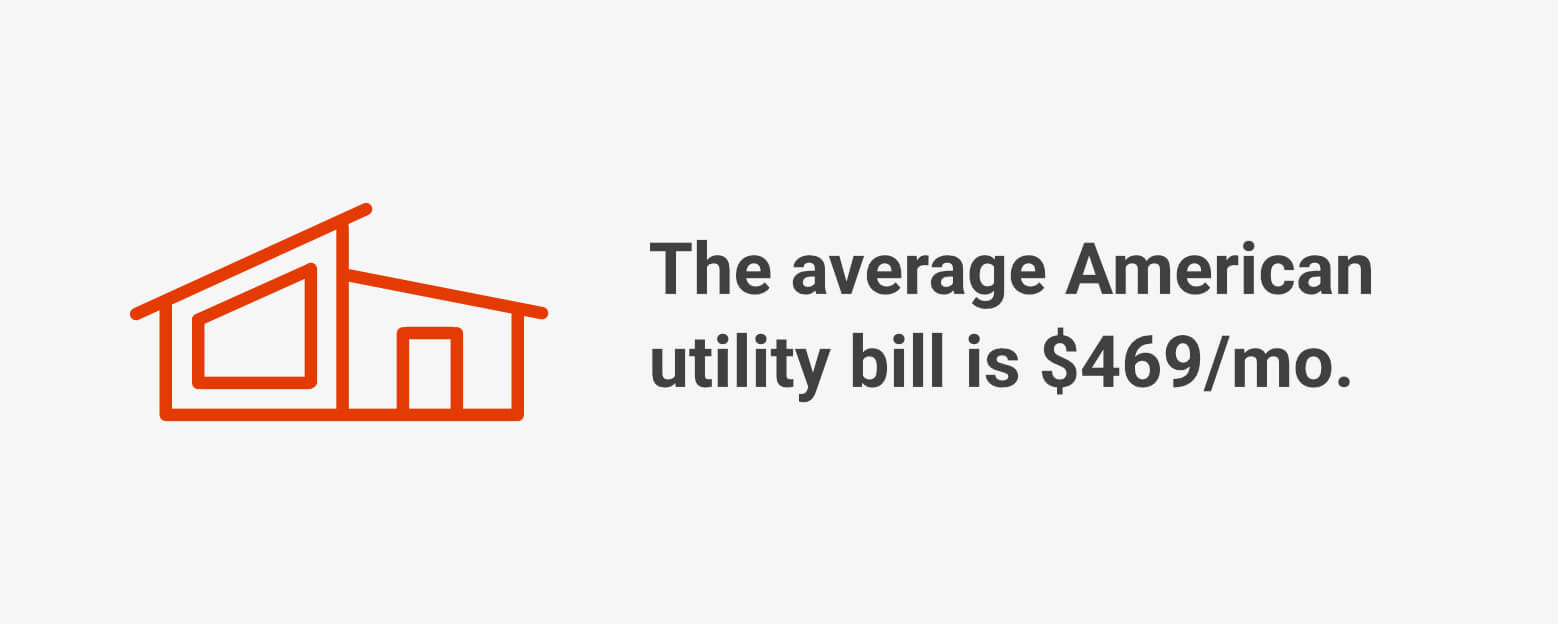 Here's a breakdown of the average American's household utility costs:
Electricity ($137)
Cable and internet ($114)
Sewer, garbage, and recycling ($66)
Gas ($65)
Streaming ($48)
Water ($39)
Get the lastest on American utility bills.
Moving
8.4% of Americans moved in 2021, the lowest historical annual rate recorded since 1948.
27 million Americans move each year.
Nearly 50% of all movers stated housing prices as the main reason.
Young adults between the ages of 20-29 move the most.
A person in the United States can expect to move 11.7 times in their lifetime.
There are about 7,000 moving companies in the United States.
See additional details about moving in the U.S.
Property Management & Short-Term Rentals
Property Management Industry Statistics
The property management industry in the U.S. generates $99.5 billion in annual revenue.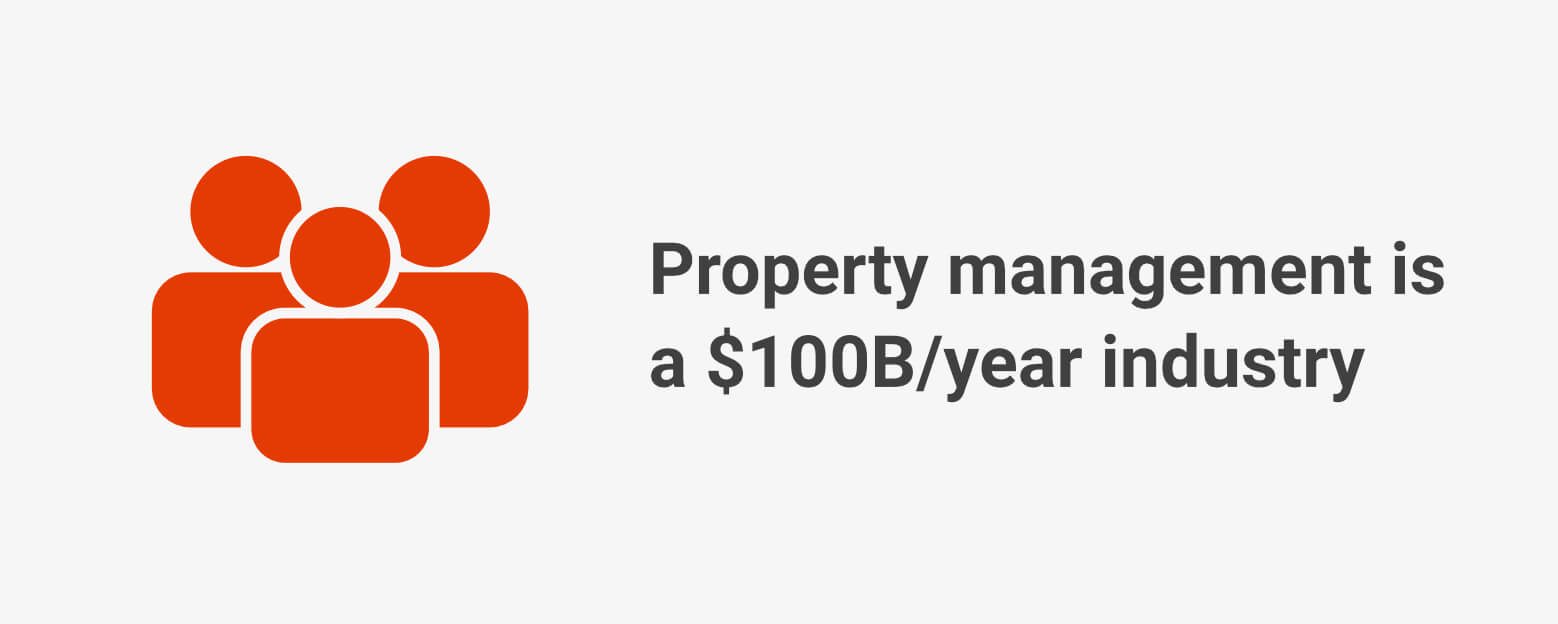 There are an estimated 326,000 property management companies in the U.S.
A little over 10 million people own at least one rental property in the U.S. with 51% of these people opting to have a property manager.
Property management companies typically charge between 8%-12% of the monthly rent cost.
See the comprehensive set of property management facts.
Vacation Rental Statistics
The estimated U.S. vacation rental market size was $15 billion in 2021.
There are an estimated 1.3 million vacation rentals in the U.S.
Airbnb (7 million) and Booking.com (6.6 million) boast the largest numbers of vacation rental listings.
60 million people stayed in a vacation rental in the U.S. in 2022.
The average daily rate for a short-term rental in the U.S. was $259 in 2021.
A typical host in the U.S. earns $14,000 per year from Airbnb.
Nightly Airbnb rates are normally the most expensive in North America, averaging $208.
Get full set of vacation rental stats and a deeper look at Airbnb.
Property Risks
Natural Disasters
Natural disasters cost the U.S. $124B annually.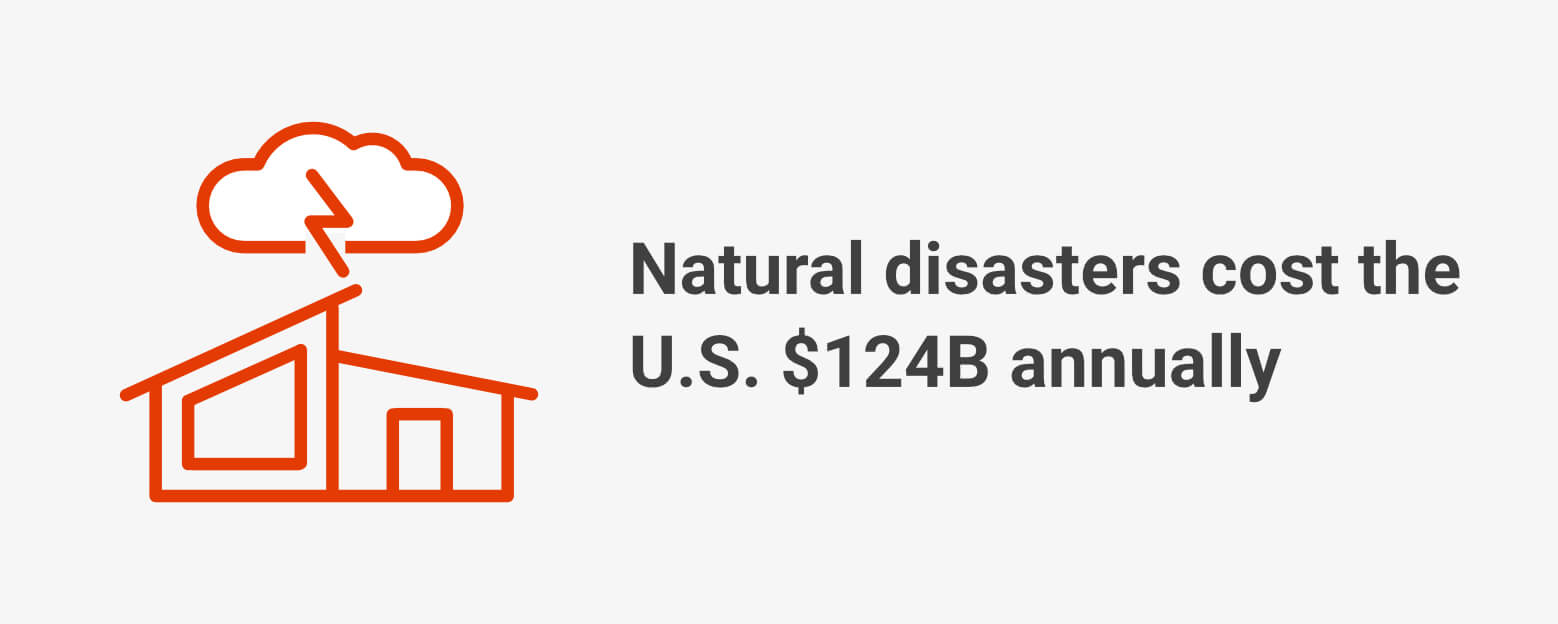 From 2018 to 2022, there were an average of 18 climate disasters per year in the U.S. that cost over $1 billion.
There are typically 363 deaths per year because of natural disasters in the U.S.
On average, climate disasters cost the U.S. economy $123.5 billion per year.
The number of $1 billion natural disaster events per year has increased from 3.3 in the 1980s to 13.1 in the 2010s, a 397% increase.
Tropical cyclones are 4.28x more likely to occur now compared to the 1980s.
See the full breakout of statistics about natural disasters.
Water Damage
14,000 people in the U.S. are affected by water damage daily.
The average insurance claim to repair water damage to a home is $11,605.
About 1 in 60 insured homes makes a claim for water or freezing damage each year.
99% of U.S. counties were impacted by a flood event between 1996-2019.
98% of basements in the U.S. will experience some water damage at least once.
The typical price range to restore water damage across is between $1,240 and $5,342.
Americans waste roughly 1 trillion gallons of water yearly due to leaky pipes, faucets, sprinkler systems, and more.
Read more about water damage.
Mold
Mold is common in 47% of residential buildings in the United States.
The cost of mold remediation ranges from $1,373 to $3,325, with an average expense of $2,347.
21% of asthma cases in the U.S. could be linked to dampness and mold.
Mold-related infections have an economic impact of $5.6 billion annually in the U.S. while asthma adds another $16.8 billion.
Home resale values can drop 20-37% due to mold issues.
Find out more about mold.
Property Crime
There were 6.4 million property crimes in the U.S. in 2021, including 4.6 million larceny-theft offenses.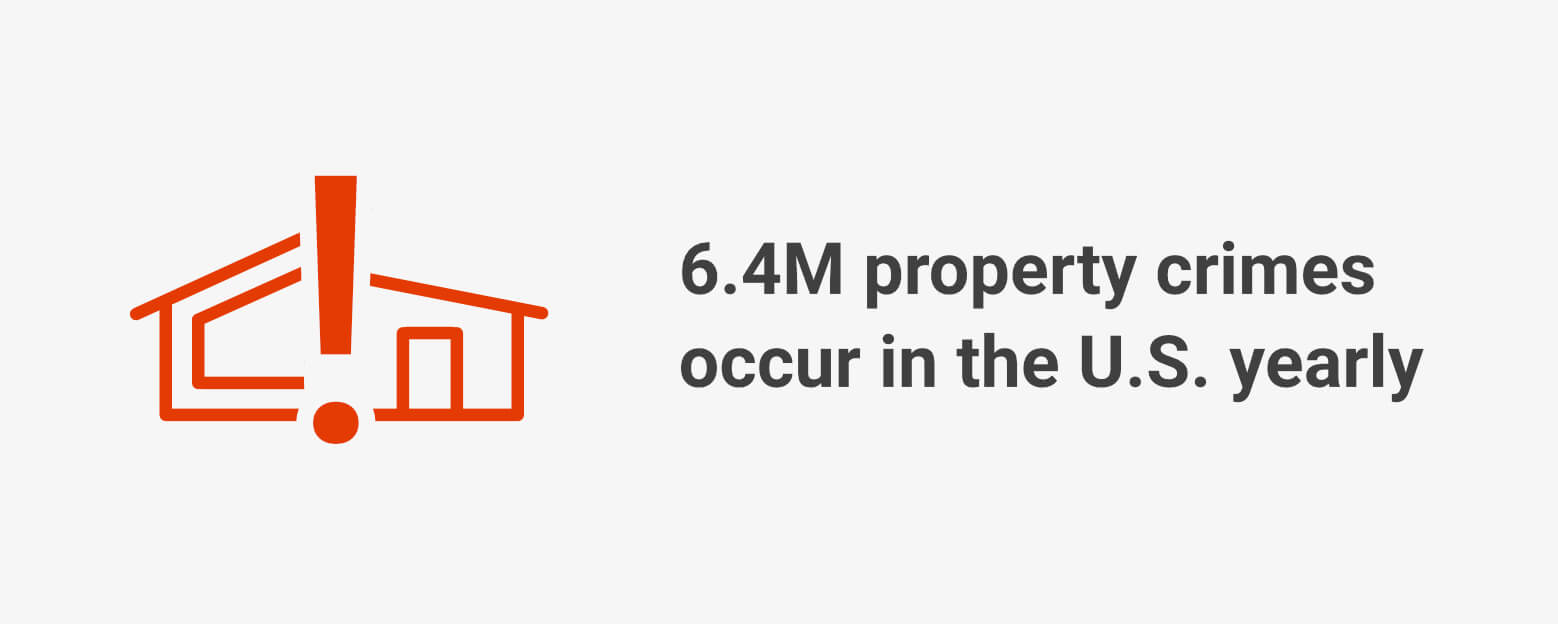 Texas has the most property crime cases of any state.
Washington, D.C. has the highest rate of larceny-theft offenses out of all districts and states.
New Mexico has the highest burglary rate, Colorado has the highest motor vehicle theft rate, and Illinois has the highest arson rate.
Property crime rates have declined over the past 20 years; however, most Americans perceive crime as rising.
Overall, only 13% of property crimes are cleared compared to over 50% clearance for violent crimes.
White males between the ages of 21 and 40 account for most property crimes.
St. Louis, MI, is the most dangerous, and Honolulu, HI is the safest city in the United States.
Most property crimes occur during daylight hours between 12 p.m. and 7 p.m.
The odds of personally experiencing a property crime stands at 1.9%.
Get a good overview about property crime.
Burglary
899,781 burglaries occurred in the U.S. in 2021, including 416,151 residential burglaries.
The U.S. burglary rate is 271 cases per 100,000 population.
There are 2.3X fewer burglaries today than twenty years ago.
The U.S. burglary clearance rate is only 13.5%.
In 54% of burglaries, the offender lives within 2 miles of the home they burglarized, and in 30% of burglaries, the offender knows the victim.
In over 50% of cases, burglars use open doors or windows to enter the home.
29.7% of U.S. households have alarm security systems, and 34% have video doorbell systems installed.
See more burglary statistics.
Home Security
72% of households in the United States have at least one home security device.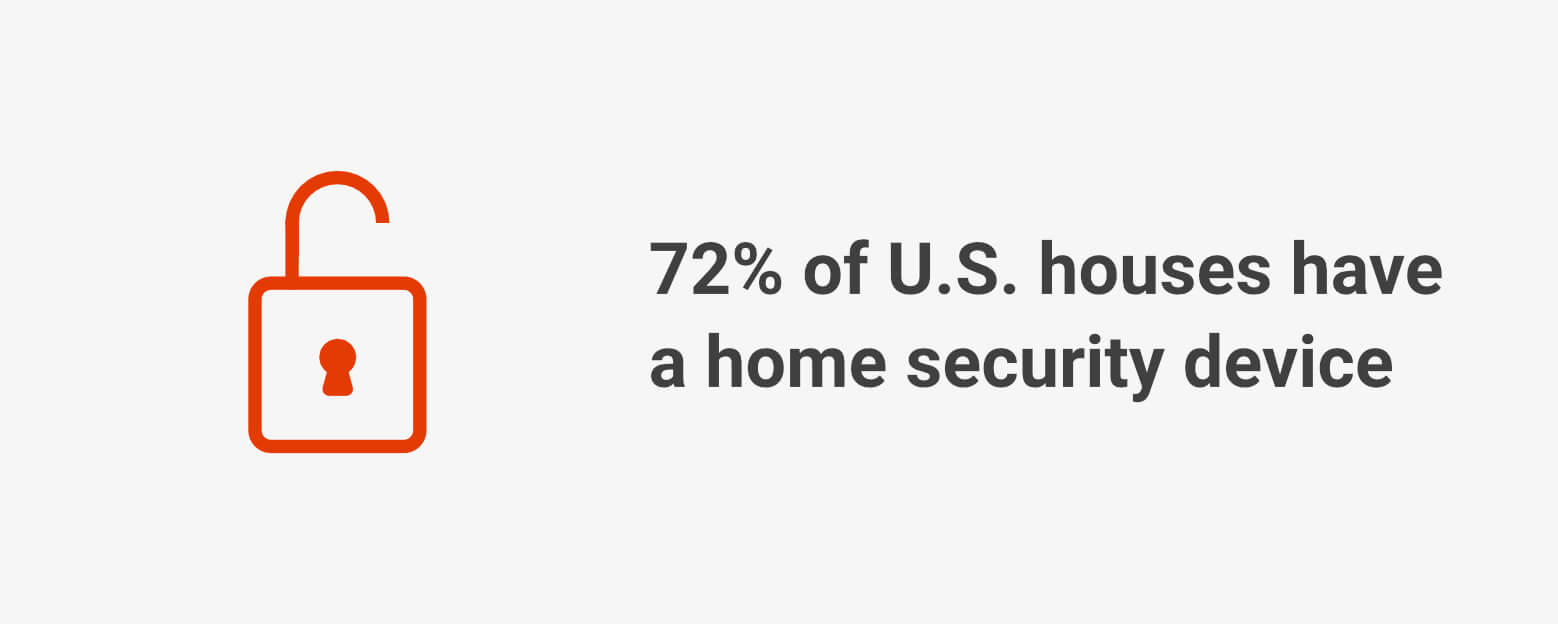 51 million households have a video surveillance system and 39 million have an alarm system.
The average cost to install a home security system is $475.
Most burglars (83%) try to determine if an alarm is present before attempting a burglary.
60% of burglars say that they would seek an alternative target if they determine an alarm is on site.
Get the latest info on home security.
Home Accidents
In 2021 there were an estimated 128,200 preventable home injury-related deaths in the U.S.
There were 35.9 million medically consulted injuries from preventable home accidents in 2021.
78% of all preventable injury-related deaths happen in homes.
The leading causes of home injury-related deaths are poisoning (65%) and falls (23%).
Get more details about home accidents.
House Fires
343,100 homes experience a structural fire in the U.S. each year.
House fires cause over $9 billion in damages each year.
Every 23 seconds a fire department must respond to a fire somewhere in the U.S.
The most common causes of house fires are cooking (49%) and heating equipment (13%).
On average house fires cause 2,840 civilian deaths per year.
In 2021, there were over 11,000 fire-related injuries from 338,000 house fires.
See more house fire statistics.
Conclusion
That's a wrap on our real estate statistics round up. The data point summaries for each topic are derived from the linked articles which include more comprehensive coverage. For sources, visit the articles via the link below each topic section.