Real Estate Photography Statistics (2023)
Posted by Tony Mariotti on Saturday, July 16, 2022 at 10:55 AM
By Tony Mariotti / July 16, 2022
Comment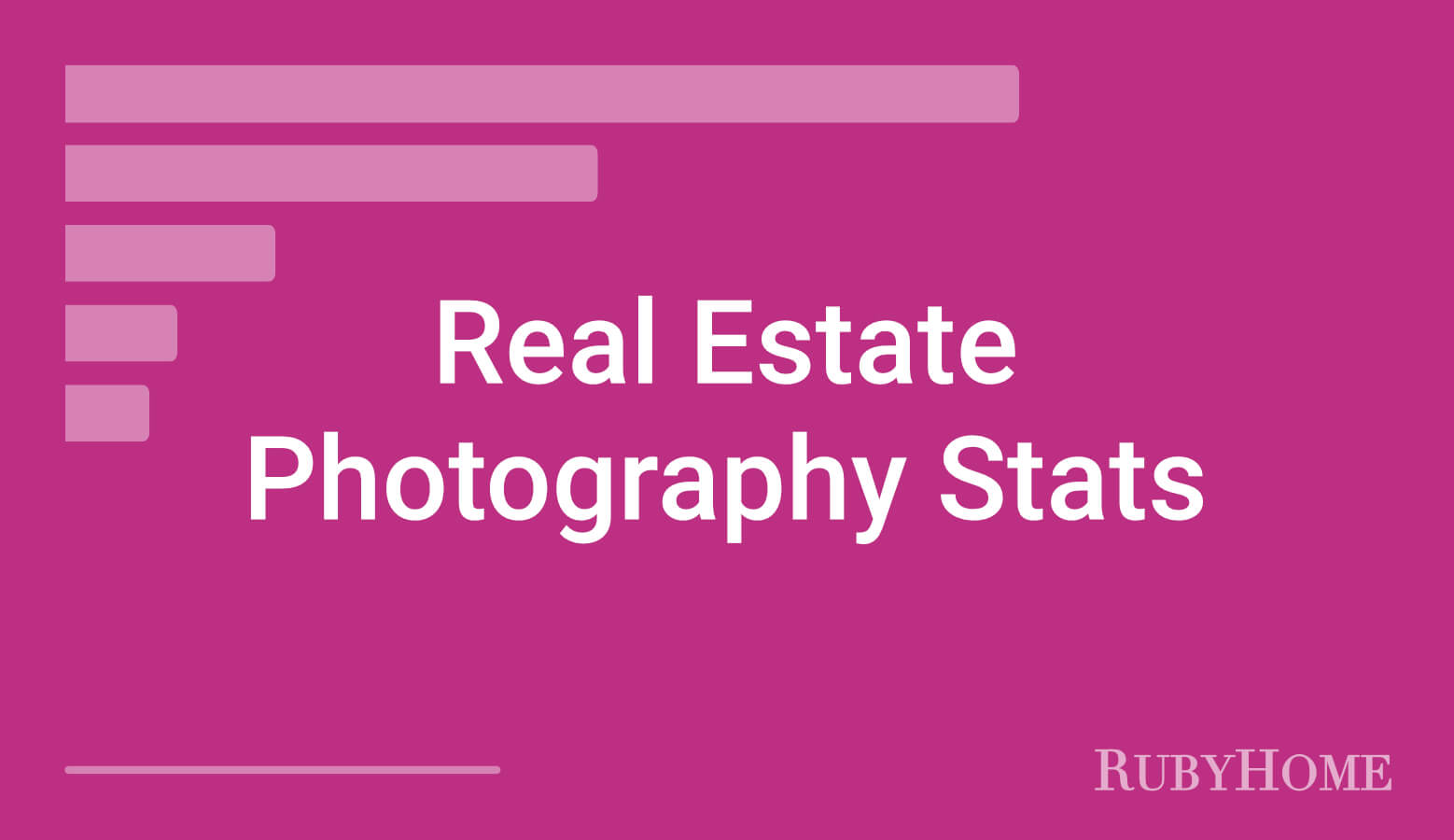 Real estate photography is one of the essential elements of real estate marketing. With 97% of home buyers using the internet as part of their home search, showcasing a property in the best possible light is critical to drawing potential buyer interest.
Good photography can make a home stand out in a seemingly endless sea of houses for sale. An excellent visual presentation via pictures, video, and virtual tours can reduce the number of days a house sits on the market and increase its sales price.
Consider this: the average home buyer in the U.S. spends eight weeks searching for a home, narrows their choice to 9 houses, but only views 4 in person or via a live virtual tour. As buyers winnow their choices, sellers risk their home not making the cut. We've gathered the information below as part of our ongoing series of real estate statistics roundups. As you'll see, visual media plays a vital role in driving consumer inquiries and showings that lead to closed deals.
For more topics and industry data, view all real estate statistics.
Key Real Estate Photography Stats
Real estate listings that include professional photography sell 32% faster.
Homes with aerial photos sell 68% faster.
Homes listings with videos get 403% more inquiries than those without them.
63% of people who bought a home in 2020 made an offer for a property based on a virtual tour.
The average cost for residential real estate listing photos is $230.
What is the Impact of Real Estate Photography?
What are the benefits of using good photos in real estate listing descriptions? Are high-quality images worth the investment? We think so. Here's why:
Professional Listing Photos Impact
With 97% of home searchers using the internet to find houses, high-quality, professional (not amateur) photography helps a listing stand out above the rest get more views. This also translates to higher selling prices. According to the Wall Street Journal:
Homes with professional photography get 61% more views than those without them.
Listings with pro-quality listing images close between $934 and $116,076 higher than comparable listings with low-quality photography.
According to a Chicago-based study, homes marketed with professional photos sell faster, which is clearly desirable for home sellers and their agents.
Real estate listings that include professional photography sold 32% faster, spending 89 days on market compared to 123 days for other homes.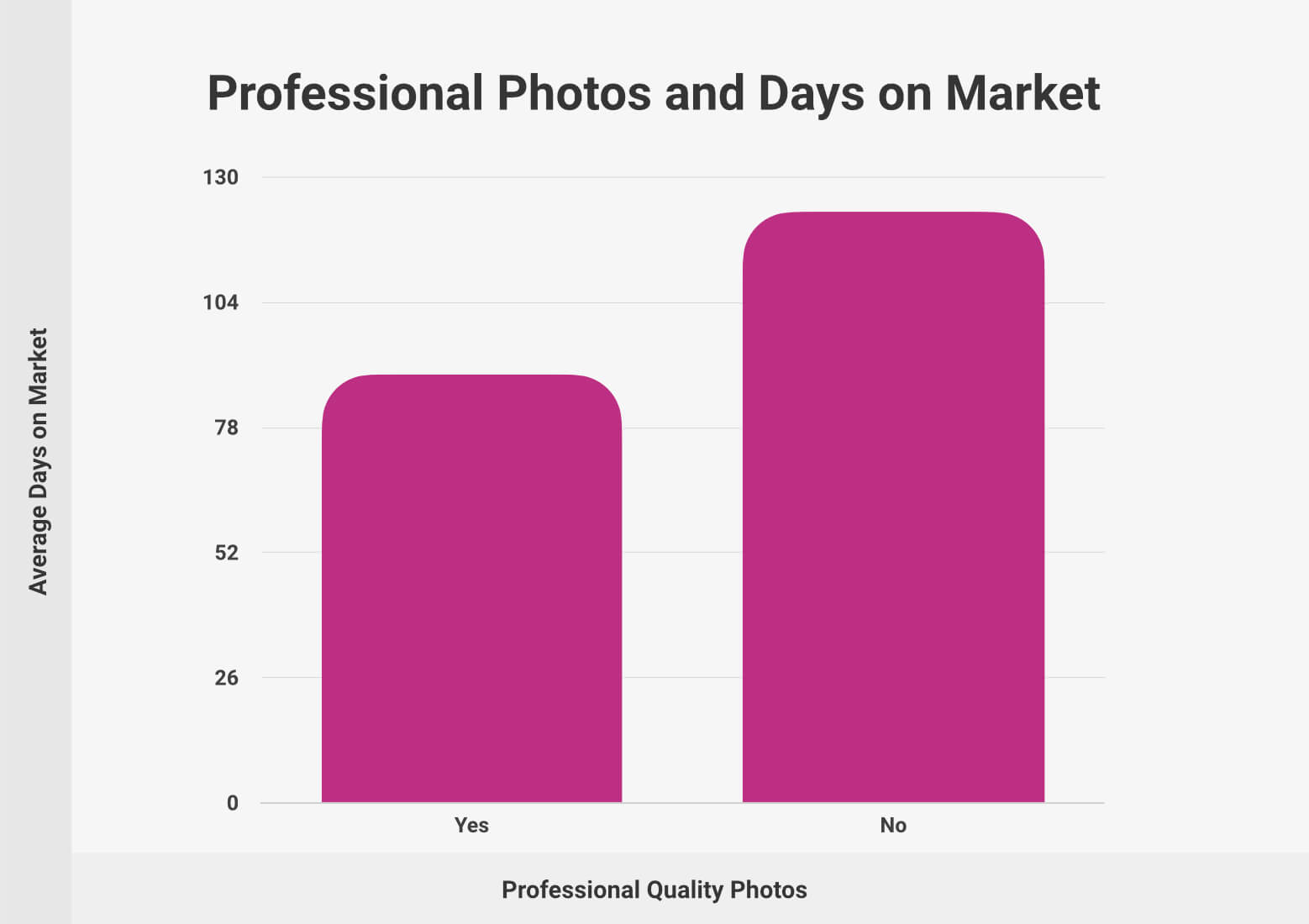 Here is a table showing fewer DOM:
| Professional Photos | Average Days on Market |
| --- | --- |
| Yes | 89 |
| No | 123 |
Another research study by IMOTO showed similar findings.
Property listings featuring high dynamic range (HDR) photos sell 50% faster and increase online views by 118%.
Whether luxury agents know the data about how vital pro images are, using them is a standard operating procedure for marketing and selling high-end properties. We were pleasantly surprised to see that pro photos are correlated with luxury listings, as evidenced by the following stat:
Agents who use professional real estate photography make double the average gross commission income compared to agents who don't use professional photography.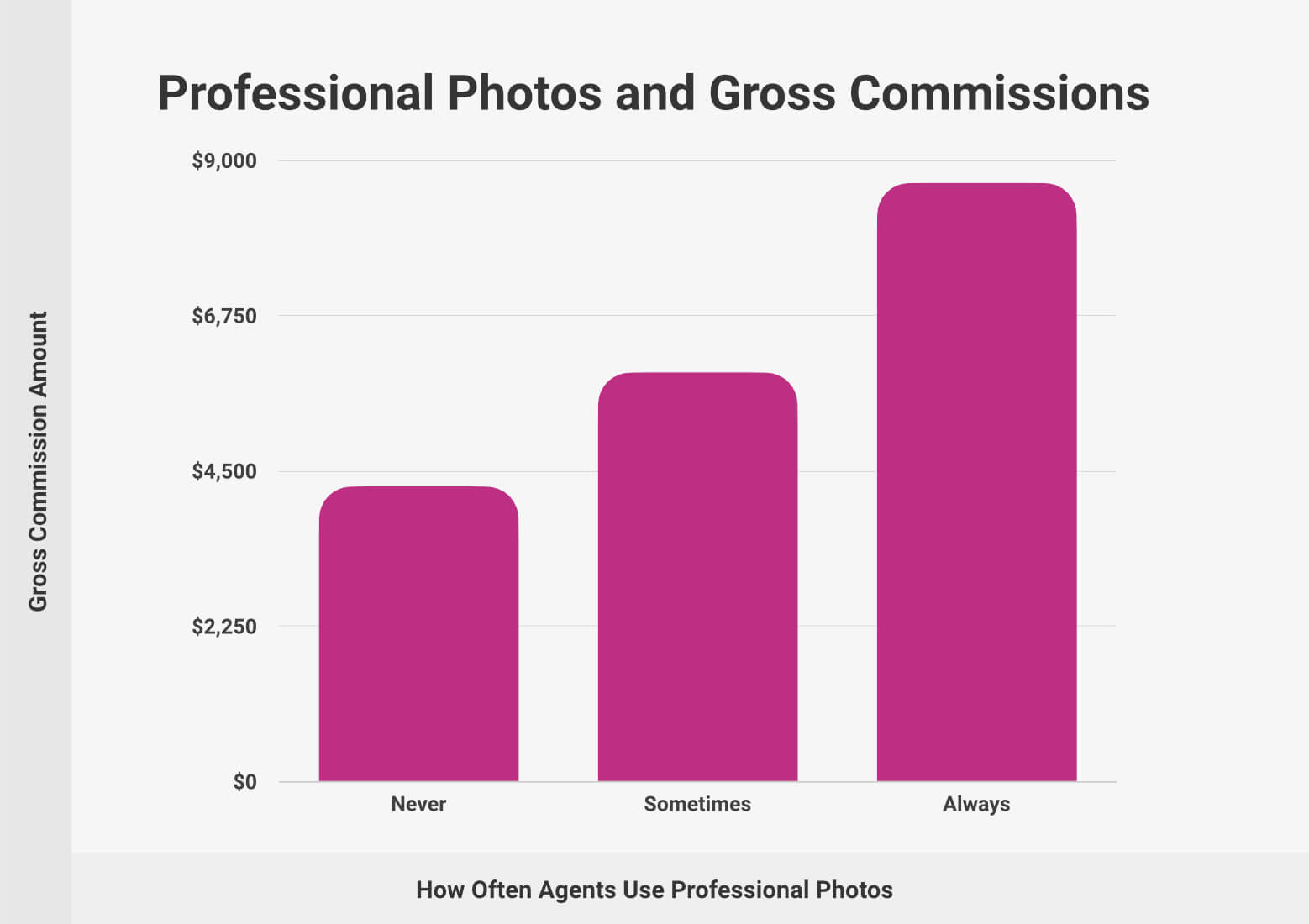 Here is a table that shows the correlation between higher gross commssions and using professional images:
| Uses Pro Photography | Avg. Gross Commission Per Transaction |
| --- | --- |
| Never | $4,292 |
| Sometimes | $5,940 |
| Always | $8,683 |
Sources: IMOTO, National Association of Realtors, Wall Street Journal1, Wall Street Journal2, VHT Studios, Virtuance
Drone Photos Impact
Drones with high-quality cameras are increasingly affordable for photographers and realtors. As such, aerial photography in real estate is increasingly common.
Drones allow realtors to showcase properties from the air, creating different perspectives, such as where a home sits within its neighborhood, its proximity to nearby landmarks, rivers and lakes, forests, etc. Drone images draw more attention to listings, and we know from the statistics cited above that getting buyers' attention matters. As you might expect:
Homes with aerial photos sell 68% faster than houses with standard images alone.
Given the efficacy of using drones, we expect their use to increase. Here's where we stand today:
56% of realtors use drones to market listings.
Of agents who use drones, 36% hire a pro to operate them.
Sources: National Association of Realtors
Real Estate Videos Impact
In addition to photography, statistics show that video contributes to generating more interest from home shoppers. Video has a unique ability to draw in viewers and get them focused. With the proper music selection for the soundtrack, no other medium is as good at building a connection with consumers.
According to the National Association of Realtors (NAR), real estate videos result in more property inquiries:
Property listings with videos get 403% more inquiries than those without them.
Beyond real estate photographers and realtors, consumers know that video is an effective marketing tool, too. Home sellers prefer to list with agents who will use video to sell their homes.
73% of homeowners say they are more likely to list with an agent who uses video than one who doesn't.
Source: National Association of Realtors
Virtual Tours Impact
Virtual tours provide an immersive experience for potential home buyers. There are two types:
Live-video tours between an agent and their client using smartphones
3D virtual tours hosted online
Virtual tours have skyrocketed in recent years and are increasingly becoming an important marketing tool to get potential buyers' attention. They've been around for several years, but virtual tour views exploded during the Covid-19 pandemic.
Monthly views of hosted 3D walkthroughs on Redfin.com increased 563% from February 2020 to the beginning of 2021.
What's more, a Redfin survey of home buyers revealed that an impressively large number are comfortable buying a home sight unseen.
63% of people who bought a home in 2020 made an offer for a property without seeing it in person, a 215%increase since 2015.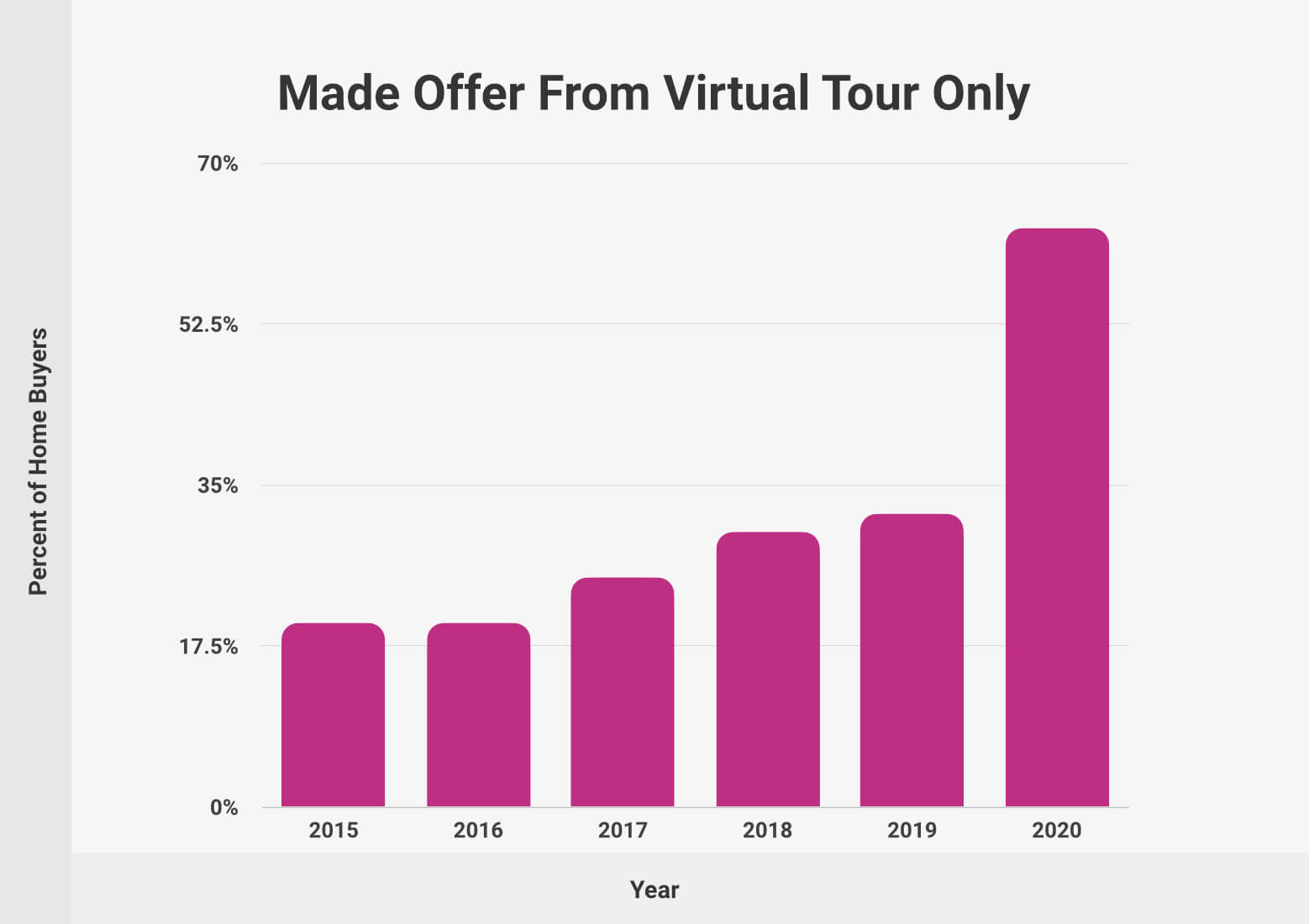 Here is a table with the percentage of home buyers who made an offer on a property sight unseen.
| Year | Percentage |
| --- | --- |
| 2015 | 20% |
| 2016 | 20% |
| 2017 | 25% |
| 2018 | 30% |
| 2019 | 32% |
| 2020 | 63% |
LendingTree's survey data shows a similar trend: 47% of people who bought a home in 2021 and 2022 bought a home sight unseen.
The effect of virtual tours on garnering interest in a property is profound:
90% of buyers are more compelled when a listing includes a virtual tour.
95% of home buyers are more likely to call about these properties.
On average, homes with virtual tours spend up to 31% less time on market.
These impacts could change that way Realtors compete for business. Agents who offer virtual tours have the edge over those who don't because home sellers view virtual tours quite favorably.
99% of sellers believe a 3D tour can give their listing a competitive edge.
82% of sellers said they'd switch to an agent who offers 3D tours.
Sources: Matterport, Redfin, LendingTree

How Much Does Real Estate Photography Cost?
By now, you've most likely concluded that professional photos, videos, and hosted virtual tours are well worth the effort. So, how much can one expect to pay?
First, know that most photographers and videographers charge one of three ways:
By the hour
By the number of images delivered
The size of the home
Package prices also vary by the experience of the photographer/videographer, the size of the home, and the number of images or duration of the video reel delivered. The pro you hire may add an additional fee for shoots that require extensive travel.
Real Estate Listing Photo Prices
We did some research to find out the average prices for photoshoots in the United States that 10-25 MLS-ready photos of a 1,500-3,000 square foot home: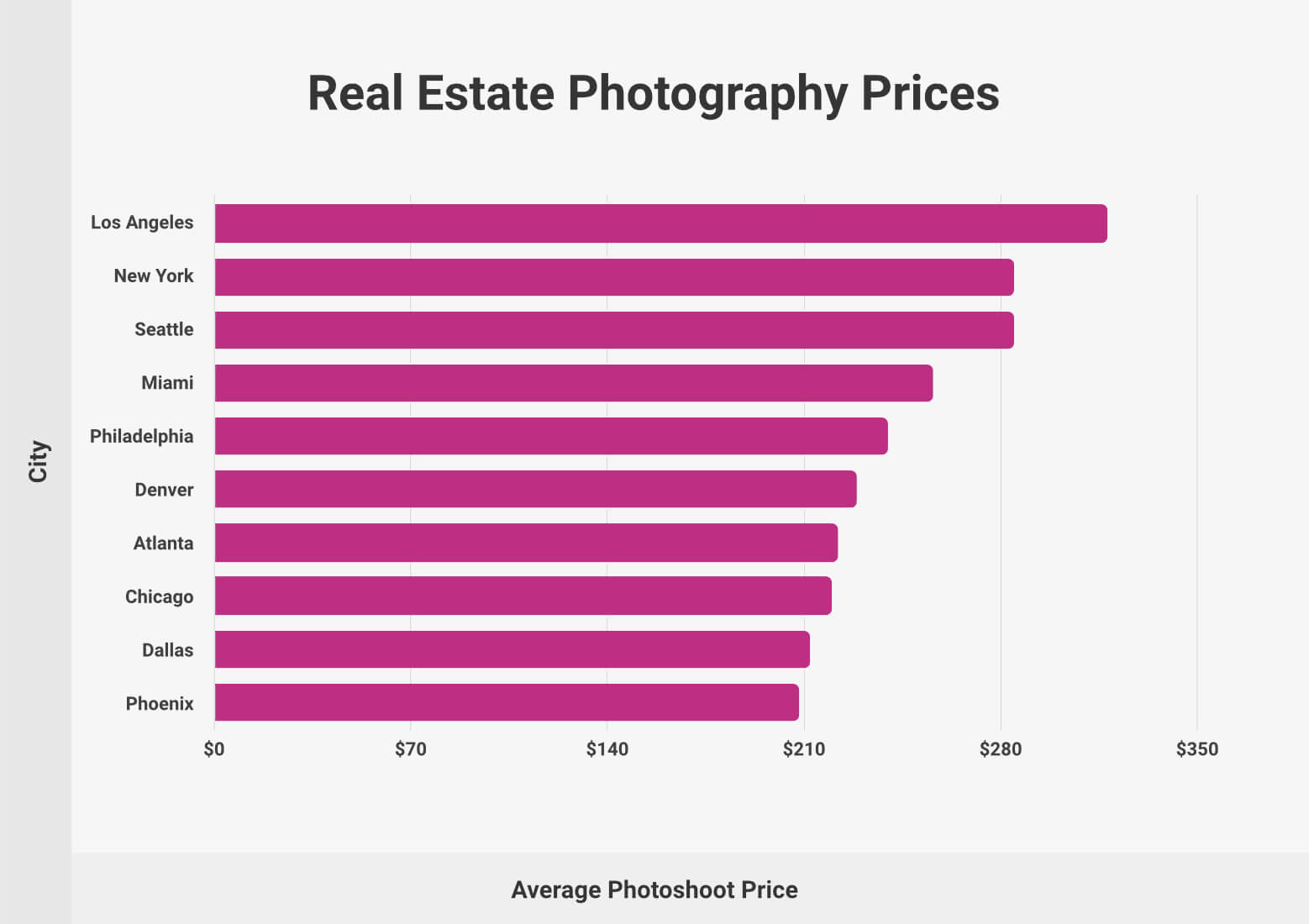 Here is a table of average listing photo packages by city:
| City | Average Price |
| --- | --- |
| Los Angeles | $318 |
| New York | $285 |
| Seattle | $285 |
| Miami | $256 |
| Philadelphia | $240 |
| Denver | $229 |
| Atlanta | $222 |
| Chicago | $220 |
| Dallas | $212 |
| Phoenix | $208 |
| National Average | $230 |
Drone (Aerial) Photography Prices
Arizona: $100-$200
California: $100-$250
Colorado: $80-$180
Florida: $50-$200
Kentucky: $50-$120
Massachusetts: $50-$150
New York: $100-$200
Texas: $50-$180
Virginia: $55-$150
Washington: $100-$200
Real Estate Video Prices
Low Budget: $200-$400
Mid Budget: $400-$800
High Budget: $800-$5000
Virtual Tour Prices
Low Budget: $100-$200
Mid Budget: $200-$800
High Budget: $800-$2000
Source: RubyHome
Conclusion
Regarding professional photography in real estate, we believe the benefits far outweigh the costs. With the vast majority of home buyers searching online, showcasing properties in the best light possible to stand out from the crowd is crucial. Investing in professional real estate photography is an upfront cost well worth it. Sellers can expect to sell their home at a higher price in less time.
Taking things a step further, aerial photography, video, and virtual tours are becoming increasingly common. Yep, they cost a little more. But research suggest that they are worth it, too.
What do you think? Is professional real estate photography worth it? Will the use of real estate videos and virtual tours increase in the coming years?
Leave your thoughts down below.