How Much Does Real Estate Photography Cost? (2023)
Posted by Tony Mariotti on Tuesday, July 12, 2022 at 9:05 AM
By Tony Mariotti / July 12, 2022
Comment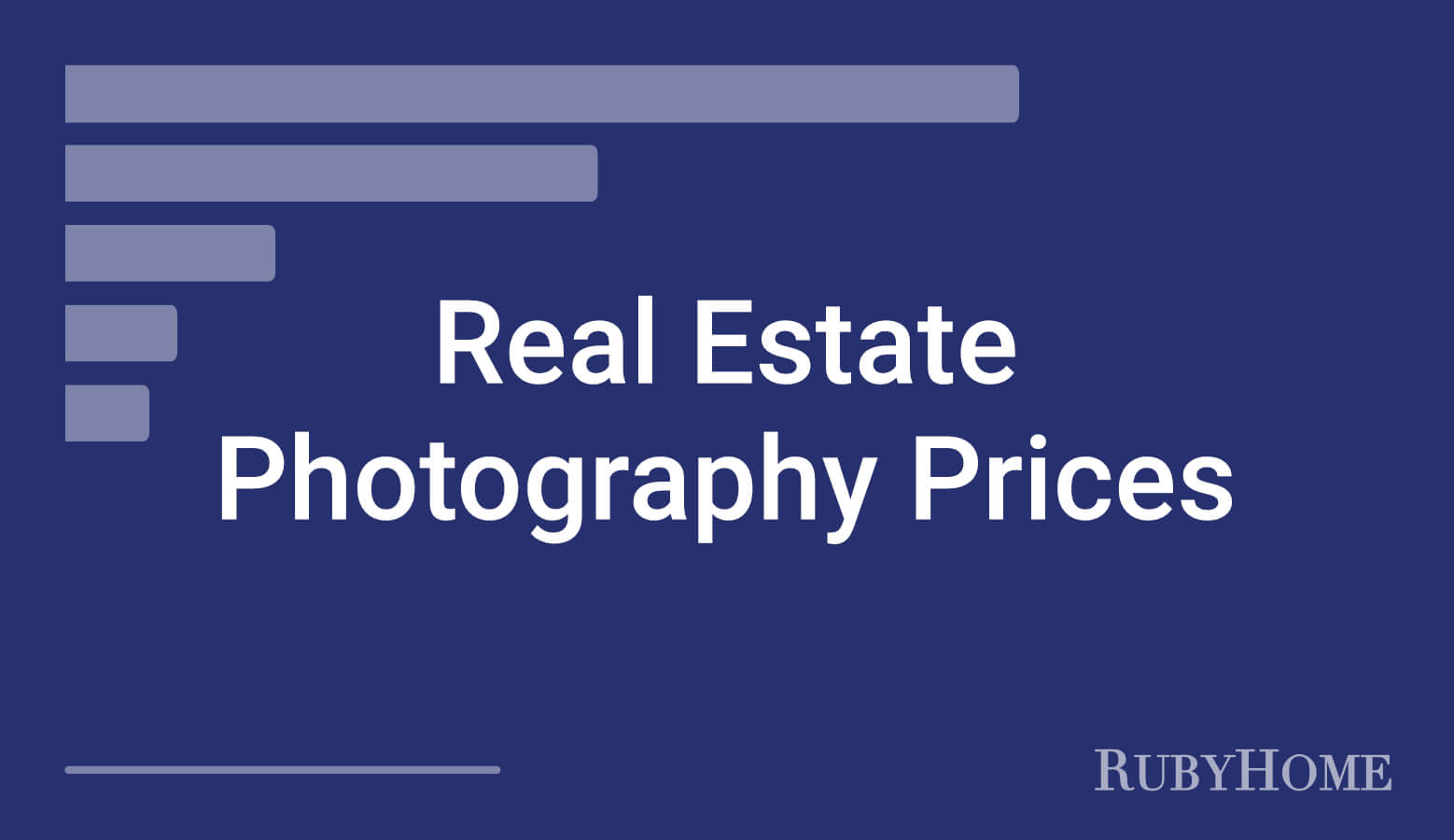 The RubyHome team researched and analyzed real estate photography prices across the United States to provide a guide for agents and home sellers to know what they can expect to pay when hiring a residential real estate photographer.
In this article, we explain the different real estate photography pricing models. We show what role the experience level of a photographer plays in pricing. We also compare the average cost of real estate photography prices in ten major U.S. cities.
Our work resulted in a comprehensive real estate photography price guide by specialty:
Standard real estate photography (listing photos)
Drone photography prices
Real estate video prices
Virtual tour prices
Real Estate Photography Pricing Models
There is no standard pricing model for hiring someone to take photos for a real estate listing. However, most photographers charge one of three ways:
By the hour
By the number of images delivered
The size of the home
Within the pricing models above, additional variables come into play that can affect the cost of photographing a home, from the experience level of the photographer, the size of the house, to the number of images produced, the extent of services provided, and more.
Photographers may charge an additional fee if a home is far away to account for fuel costs and time spent traveling to the property.
Real Estate Photography Prices by Experience Level
The photographer's experience level significantly impacts what they will charge to photograph a home. For example, a new photographer with little or no experience may set a fee as low as $60-$100. With any experience, most professional photographers charge between $110-$300 per project for photos only:
Less experience: $110-$170
Average experience: $170-$230
More experience: $230-$300
Keep in mind that the photoshoot at a property is only one aspect of the photographer's job; editing and image post-processing also take time. However, one can expect editing and processing to be included in the price quote.
Average Real Estate Photography Prices in the U.S.
We analyzed data from Snappr and Thumbtack, two real estate photography marketplaces that connect buyers and photographers. We incorporated additional price data from the top Google search results.
We were then able to estimate what photographers charge for various real estate photography projects in 10 major U.S. cities.
How Much Do Standard Listing Photos Cost?
A standard photoshoot includes 10-25 MLS-ready photos for a 1,500-3,000 square foot home.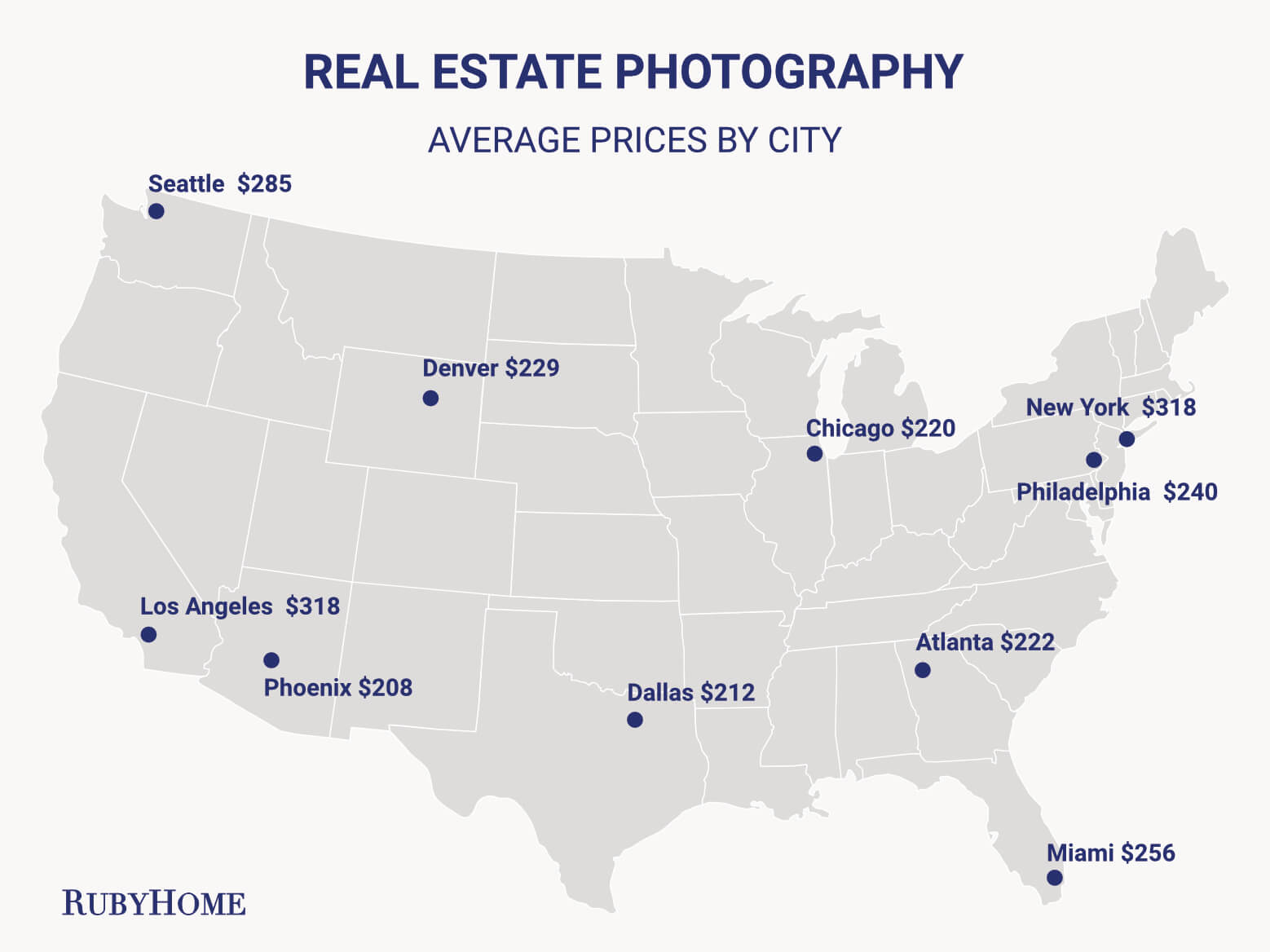 Here is a table of average real estate photography prices by city:
| City | Average Price |
| --- | --- |
| Los Angeles | $318 |
| New York | $285 |
| Seattle | $285 |
| Miami | $256 |
| Philadelphia | $240 |
| Denver | $229 |
| Atlanta | $222 |
| Chicago | $220 |
| Dallas | $212 |
| Phoenix | $208 |
| National Average | $230 |
As one might expect, real estate photography prices correlate with home prices in each city; they are highest where real estate is most expensive. Los Angeles was the most expensive of the ten cities we analyzed at $318 for a basic shoot. Home prices in L.A. are higher than the national average, plus house sizes are generally larger than those in New York City, which helps explain why L.A. edged out New York as the most expensive place to buy listing photos. New York tied with Seattle for second place at $285.
Next, we compared basic packages from Thumbtack and Snappr for the cost-conscious home seller.
| City | Thumbtack Average | Snappr Value Package |
| --- | --- | --- |
| Los Angeles | $200 | $149 |
| New York | $200 | $149 |
| Seattle | $200 | $149 |
| Miami | $167 | $149 |
| Philadelphia | $200 | $149 |
| Denver | $150 | $149 |
| Atlanta | $150 | $149 |
| Chicago | $170 | $149 |
| Dallas | $150 | $149 |
| Phoenix | $150 | $149 |
| National Average | $170 | $149 |
Lastly, we compared prices among our top cities for Snappr's premium two-hour photoshoot package. A shoot of this kind is a little more involved and should produce better listing photos.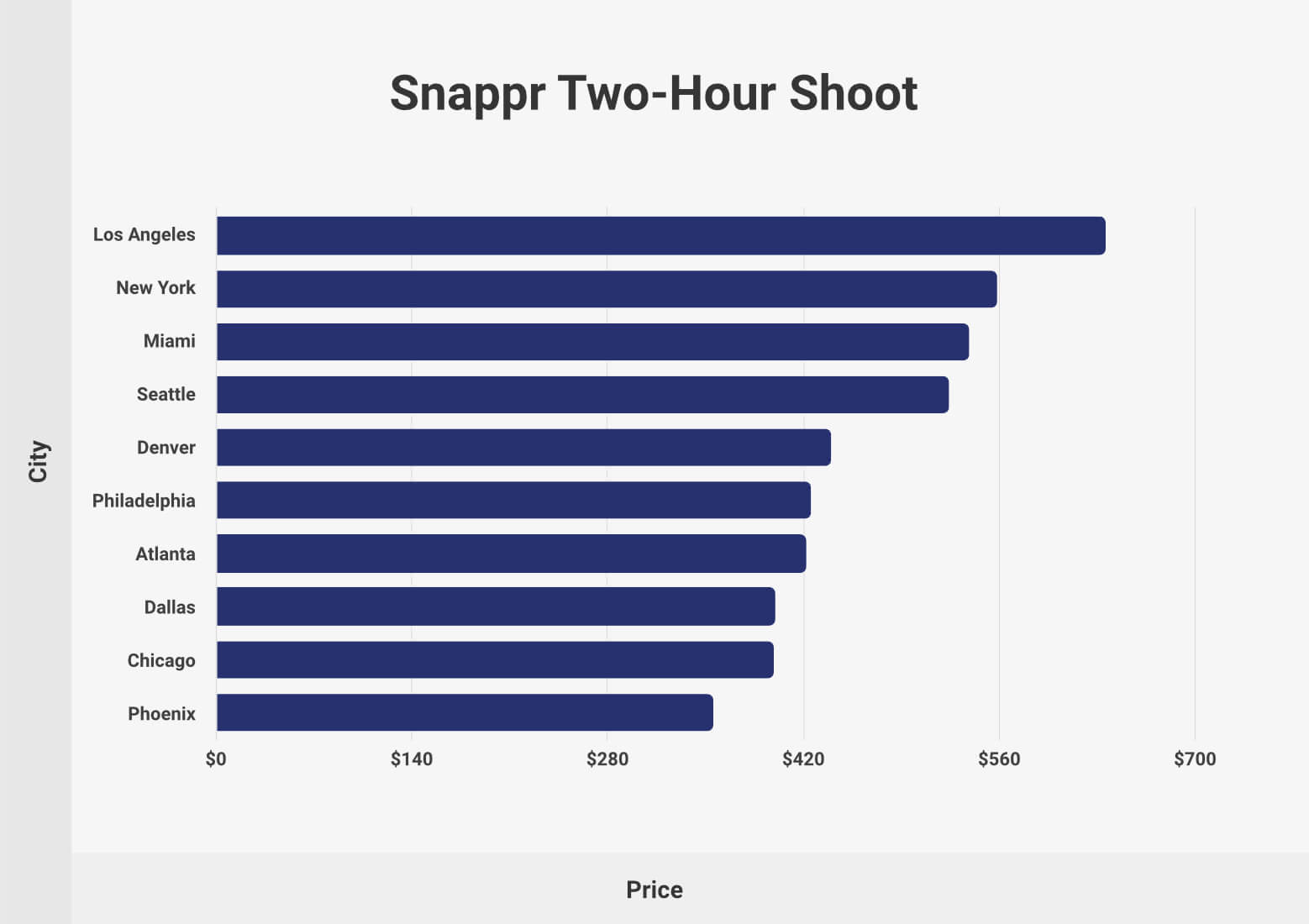 Here is a table of two-hour photoshoots from Snappr by city:
| City | Price |
| --- | --- |
| Los Angeles | $636 |
| New York | $559 |
| Miami | $538 |
| Seattle | $524 |
| Denver | $440 |
| Philadelphia | $425 |
| Atlanta | $422 |
| Dallas | $400 |
| Chicago | $399 |
| Phoenix | $356 |
| National Average | $440 |
How Much Does Real Estate Drone Photography Cost?
Drone usage is increasingly common in real estate photography. Like traditional photography, drone photographers base their prices on factors like their experience level, the size of the home, quantity of images produced, etc. Many conventional photographers offer aerial photography as an add-on for an additional $50-$200, depending on the size of the home.
We analyzed what drone photographers charge in various states across top Google search results to give a basic idea of the cost of aerial photography for 1500-3000 square foot homes.
Arizona: $100-$200
California: $100-$250
Colorado: $80-$180
Florida: $50-$200
Kentucky: $50-$120
Massachusetts: $50-$150
New York: $100-$200
Texas: $50-$180
Virginia: $55-$150
Washington: $100-$200
These estimates are for photos only. For an additional fee, aerial photographers can also produce a video of the property. Generally speaking, purchasing drone photography as an add-on is more cost-effective than hiring separate photographers.
How Much Do Real Estate Videos Cost?
In addition to photography, video can go a long way in showcasing a home. Similar to photographs, several factors can influence the cost of producing a video. For instance, the amount of footage needed, editing required, length of the video, type of equipment used, the experience level of the videographer, and location can make the cost of a video project fluctuate from as low as $200 to several thousand dollars.
Here are the price ranges you can expect for a videographer to produce a 1-minute real estate video:
Low Budget: $200-$400
Mid Budget: $400-$800
High Budget: $800-$5000
How Much Do Real Estate Virtual Tours Cost?
Virtual tours offer the most immersive and realistic way for potential buyers to experience a property online. For virtual tours, Matterport is the largest player in the space. Its all-in-one 3D data platform and camera systems enable anyone to create an accurate digital representation of the rooms within a house.
The cost of a virtual tour can vary widely depending on the type of software used, the size of the home, and who is performing the work.
For instance, Zillow 3D Home is a less expensive virtual tour option that stitches panorama images together to provide a seemingly 3D experience. While a Zillow tour is more affordable than a Matterport virtual tour, one may notice a slight drop-off in image quality.
On the low end, one could produce a Zillow 3D Home virtual tour for as little as $99. On the high end, one could get a Matterport virtual tour for a large home costing a thousand dollars or more.
Here are the price ranges you can expect for a virtual tour of a home:
Low Budget: $100-$200
Mid Budget: $200-$800
High Budget: $800-$2000
Conclusion
Although photography, videography, and virtual tours can vary widely in price, here is a comparison of the average cost of each service.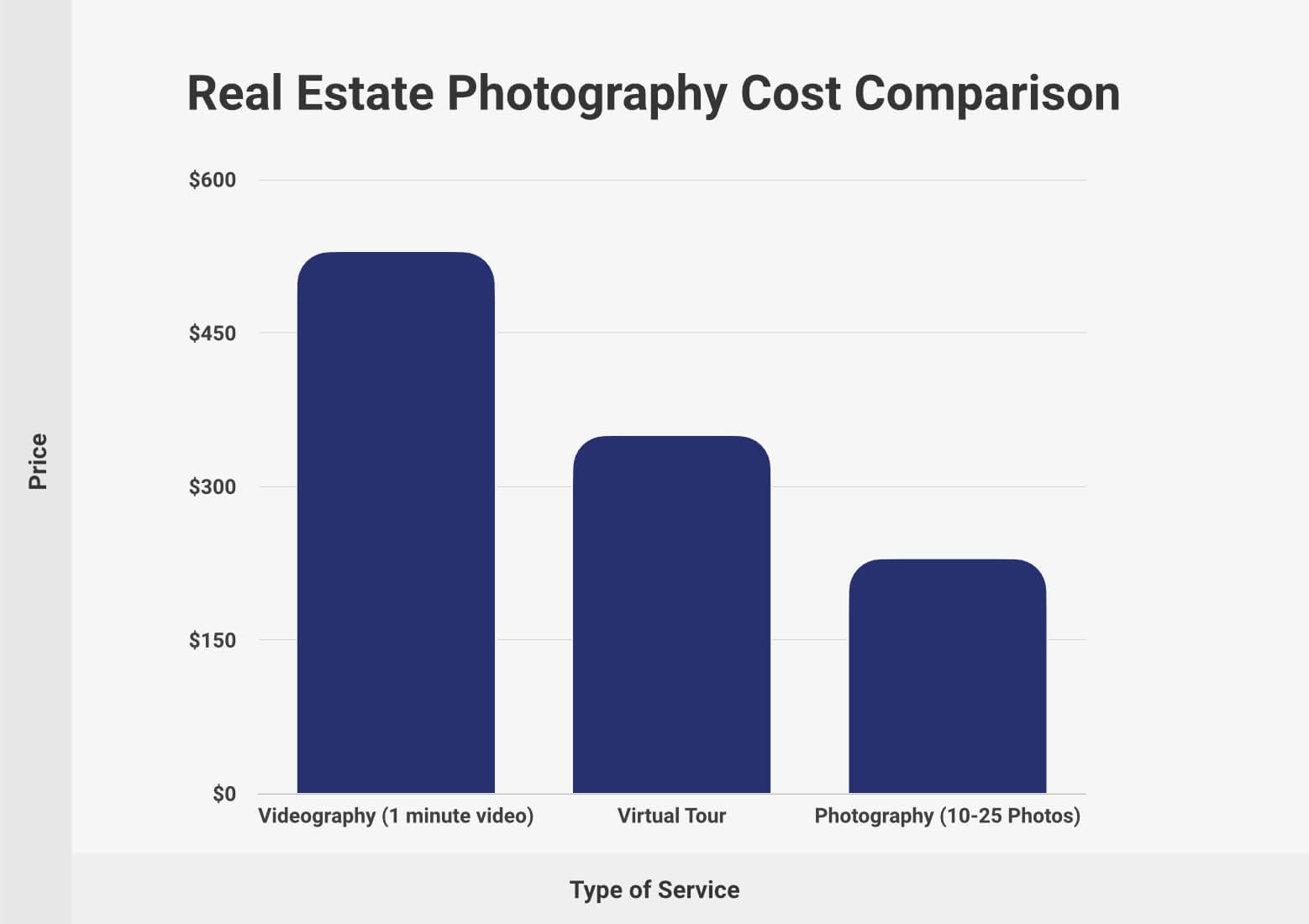 And here is a table of photograph services:
| Service | Cost |
| --- | --- |
| Videography (1 minute video) | $530 |
| Virtual Tour | $350 |
| Photography (10-25 Photos) | $230 |
Standard property listing photos are relatively inexpensive. Across the United States, real estate photography prices correlate with local real estate market prices.
Video and virtual tours are growing in popularity because they offer a richer presentation of the property for sale. Virtual tours are relatively expensive compared to other digital real estate marketing collateral but offer the most immersive homebuyer experience.