Pre-Approval Letter Sample + Do's and Don'ts
Posted by Tony Mariotti on Tuesday, July 5, 2016 at 8:29 AM
By Tony Mariotti / July 5, 2016
Comment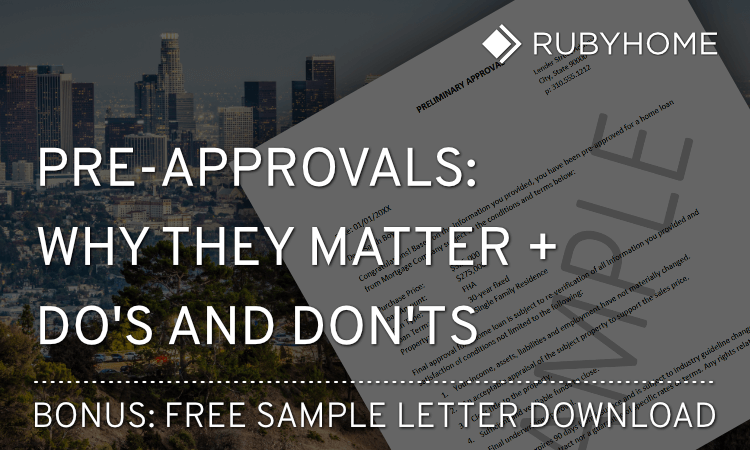 What is a Pre-Approval Letter?
A pre-approval letter is a document that states the loan amount a lender is willing to make to a borrower. It is not a guarantee to lend, but it carries significant weight, especially to other parties in a real estate transaction such as agents and sellers.
There are three core levels of approval status. It's helpful to know where pre-approvals sit in the order. Each level puts a borrower one step closer to purchasing a home. Here are the possible levels:
1. Pre-qualification
This level of qualification is nothing more than a quick glance at your financial situation. A lender will ask you about your income and debts to sketch out your debt-to-income ratio (DTI). A loan officer may ask about your credit, but he or she will provide feedback based on what you say, not via a credit report.
As such, pre-qualifications don't carry much weight. For example, real estate agents will most likely ask you to get a pre-approval letter before working with you. Many sellers will not consider bids from buyers who've only taken the pre-qualification step.
2. Pre-approval
Mortgage pre-approvals are a more substantive. To all the parties involved in a real estate transaction, a pre-approval mortgage letter is considered the minimum level of qualification a home shopper should have. The reason this level matters is that a borrower's credit and income are verified. For pre-approval, verification starts with:
A credit report that shows the borrower's FICO score and credit history
A loan application (known as a Fannie Mae 1003) is filled out and put into a loan file
Borrower identification (e.g. driver's license)
W-2s (2 years)
Recent pay stubs (30 days)
Recent bank statements (2 months)
Current assets
These documents needed for mortgage pre approval are assembled and added to your loan file. Then an underwriter evaluates all of the information and renders a "yes" or "no" decision. If the loan file gets a "thumbs up" from the underwriter, your loan officer can issue a pre-approval letter. As you can see, a pre-approval letter is more meaningful because an underwriter has researched and verified your credit and capacity to repay a loan.
No property appraisal or title review has yet been performed. That won't happen until you find a home you want to buy and make an offer on it.
3. Lender commitment
At this stage, we're getting very close to finalizing the mortgage transaction. The loan file has been through initial underwriting and the following took place:
Property appraisal
Completed title review
The loan is approved with conditions
If needed, you can get mortgage commitment letter from your loan officer, too. Providing this to the seller can help fend off any other parties interested in the property. If a seller accepts your offer, the loan file goes through final underwriting and where it becomes clear to close. All that's left is the closing at a title company or with an attorney.
Why a Pre-Approval Letter Matters
A home shopper with a pre-approval letter is ready and able to buy a home. It serves as physical proof to all parties in involved -- in this rather large transaction -- that you are a serious customer.
Pre-approval letters let real estate agents know that you are a legitimate buyer and that they should commit time and resources to helping you find a home and negotiate an offer.
Sellers know that any offer coming from you should be taken very seriously. You and your real estate agent are in a better negotiating position, especially if any other bidders are not as prepared as you. Any smart seller is going follow the path of least resistance. With your pre-approval in hand, you are in the best position to get the deal done.
Pre-Approval Letter Sample
Pre-approval letters typically contain the following:
Borrower
Lender
Loan amount/purchase price
Interest rate
Term (number of repayment months)
Type of property (single-family, condo, etc.)
Sometimes pre-approval letters will show the down payment amount, LTV, type of loan program (FHA, VA, Conventional, etc.), if known at the time. Here's a downloadable pre-approval letter sample.

Pre-Approval Letter FAQs
How long does it take to get a pre-approval letter?
Expect a turn time of 24 hours or less if the requested documentation is organized and provided up front. For example, if you were to provide a loan officer all the needed information in the morning, you could potentially have an answer that afternoon. Pre-approvals don't typically take more than a couple days even in busiest market conditions (a spike in application volume). Underwriters may request additional documentation, but that shouldn't cause much of a delay.
Is a pre-approval letter legally binding?
Nope. It's not legally binding for you, nor for your lender.
Do I have to commit to the lender that provides a pre-approval letter?
No. You are not committed to the lender providing the pre-approval. However, you will start from scratch if you re-apply. This may or may not be a big deal depending on how fast you want to move.
What kinds of things can derail a deal even after I have a pre-approval mortgage letter?
Some variables outside of your control can push a deal sideways. Things like low appraisals, interest rate fluctuations or unexpected issues with the property title can change the direction of a deal. All is not lost; bumps in the road can sometimes be smoothed-out with a fresh pre-approval. However, many things that can change the makeup of a pre-approval are within your control. The next section covers some big-time do's and don'ts.
Pre-Approval Do's and Don'ts
In the time between pre-approval and closing, borrowers should be very careful with their money and financial activities in general. Keep financial behavior steady. Any anomalies will draw attention to a loan file (and not the good kind of attention). You do not want to engage in any behavior that can derail the loan. Here's a simple list of Do's and Don'ts.
Do
Report any down payment gifts. You and your donor will need to sign a mortgage gift letter. Ask your loan officer about the requirements for the type of loan program you intend to use. For example, FHA rules allow gifts from a wide number of donors like relatives, churches and charitable organizations. Whereas, the Conventional 97 loan program rules say donors must be related by blood or by marriage.
Stay current on your monthly debts. Getting behind now could be damaging to your credit score and most certainly to your credit history (e.g. getting 'dinged' late payments).
Keep making monthly debt payments in your normal pattern. For example, if you usually make the minimum payment on a credit card, keep doing that. If you pay off credit cards in-full every month, keep doing that very same thing.
Keep track of all deposits in case an underwriter request proof about the source of any funds.
Don't
Make any big lifestyle changes like quitting your job.
Take out any new loans during this stage can be a big deal breaker. Don't even think about it. Also, do not co-sign a loan for anyone.
Make any big purchases like buying a car; even an all-cash transaction could be detrimental.
Close any existing credit card accounts or open any new accounts; either activity could be potentially negative.
Make big deposit or withdrawals as they can bring unwelcome scrutiny to your loan file.
Change banks or open any new accounts at your existing bank.
Let third-parties make any credit inquiries at this time.