Mortgage Commitment Letter: How to Seal the Deal
Posted by Tony Mariotti on Friday, June 17, 2016 at 7:18 AM
By Tony Mariotti / June 17, 2016
Comment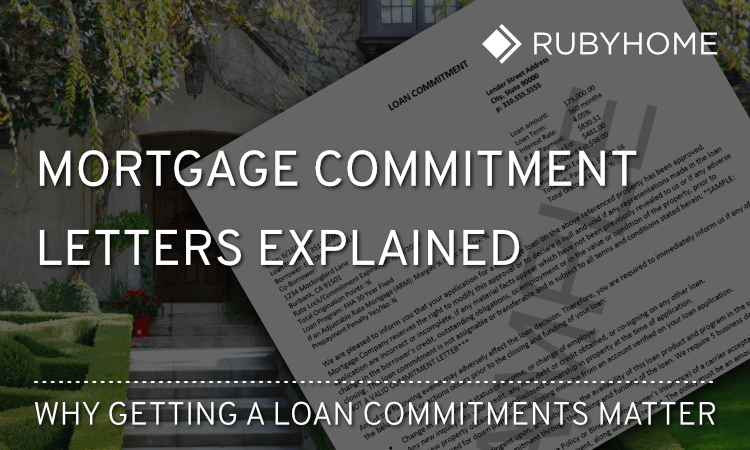 What is a Mortgage Commitment Letter?
A mortgage commitment letter sets up a borrower with the highest state of readiness to buy a home. Mortgage commitment letters are only issued if the borrower and property meet underwriting requirements.
That means a full mortgage application was taken, the loan file passed through underwriting, and the borrower was approved (sometimes with a few minor conditions). A mortgage commitment letter is a document that lets everyone in the real estate transaction (real estate agents, sellers, etc.) know that the lender is prepared to make a loan to the borrower.
Loan commitments take a little longer than pre-qualifications or pre-approvals. But because they are more thorough, commitment letters carry much more weight.
Loan Commitment Stages
Let's walk through levels of loan qualification from pre-qualification to a full blown mortgage commitment. Each of the following carries more weight as you read down the page.
Pre-qualification
Disagreement in the mortgage world swirls up from time to time about the difference between pre-qualification and pre-approval. Some folks view them as the same thing. Others, myself included, view them as very different.
A pre-qualification can come from nothing more than a friendly conversation between a potential borrower and a lender. In fact, "prequals" are so basic they can be done while waiting in line for a latte. With just a few questions, a loan officer can give someone a quick estimate how much money they might be able to borrow. Loan program recommendations (FHA vs. VA vs. Conventional) may also be made to the potential borrower.
Again, this is all very preliminary. No credit report for the borrower is pulled. Employment, income, and available down payment funds are not verified. Thus, a pre-qualification means very little.
Pre-approval
Simply stated: pre-approvals are better; they are a next level up. They involve a more detailed look at the borrower's circumstances. For starters, a credit report is pulled on the borrowers, and a more data-driven financial picture emerges.
With a few pre-approval documents in hand, a loan officer estimates your qualifying loan amount. The preliminary estimate is based on your income, the amount of money saved up for a down payment, current interest rates, and mortgage program requirements. Pre-approvals tell the real estate agent representing you (the buyer) that you're the real deal - a serious player. On the other side of the transaction, sellers (and their agents) will want to know you're pre-approved before they'll even let you set foot on the property to view a home in person.
Pre-approvals are performed relatively quickly and if no immediate obstacles come up, a lender will issue a pre-approval letter, which is basically a ticket to view homes for sale in-person. While some markets and local norms are more laid-back, a pre-approval letter and proof of funds are both required before viewing homes for sale in Los Angeles.
Pre-approvals are usually sufficient to get started looking at homes with a real estate agent. But because pre-approvals do not include underwriting, they are just one step short of a full-blown mortgage loan commitment.
Loan Commitment Letter
As mentioned, a pre-approval is useful starting point. However, a mortgage loan commitment is really the holy grail for closing on a deal. Commitments give a buyer a leg up in hotter markets where putting an offer on a home quickly matters. Loan commitments are the mortgage-world equivalent of being an Eagle Scout or earning the Girl Scout Gold Award. There is no higher state of readiness.
The reason loan commitments carry more weight is because they are only written up after a full underwriting review. It's a more formal document that states the lender agrees to make the loan. Here are the steps to get there.
1. Loan Application A borrower completes a loan application (also known as the Fannie Mae 1003). Federal and state-required lending disclosures are given to the borrower to sign. If not yet pulled, a credit report is ordered.
2. Loan Processing Loan processors are the folks who wrangle up several loan documents that help produce a completed loan file. They move their way through a loan file checklist, gathering and organizing information as they go. Processors also do some preliminary verifications like calling employers and checking bank statements. Here are some things they might ask your for:
Identification (e.g. driver's license)
W-2s (2 years)
Recent pay stubs (30 days)
Recent bank statements
Current assets
3. Underwriting Processors hand off a well-organized loan file to a team or individual underwriter. It wouldn't be an exaggeration to say the buck stops here.
Underwriters pore over loan files and make sure all the necessary items are included and that they are accurate. They'll spot errors, omissions or inconsistencies. They'll make further verifications, essentially double checking some of the work carried out by the loan processor.
Most of the time, commitment letters are not written up without a property appraisal. In a small number of cases lenders may issue the letter without an appraisal, but it's quite uncommon.
Underwriters often reply with conditions. Conditions are the last items that need to get squared away before the loan is considered clear to close. Conditions can include simple requests for additional documentation or perhaps they're just waiting for things like a clean title report to come back. Here are some typical items:
Additional documentation or clarification regarding items like employment, bank deposits, etc.
Proof of mortgage insurance
Proof of hazard or flood insurance
Title commitment
Attestations such as a borrower and donor-signed mortgage gift letter
Loan Commitment Letter Sample
After underwriting, your loan officer can produce a loan commitment letter. Here's what's typically included:
Name of borrower(s)
Name of lender
Property address
Type loan program (VA, FHA, USDA, etc.)
Loan amount
Term
Interest rate
Conditions for approval
Market fluctuations like interest rate changes or the borrower's personal situation can shape the durability of a loan commitment. A difference in these circumstances can influence the final approval. Here are some things that can change the final approval status:
Interest rates
Changes is mortgage program guidelines (e.g. FHA changes the amount of mortgage insurance required)
Changes in the borrower's employment, credit scores, income, etc.
Here's a downloadable loan commitment sample.

Loan Commitment FAQs
How long does underwriting take?
You can expect underwriting to take 20 to 30 days depending upon market conditions. The industry average is roughly 30 days.
Is a mortgage commitment letter legally binding?
They are not legally binding between parties. And that goes both ways (see FAQ right below this one).
Am I committed to the deal if my lender creates a commitment letter?
No, a borrower is never committed until he or she signs the closing documents and the loan is funded.
What's the difference between commitment and final approval?
Commitment letters are a pledge that a lender will loan money to a borrower assuming all final conditions are met. A final approval, clear to close, means everything is complete; there are no loose ends.
Final Thoughts
Start the mortgage loan process early.
Borrowers should get pre-approval to make home buying smoother.
Going through underwriting and getting a loan commitment letter will help you seal the deal.