Modern Stilt Houses | Homes on Stilts
Posted by Tony Mariotti on Wednesday, July 20, 2022 at 9:49 PM
By Tony Mariotti / July 20, 2022
Comment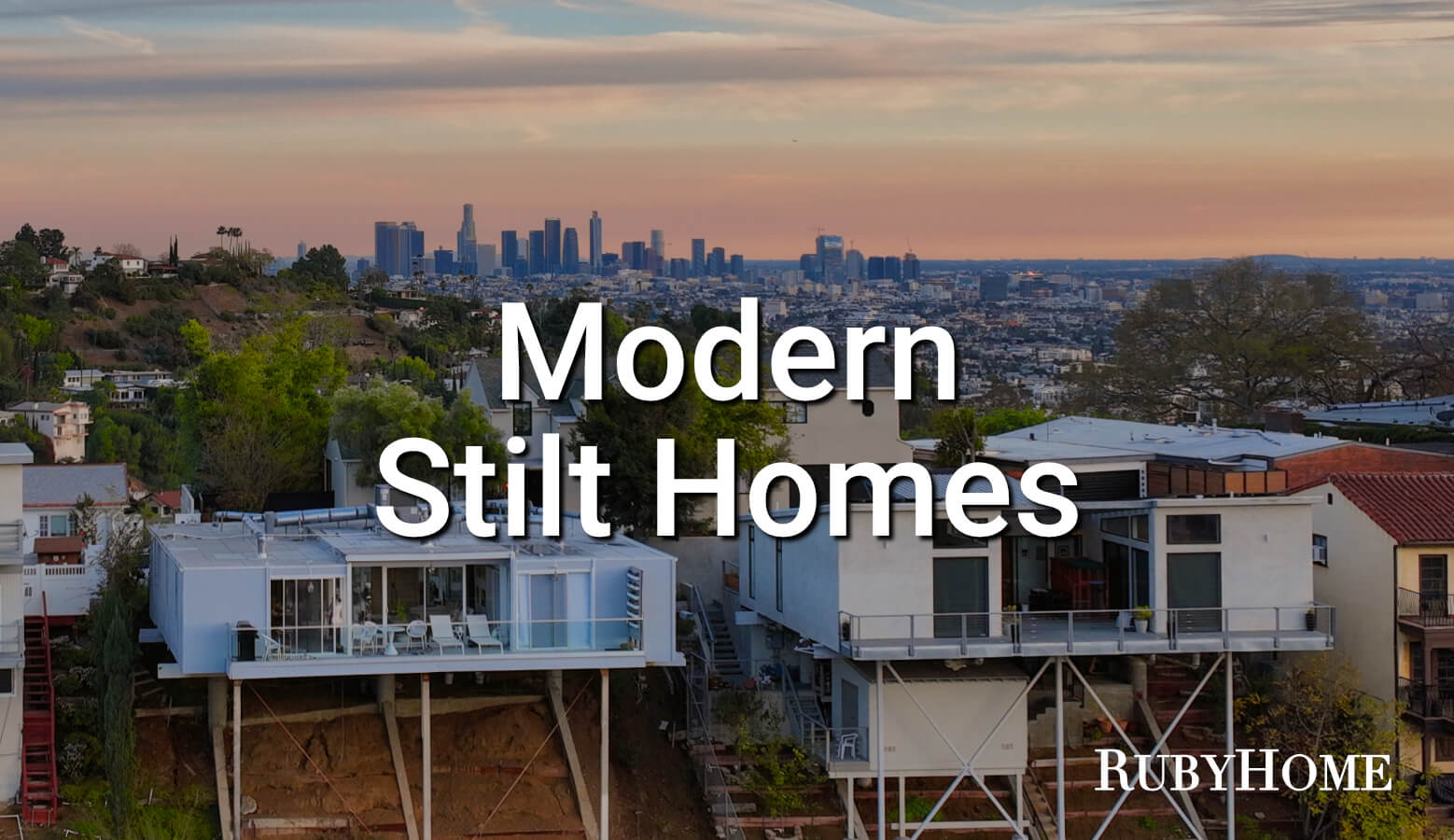 People have been building homes on stilts since prehistoric times, and examples of stilt homes can be found all over the world.
Elevating a home can protect against flooding and maintain a vermin-free living space, which is why stilt homes are particularly well-suited to subtropical and coastal regions.
Constructing a home on stilts is also an excellent solution to building on the small, steep, and rocky lots found in the Hollywood Hills neighborhood of Los Angeles. Also known as "platform houses," homes on stilts and piers have become one of the city's most iconic architectural styles, often showing up in movies and TV shows.
Dangling precariously over cliff edges and steep hillsides, these mid-century modern classics seem to defy the laws of physics and continue to define a glamorous, free-spirited Southern California ideal.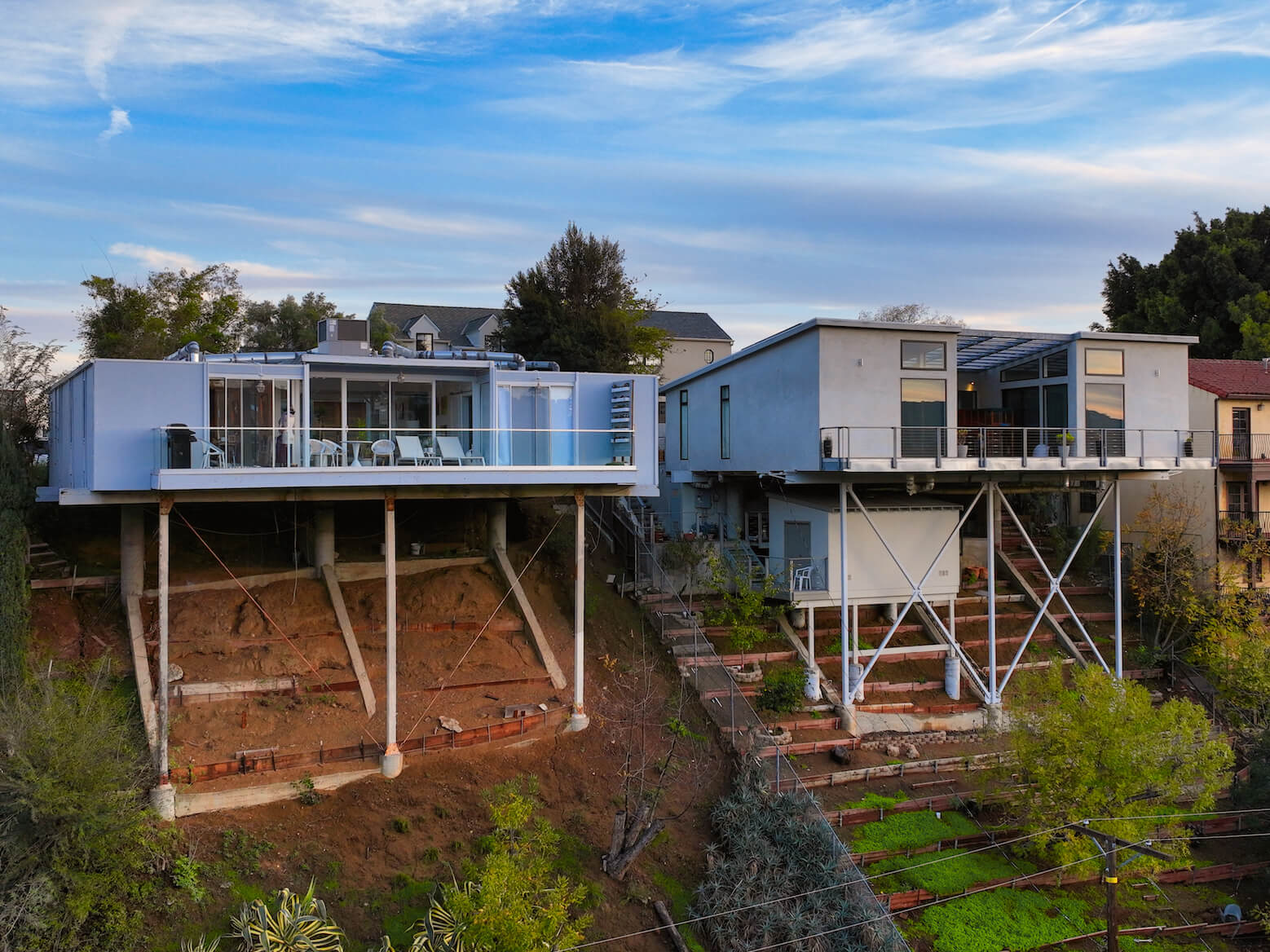 Stilt homes in Los Angeles became popular in the late 1950s and early 1960s as developers sought ways to build on small lots considered "unbuildable." An estimated 1,500 stilt homes were completed during this time, and many remain.
Typical construction involved at least two stilts braced diagonally by crisscrossing cables or rods. These stilts held the main floor of the building out over the edge of the slope, creating the appearance of a floating house.
At the time, stilt homes were an affordable and hassle-free solution to placing a home on rugged terrain. Small in size, they were marketed toward middle-class buyers.
Can I Still Build a Stilt Home?
Although you can still build a stilt home in Los Angeles, the cost of doing so is usually prohibitive.
Platform homes fell out of favor with local builders after 1966, thanks to new building codes that came into force in February of that year. The genuine danger of uncontrolled fire ravaging the hillsides required that all new silt houses be made fireproof for one hour by enclosing the underside of the house or coating the support structures in fireproof materials.
As you might imagine, the accompanying costs meant that stilt home construction all but stopped.
Are Stilt Homes Safe?
You'd be forgiven for questioning their structural integrity from looking at these dramatic residences that jut out over steep hillsides. Can those skinny poles support the weight of a house? And what's going to happen during an earthquake?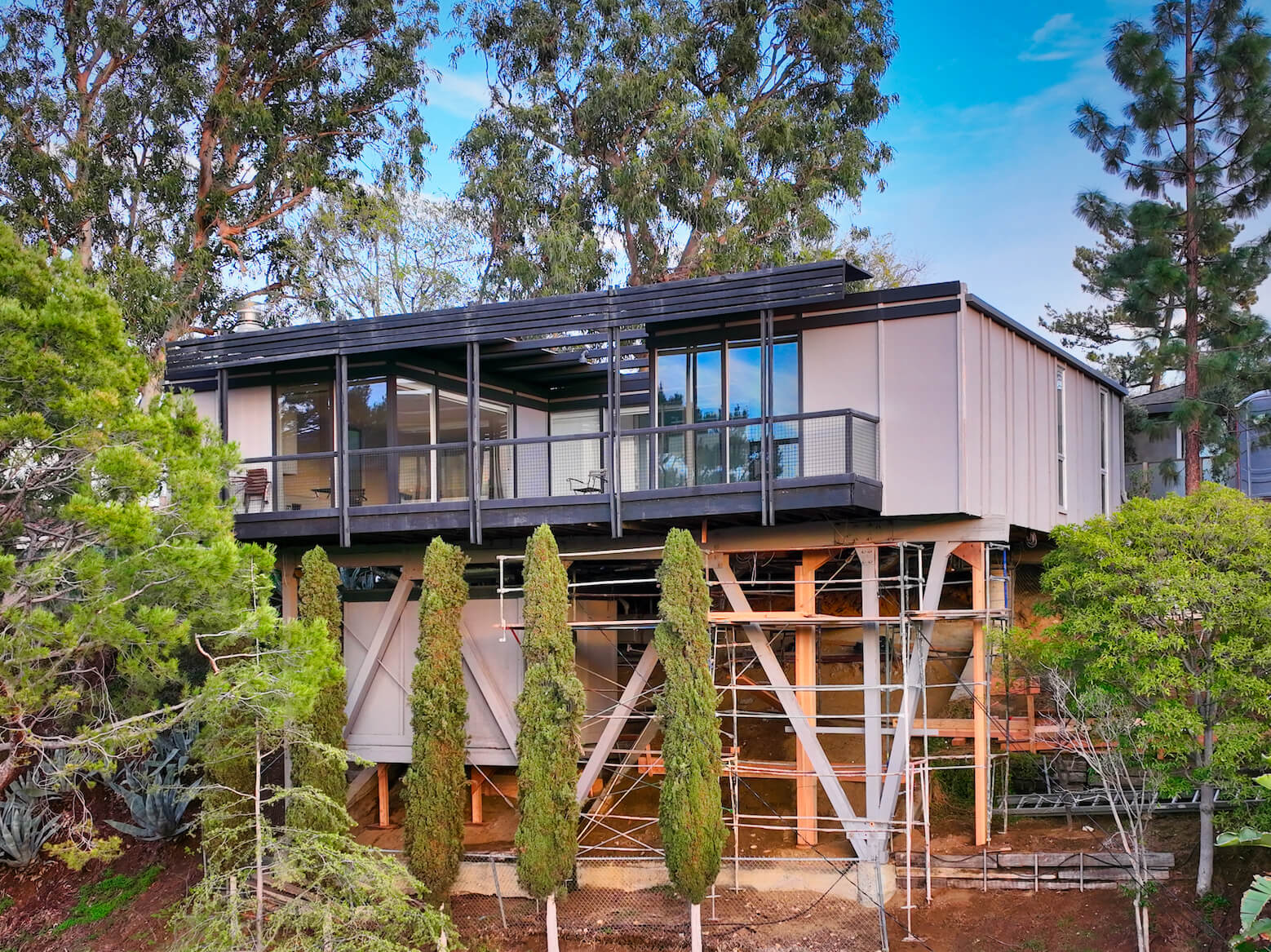 Building codes were much less rigorous when the first wave of stilt homes were built, and not all were constructed equally. In many cases, shallow piles were used, leading to a weakened structure. Rotting of exposed wood and loosening of steel cables are other factors that can make stilt houses unstable.
In the worst-case scenario, a stilt house that hasn't been attached to a street-level foundation is highly vulnerable to lateral motion during an earthquake. During the 1994 Northridge earthquake, 13 hillside houses collapsed, most of which were stilt houses with rod braces and no street-level foundation.
Since 1996, new stilt houses must be attached to a street-level foundation, as must existing stilt homes that are undergoing reconstruction worth 50% or more of their value.
Where Can I Buy a Stilt Home?
Few of the original collections of Los Angeles stilt houses remain, but there are areas with notable concentrations of these mid-century marvels. From time to time, a stilt house comes up for sale, although buyers pay a premium to own an iconic piece of Los Angeles history.
Hollywood Hills
Some of the most famous and iconic stilt houses in the world can be found throughout Hollywood Hills.
A great example is the "Bosch House" featured in the popular TV series. Located on Blue Heights Drive, this dramatic home was designed by Frank L. Stiff and completed in 1959. The house features floor-to-ceiling windows and an outdoor deck with exceptional views of downtown and the Sunset Strip.
On the south side of Cahuenga Pass, one can find more modest stilt homes.
Self-taught architect and Los Angeles native Harry Gesner designed twelve identical "Boat Houses" resembling mountain cabins. The steep, narrow lots were originally subdivided in 1911, but the challenges of building discouraged development for decades. Gesner worked with Norwegian shipbuilders to realize his project, and the unique two-story homes are perched on innovative pier supports.
Sherman Oaks
Located along a short section of Oakfield Drive in Sherman Oaks, 17 houses comprise the Platform House Historic District. Designed by acclaimed architect Richard Neutra and completed between 1962 and 1966, these gorgeous homes were constructed on stainless steel platforms which are supported by diagonally braced steel poles.
Although unassuming from the street, the single-level houses cantilever dramatically over Beverly Glen Canyon, offering stunning views from huge windows and terraces.