The Look of Luxury Homes from Coast to Coast
Posted by Tony Mariotti on Tuesday, May 17, 2022 at 8:22 AM
By Tony Mariotti / May 17, 2022
Comment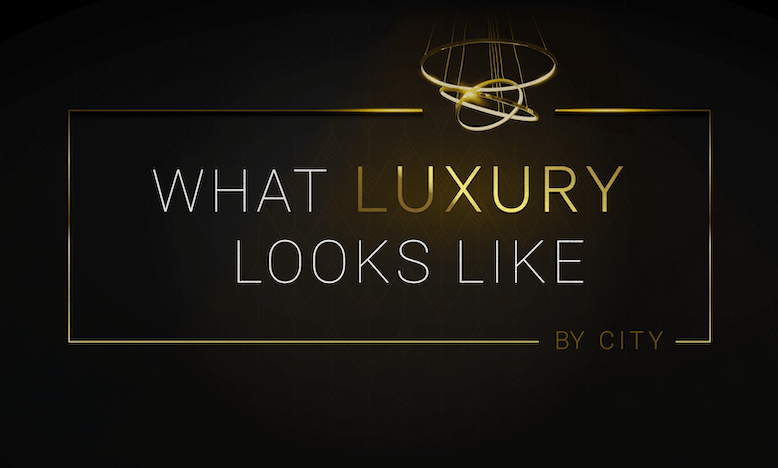 What Does Luxury Real Estate Look Like Across the United States?
Key Takeaways
COVID-19 didn't stop the billionaires—they just moved south. Sales of luxury homes in Palm Beach went up by 119% in 2020.
Luxury home sales in Miami increased by an astonishing 378% from 2020 to 2021.
What does luxury cost in Los Angeles? On average—over $25 million.
The taste, smell, visual, or whatever comes to mind when one hears the word "luxury" differs from city to city -- especially with real estate. But wherever you are in the world, the qualitative aspect of luxury properties has changed in the wake of the COVID-19 pandemic; buyers are looking for different features and emphasizing the importance of enjoying their surroundings.
Using data from the last five years on homes sold for $10 million and over, the team at RubyHome visualized what the average luxury property looks like (and sells for) in different locations. We covered Miami, Los Angeles, Greenwich, New York City, San Francisco, and Palm Beach. To see what these luxury capitals currently have to offer, keep scrolling.
Major Luxury Housing Markets
Our research began with a look into the changes in the total number of houses sold year over year in some of the biggest luxury real estate markets.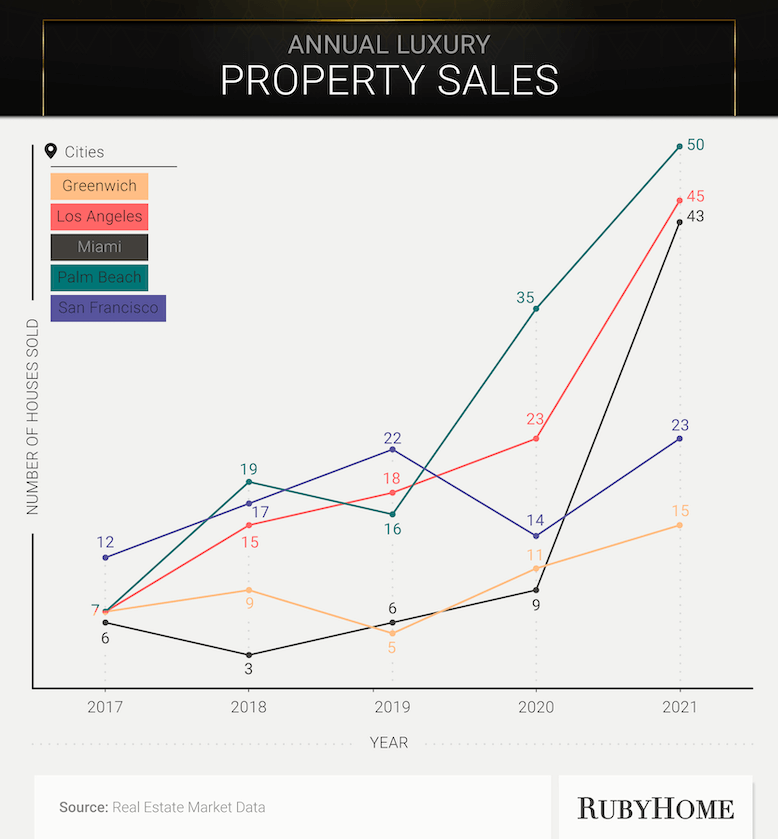 Sunny Palm Beach and Miami saw the biggest upticks in sales, perhaps due to the excellent weather and endless stream of outdoor activities available in South Florida. From 2020 to 2021, Florida saw as many as 300,000 new residents take advantage of everything the sunshine state offers.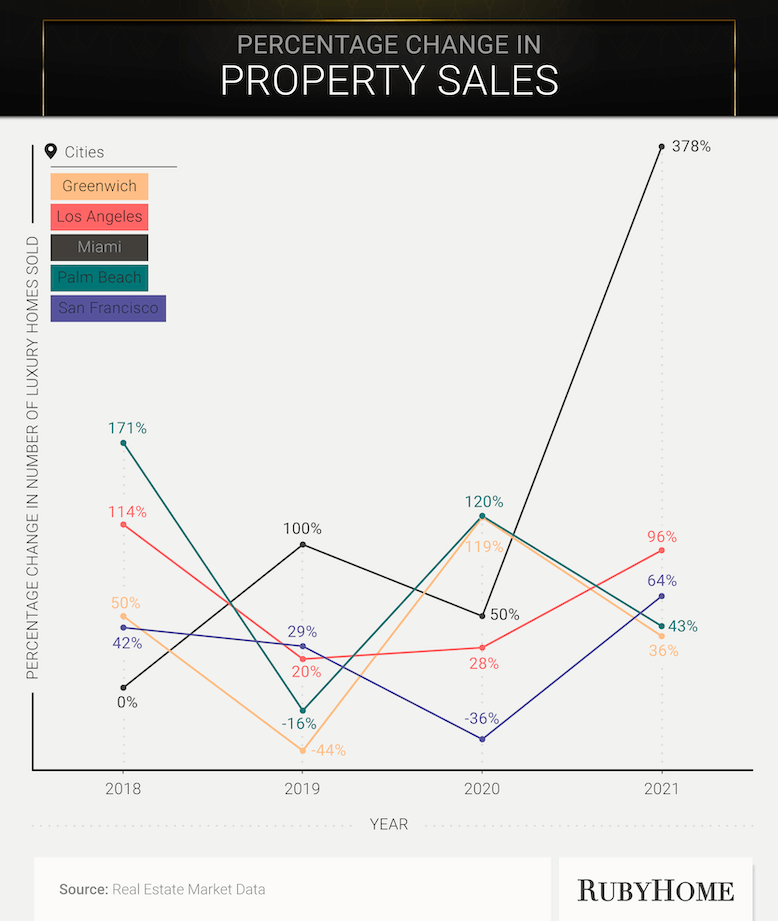 Palm Beach, Florida, has seen the largest number of luxury homes sold over the last two years. Even after a 136% increase from 2019 to 2020, the small and pricey island increased the number of homes sold in 2021 by an additional 43%. This increase is more significant than in San Francisco or even Los Angeles. It's also interesting that while these latter cities certainly offer a trove of luxury homes, they also have many less-luxurious neighborhoods, whereas Palm Beach does not.
But as the graph also reveals, luxury home sales across all studied cities increased drastically during the pandemic. Los Angeles, which has always been notorious for its celebrity and well-heeled residents, managed to increase its already high number of luxury home sales by 96% from 2020 to 2021. Miami saw a staggering 378% increase over the same period, perhaps because wealthy residents are increasingly drawn to Florida by its 0% state income tax.
Los Angeles Luxury Market
Los Angeles may very well be the first city you think of when picturing luxury living, and for a good reason. After all, most celebrities with a career in Hollywood have a home there, as do many other high net worth individuals. The next section of our study looks at the average selling price of a luxury home in LA, the average square footage, the number of beds and baths, and how long houses usually stay on the market (days on market or DOM). Our designers created a visual snapshot of the typical luxury home in Los Angeles.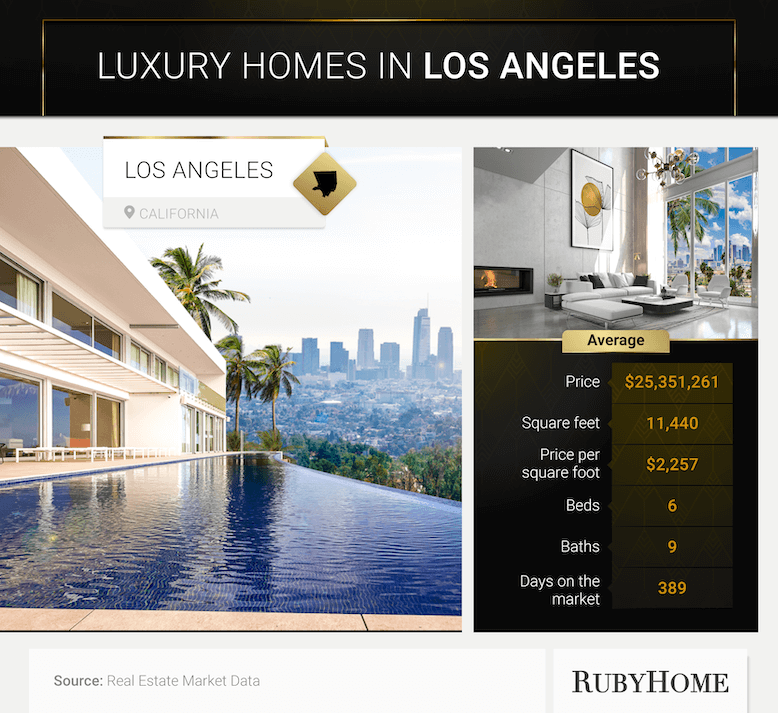 On average, Los Angeles luxury homes were more expensive than those of any other city we studied, selling for $25.35 million. For this price, buyers received an average of 11,440 square feet, nine bathrooms, and six bedrooms. They also received that "California cool" aesthetic, which typically included blending exterior/natural features into the interior, Malibu white couches, infinity pools, and indoor fireplaces despite the year-round warm weather.
Greenwich Luxury Market
Although Greenwich is not as popular with celebrity clientele, it has historically drawn the wealthy to its suburban streets. Consistently ranked as one of the richest towns in the U.S., it is home to several prominent hedge funds and has become a popular spot for affluent New Yorkers to take refuge. Here, we look at the average selling price of luxury homes in the area and their size, and the average number of days they take to sell.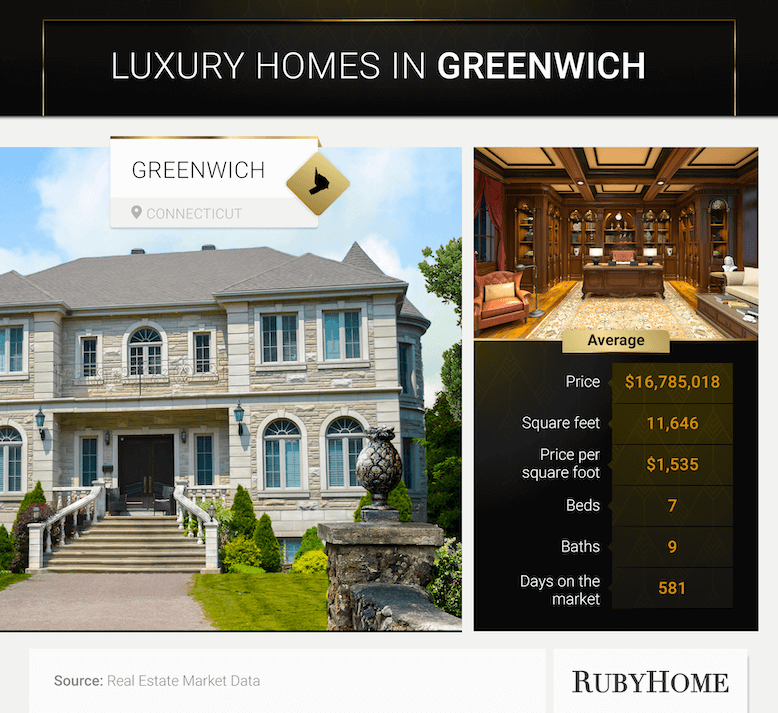 While luxurious, the Greenwich look is more "old school" than many Hollywood homes' modern aesthetic. Designers frequently referenced old-world libraries and sturdy stone buildings. The houses here channel the atmosphere of a small and exclusive town rather than a major city and often cost significantly less than those in California. While the average price of a luxury home in LA was $25.35 million, one in Greenwich cost a "mere" $16.78 million. They were also slightly larger, on average, but took more time to sell, often staying on the market for over 1.5 years.
Miami Luxury Real Estate
With waterfront views, exotic art, and yachts galore, dreaming up Miami's "average" luxury home resulted in a true feast for the eyes. We also took a look at the average market data for real estate in this area.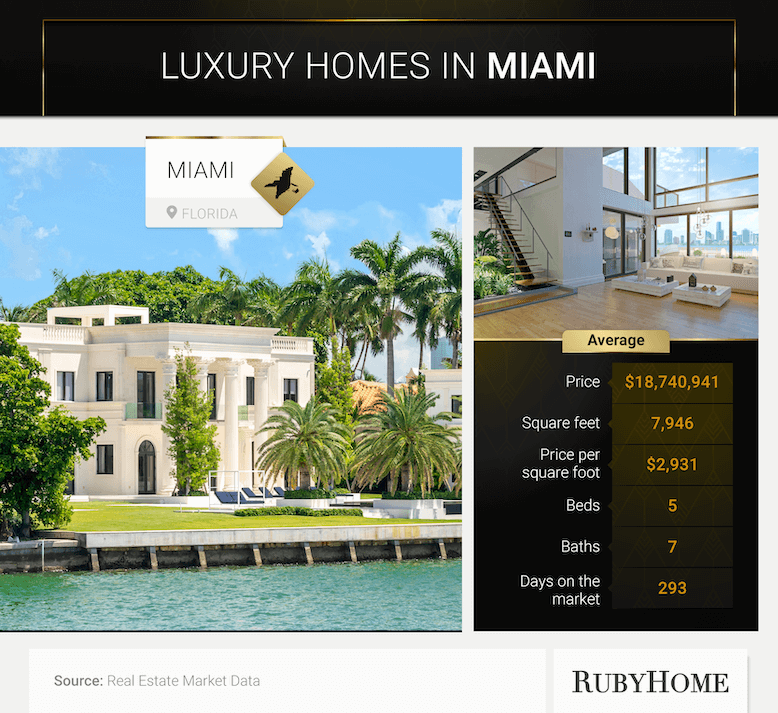 Miami's market was a true anomaly on the real estate scene. On average, the houses sold in a much shorter time frame than other markets - just 293 days. Perhaps for those that planned on declaring residence in Florida, the increased price was justified by the state's zero income tax policy—potentially saving them money in the long run.
Luxury Real Estate in New York City
New York draws residents from the world over with its culture, history, acceptance, and now more than ever, its luxury. As a notoriously expensive place to rent, New York City expects even more from its luxury properties.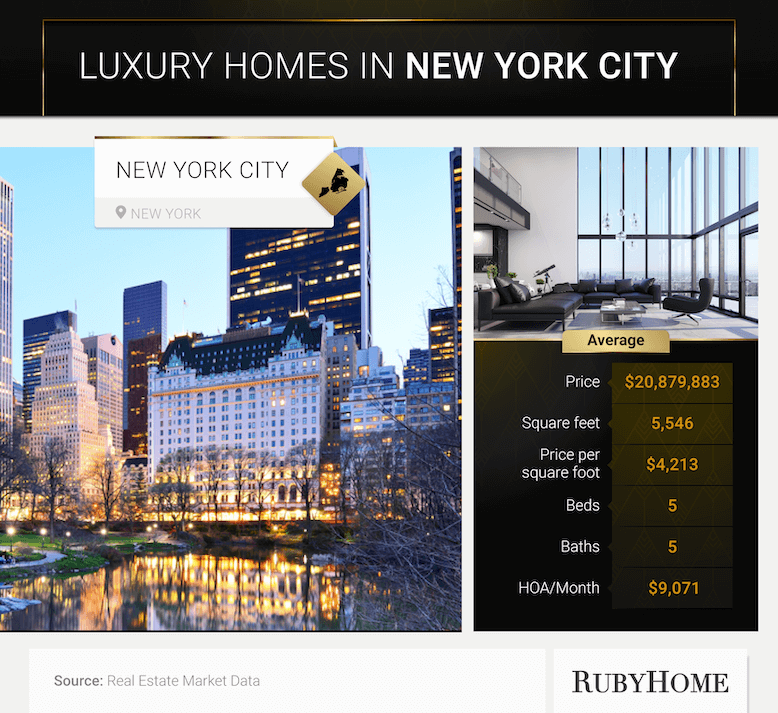 The average luxury home (often an apartment) in New York City typically features stark contrasting details, such as black and white or hard and soft. Colorful apartments are rarer in the luxury community. These neutral colors and the luxurious lifestyle that comes with them cost New Yorkers an average of $20.88 million, more than Miami and Greenwich but less than LA. But, there are additional costs. Rather than single-family residences, apartment-style living means New Yorkers often also pay homeowners association (HOA) fees, with average monthly dues of $9,071, or more than $108,000 each year.
Luxury Sales in Palm Beach
Of all the states, Florida has seen the highest luxury home sales by volume in the last few years. As previously mentioned, Miami accounted for many of these. But an impressive number of luxury owners were also drawn to a much smaller surface area: Palm Beach. Located approximately 90 minutes north of Miami by car, high-end clientele were flocking to this community in a higher quantity than any other luxury market we studied.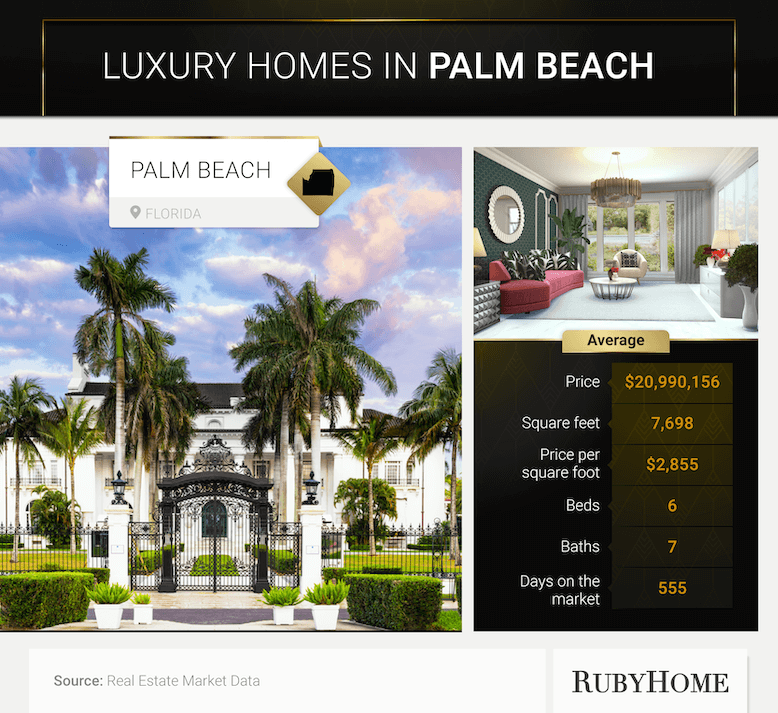 Luxury homes in Palm Beach cost slightly more than those in New York City, with an average price of $20.99 million. They were typically single-family homes instead of apartments. With 7,698 square feet on average, buyers got a better price per square foot than the New York market. Plus, lavish backyards with pools are common. That said, Palm Beach houses were sitting on the market for over 1.5 years before selling - 555 days to be exact.
San Francisco Luxury Homes
Luxury buyers flock to San Francisco for its high-tech job market, climate, progressive culture, world-class restaurants, and beautiful scenery - but let's take a look at what they're getting for their money.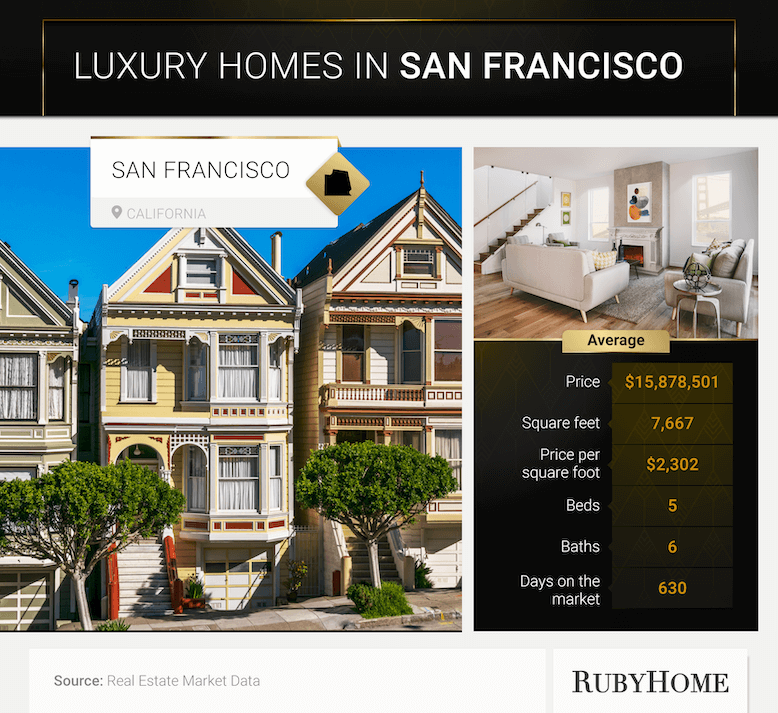 Surprisingly, properties worth $10 million and above were selling for less in San Francisco than in the other towns and cities we studied, with an average luxury home price of $15.88 million. They also had the longest average selling time (630 days on market). Many houses have a late 1800s look compared to Miami and Los Angeles. The iconic Painted Ladies (homes with a similar aesthetic to our designer renderings) actually cost far less than the $10 million price tag that was our cutoff point for analysis.
Summary
The top luxury markets have been on fire for the past few years as people are snapping them up more than ever before. Cities like Miami, Los Angeles, and San Francisco saw luxury home sales rise in both price and volume.
About RubyHome
RubyHome is a luxury real estate brokerage based in Los Angeles and operates in several West Coast markets.
Methodology
We collected real estate data on single-family homes, townhouses, and condos that were actively for sale or had sold over the past five years for $10 million and over. We analyzed 200 homes in Los Angeles, CA, 102 in San Francisco, CA, 67 in Greenwich, CT, 125 in Miami, FL, and 205 in Palm Beach, FL. We only collected data for "for sale" properties in New York City, of which there were 221. To create the images, we analyzed the interior and exterior styles of actively listed homes in each city and had designers create an "average look" based on their shared aesthetics. We then used property details to generate data points on luxury homes like average price, bedrooms, and bathrooms for each location.
Fair Use Statement
Luxury homes can be pretty inspiring, regardless of budget. If you think someone you know may enjoy reading the market data for these luxurious cities, you are welcome to share this research with them. Just be sure your purposes are noncommercial and that you link back (dofollow) to this page.