The Most Expensive Homes in Los Angeles
Posted by Tony Mariotti on Sunday, March 21, 2021 at 10:13 AM
By Tony Mariotti / March 21, 2021
Comment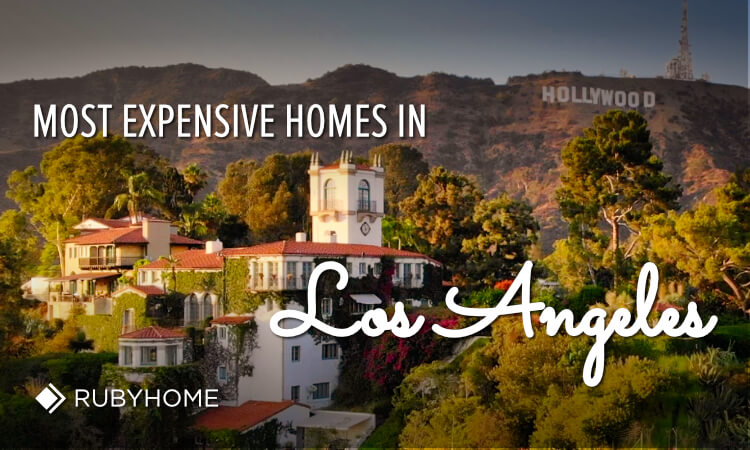 Los Angeles's most expensive homes are naturally concentrated in within the some of the area's most expensive neighborhoods. Among them are Bel Air, Beverly Hills, and Holmby Hills, which comprise an area locally referred to as the "Platinum Triangle." In addition, a few Malibu beachfront communities also contain some of the area's most expensive real estate.
This article come in two parts. The top half ranks the most expensive homes in Los Angeles ever sold, by sales price. The bottom half ranks Los Angeles' priciest homes that are currently for sale.
The Most Expensive Homes in Los Angeles Ranked
Warner Estate / $165M
1801 Angelo Drive Beverly Hills (Beverly Hills Gateway)
The historic Warner Estate remains among Beverly Hills' most luxurious homes. The 13,600 square foot Georgian-style mansion comes with scenic gardens, a nursery, terraces, a nine-hole golf course, a motor court, gas pumps and service garage, and a swimming pool, a tennis court, and three hothouses. The lot covers over nine acres.
Built and designed by Roland Coate in the 1930s for Jack Warner (former president of Warner Bros.), the Warner Estate has seen its share of the glitz and glamor, having been a social milieu itself to the rise of Hollywood. It had originally been a 15-room Spanish colonial-style mansion before its remodeling, with actor and interior designer William Haines decorating the interior and renowned landscape architect Florence Yoch designing the grounds. Coate added the breathtaking Greek Revival portico, while Haines followed a Georgian style to decorate the rooms. The front doors open into massive two-story entrance halls, with 18th-century English paneling adorning the living room walls and the ceiling lit by a George III-style chandelier. This romantic Georgian sensibility extends into the dining room with its Adamesque serving table, 48 Regency-style dining chairs, and a sweeping 19th-century French wallpaper. The library serves as a screening room, filled with comfortable sofas and a portrait of Ann Warner painted by legendary surrealist artist Salvador Dali hanging over the fireplace.
Jack Warner lived in the estate from 1937 until he died in 1978. His widow lived there until her passing in 1990. Asylum Records co-creator David Geffen acquired the estate for $47.5 million. In February 2020, David Geffen sold the estate to Amazon founder Jeff Bezos for a whopping $165 million, a record-breaking sale for a private residence in Los Angeles.
Chartwell Estate / $150M
875 Nimes Road, Los Angeles (Bel Air)
This 25,000 square foot Chateauesque mansion was built in the 1930s by Summer Spaulding, inspired by the French Neoclassical Style. Meticulously placed and symmetrically cut limestone covers the exterior. The interior is something straight out of "The Great Gatsby," with a grand ballroom, vaulted foyer, and scaled formal rooms. The sprawling estate sits on over 10 acres of land and boasts 26 rooms, a 75-foot pool, gardens designed by Henri Samuel, and a pool house and guest house designed by architect Wallace Neff. Among the more fascinating features of this pricey estate are its secret underground tunnel, a wine vault that can hold up to 12,000 bottles, and an underground garage that fits 40 cars.
Civil engineer Lynn Atkinson commissioned the original mansion as a gift for his wife, who dismissed the estate as "pretentious." Hotelier Arnold Kirkeby then acquired it in the 1940s for $200,000. In 1986 it was bought by billionaire Jerry Perenchio, who then sold it in 2019 to Lachlan Murdoch for $150 million.
Classic television fans may recognize the Chartwell Estate as the Clampett family home from the sitcom "The Beverly Hillbillies," which aired on CBS from 1962 to 1971.
The Manor / $120M
594 South Mapleton, Los Angeles (Holmby Hills)
The Manor (a.k.a. Spelling Manor) is a 56,500 square foot French chateau-style mansion with 123 rooms. For some perspective, it's bigger than the White House!
Formerly the site of Bing Crosby's 1932 home, The Manor was designed by architects from James Langenheim & Associates and constructed in 1988 for TV producer Aaron Spelling of Beverly Hills 90210, Dynasty, and Charlie's Angels fame. Spread over 5 acres of land, the estate also features rolling lawns, citrus orchards, rose gardens, fountains, koi ponds, statues, a swimming pool, and a tennis court.
Spelling tailored the home for himself and his wife Candy, who enjoyed over 20 custom rooms, including a barbershop, gift-wrapping rooms, humidity-controlled silver storage rooms, and a flower cutting room. The Manor has a French cheese and wine room, furnished with all the trimmings of sidewalk cafe-style chairs and tables. There is even a bowling alley with its very own shoe closet.
In 2011, the Manor sold for $85 million to Petra Ecclestone, who set about renovating the home for 12 weeks. Her lavish renovations included using black striped marble for the entryway and lounge, a massive aquarium for the study, and a nightclub for the basement.
In June 2019, the Manor sold for $119.7 million to an anonymous buyer, which was the highest sale in California's history at the time.
Playboy Mansion / $100M
10236 Charing Cross Road, Los Angeles (Holmby Hills)
The longtime home of now-deceased Playboy magazine founder Hugh Hefner, the Playboy Mansion is among the most famous Los Angeles luxury properties. Designed in a Gothic and Tudor Revival style by architect Ron Dirsmith, the massive home exceeds 21,900 square feet. It contains over 30 rooms, including seven bedrooms, eight bathrooms, a wine cellar, a built-in pipe organ, and a home theater. The estate even has a stand-alone house reserved entirely for gaming and entertainment! Outside amenities include a tennis court, basketball court, zoo, aviary, and a swimming pool housed the famous (or infamous) grotto. It is one of the very few homes in Los Angeles with a zoo license or a permanent firework permit; in this case, the Playboy Mansion has both.
According to Playboy history, Hefner's then-girlfriend Barbi Benton discovered the 5.7-acre estate in 1971 and convinced him to buy it. Hefner paid $1.1 million for the property, which was the highest home sale in Los Angeles history at the time. In 2016, it was put on sale for $200 million and purchased by Hostess Brands co-owner and next-door neighbor Daren Metropoulos for $100 million. In 2018, Metropoulos and the City of Los Angeles entered into a Permanent Protection Covenant which protects the Playboy Mansion from demolition. The agreement is binding on all future owners as well.
Billionaire / $94M
924 Bel Air Road, Los Angeles (Bel Air)
Designed by luxury developer Makowsky in May 2012, the Billionaire was listed for $250 million in January 2017, making it the most expensive home listed for sale at that time in the United States, before getting cut to $188 million in April 2018 and then to $150 million in January 2019. It was finally sold to an anonymous buyer in October 2019 after three years on the market for $94 million.
Billionaire is a massive four-level home, consisting of 38,000 square feet of living space, with 12 bedrooms, of which there are two master suites and ten guest suites. There are 21 bathrooms, all adorned with 50 kinds of Italian marble, five bars, three dining areas, three kitchens, a wellness spa, a fitness center, a 4-lane bowling alley, and a show-stopping 360-inch television. Billionaire is also home to two alligator skin-lined commercial elevators, two wine cellars, as well as a polished steel staircase, and up to 130 works of art.
The mansion sits atop a 1.08-acre lot, with the exterior featuring a 17,000 square foot deck. Notable features include a retractable theater screen, an 85-ft glass tile infinity pool with a swim-up bar, and a helipad with an Airwolf replica. The home also looks out onto a splendid view of Los Angeles, the San Gabriel Mountains, and the Pacific Ocean off Malibu.
Casa Encantada / $94M
104644 Bellagio Road, Los Angeles (Bel Air)
Casa Encantada (a.k.a. Conrad Hilton Estate) is a massive 40,000 square foot home that sits on 9.5 acres surrounded by the Bel Air Country Club's fairways.
Looking to build near the Bel Air Country Club, Hilda Olsen Boldt Weber purchased the land in 1936 for $100,000. She immediately commissioned the construction of a home. Casa Encantada was designed by architect James Dolena and completed in 1937 for a sum that exceeded $2 million. Every piece of furniture, carpet, and fabric in the mansion was custom-designed by leading interior designer T.H. Robsjohn-Gibbings.
The 1930s Georgian-Grecian estate is perched on a mound, giving many of its 60 rooms breathtaking views of the Santa Monica Mountains, city lights, and the Pacific Ocean. The mansion has a card room, bars, and large living spaces. The grounds include a pool house, movie theatre, lighted tennis court, basketball court, swimming pool, greenhouses, and koi ponds.
Hotel mogul Conrad Hilton purchased the property, at a steep discount from the original project's cost, for $225,000 in November 1950. Mr. Hilton lived there until he died in 1979.
Casa Encantada was then sold to financier David H. Murdock in 1980 for $12.4 million, making the record for being the most expensive house sold in the United States at the time.
In 2000, the property sold for $94 million to its current owner, financier Gary Winnick, who also spent millions restoring it, enlisting architect Peter Marino's help to revive its classic detailing.
This massive Bel Air estate was listed on the market again for $225 million in October 2019.
Fleur de Lys / $88.3M
350 N Carolwood Drive, Los Angeles (Holmby Hills)
Nestled in five acres in Holmby Hills, the 45,000 square foot Fleur de Lys estate exterior boasts a steel-framed, limestone-faced edifice.
The home features 12 bedrooms, 15 baths, a 50-seat theater, gym, pool house, massive formal gardens, a 370-meter running track, tennis court, a gilded ballroom that can fit up to 500 guests, a 3,000 square foot wine cellar complete with a tasting room, a two-story library, dance studio, beauty salon, music room, and a guest house.
The entire home also sits on rollers to protect it during earthquakes. Its 600-foot-long driveway ends in a motor court made entirely of recycled granite from Manhattan, recovered from the sewer system when the City of New York upgraded it.
Taking inspiration from the Palace of Versailles, the Fleur de Lys was commissioned in 1996 by its original owners David Saperstein and wife Suzanne Saperstein, and completed in 2002. Architect Richardson Robertson III, of Robertson Partners, was responsible for the design.
Upon the couple's divorce in 2004, Suzanne Saperstein received the property in the divorce settlement, and in 2006 placed it on the market for $125 million. After about six years in the market, the house sold in March 2014 to an anonymous Norwegian billionaire for $102 million in cash.
The Most Expensive Homes Los Angeles Right Now
Below you will find Los Angeles' most expensive homes that are currently active on the market. The lion's share sit within Beverly Hills, which is among California's most expensive cities.
The initial "price it high" strategy for homes in this tier of the luxury real estate market is meant to garner as much press and PR as possible, not necessarily reflect their intrinsic value. That's because marketing properties that approach or exceed $100 million require a lot of "shock and awe" to attract the attention of a small but global audience of potential buyers.
Below, we've included very brief descriptions for each mansion. When the dust settles and the homes sell, we write expanded descriptions and promote them to the upper half of this page, where each is ranked by sales price.
The One / $340M
944 Airole Way, Los Angeles (Bel Air)
The One is currently positioned as the most expensive home in Los Angeles and the United States. The mega-mansion is also the largest, coming in at 105,000 square feet. Initial public relations for the property floated a $500 million price tag but has since been reduced considerably.
Villa Firenze / $160M
67 Beverly Park Court, Beverly Hills (Beverly Park)
Built in 1998, Villa Firenze has 8 bedrooms, 11 bathrooms, and is 28,660 square feet. The property consists of three parcels that comprise nine acres of land. The initial asking price was $165M in 2018. In 2020, it received a modest price reduction.
Palazzo di Amore / $129M
9505 Lania Lane, Beverly Hills (Beverly Crest)
Palazzo di Amore was initially marketed as the most expensive home in the United States when it was listed for $195M in 2014. The price dropped in 2014 to $195 million, where it remains today. The 53,000 square foot home sits on 25 acres and includes a vineyard.
Mar de Amore / $115M
27930 Pacific Coast Highway, Malibu (Paradise Cove Bluffs)
Mar de Amore means Sea of Love, and for little more than a hundred million clams, you can own this incredible Malibu oceanfront gem. The 2.6-acre gated compound sits above the Pacific Ocean, representing the finest in coastal living.
1210 Benedict Canyon Road / $115M
This 2.69-acre estate was originally built in 1994 and remodeled in 1997. Casino mogul Steve Wynn bought it in 2015 for $47.9 million and conducted a multi-year expansion including landscape design by Robert Truskowski, architecture by William Hablinski, and interiors by Roger Thomas.
30 Beverly Park Terrace, Beverly Hills / $110M
(Beverly Park)
This gorgeous Contemporary Mediterranean mansion sits on 3.5 acres at the end of a private driveway. The house was built in 1994 by Sylvester Stallone. He has owned and lived in it since. Suffice it to say, the home includes a gym.
The Beverly House / $89.75M
1011 N Beverly Drive, Beverly Hills (Beverly Hills Gateway)
The former home of newspaper magnate William Randolph Hearst, The Beverly House has a storied history as JFK's honeymoon destination and West Coast election headquarters and shooting location of scenes from The Godfather and The Bodyguard.
$195 million was the initial asking price for the mansion, but it has inched its way to the current asking price, with incremental reductions along the way at $135 million, $125 million, and $119M.
Los Angeles' Most Expensive Home Listings

Based on information from California Regional Multiple Listing Service, Inc. as of October 22, 2021. This information is for your personal, non-commercial use and may not be used for any purpose other than to identify prospective properties you may be interested in purchasing. Display of MLS data is usually deemed reliable but is NOT guaranteed accurate by the MLS. Buyers are responsible for verifying the accuracy of all information and should investigate the data themselves or retain appropriate professionals. Information from sources other than the Listing Agent may have been included in the MLS data. Unless otherwise specified in writing, Broker/Agent has not and will not verify any information obtained from other sources. The Broker/Agent providing the information contained herein may or may not have been the Listing and/or Selling Agent. IDX provided by Sierra Interactive.