The Ultimate Guide to Los Angeles Architecture
Posted by Tony Mariotti on Friday, December 18, 2020 at 9:00 AM
By Tony Mariotti / December 18, 2020
Comment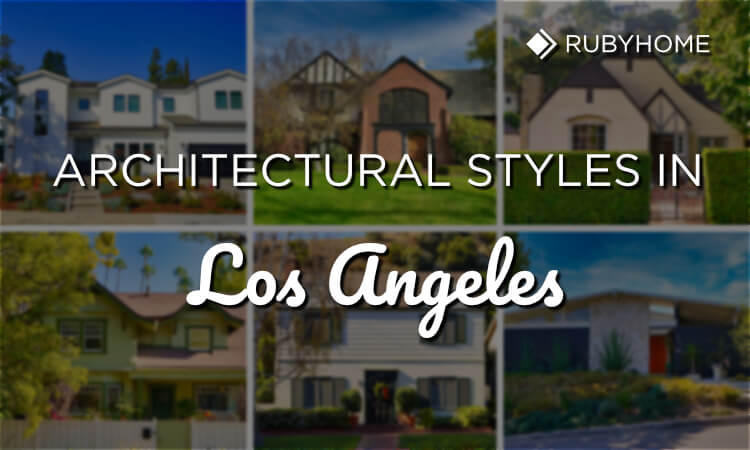 The styles of homes in Los Angeles are closely tied to the city's history and evolution. At the time of its founding in 1850, Los Angeles was scarcely more than a semi-lawless pioneer outpost with encampments near the Los Angeles River.
As it grew into an important trade hub on the West Coast, bankers and industrialists built grand Victorian homes downtown and in Angelino Heights (arguably the city's first suburb, just a few blocks from the city center). But, the architectural style of homes remained limited.
At the turn of the 20th century, Hollywood was nothing more than a quiet farming community filled with farmhouses, adobe huts, and orange groves. That was about to change rapidly.
In 1908, the first film was shot entirely in Los Angeles. By 1915, the major motion picture companies had moved from New York to Hollywood, kicking off a wave of residential development that continued during the "Roaring 20s." Period Revival style homes like Spanish, Mediterranean, Italianate, and Tudor dominated the scene during this time. This was also the era of planned subdivisions like Hollywoodland (in upper Beachwood Canyon), Whitley Heights, and Outpost Estates. The construction boom ran out of steam when the U.S. stock market crashed in 1929.
The next wave of construction in Los Angeles occurred during WWII as thousands of workers moved to the area to take jobs with defense contractors (Boeing, Lockheed, Douglas, et al.) as part of the war effort. For example, thousands of small, single-family homes were built in less than a year near Santa Monica Airport to house the workforce of 70,000 who manufactured and assembled aircraft there.
The suburbanization of Los Angeles characterizes the postwar period's prosperity (from 1945 to the recession of 1973). Mid-Century Modern and Ranch-style homes dominated the scene. These styles were relatively inexpensive to construct, and their simplicity and utility met the needs of the burgeoning middle class.
Much larger footprints characterize contemporary homes built from the 1980s to the present as living areas swelled in square footage. Larger garages were also required as an increasing number of households owned more than one vehicle.
What follows is a detailed look at each of the predominant architectural styles of homes in Los Angeles.
American Colonial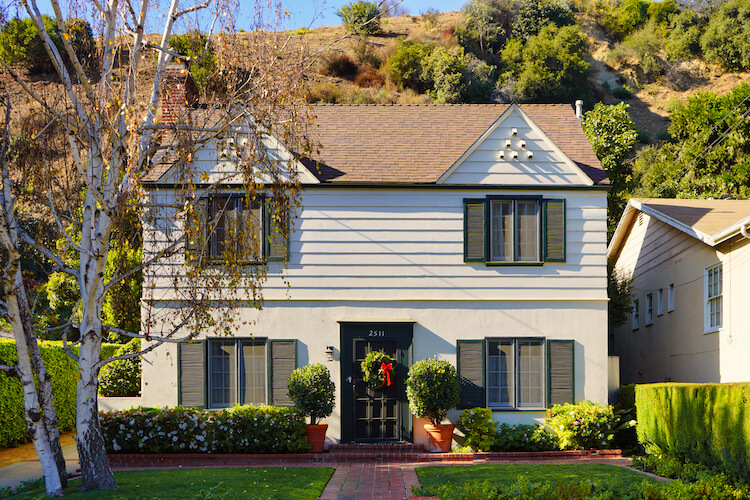 A simple American Colonial home
This style is based upon British Colonial architecture dating from the 1600s to the mid-1700s. Although there are French Colonial, Dutch Colonial, and other Colonial styles inspired by the domestic architecture prevalent amongst those nations, American Colonial refers to the sub-set based on British homes of the pre-Civil War period.
The style is based upon British townhouses but substitutes narrow clapboard siding or stone for the brick-and-mortar construction you might commonly find in the UK. Also brought over from British architecture is a focus upon (almost an obsession with) symmetry. A central staircase usually stands behind the front door, and window distribution is equilateral. A steeply gabled or hipped roof is usually tiled in grey slate. Sometimes gabled roofs are tall enough to contain an attic floor with windows in the gables.
Windows are often tall and rectangular with multiple panes, and these homes contain at least two stories. Typical detailing includes simple Greek or Roman-style columns or pediments and square chimney stacks. Due to their steeply raked roofs, the front elevation of these homes conceals the sides of the building. American Colonial homes are usually rectangular in shape, but homeowners often add extensions to the side or rear elevations.
Bungalow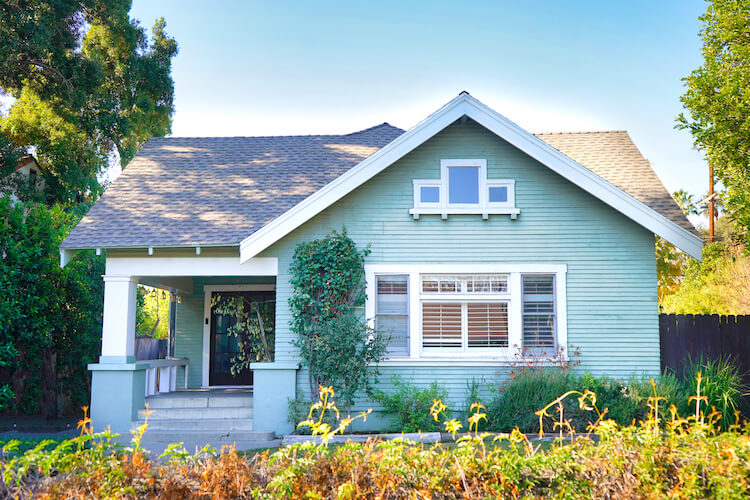 A Craftsman bungalow home
This style originated in British colonial India - the word bungalow comes from the Gujarati word Bangala, meaning "house in the Bengal style." Popular in the US between 1905 and 1930, these homes were simple and easily reproduced, often supplied in kit form for local construction teams to assemble.
Bungalows commonly have wide gabled roofs that extend over large front porches, with large columns propping up exposed eaves. Thus, they are well-suited to areas with sweltering climates and occasional rainstorms. They are usually built over one main story with a smaller second story often incorporate into the roof with a dormer in the front elevation.
A standard detail is the decorative knee braces holding the extended eaves, from which hanging flower baskets are often hung. Windows on bungalows tend to be double-hung with single panes and simple wooden casements. These homes' interiors are often open-plan with built-in cabinetry incorporated into large fireplaces, such as benches on either side.
The large covered front porches of these Craftsman-style homes are a crucial attribute, emphasizing relaxation and welcome.
Cape Cod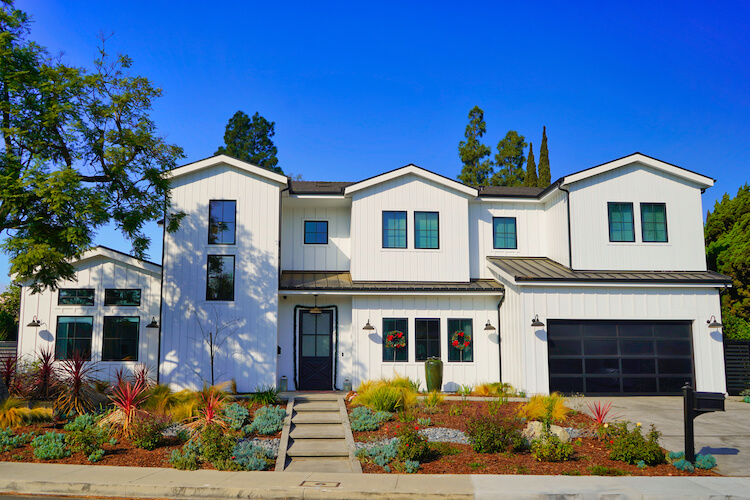 Cape Cod homes have a buff, sturdy look
Cape Cod architecture is one of the most iconic American house styles. Named after the coastal Massachusetts region, where this architecture is ubiquitous, it is actually based on a British Georgian style from the 18th century. Transposed to the American colonies, the style has been simplified and rendered practical for local materials and climates.
Cape Cod can be cold, wet, and windy in the winter. The architecture of that region, which spread quickly throughout New England, reflects this climate. Low eaves and ceilings and a large central, brick-built chimney keep these homes warm in inclement weather. A one-and-a-half-story structure without dormers is typical, as is the clapboard or cedar siding, window shutters, and side shingles left unpainted to weather in.
The boom period for this type of housing was 1700 to 1850, and a revival took place from the 1920s to the 1950s. Simple to construct and to extend, the Cape Cod style became popular throughout the US, particularly in the post-war era when the US government launched mortgage programs for returning servicemembers. A modern variant might include gabled dormers on the upper floor and decorative porticos with Greek or Roman-style columns.
Contemporary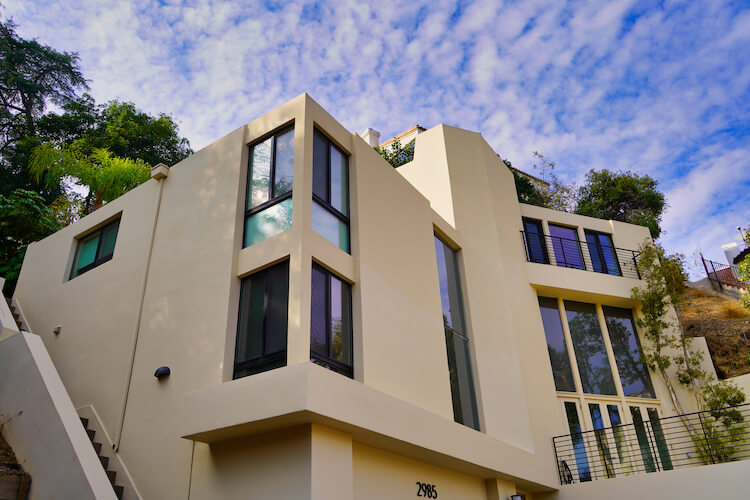 Contemporary homes adhere to the principles of modern architecture
Building on Modernist innovations but taking inspiration from other styles, contemporary homes are simply those which are absolutely current. They tend to incorporate up-to-the-minute innovations in design and materials as well as integrating the latest technologies for security, entertainment, and communication.
These houses tend to be less severe in their aesthetic than some classically modernist homes, with which they share key features such as open-plan interior layouts, blocky construction, flat roofs, and subtle landscaping. These home exteriors are often surfaced in more than one material, with metal contrasting with wood or painted stucco. Eclecticism is a watchword of this style, and contemporary homeowners curate their interiors and gardens with great care.
Sustainable materials and optimized energy consumption give many of these homes a much-reduced carbon footprint. They are commonly found in well-to-do areas where tech or entertainment professionals live, such as Beverly Hills, Pasadena, or the Hollywood Hills. In size, they range from the compact to the palatial.
Cottage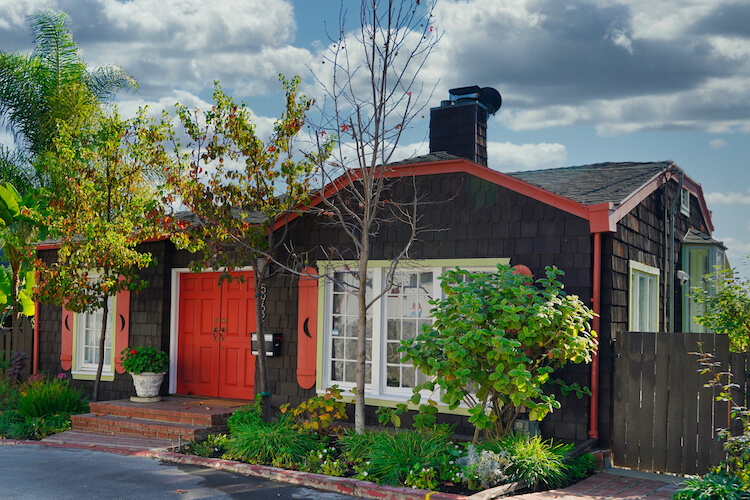 The accents on this cottage in Los Angeles add a visual pop
One of the oldest looking styles in American domestic architecture, cottage homes developed out of the Craftsman style, inspired by the village architecture of Old Europe, particularly England. They were a popular type of home from the 1920s to 1940s, tending to have a smaller overall footprint (under 2000 sq ft) and often just one or one and a half floors.
Asymmetry of design is a key feature, with idiosyncratic and cozy room layouts, often built around a central chimney. Front-facing gables sometimes incorporate a catslide roof, where a curving interior slope contrasts with steep, straight eaves on the outside. There are often mock-retro touches such as imitation thatched roofs and windows with leaded panes.
Cottage style is rustic without being ramshackle. Front doors may be wooden with period detailing and rounded tops containing small glass panels. Stucco, shingle, or lapped siding is a typical finish. Homeowners often encourage climbing plants such as ivy or wisteria to add a decorative flourish.
Hybrid cottage styles might include small porches and gabled dormers in attic stories. Balconies and bay windows are other possible modifications features in more extensive examples of this style.
Craftsman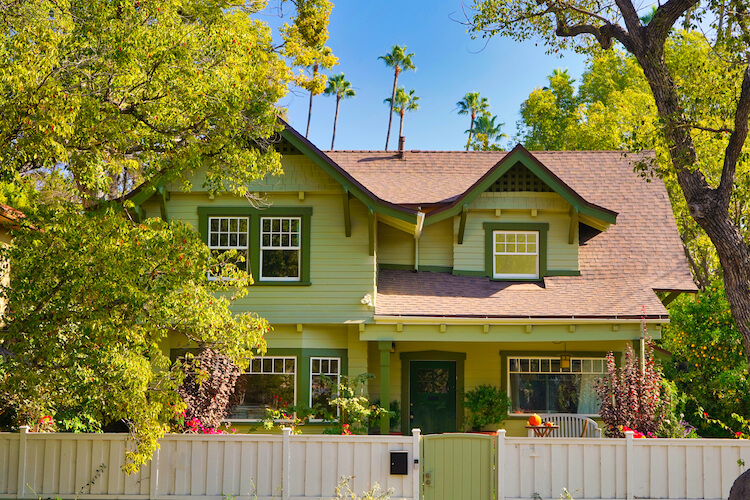 Pristine Craftsman homes are found all over Los Angeles and California
The American Craftsman style is an indigenous form of domestic architecture based loosely upon the 19th century English Arts and Crafts movement. Its name comes from a magazine founded in 1901 by furniture-maker Gustav Stickley, The Craftsman. Craftsman style flourished from about 1905 into the 1930s and remains a very desirable style of residence today.
Low-pitched gabled roofs are an identifying feature of these homes, which tend to consist of a single floor spread out over a comparatively large floor plan. They are generally asymmetrical in layout and feature large front porches and exposed wooden structural elements.
Natural materials such as stone and wood are preferred, with a focus on a high degree of craftsmanship and easy integration into natural surroundings. These homes can be comfortable without being showy, although grander examples do exist, such as Greene and Greene's Gamble House in Pasadena.
Modern versions of this style usually keep the low-angled, projecting eaves and large porches, whilst substituting more modern materials, exteriors with light colors, and additional upper floor space.
English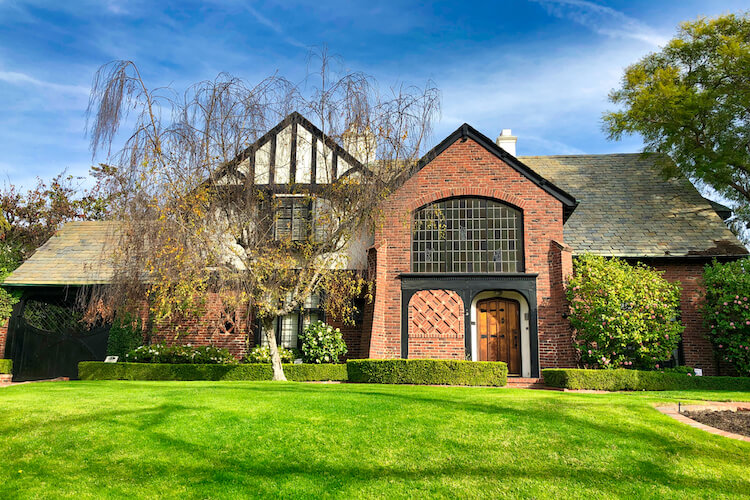 An English home in Hancock Park
Cottage homes in a traditional English style are highly sought-after. Cottage styles often incorporate idiosyncratic layouts, cozier rooms, and curving roof eaves sometimes finished with brickwork or mock-thatch. Casement windows with leaded panes sometimes feature.
English-styled homes might also incorporate medieval Tudor elements such as exposed structural beams picked out in black against whitewashed walls. This was a typical look in English homes during the reign of the Tudor monarchs between 1485 and 1560. It was revived as a style in the UK in the latter half of the 19th century, inspired by the Arts and Crafts movement.
Inside, ceilings often feature exposed interior beams in a rustic style. These homes can be quite tall with steeply sloped roofs and multiple floors. They are often half-timbered, with wood paneling on the upper levels and stone or brickwork below.
Owners often incorporate old-world details such as stained glass, stone flagstones, or mullioned windows. Arches and curves add geometric interest to these homes' exteriors, which often reveal their interior structure.
French Revival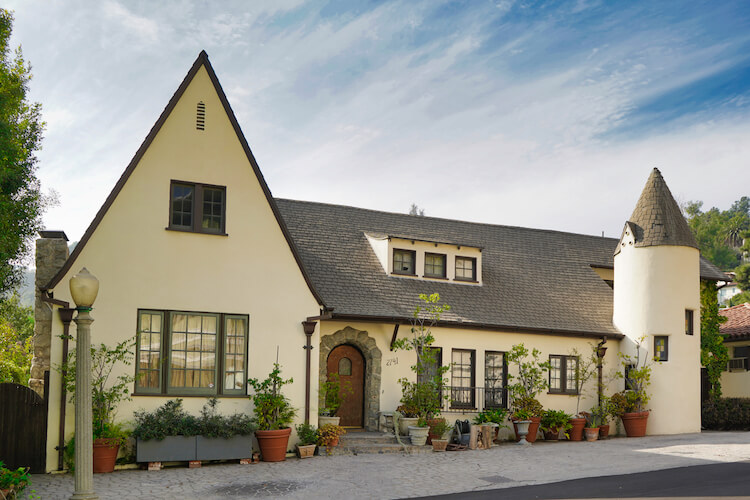 A storybook home the Hollywood Hills with French Normandy influences
Popular in America between 1915 and 1945, French-inspired styles were popularized by soldiers returning home from the World Wars. French Revival is really a cover-all term for several sub-styles, including Norman Cottage, Chateauesque, and French Eclectic.
Normandy's provincial homes featured narrow-eave, steep-hipped roofs, with side-facing gables and sometimes an L-shaped plan placing the front door at the junction of the two wings. Dormer windows often project through the eaves, and these rustic-styled homes are finished in stucco, stone, or brick. Stonework window surrounds, louvered shutters, and delicate wrought iron touches are other signatures of this style.
Chateauesque, as its name suggests, is a grander and more formal look, borrowing from French medieval castle design. Large homes in this style often have round towers or square turrets surmounted with conical or pyramidal roofs. Arched or porthole windows and decorative door surrounds are standard. Inside, sweeping staircases and high-ceilinged interiors add to the splendor of this variant.
French eclectic might blend aspects of Craftsman, Cottage, or other styles to create a hybrid form while still retaining some of the rustic elements of French provincial homes, such as steeply raked grey-tiled roofs and brick chimneys.
Mediterranean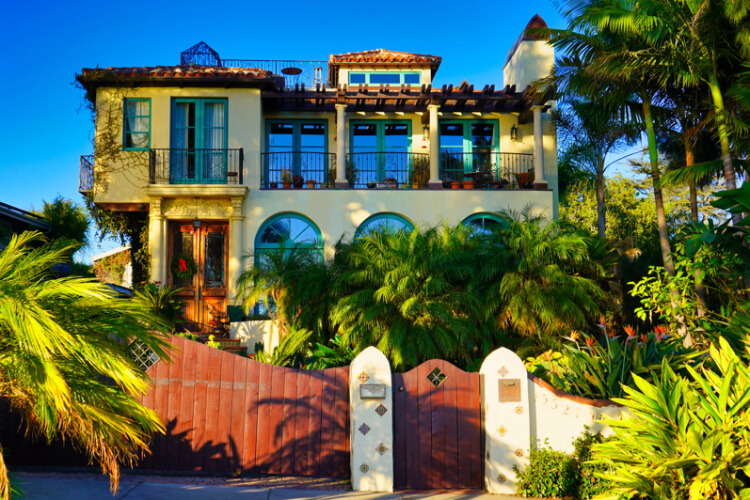 Mediterranean homes are a perfect match for the climate in Los Angeles
Peaking in the 1920s and 1930s but still popular today, Mediterranean Revival style draws from an eclectic blend of Spanish Renaissance and Spanish Colonial, Italian Renaissance, Andalusian and Beaux-Arts influences. Commonly found in Florida and Southern California, these homes offer comfort and often integrate interior courtyards and landscaped gardens.
Stucco exteriors are often painted in bright, earthy tones, and flat roofs reflect the excessive summer heat. Roof terraces and balconies are sometimes seen, and there is a definite focus on integrating exterior and interior spaces.
Decorative arches and shady terraces are common features, as are projecting porches over heavy wooden front doors. Windows often are tall with shutters on either side, and where roofs are sloped, the angle tends to be shallow. Overlapping terracotta pantiles co-ordinate with pale yellow or ochre exteriors.
Much is made of water features such as fountains and ornamental ponds, a particular Andalusian influence, as is the repeating arched detailing on eaves and porches. These homes are in great demand for their elegance and comfort.
Modern (and Mid-Century Modern)
Unmistakably Modern design
Modernism is now, paradoxically, almost 100 years old. Beginning in the 1920s with futurist movements such as the Bauhaus group and European architects such as Le Corbusier and Walter Gropius as well as Americans including Frank Lloyd Wright and Mies van der Rohe, the style attempted to blend sculptural form and idealistic function like never before.
Daring to use modern materials such as steel, poured concrete, and large panes of glass, modernist architecture proved both practical to build and very fashionable. Comfortable open-plan interiors were softened with designer furnishings, and these homes were often intended to be admired as works of art and showcases for design collections.
In the 1940s, Frank Lloyd Wright, in particular, popularized a more accessible and site-specific style of Modern architecture, which softened some of the brutalism of earlier incarnations. This modification might be termed Mid-Century Modern.
Present-day exemplars of this mode might incorporate aspects of other styles, especially Craftsman elements, while incorporating the large open-plan interiors, flat roofs, and sculptural forms familiar to the classic modernist period of the 20s, 30s, and 40s.
Ranch-style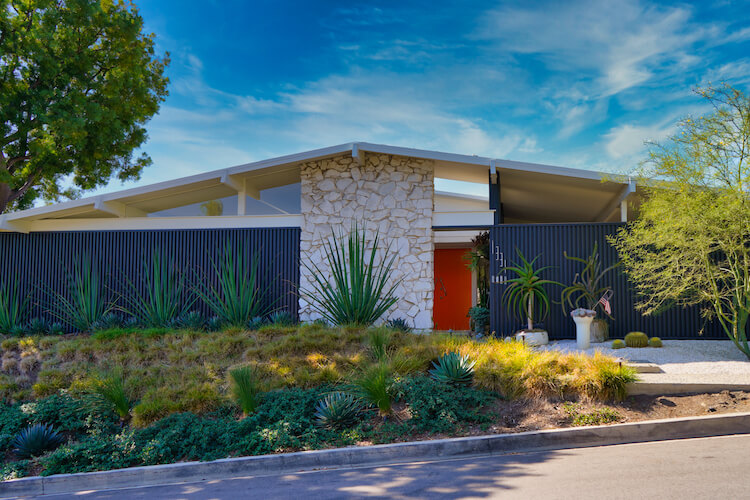 The first California Ranch homes were developed by Cliff May in Brentwood
Based loosely on a Western frontier home, Ranch-style houses have the modular simplicity of modernist homes with the "down-home" feel of a traditional 19th-century homestead. It is a truly American style, originating in the 20s but becoming popular from the 40s to 70s. A post-war baby boom made it necessary to build many new homes quickly, and the simple construction and homely detailing of these houses made them popular with post-war homeowners.
Ranch-style homes have a low and wide footprint with gradually-sloping roofs and usually just one floor. They often have a brick lower half with wooden paneling or painted masonry above. Eaves tend to extend beyond the walls offering rain protection. Small porches and step-up doorways are sometimes seen. Although they may have lower ceilings, rooms can be generous in size, and layouts vary from rectangular to L-shaped or U-shaped plans, allowing for a variety of budgets. It's an incredibly flexible style, and modification is common.
Interiors are often open-plan, and these homes frequently incorporate basements and built-in garages. Front-facing triangular gables sometimes break up the rectangular linearity of this style. They usually have front lawns and ample space for off-road parking.
Spanish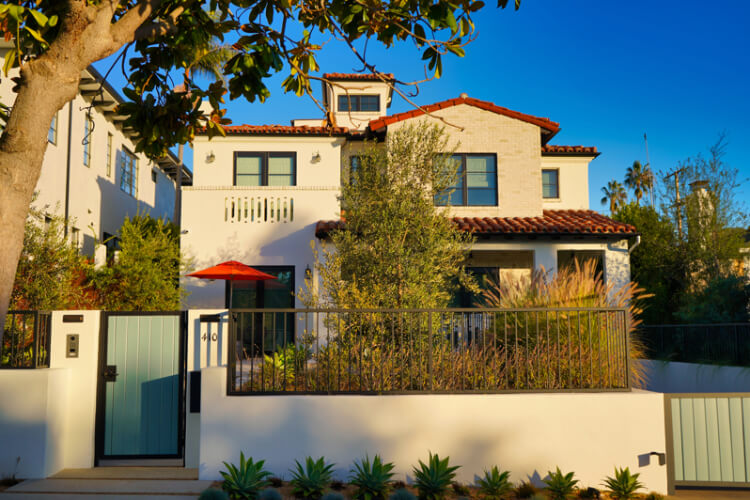 Spanish homes are ubiquitous in Los Angeles
Often prized by Hollywood stars and producers, these comfortable but charming homes are characterized by earthy styles, stucco exteriors, red-tiled roofs, exterior stairways, and verandas. Their key motif is the arch, as decorative edging, around windows or often framing an elegant entranceway or portico. They are based on a style originating with the Spanish colonials in the sixteenth century and re-popularized by the 1915 Panama-California Exposition. The boom period for this architectural mode was the 1920s and 30s, as Hollywood hit its stride, and the demand for stylish residences grew.
Wooden doors and window shutters, and decorative wrought iron adds to the rustic charm of these homes. Like the Mediterranean Revival style, garden spaces and courtyards blur the distinction between interior or exterior spaces. Unlike that style, roofs are sloped, and picture windows on the front fascia are not uncommon.
Floor plans can be subtly sprawling and are sometimes built around a central courtyard, with arched, walled entranceways. Tiled floors continue the Spanish theme inside: rooms often lead into one another, and split-levels help define boundaries. Sliding doors back onto shady gardens and palm trees are a natural fit for Spanish Colonial gardens.
Original houses in this style are in huge demand, but modern variants continue to be built, which retain the cool, charming qualities that are essential to this type of home.
Traditional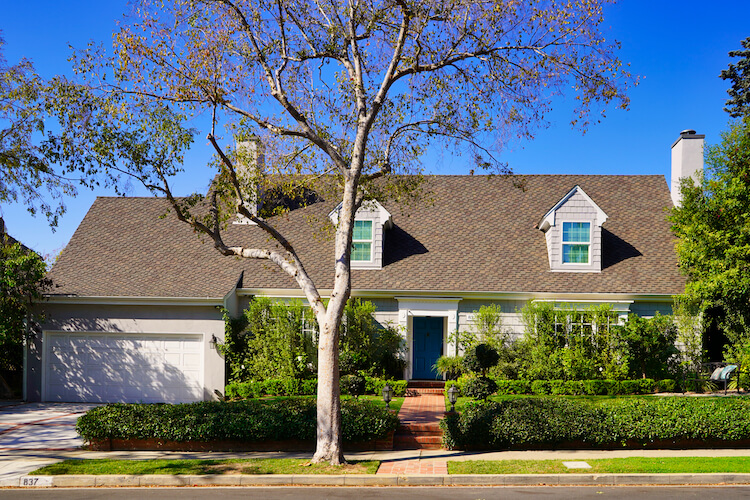 Traditional homes borrow elements of several architectural styles
Traditional architecture is an eclectic, modern style of design. Traditional residences incorporate ingredients from earlier architectural styles like Craftsman, American Colonial, and Tudor. The Traditional style is typified by simple, unadorned facades and low or intermediate pitched roofs, usually with at least one front-facing gable or hip and a large chimney. A traditional house can be one or two stories high.
A sub-genre, Minimal Traditional, alludes to smaller homes that follow the core principles of Traditional design. With troops returning home from overseas after World War II, demand for housing stock soared. What's more, the creation of the VA Loan program lowered the barriers to entry for home ownership. Minimal Traditional homes were perfect for fulfilling the demand for scalable, affordable homes. In fact, it was the predominant residential architectural style in America until it was superseded by Ranch-style homes in the 1950s.
Tudor Revival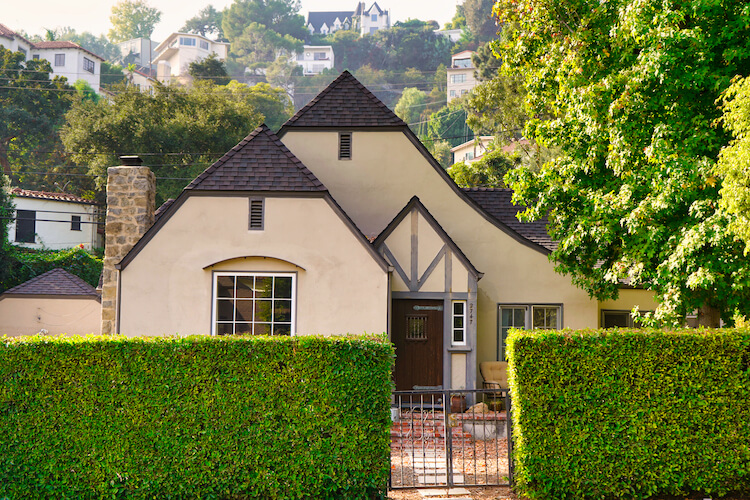 Tudor homes evoke the feeling of living in the English countryside
With booming stock markets in the 1920s came a revival of this English Tudor and Medieval inspired style. These homes, often constructed in complex, decorative brickwork, borrow heavily from an eclectic palette of archaic features such as exposed wooden beams, tall bay windows, steeply raked roofs, and diagonal muntin panes.
These homes are always imposing, sometimes multi-storied, and always asymmetrical. Since they are inspired by an archaic age where right angles were rare, geometric variety is celebrated. Roofs may incorporate concave eaves and boxed-in porches and windows, sometimes extending for multiple stories.
Inspiration may also be taken from medieval church design with carved wooden exterior detailing, stained glass, and window pews. Tudor styling inside is less common since roaring hearths are neither practical in the 21st century (nor in year-round sunny Southern California). However, this style's eclecticism can lead to some surprisingly innovative and modern exteriors in contrast to their archaic façades.
Landscaping in the grander residences in this style might incorporate English-flavored elements such as rose-beds, walled gardens, and fruit trees. These homes are not for shrinking violets and definitely make a bold architectural statement.
Victorian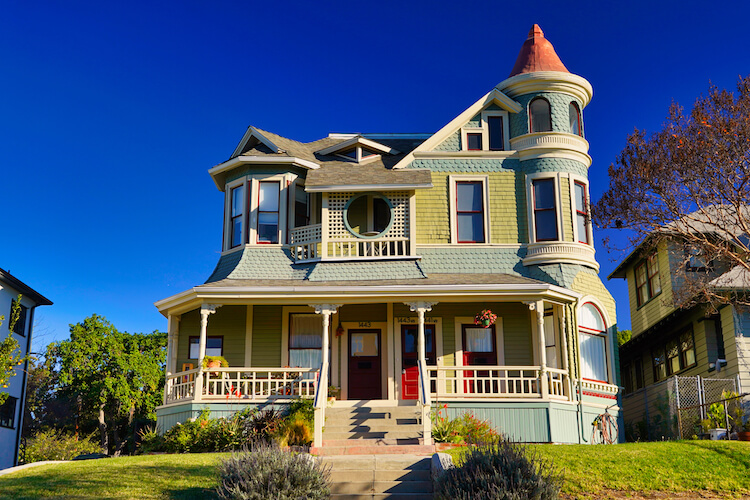 Victorian homes were beloved by Los Angeles' elite in the late 1800s
Victorian is something of a catch-all term for a number of styles, including Gothic Revival, Italianate, Second Empire, Romanesque, Stick Style, and Folk-Victorian, amongst others. These home styles have in common their highly decorative, even fussy, exteriors and their eclectic remodeling of English and European romanticism.
The modern version of this style has settled into a somewhat less showy form. Roofs are commonly steeply raked, multi-level, and intersecting with windows set into their triangular front-facing gables. Grander homes might offer elaborately decorated wooden porticoes and eaves as well as turreted towers and sweeping verandas.
The style is intended to evoke a fairy-tale feeling, where imagination runs rampant. Red brick exteriors are common but always partnered with pastel-colored stonework or decorative painted wood. Roofs tend to be covered in variegated grey shingles or slates.
Interiors can contain extensive hardwood paneling, grand fireplaces, and sweepingly elegant staircases. The intention is to impress, and these homes are intended for entertaining. Dizzyingly eclectic they may be, but they are seldom dull.