Living in West Hollywood [Insider's Guide]
Posted by Tony Mariotti on Tuesday, January 5, 2021 at 5:40 PM
By Tony Mariotti / January 5, 2021
Comment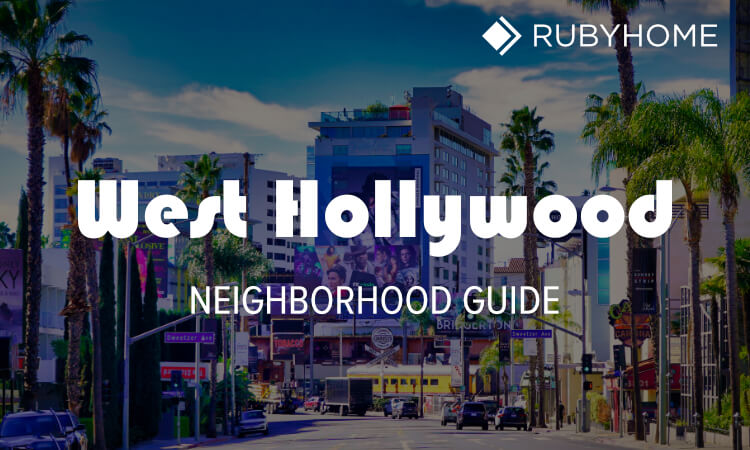 West Hollywood is known world-wide for being the home of the Sunset Strip and heartbeat of Southern California's LGBT community. The city has plenty of nightlife, shopping, dining, and fun. Its central location -- bordering Beverly Hills, Hollywood Hills, and Hollywood -- makes it a hub of activity that draws many locals and tourists alike.
As a trendy hotspot, the local life here sometimes remains hidden beneath the surface. West Hollywood has been an influential American city, leading the way on progressive public policies that address climate change, social movements, affordable housing, public health, arts, and infrastructure.
Of course, the amenities are plentiful. When you first move to West Hollywood, you may find it hard to unearth some of these community gems.
West Hollywood History
In the late 18th century, what would eventually become Sunset Boulevard started as a popular trade route between Downtown Los Angeles and ranches near the coast. It changed hands dozens of times over the years but eventually came into the hands of railroad tycoon Moses Hazeltine Sherman named the unincorporated area Sherman. In 1925, Sherman became West Hollywood. In 1936, the West Hollywood portion of Route 66 (Santa Monica Boulevard) was paved, which completed the transcontinental highway's western-most section, allowing uninterrupted car travel from Chicago to Santa Monica.
In the 1960s, people flocked to West Hollywood for its bohemian lifestyle and "hippie culture." In 1984, in response to a desire to maintain rent control, residents voted to incorporate. Today, the city separate police and fire services and its governance reflects the community's values.
West Hollywood has always welcomed people from all walks of life and today proudly flies a flag with rainbow colors to represent the LGBTQ community and demonstrate its openness to people from all walks of life.
Local Shopping & Dining
WeHo has some of LA's trendiest restaurants, along with many mainstays like Dan Tana's (1964) and Jones Hollywood. Barney's Beanery, an iconic local hang out and sports bar, is dripping with local lore as many famous musicians and actors have frequented it over the years. Foodies will find many dining options from traditional steak houses, New American fare, tapas, sushi, to vegan Mexican!
Shopping ranges from small boutiques to large national chain stores. Here is a quick overview of retail areas in WeHo.
Sunset Plaza has a variety of tony boutiques, upscale cafes, and of course, Mel's Drive-In. Book Soup is WeHo's favorite independent bookstore known for "its tall, teetering stacks," incomparable charm, and author events.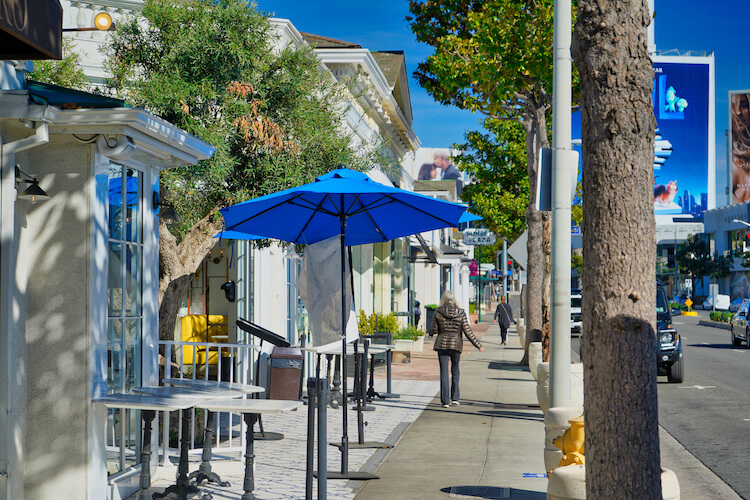 Sunset Plaza on the Sunset Strip
West Hollywood Gateway a small shopping complex on the eastern edge of West Hollywood where Santa Monica Boulevard meets La Brea Avenue. The block is less about trendy boutiques and more about pragmatic, everyday shopping and errands as one would do at its anchor tenants Target, Starbucks, and Best Buy. Along its northern boundary, several fast-casual restaurants line Santa Monica Boulevard. The nearby Trader Joe's is also a big draw to the area.
Though technically not located within West Hollywood's city limits, Melrose Avenue, Beverly Center, and The Grove deserve mention as they are so close and frequently visited.
Melrose Avenue Shopping District sits West of Fairfax. The Melrose District offers high-end boutiques and galleries, along with diners, hip coffee shops, and juice bars for sustenance.
Beverly Center abuts West Hollywood and is known for high-end boutique shopping and dining. Its anchor tenants include Bloomingdale's and Macy's.
The Grove sits just a few blocks south of the city and is a big draw for locals. The outdoor mall's tenants include big brands like Nordstrom, Nike, Crate & Barrel, and Apple. The Original Farmers Market (1934) can also be found here. Open daily, the market has gourmet grocers and restaurants filling more than 100 vendor stalls.
Entertainment
Living in West Hollywood means you're never far from fun. The area is legendary for its mix of restaurants and nightclubs, with many on Santa Monica and Sunset Boulevards, two of the city's commercial drags.
Sunset Strip
The Sunset Strip buzzes with activity and Hollywood glamour. Whether it be enjoying a cocktail at a deck bar of one of its elegant hotels or attending a show at one of the iconic music venues, you are guaranteed a good time. The architecture and vibe are urban, with frequent high-rise condos and hotels, corner stores, and sleek surfaces. Walking down Sunset Strip at night, you're bathed in a neon glow of marquee lights and cars passing by.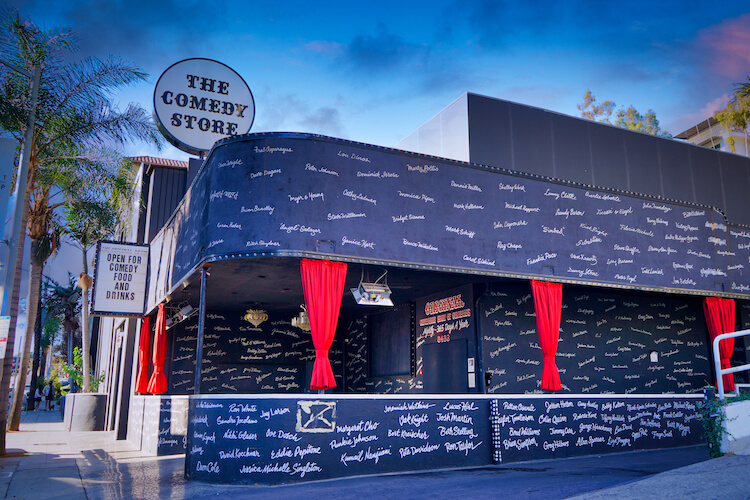 Comedy Store, West Hollywood
Locals and tourists take in shows at famous nightclubs like Whiskey A Go Go, The Roxy, and Viper Room. The Comedy Store and Laugh Factory make Sunset the de facto mecca of standup comedy in the Los Angeles area.
Hip hotels line both sides of the boulevard, brands like The Standard, Andaz, Mondrian, and Chateau Marmont (a timeless classic that continues to intrigue all who cross its threshold with its cozy, intimate setting).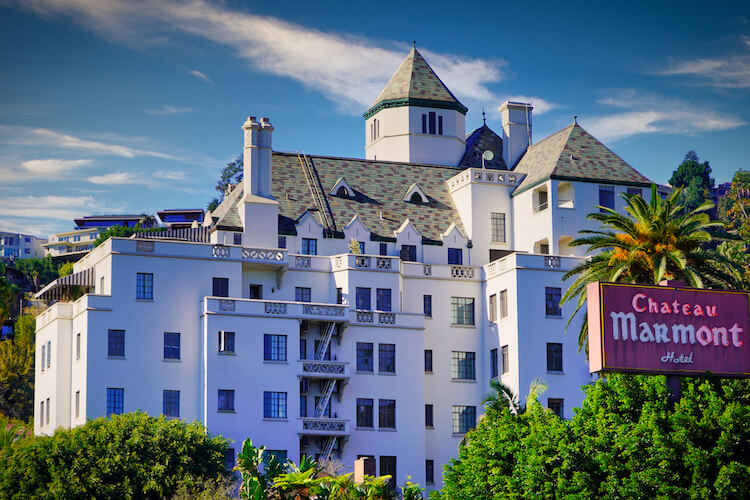 World-renowned Chateau Marmont
The AMC Dine-In Sunset 5 is WeHo's go-to movie theater with a full-service menu and comfy seats. For a more extensive selection of screenings, Pacific Theaters at the Grove is just minutes away.
Santa Monica Boulevard
Near Doheny Drive and Sunset Boulevard sits The Troubadour (1957), where many great musical artists launched their careers. It is still one of the best venues in town to catch an intimate show, whether from an up-and-coming band or 'super artist' looking to play a small venue.

The boulevard's central portion is ground zero for the gay nightlife scene with iconic nightclubs like The Abbey and Rage.
Halloween revelers flock to West Hollywood's Carnival, packing Santa Monica Boulevard each October 31st. The event is the biggest Halloween party in the world. Some sources peg attendance at 500,000!
Twenty thousand LA Marathon runners cross West Hollywood on Santa Monica Boulevard each spring on their way from Downtown Los Angeles to Santa Monica.
Carnaval and the marathon are the two significant annual events that jam the area; both are highly celebrated despite the inconvenient traffic congestion each creates.
WeHo Parks & Recreation
Plummer Park is super clean with manicured greens and tables. The park is a perfect place for a picnic. It also has a playground, a recreation center, and a designated parking lot. Pet-friendly, the park even provides waste bags if you've forgotten yours. Seven tennis courts are available to reserve by the hour. Make sure to call the pro shop ahead of time, though, as slots will fill up. Every Monday, you can visit the Helen Albert Certified Farmers' Market from 9 am-2 pm at the north parking lot (1200 N Vista Street).
Kings Road Park is one of West Hollywood's hidden gems. This small pocket park tucked away and provides a shaded spot to relax and take a break from the city's hubbub. It even has a waterfall!
West Hollywood Park & Dog Park is big and centrally-located. It's also conveniently located next to the West Hollywood Public Library. New amenities include an Aquatic/Recreation Center, two off-leash dog parks, expanded green spaces, picnic areas, updated playgrounds, and an AIDS monument.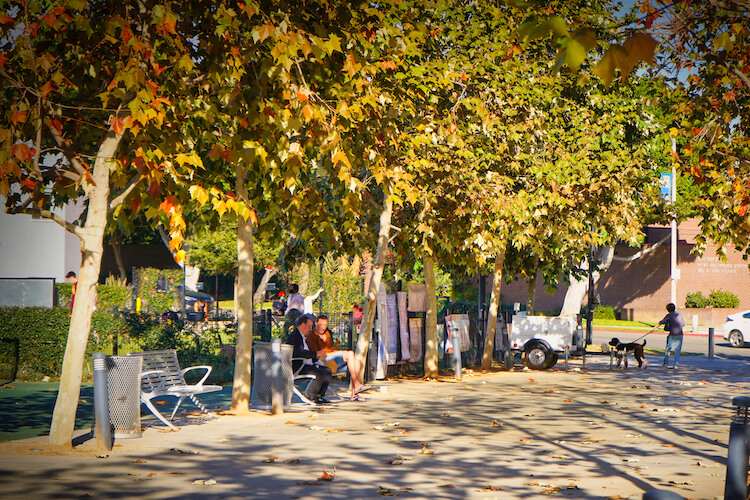 West Hollywood Park & Dog Park
Runyon Canyon Park sits just north of West Hollywood. This massive park is 130-acres and has entrances at the bottom of the ravine via Fuller Avenue or Vista Street. The top is accessible just off Mulholland Drive. Its breathtaking panoramic view of the LA Basin and hiking trails draws a daily crowd, so finding a parking space can be tricky.
Other Amenities
West Hollywood Public Library is open daily with free Wi-Fi and validated parking, the West Hollywood Public Library is great for everyone, but particularly handy for working professionals and students. It is large, so seating is open and ample. Conference rooms are available to reserve. You can enjoy a view of the Pacific Design Center along the east facade. The library also offers several unique programs and engaging seminars.
Pacific Design Center, designed by Argentinian architect César Pelli, houses 100 showrooms, public and private spaces, plus a branch of the Museum of Contemporary Art (MOCA). The PDC also hosts screenings, exhibitions, lectures, special events, and receptions for the design, entertainment, and arts communities.


Pacific Design Center
Climate
West Hollywood has a subtropical-semi-arid climate, like the rest of Los Angeles County. One of the reasons people move to West Hollywood is for the warm year-round weather and sunshine, just like all of Southern California.
Precipitation is infrequent, so don't expect snow here; none has been recorded since 1949. In fact, this is part of a warming trend. The weather in Los Angeles is six degrees warmer on average than in the early and mid 20th century when many West Hollywood homes were built. Thus, upgraded and rehabbed homes typically include forced air heating and cooling systems to improve one's comfort level in the hot summer months.
West Hollywood Schools
Public Schools
While West Hollywood is a separate municipality, Los Angeles Unified School District (LAUSD) operates the public schools, including:
West Hollywood Elementary School, 970 N. Hammond Street
Rosewood Avenue Elementary School, 503 N. Croft Avenue
Laurel Elementary School (K-7), 925 N. Hayworth Avenue
Melrose Elementary School (K-5), 731 N. Detroit Street
Gardner Street Elementary School, 7450 Hawthorne Avenue
Bancroft Middle School, 929 N Las Palmas Ave
John Burroughs Middle School, 600 S. McCadden Place
Fairfax High School, 7850 Melrose Avenue
West Hollywood Community Day School, 1049 N. Fairfax Avenue
Private Schools
Fountain Day School (2 years old-K), 1128 N. Orange Grove
West Hollywood College Prep School (K-12), 1317 N. Crescent Heights Boulevard
The Center for Early Education, 563 North Alfred Street
Pacific Hills School, 8628 Holloway Drive
Gindi Maimonides Academy, 8511 Beverly Place
West Hollywood Statistics
Estimated Population: 36,700
Land Area: 1.89 square miles
Population Density: 18,924 people per square mile
Median Resident Age: 39
Elevation: 282 feet
West Hollywood Trivia
As railroad workers settled in Sherman (later West Hollywood) in the late 1800s, it soon became notorious for its many saloons and lawlessness.
The Schindler House (a.k.a. Kings Road House) is a West Hollywood landmark, designed by architect R.M. Schindler, considered the first Modern style house and once a meeting place for left-wing political activity.
West Hollywood hosts its annual Halloween Carnaval, the United States' largest Halloween street party, drawing more than 500,000 people. But not to worry, a clean-up crew has the city tidied up by morning.