Living in Pasadena, CA [Insider's Guide]
Posted by Tony Mariotti on Friday, December 25, 2020 at 7:00 AM
By Tony Mariotti / December 25, 2020
Comment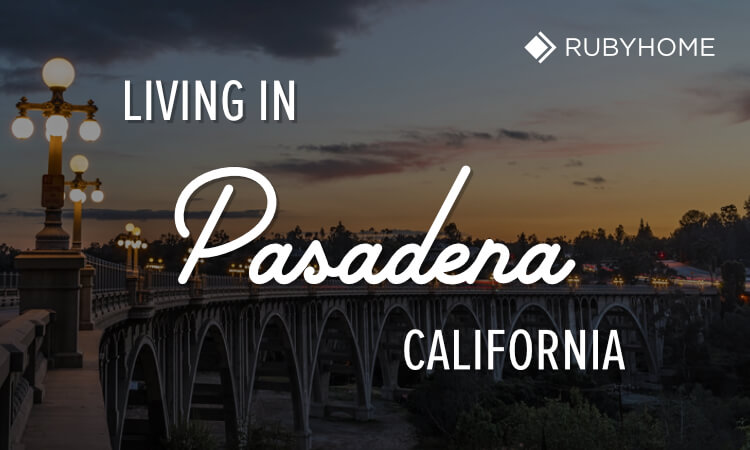 Pasadena lies eleven miles northeast of downtown Los Angeles in the San Gabriel valley. It is not merely a suburb of Los Angeles; it is its own city with a vibrant business community, highly regarded art museums, magnificent residential architecture, and cultural resources.
Pasadena is most famous for entertainment (it is home to the annual Rose Bowl Parade and football game), but it is also home to NASA's Jet Propulsion Laboratory and California Institute of Technology (CalTech), two of America's leading scientific brain trusts. Surely, Pasadena stands on its own as a sophisticated Southern California city.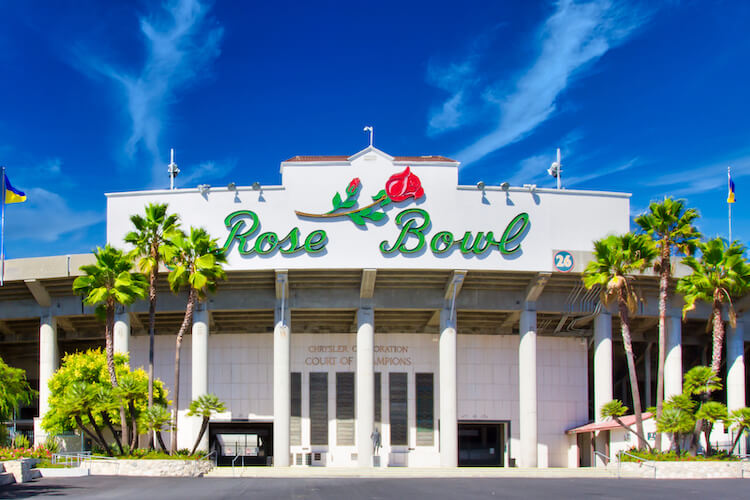 Rose Bowl Stadium's iconic south entrance
Pasadena History
Pasadena is a Chippewa word meaning "crown of the valley." A branch of the Tongva Native American tribe lived in the region for thousands of years when the Spanish colonized the Los Angeles basin in the 1770s. When the United States annexed California following the Mexican-American War, the area known as Rancho del Rincon de San Pascual was repurchased from its indebted Mexican owner by opportunistic financiers. These included Dr. Benjamin Wilson, who developed his Lake Vineyard property in the valley, initially giving it the codename "Muscat," after the grape variety, to preserve the region from unscrupulous land-grabbers.
Lake Vineyard was soon joined by the neighboring Indiana Colony, founded by Dr. Daniel M. Berry, with Indianan pioneers seeking more ambient climes. The two colonies developed in parallel until they merged into the City of Pasadena in 1886, partly so alcohol abolitionists could close its saloon. The Atchison, Topeka, and Santa Fe Railway opened the region to vacationers and emigrants from the East, and Pasadena swelled from 9,117 residents in 1900 to 30,291 just ten years later.
In 1890, the Valley Hunt Club instituted an annual midwinter festival. In 1893, the Echo Mountain incline railway opened, giving visitors access to a holiday resort and the newly-built Alpine Tavern. Well-to-do visitors enjoyed their stays in the grand hotels which opened throughout the 1900s. Even in its early years, Pasadenans aimed to make the city a highly cultured one; there was a Shakespeare Club and a short-lived Grand Opera House.
By 1910 Pasadena was becoming more diverse with Chinese and Mexican railroad workers resident in the city, along with black citizens who came to start small businesses or work in hospitality. The town expanded rapidly, and architects, including Greene and Greene, built many stylish private homes in the Craftsman style. The Huntington Library and Gardens opened in 1928, enhancing the city's cultural cachet.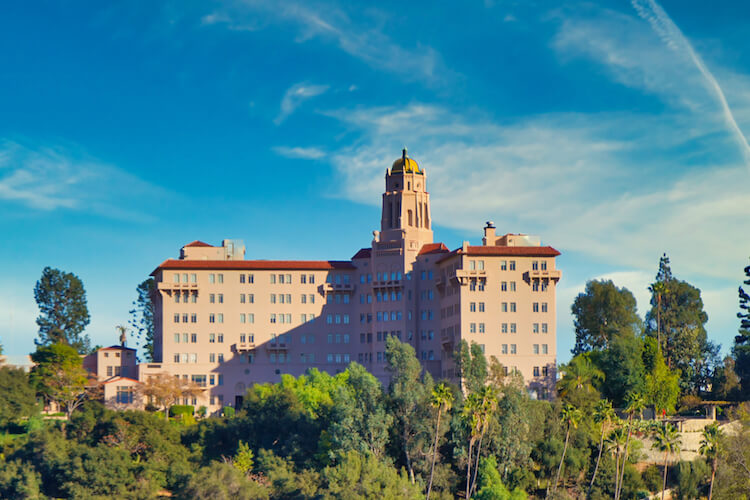 United States Court of Appeals formerly La Vista del Arroyo Hotel (1920)
The city's importance as a technology and aerospace hub started in earnest in the 1930s when CalTech students interested in tinkering with rockets formed the foundation of what would eventually become the Jet Propulsion Laboratory (JPL). Although suffering like all American cities during the Great Depression, Pasadena rebounded during and after the Second World War as Southern California had been a central staging post and defense manufacturing powerhouse for the American war effort.
Entertainment
There's no lack of entertainment options in the city. Keep abreast of the latest cultural events via the Pasadena Convention & Visitor Bureau's calendar. Here are a few local favorites:
Ice House - live comedy from local and national comics.
Pasadena Playhouse - live theater and a renowned training ground for future television and motion picture stars.
Arroyo Seco Weekend - largest outdoor concert event, 25K concert-goers per day, held annually at Arroyo Seco Park.
Tournament of Roses - the parade draws 700,000 people along its route every January 1st. Onlookers enjoy elaborately decorated floats, many adorned with flowers. The "Granddaddy of Them All" Rose Bowl Game kicks off later that afternoon.
Local Museums
Art, science, and history are just a few subjects celebrated among Pasadena's world-class cultural institutions. There are many museums in town, but here are a few notable ones you'll visit more than once:
Southern California Children's Museum - A relatively new but expanding facility providing changing exhibits, classes, and experiences for all ages. They run seasonal camps, host parties, and run field trips to places of particular scientific interest.
Kidspace Children's Museum - Founded in 1979 by CalTech staff, this museum attempts to bridge the space between the arts, humanities, and science via exhibits, experiences, and outdoor play.
Norton Simon Museum - Growing from the Pasadena Art Institute (1922), the museum sits on land formerly called Carmelita Park, site of Carr House, a Victorian-era mansion. The property has been through several iterations with its name as well as the buildings that house its works. Noted architect Frank Gehry partly remodeled interiors. The museum has a superb permanent collection of 20th and 21st-century art, as well as world-class retrospective exhibitions.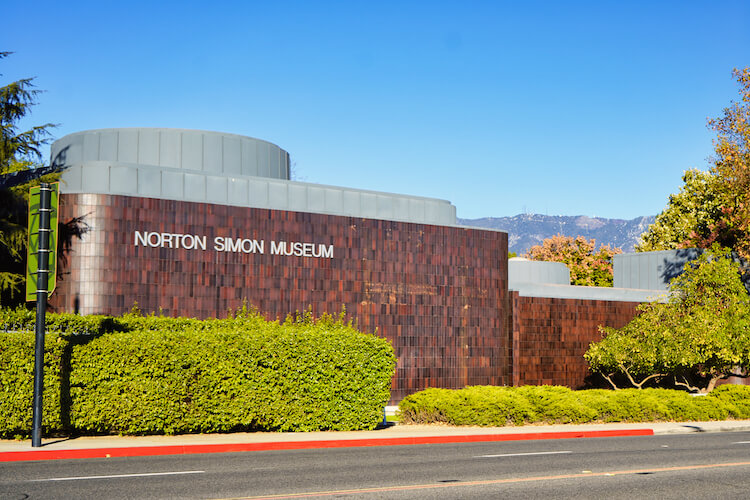 Norton Simon Museum
USC Pacific Asia Museum - Situated near the Norton Simon, this facility is a rare and extensive collection of art and artifacts from Asia and the Pacific island nations. Their collection spans more than 15,000 items ranging from as far afield as Persia and Fiji and temporary exhibitions.
Huntington Library and Botanical Gardens - A real two-in-one attraction, the library contains more than 700,000 rare books, although many are only available to researchers. It has a substantial art collection, too, focusing on 18th and 19th century British and European art and American art from the 1700s until the present day. The Botanical Gardens cover 120 acres and include Chinese and Japanese Gardens, lily ponds, and a desert garden. It has featured as a location in many films and TV shows, including Marnie, Heathers, Indecent Exposure, and The Good Place.
Jet Propulsion Lab (JPL) - A NASA facility that is part of CalTech, JPL is a world-leader in robotic space exploration technology and holds tours and lectures explaining its work and holding occasional special events, including dinners and conferences.
Pasaden Shopping & Dining
The dining scene is robust and varied; you'll never be far from your next great meal in every price range. Pasadena ranks as one of the highest restaurants-per-capita cities globally (even higher than in New York City). Nearly every form of ethnic cuisine is available, and current culinary trends like farm-to-table, gourmet burgers, and ramen joints are well represented.
There are three central shopping districts and two malls in Pasadena.
The original business district, Old Pasadena, mixes old and new. Guests wind their way through alleyways and streets to shop among its many boutiques, galleries, and shops. The district is also home to the One Colorado and Paseo Colorado malls, the latter a mixed-use development with retail spaces and condominiums.
The South Lake Avenue shopping district extends ten blocks. The wide, tree-lined street is home to national retailers, small shops, and boutiques. Get to know local chefs (and their food) every October at Taste of South Lake.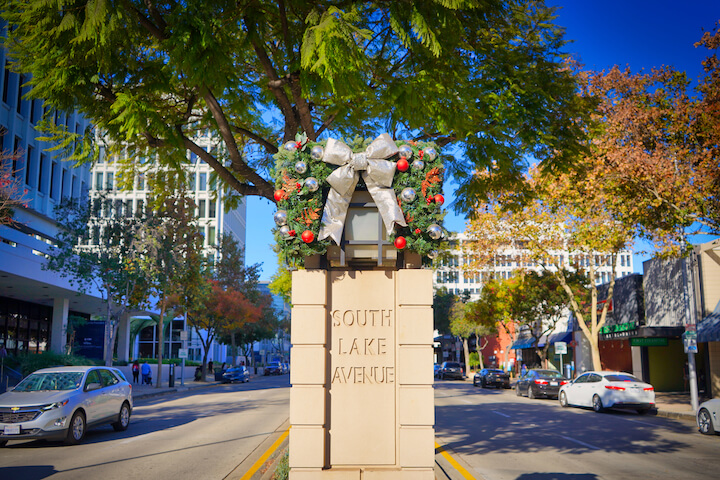 In addition to being the home of live theatre venues, the Playhouse District is also a great area of Pasadena for browsing galleries, showrooms, and museums.
Do you like to buy fresh produce from local farmers? You can do so twice a week at Pasadena Certified Farmers Market. On Tuesdays, the smaller version (13 vendors) meet at Villa Parke Center. The larger Saturday market hosts 60 vendors at Victory Park.
On the second Sunday of each month, 20,000 people descend on the Rose Bowl Flea Market to scour through 2,500 vendor kiosks looking for art, clothing, and antiques (to name just a few items sold here). It's a massive event. Parking is free. However, there is a small admission fee.
Parks & Recreation
The City of Pasadena manages and operates one thousand acres of parkland and twenty-three city parks. Large parks and several pocket-sized parks dot the area.
Brookside Park is the largest (61 acres) and one of the area's favorite parks. Facilities include the Jackie Robinson Baseball Stadium, a multipurpose field for soccer and football, picnic areas, restrooms, amphitheater, drinking fountains, and a beloved pirate-themed playground for kids (the layout mimics a pirate ship)!
Arroyo Seco is a beautiful canyon with a seasonal stream that starts in the Angeles National Forest and runs to the Los Angeles River. Eight of its 25 miles reside within Pasadena, where it runs past the Rose Bowl Stadium. A wide range of activities and landmarks like the Colorado Street Bridge dot the areas. Amenities here include disc and regular golf courses, an archery range, and parks.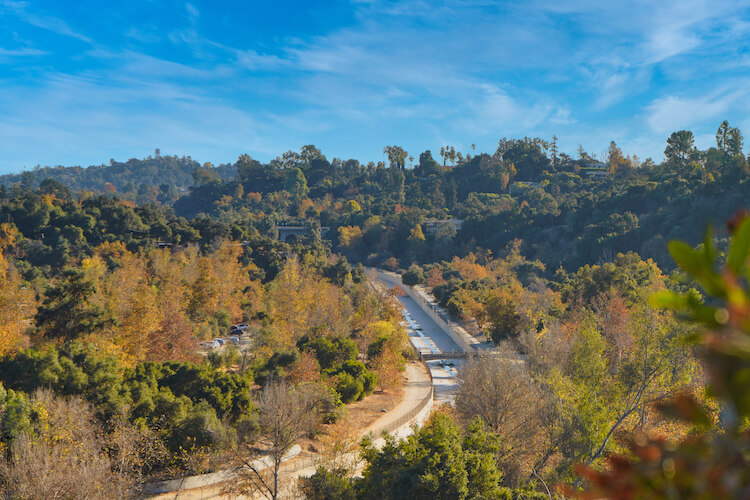 Arroyo Seco / South Arroyo Neighborhood Pasadena
The Eaton Canyon Natural Area and Nature Center sit at the base of the San Gabriel Mountains. The park is an excellent place for folks to take advantage of beautiful nature walks, moderate hiking trails, and guided tours. Be sure to keep an eye out for wildlife like lizards and spiders. The nature center is well worth a visit for its live animal displays and exhibits.
There are clubs for fly fishing enthusiasts (Pasadena Casting Club) and bird watchers (Pasadena Audubon Society). You can join an Audubon Society field trip for free.
Nearby Angeles National Forest, part of the San Gabriel Mountains, sports steep terrain and rugged trails that lead to panoramic vistas. Popular destinations for day hikers include the Mount Wilson Observatory and Eaton Canyon Falls. El Prieto Canyon is a local favorite with mountain bikers.
Pasadena's Climate
Pasadena is a comfortable place to live but hotter than LA in the summer and chillier in the winter because it is farther from the Pacific Ocean's moderating influences. From June to September, Pasadena can roast in temperatures exceeding 100 degrees Fahrenheit, but temperatures rarely drop below 45 degrees in fall and winter. Indeed, the climate here is mild compared to much of the rest of the United States.
However, residing farther from the Pacific has a significant benefit: low humidity takes the edge off of the highest and lowest temperatures. Hot and cold temperatures here don't feel as harsh as other cities like New York.
Sunny skies are the norm, so much so that an occasional heavy rainstorm makes headlines and snarls traffic. Roughly 20 inches of rain falls annually but in only 43 days. When it rains here, it really comes down. There's no persistent, all-day drizzle or fog like you would find in the Bay Area or Pacific Northwest. From May to October, it hardly rains at all.
Schools
The Pasadena Unified School District (PUSD) serves roughly 16,700 students in Pasadena, Altadena, Sierra Madre, and the unincorporated parts of LA County. Here's the breakout of schools by type:
19 elementary schools
7 middle schools
4 high schools
1 continuation school
1 alternative independent study school
Academic programs include STEM, Math Academy, gifted student programs, special education, and arts education. There are four theme-based magnet schools (arts, dual language, elementary STEM, and technology). You can find specific school boundaries with this easy-to-use map finder.
Higher learning opportunities in the city include:
Pasadena City College
California Institute of Technology (Caltech)
Fuller Theological Seminary
Art Center College of Design
Pasadena Stats
Size and Distance
Population: 142,059
Area: 25.15 square miles
Population Density: 5,648 people per square mile (Average for LA County)
From Pasadena to:
BUR: 15.4 miles
LAX: 27.4 miles
Downtown LA: 11.7 miles
Beaches: 25 miles
Transportation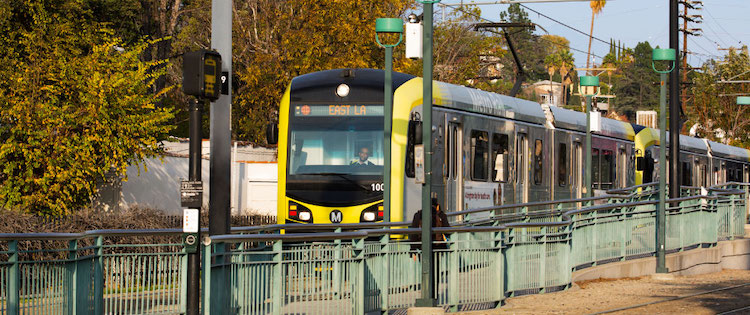 Metro Gold Line
Due to smart city planning decades ago, Pasadena is full of tree-lined streets and sidewalks. The shade helps keep folks (and car seats) cool on hot days. However, like many Southern California cities, Pasadena is spread out, so daily errands may require a car unless you strategically buy a home near shopping centers or strip malls, or grocery stores like Trader Joe's.
Commuters can take advantage of Metro's Gold Line, which has a direct route to DTLA. Busses come in handy for quick crosstown trips. Freeways encircle the city; you're never too far from an onramp to the 710 or 110 Freeways. Savvy drivers know all the best surface streets and shortcuts to avoid freeways during rush hour.
What's more, cycling culture is well-represented in Pasadena. Road bikers hustle around town on the city's many bike lanes either as a part of their daily commute or just for fun and exercise.
Pasadena Trivia
In 1980, an asteroid was named after Pasadena. So was a nuclear submarine.
Pasadena was incorporated in 1886, primarily to banish alcohol sales and saloons, a rejection of nearby Los Angeles' penchant for vice. Thankfully the founders' abolitionist sentiments did not last forever.
As one would naturally expect, the official flower of the city is a rose.
The first college football bowl game, the Rose Bowl, was played in 1902, making it the "Granddaddy of Them All."
The Tournament of Roses once included ostrich and chariot races.
Caltech faculty and alumni boast 38 Nobel Prizes in chemistry, economics, peace, physics, and physiology/medicine.
If you add up the trees (in parks, on wildlands, private property, and those that line the city's streets), Pasadena's total urban forest approaches 123,000 trees.
Pasadena is heaven - literally - since The Huntington Botanical Gardens are the primary location for the afterlife in the cult TV hit The Good Place.