Living in Pacific Palisades [Insider's Guide]
Posted by Tony Mariotti on Tuesday, December 8, 2020 at 9:10 AM
By Tony Mariotti / December 8, 2020
Comment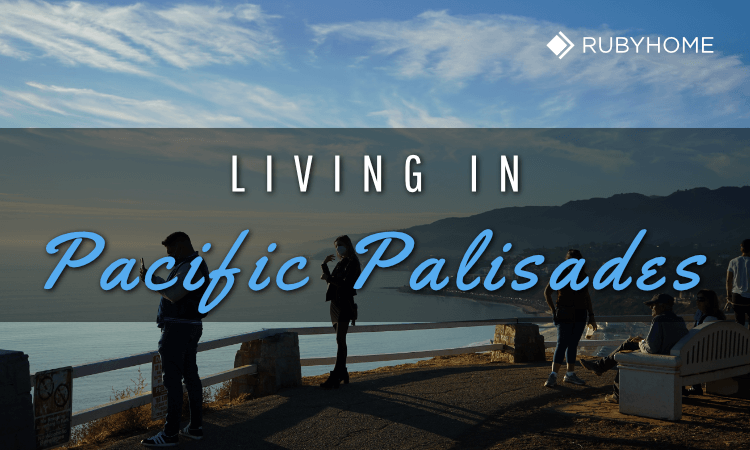 One of the most exclusive and sought-after neighborhoods in Los Angeles, Pacific Palisades draws affluent professionals, many from the entertainment industry looking for a quiet retreat with easy access to the beach and mountains. It can be challenging to commute from here to work, thanks to relentless traffic on Sunset Boulevard and the Pacific Coast Highway. But living here is worth the occasional snarl-up.
Because Pacific Palisades abuts the ocean, it is cooler than the interior cities and neighborhoods of Los Angeles County. In fact, in the 1860s, Angelinos started flocking to the area to escape the summer heat. The climate is mild, and most days are sunny. Morning fog is not uncommon, especially in late spring and early summer. Still, ocean breezes and sunshine usually lift the marine layer (a.k.a. "Grey May" or "June Gloom") by early afternoon.
Some of the more extensive properties lurk behind high hedges. Many of the homes here rest on high ridges overlooking winding canyon roads. With a little over 1000 residents per square mile, the region boasts one of Los Angeles' lowest population densities.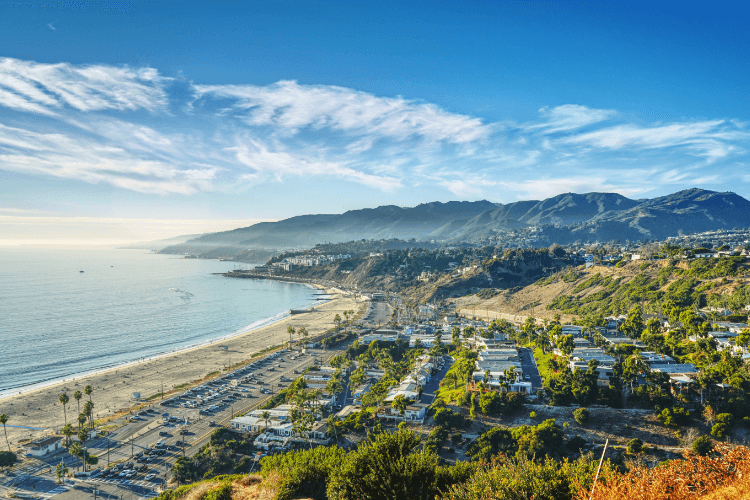 The Point at the Bluffs
Pacific Palisades History
In the 1870s, the Pacific Palisades lost its bid for the Port of Los Angeles as a commercial hub. Instead, it became a retreat for the affluent, with many beach clubs and country clubs opening to serve them, including the PGA US-open hosting Riviera Country Club. The area remained primarily agricultural well into the early decades of the 20th century.
During the 1930s and 1940s, intellectuals and artists from Germany and Austria moved to the Pacific Palisades to flee Nazi Germany, accounting for a still-prevalent German population today.
Soon after that, a section of the Palisades became an artist colony when millionaire Huntington Hartford bought up 150 acres and built a bohemian space for them to live and work. When the colony went by the wayside in the mid-1960s, Pacific Palisades continued to flourish and grow, with prominent artists and business executives building homes there, creating a close-knit, thriving community.
Things to Do in Pacific Palisades
Getty Villa
The Getty Villa is a favorite for those entranced by ancient Greek and Roman artifacts. The grounds and architecture take inspiration from a first-century Roman country house, Villa dei Papiri. There is a Mediterranean cafe at the museum serving casual lunch, and on Thursday and Saturday afternoons, you can enjoy "Tea by the Sea" in the authentic Roman gardens.
Eames House
Mid-20th century architects and designers Charles and Ray Eames inhabited this impressive glass and steel structure in 1945 as both home and working studio, though it was initially designed as a case-study for modular, low-cost post-war housing.
Consisting of two box-like structures linked by a central courtyard, the house is filled with the 40s, 50s, and 60s design elements. It has an airy, almost self-effacing quality, set into silver-birch-lined gardens and built back into the cliff to minimize environmental impact. Both self-guided exterior and guided interior tours are available. The house is a must-see for fans of mid-century modernism and idealistic architecture.
Lake Shrine Temple and Retreat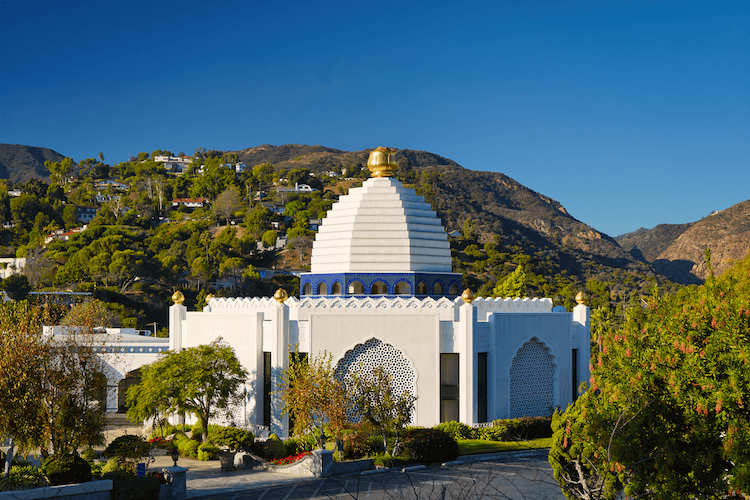 Self-Realization Fellowship Lake Shrine
If a spiritual escape is what you've come to the Pacific Palisades for, the Lake Shrine and gardens may offer a perfect haven. Their history could not be less spiritual, however. Initially owned by a succession of Hollywood film producers and used for movie locations, the 10-acre site was subsequently acquired by a property developer Alphonso Bell, Senior. Bell excavated and leveled a section of the surrounding hillsides, but his plan foundered, and the resulting basin was gradually filled by local streams, creating the only naturally stream-fed lake in the City of Los Angeles.
The property's eventual owner, Indian spiritual guru Paramahansa Yogananda, decided it would be the perfect spot to create his self-realization center to study yoga and meditation. The first notable Eastern guru to head west, Yogananda built a Court of Religions here, celebrating the unity of the world's five major religions. There is also a Mahatma Gandhi peace memorial and a meditation garden within the retreat, which is staffed by Self-Realization Fellowship monks who offer classes and retreats at a range of locations nationally.
Pacific Palisades Farmers Market
Despite its upscale pedigree, the Palisades has an inviting vibe, in part because of local institutions such as the Farmers Market. Situated in the heart of the bustling Palisades Village, the market opens between 8 am and 1 pm every Sunday. Catering to Los Angelenos' obsession with locally-sourced, organic fruit and vegetables, the dozens of stalls also sell spices, flowers, deli goods, bakery, meats, and much more. There's even a pet rescue stall if you're feeling like introducing a new four-legged friend into your household.
Palisades Branch Library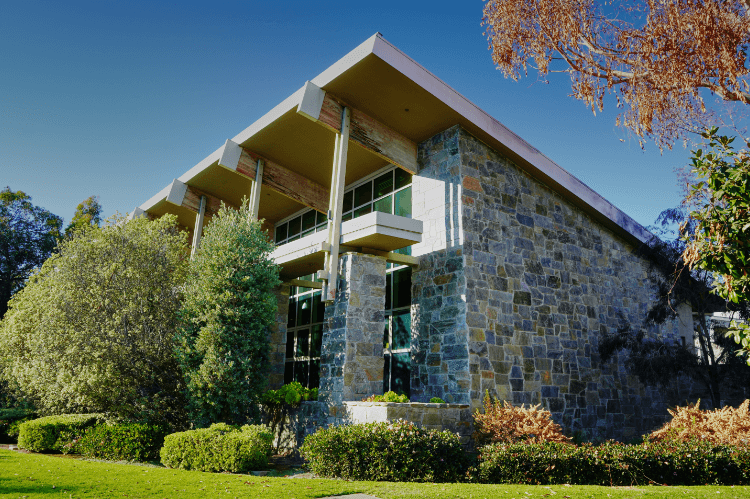 Pacific Palisades Library
Palisades Branch Library, part of the Los Angeles Public Library (LAPL) system, is located near the Palisades Recreation Center. This newer, clean branch is open Monday-Saturday (with varying hours) and has friendly staff available to help.
There are several private beach clubs along the PCH, including The Beach Club (1923), Bel-Air Bay Club (1927), and Jonathan Club (1927). Be prepared for initiation fees and a lengthy membership enrollment process. Annenberg Community Beach House, originally commissioned by William Randolph Hearst, is a facility open to the public. Inland, you will find Riviera Country Club, a private club and premier golf course.
4th of July Celebrations
Whether you want to relax with a beer and watch the fireworks or you'd prefer something a bit more energetic, the Independence Day celebrations at Pacific Palisades offer much to enjoy.
5k and 10k races have been held annually on 4th July here since 1978; the races constitute one of America's most renowned open entry middle-distance events. Up to 3000 runners contend annually, and the 10k route includes the Will Rogers State Historic Park and a section of Sunset Boulevard itself.
The 4th July parade down Sunset Boulevard is even older than the races, having been held since 1948 and often accompanied by flyovers (such as WWII-era planes) and even teams of parachutists. Through the afternoon and into the evening, music fills that air at the Palisades Rocks the 4th concert. It is a community-focused event; its bands draw from local talent and the region's high school bands. That said, given the many well-known musicians who live locally, you might catch Neil Young's percussionist, Rick Rosas, or Jack Johnson's drummer Adam Topol jamming with their families amongst the line-up.
The evening culminates with the spectacular firework display, seen from the hillside homes or viewed from the bustling streets. The show is a much-anticipated highlight of the annual Palisades calendar.
Parks & Recreation
Will Rogers State Beach sits north of Santa Monica State Beach and runs parallel to Pacific Palisades along a 1.8-mile strip. Quiet and clean, this idyllic white sand beach has volleyball courts, a beach café, a concession stand, and a large paid parking lot. Just be aware of rocks when swimming! And north of here, you will find the even rockier Sunset Beach.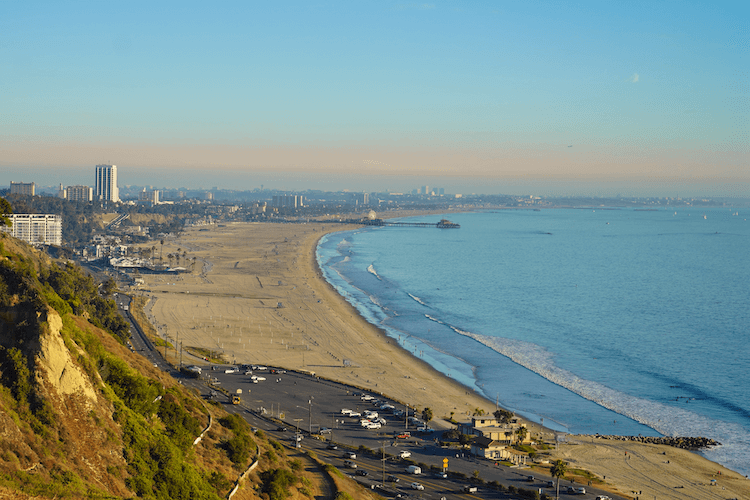 Overlooking Will Rogers Beach State Park
Will Rogers State Historic Park is a prime186-acre recreational area for hiking, with a two-mile loop up to Inspiration Point or longer hikes along Backbone Trail. You can also horseback ride here, which is how the park's namesake Will Rogers preferred to experience the terrain. But if you bring your dog, make sure it is on a leash.
Temescal Canyon Gateway Park has stunning views of the Pacific Ocean, coastline, and city lights that never disappoint. Nearby street parking is hard to find on weekends, but you can pay a small fee to park on the grounds, closer to the trailheads. The popular hiking route is a 2.6-mile loop, but you can extend it and explore spots further inland like Skull Rock and Bienveneda Trail. Do be aware that dogs are not allowed in the upper parts of the park.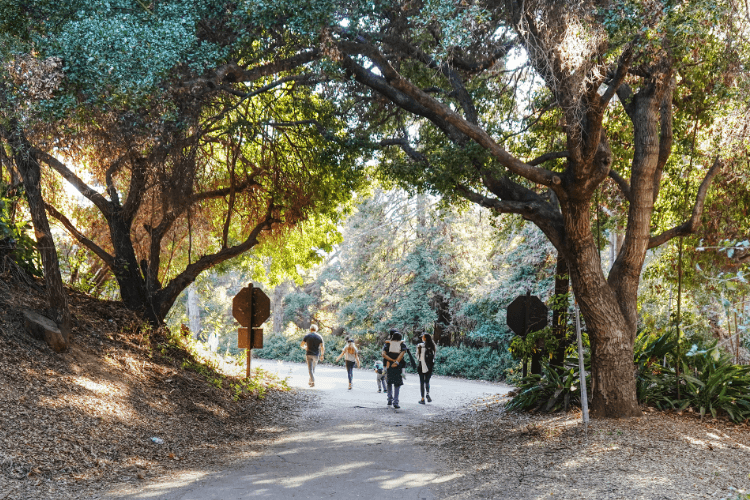 Lower Temescal Canyon
Palisades Park is a 117-acre area with beautiful green space with tennis courts, baseball diamonds, a hockey rink, dog parks, and kid-friendly areas.
Other go-to parks and facilities include:
Palisades Recreation Center
Asilomar View Park
Santa Monica Stairs
Shopping & Dining
Pacific Palisades' commercial core, The Village (the downtown area, not to be confused with the bespoke shopping mall below), is small but convenient. The retail district has restaurants, banks, neighborhood markets, and offices.
Residents enjoy the local amenities but seek variety by venturing to nearby Santa Monica, Brentwood, and Malibu. The tendency to wander beyond the neighborhood's borders changed somewhat in the fall of 2018 when developer Rick Caruso opened the mall, Palisades Village. Caruso is known for his modern twist on commercial centers, creating more opulent and immersive shopping destinations. His projects are mixed-use, combing boutiques and eateries with residences. The open-air design is particularly well-suited to Southern California tastes and weather.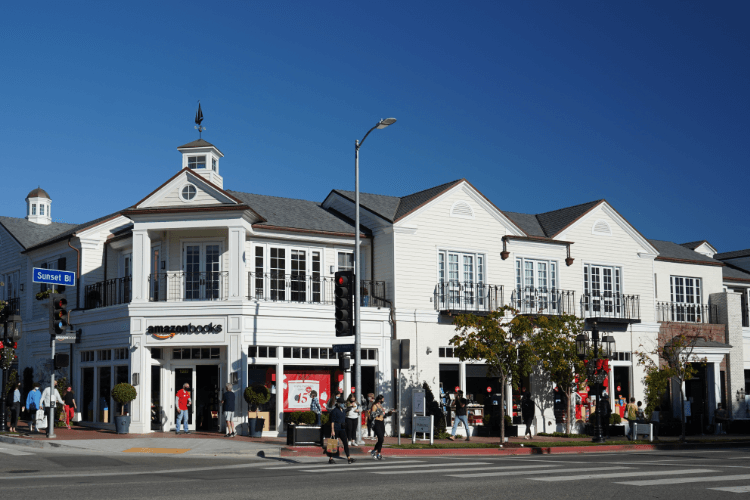 Palisades Village by Caruso
Along Palisades Drive, there are several coffee shops and cafes. Up Western Channel, you will find some classic Italian restaurants, including the Northern Italian eatery, Giorgio Baldi. There are several beachfront restaurants on the Pacific Coast Highway (Highway 1), including mainstays Duke's Malibu and Moonshadows.
Pacific Palisades Info
Neighborhood Facts
Estimated Population: 26,000
Land Area: 22.84 square miles
Population Density: 1,138 people per square mile (Very Low for L.A. County)
Interesting Trivia
Founded in 1950 by author Paramahansa Yogananda, the Self-Realization Fellowship Lake Shrine is a 10-acre spiritual retreat that Angelenos praise. Yogananda is celebrated for introducing yoga (among other practices and beliefs) to Westerners.
British band Ash celebrated the area in their 2001 song "Pacific Palisades," which includes the lyrics "You were standing on the shore / Listening to the ocean's roar / Sea breeze tangled in your hair / Immortal, young and free of cares / You let the night lull you away to dark Pacific Palisades."