Living in Los Feliz Neighborhood Los Angeles
Posted by Tony Mariotti on Monday, January 30, 2023 at 12:15 PM
By Tony Mariotti / January 30, 2023
Comment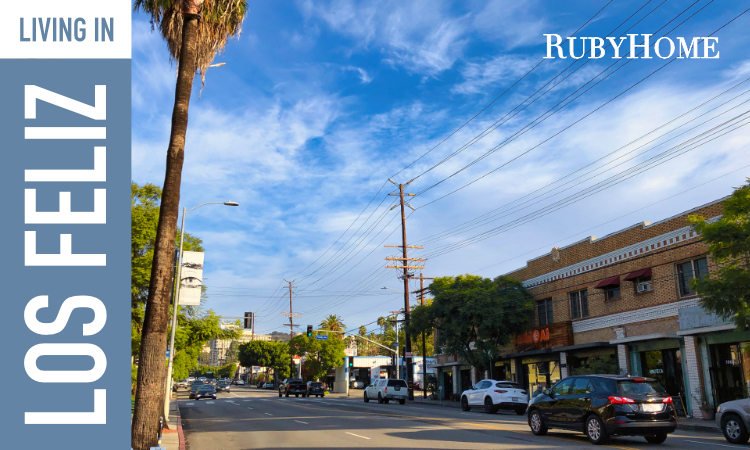 If you drove through Los Feliz without knowing its history, you'd hardly be able to tell the significant role the neighborhood -- and its residents -- played in the early days of the motion picture industry. There are no shrines, statues, or tacky symbols to memorialize the birthplace of Mickey Mouse. If you pay close attention, you might spot a few modest historical landmark signs denoting places humble workshops once stood.
Los Feliz has a cozy vibe; it feels like a small town nestled within the borders of the United States' second-largest city. There are no tall, sun-blocking buildings here. Instead, you'll find charming homes, tree-lined streets, and a compact business district with many delightful (and locally-owned) restaurants and shops.
This low-key hamlet is rich in history. From its humble beginnings to today, the Los Feliz neighborhood is a hip place where artists, musicians, and actors settle before (and after) they make it big. If you live in Los Feliz, you might share a yoga class with someone who someday walks the red carpet of an award ceremony (or already has).
Los Feliz is Centrally-Located
Los Feliz rests just below the southern slopes of Griffith Park, centrally located in Los Angeles. The area is easily accessible via major thoroughfares, the 101 Freeway to the west, and Interstate 5 to the east. Yep, getting in and out of Los Feliz is easy. You can enjoy living in a laid-back community and still have quick access to Downtown Los Angeles, Hollywood, and the Valleys (San Fernando and San Gabriel). With a little extra drive time, Los Angeles County's iconic beaches are within reach, too.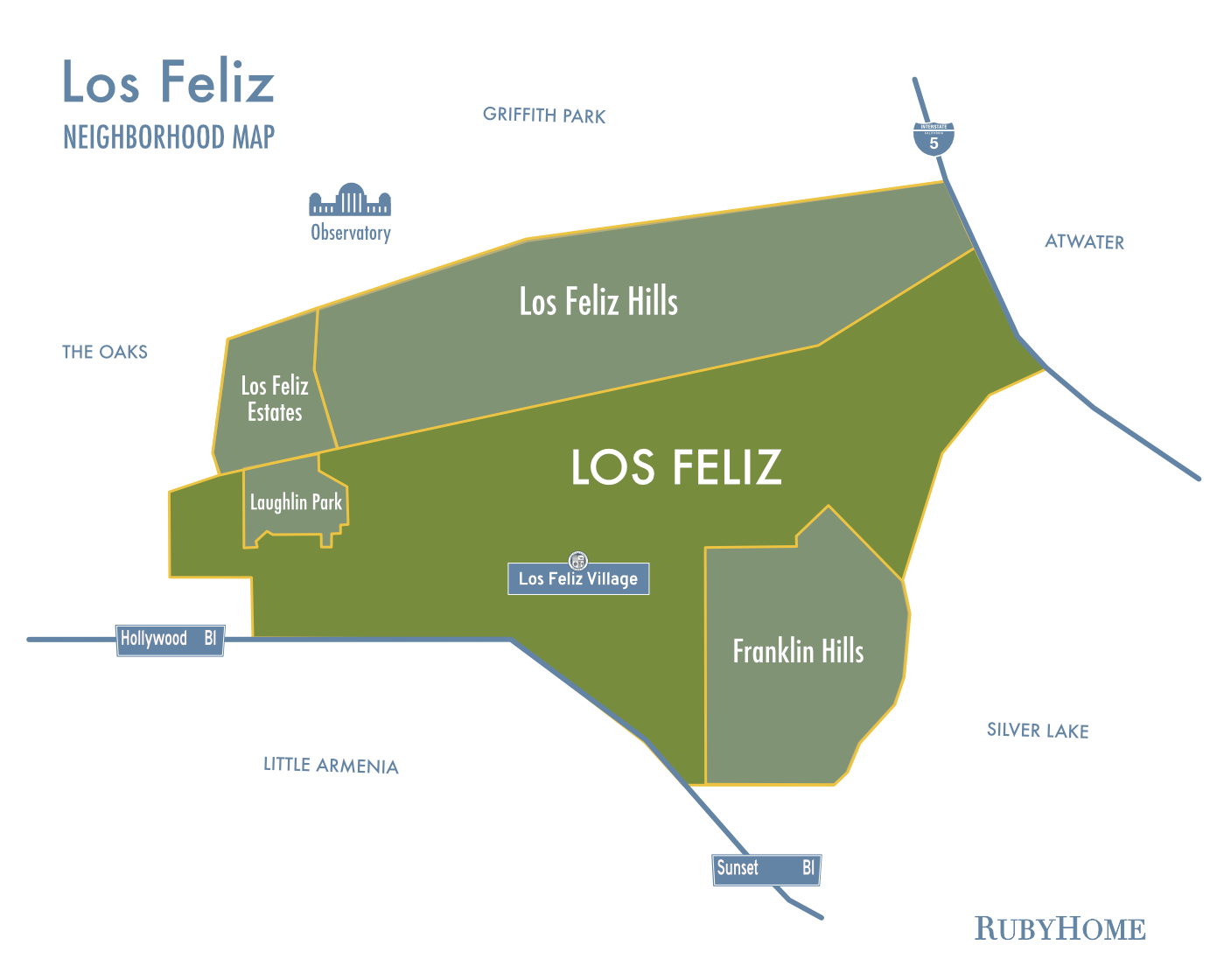 Los Feliz Weather
The weather here is as sunny as you'd expect for Southern California. Winters are mild. Summers are hot, but not too hot. The air is dry. In fact, this is one of the few places in the world with a Mediterranean climate that is warm during the day but cool at night. Most evenings, a cool marine layer of air flows inward from the ocean, slowly filling the interior of the Los Angeles Basin.
Temperatures are higher or lower in Southern California, depending on how close you are to the ocean. For example, beach areas (Venice, Santa Monica) may hover near 70 degrees while Los Feliz simmers at 80 degrees. At the same time, valley cities (Burbank, Pasadena) approach 90 degrees.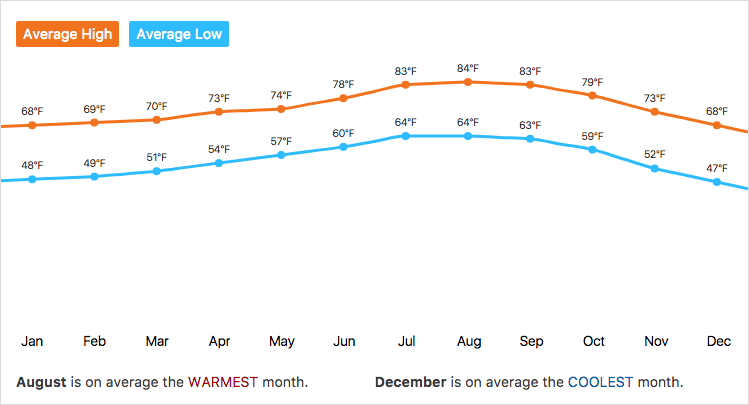 Things to Do in Los Feliz
Los Feliz is one of the most convenient neighborhoods in Los Angeles, and you're never too far from shopping, dining, hiking, or your favorite yoga class.
Griffith Park
One of the best things about Los Feliz is its proximity to Griffith Park, where one can hike, golf, run, play tennis, stargaze, or catch a concert.
For hikers looking to burn a few calories or take in panoramic views, Griffith Park offers a 53-mile network of trails. Trekkers often spot coyotes, rabbits, rattlesnakes, or deer. Yes, even deer, something unexpected given the perception that Los Angeles is purely urban. Hikers who reach the highest peak in the park, Mt. Hollywood, are rewarded with 360-view of Downtown, the Los Angeles Basin, Santa Monica, San Fernando Valley, and the San Gabriel Mountains.
Main roads, fire roads, and bridle paths (some paved, some dirt) extend the park's usability to include road cycling and running. The park also offers three municipal golf courses. Each course is named after notable presidents like Harding and Wilson, which are the 18-holers. The Roosevelt course is a 9-holer, convenient for shorter golf outings.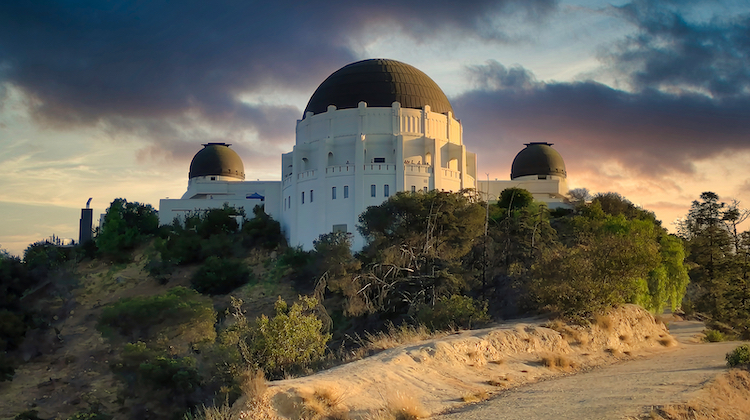 The coup de grace of the park is the Griffith Observatory, with its spectacular views of the surrounding area and the cosmos above. Visitors can look through historical and operational telescopes each evening. Once a month, the observatory hosts a "star party" put on by various astronomy societies. Admission to the exhibits, telescopes and some live events is free. Parking is cheap. Public transportation from Los Feliz is another alternative to driving to the always-busy parking lot.
Griffith Observatory's white exterior gleams in the daytime sun and is lit at night. Perched high above Los Feliz, the observatory is a beacon that helps you want to know which way is north, day or night.
Griffith Park is also home to the Los Angeles Zoo, Griffith Park Pool, Travel Town Museum, Autry Museum of the American West, and picnic areas. There's something for everyone.
Stay Inside
If you prefer staying inside and want to break a sweat, visit one of several local Los Feliz Yoga or Pilates studios.
If exercising the mind more your desire, the Los Feliz Library, a small branch of the Los Angeles Public Library system, is an invaluable local resource from which you may rent DVDs, search the extensive library information network from internet-enabled workstations, and check out books. Regular events include toddler and kids story hours, literary book clubs, and used book sales. Even in the Internet Age, this library is always busy. Sometimes you'll have a hard to find parking. It's a precious community resource.
Entertainment in Los Feliz
The biggest (and local favorite) entertainment venue in the Los Feliz area is the Greek Theatre. Angelinos simply refer to it as "The Greek." Opened in 1929, The Greek is a city-owned, 5,870-set outdoor amphitheater nestled within Griffith Park, surrounded by nature on all sides.
The venue is small enough to create an intimate show (every seat is a good one) but big enough to attract national and international artists. If you live here long enough, you'll create life-long memories of warm summer night concerts watching your favorite band. The Greek routinely wins Pollstar's "Best Small Outdoor Venue" award (9 years in a row)!
For even more Hollywood nostalgia, check out the Vista Theatre, an indoor single-screen movie theater constructed in 1923 and designed with "Egyptian" flair - a popular commercial architectural style from the era it was built.
Shopping in Los Feliz
Los Feliz is self-sufficient, offering everything you need for daily living, from mainstream grocery stores like Albertson's and Gelson's to a long-time neighborhood favorite, Trader Joe's. If you're hunting for organic produce or buying bulk, you can quickly drive to nearby Whole Foods or the always-busy Costco in Atwater Village.
Los Feliz is home to locally-owned specialty stores such as McCall's Meat & Fish Co. and Lou Wine Shop. For an eclectic array of gifts and knick-knacks, check out Soap Plant/Wacko, a purveyor of pop culture, books, candles, and funky home décor.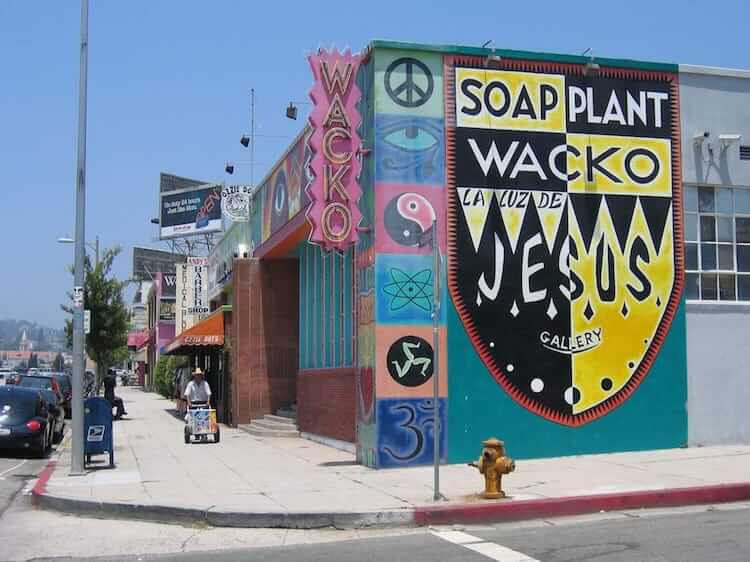 Los Feliz Restaurants and Bars
Restaurants and retail stores in Los Feliz are primarily located on Vermont and Hillhurst Avenues, comprising the commercial core known as Los Feliz Village.
Restaurants in Los Feliz
Cafés and casual, affordable restaurants dominate the food scene. Most establishments are family-owned, one of the main reasons Los Feliz is a special area of L.A.
Some businesses have their own Hollywood claim to fame. For example, The Dresden (a venerable favorite for dinner and drinks, founded in 1954) is famous for being a filming location for Swingers and That Thing That You Do.
Dining al fresco is popular here. Many neighborhood haunts have patios or sidewalk tables where you can enjoy eating and people-watching. Some notable places to check out include Home, Desert Rose, and Alcove Café.
Are you looking for comfort food? Check out Fred62, a diner with a modern twist open 24 hours a day, 365 days a year. Ye Rustic Inn is another long-time local favorite, known for excellent, spicy chicken wings and beer (or cocktails, depending on your mood).
Vegetarians and vegans also get their fair share of fare, as many restaurants in the area accommodate these dietary preferences. Moreover, you'll never be more than a block or two from good coffee, ice cream, or frozen yogurt. One could hazard a guess that the number of yogurt, ice cream, and coffee shops in Los Feliz – per capita – might be the densest in Los Angeles.
Los Feliz Bars
You won't find long lines and velvet ropes to get into your favorite bars in Los Feliz as you might in nearby Hollywood. Socializing with friends and enjoying local bands are the main attractions of the nightlife in Los Feliz.
If you like Tiki bars, Los Feliz is home to one of the city's best, Tiki-Ti. The small room is densely decorated with Tiki paraphernalia, transporting its patrons to a tropical dimension. The family-owned-and-operated drinking hole is pretty small, with just enough room for a few tables and bar stools. Roughly a third of its visitors stand while sipping their potent yet delightful tropical drinks. Tiki-Ti has been a convivial atmosphere and a local favorite since 1961.
Notable Los Feliz Historic Architecture and Landmarks
The neighborhood offers a mix of affordable apartment buildings and duplexes, blended with beautiful luxury homes, producing an eclectic vibe and a population that straddles up-and-comers and the well-established.
Homes here are well-maintained, most of them built from the 1920s onward. Architectural gems dot the neighborhood, including various styles like Mediterranean, Mid-Century, Spanish Riviera, Norman French, and Country English. You'll also see homes designed by Frank Lloyd Wright, Raphael Soriano, or J.R. Davidson. Here are some widely-recognized architectural gems.
Ennis House - designed by Frank Lloyd Wright and built by his son, Lloyd. The style is "textile block" using pre-cast concrete blocks. You may have seen it in film and television, notably Blade Runner. The home is included in the national registry of historic places.
Shakespeare Bridge - a small gothic-style bridge on Franklin Avenue.
Barnsdall Art Park - an eleven-acre public park and home to Hollyhock House, Frank Lloyd Wright's first project in Los Angeles. The campus included the Los Angeles Municipal Art Gallery, Gallery Theatre, and Art Center.
John Marshall High School - an iconic public school and filming location of many movies and television shows, not the least of which are Grease, Raiders of the Lost Ark, and The Wonder Years.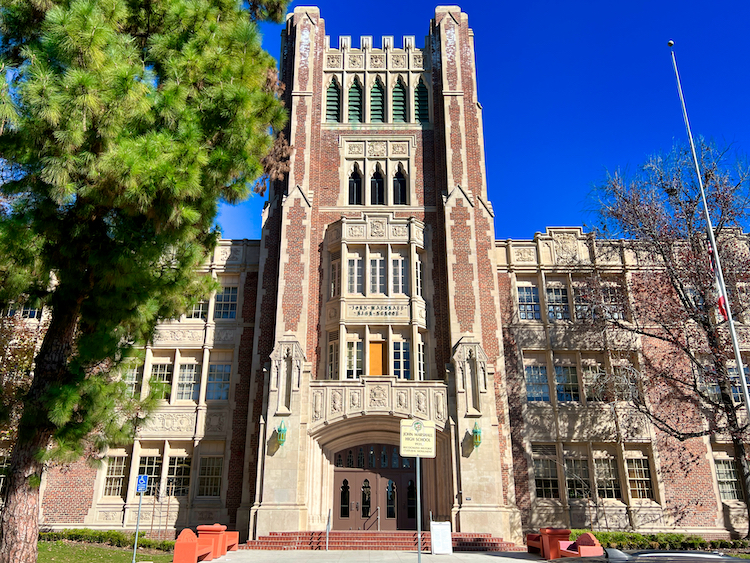 Fun Facts About Los Feliz
Rancho Los Feliz was an original Spanish land concession granted in 1741 to Jose Vicente Feliz while California was still under Spanish rule. Rancho Los Feliz included now-Griffith Park, a large hillside area donated to the City of Los Angeles by (successive owner) Colonel J. Griffith.
Los Feliz Pronunciation
To fit in, you must know the colloquial pronunciation of Los Feliz. You might think Feliz is pronounced "FEY-LEASE" as one would hear in the song "Feliz Navidad." Strangely, Angelinos pronounce it "FEE-LUSS." In other words, the proper pronunciation you picked up in high school Spanish class, or learned at home, doesn't apply.
Early Hollywood Pioneers
Young Walt Disney started his cartoon studio in his uncle's Los Feliz garage and continued living here from 1932-1950. Los Feliz was the home of the original Walt Disney Studios (1926-1940), where Mickey Mouse, Snow White, and the Seven Dwarfs came to life.
Los Feliz was the mecca for the "silent era" of the motion picture industry, and a few original studios remain. It was the stomping ground for many early actors and production heads like Charlie Chaplin and Cecil B. DeMille. Even in the early 1900s, people didn't want to commute across Los Angeles. Some things never change!
Neighborhood Diversity
44.5% of Los Feliz residents are foreign-born, a high ratio compared to the rest of Los Angeles. The most common countries of origin are Armenia (25.3%) and Mexico (9.4%). The Western Los Feliz boundary abuts Little Armenia. The ethnic composition of Los Feliz is as follows:
57.6% White
18.7% Latino
13.5% Asian
3.6% Black
6.6% Other
Neighborhoods Near Los Feliz
If you move to Los Feliz, nearby Hollywood Burbank Airport (formerly Bob Hope Airport and uses the airport code BUR) will be your new "home airport," which is a far better traveling experience than using any of the other airports in and around Los Angeles County. BUR has far shorter security lines and fewer vehicles dropping off or picking up friends and family. BUR offers much less hassle than LAX. Here are some nearby communities, each with its exploration-worthy characteristics:
Hollywood - nightlife, Walk of Fame, restaurants
Beachwood Canyon - an original Hollywood Hills neighborhood with spectacular views
Thai Town - specialty Thai grocery stores and restaurants
Silver Lake - the hippest of the hip areas, music venues, and retail stores
Little Armenia - small retail strip, home of Barnsdall Art Park and local favorite Zankou Chicken
Glendale - the third-largest city in Los Angeles, has big shopping malls, suburban living
Koreatown - excellent Korean BBQ restaurants, culture, and retail shopping
Burbank - charming downtown, easy-to-use airport, and the location of the largest IKEA store in North America
Final Thoughts on Living in Los Feliz
Los Feliz is an eclectic, comfortable community with a relaxed vibe. This place is rich in history and historic architecture; plenty can catch your eye if you keep your radar attenuated for all things aged and significant. Whether you prefer to go outside for golf or hiking or stay indoors, there's plenty here to keep you busy. While you don't need to leave this cozy urban oasis to find fun, there's plenty more to explore (history, food, recreation) nearby.