Living in Laguna Beach, California
Posted by Tony Mariotti on Tuesday, March 15, 2022 at 10:59 AM
By Tony Mariotti / March 15, 2022
Comment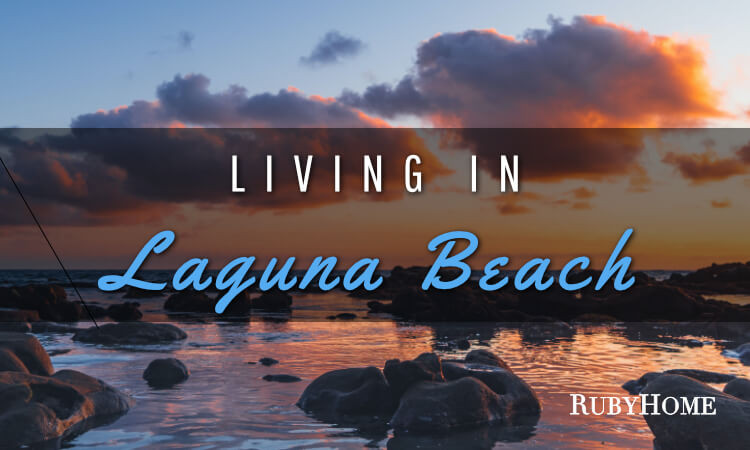 Situated on the Orange County coast between Newport Beach and San Clemente, a short drive from Southern Los Angeles, Laguna Beach is a small city of 23,000 people, spread over 8.84 square miles. Laguna Beach's coastline constitutes seven miles of sparkling beach with secluded coves and golden sands.
The town is famous for its community of artists and craftspeople and its summer arts festivals. It has a relaxed, bohemian feel, quite distinct from the more metropolitan districts to the northwest.
Despite its comparatively small population, the city is visited by an estimated six million people annually. Tourism is the city's most significant economic driver. It can be especially lively during the holiday season.
Laguna Beach History
Human skulls have been found in Laguna Beach dating back to the Holocene period, almost 12,000 years ago. Settled by the Tongva people, the region was dubbed "Lagona," meaning "lakes," due to the two freshwater lakes in the canyons. Seafood and game were in plentiful supply for anglers and hunters.
Skip forward a few centuries, and the region containing Laguna Beach was part of Mexico, which gifted the land to the United States in the 1870s following the Mexican-American war. Early settlers were encouraged to build homes and plant groves of trees, including one enterprising homesteader Nathan "Nate" Brooks, who is sometimes described as the "father of Laguna Beach."
In the early 1900s, the beautiful scenery and conducive climate attracted many notable "plein air" painters, including William Wendt, Frank Cuprien, and Edgar Payne. The settlement's comparative seclusion gave the growing artists' colony added appeal. The area became a popular location for early silent film shoots. The stars who filmed here included Harold Lloyd, Mary Pickford, and Douglas Fairbanks Junior. Lloyd's first full-length film, A Sailor-Made Man (1921), was filmed in Laguna Beach's coves.

Although officially settled in 1887, Laguna Beach was formally incorporated as a city in 1927, with growing pressure from its swelling artists' community. By the early 1960s, the city's population had grown to over 10,000 people. During the "hippie era," the area was the epicenter of counter-cultural activity. Renowned LSD advocate Dr. Timothy Leary had a home here. The famous Indian guru Osho (Bhagwan Shree Rajneesh) developed a meditation center and commune in Laguna Beach during the 1960s.
The artistic roots of Laguna Beach remain evident in the 21st century, and the city remains a popular draw for creative people and art lovers alike.
Laguna Beach Points of Interest
A vibrant coast city, there's always something fun to do in Laguna Beach. Some activities and points of interest are more 'touristy' than others, but locals and visitors share common ground when it comes to loving all the city offers. Here are some of the favorites:
First Thursdays Arts Walks
As its name suggests, this regular evening event, held on the first Thursday of the month, involves over forty local galleries opening between 6 pm and 9 pm for artists' receptions, demonstrations, and live music. Complimentary entry into the Laguna Art Museum is included, and you can hop on and off a free trolley shuttle service to visit the various venues up and down the coast. The shuttles even come with their own locally knowledgeable guide to answer any questions.
Laguna Art Museum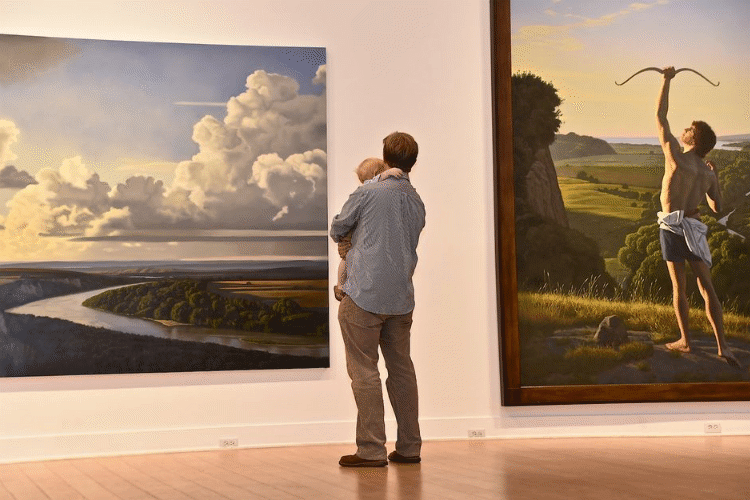 With a collection of Californian art comprising over 3,500 works, dating from the 1920s to the present, the Laguna Art Museum is an essential visit. It is open every day, apart from Wednesdays, from 11 am until 5 pm. Much of the permanent collection is comprised of work by Laguna Beach artists. The museum has regularly changed its temporary exhibitions. Music recitals, lectures, and film screenings are also on offer.
Local artists formed the Laguna Beach Arts Association in 1918, and the Steele Gallery was built in 1929, which remains part of the more extensive museum. Expansion took place in the 1970s, plus a significant refurbishment in the 1980s. In 2013 the museum instituted its Art and Nature program, commissioning site-specific outdoor works, which became a popular annual event. The museum celebrated its centennial in 2018.
Festival of Arts at Laguna Beach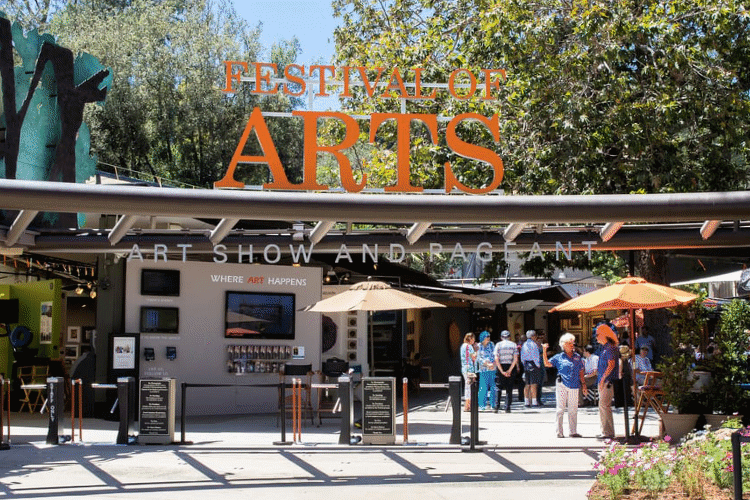 For two months in summer (early July to early September), Laguna Beach celebrates over 140 Orange County artists and makers, working across media, including painting, sculpture, printmaking, photography, jewelry, furniture, ceramics, glass, and many other disciplines. Meet the artists, participate in workshops, witness demonstrations, and join art tours. The art is for sale, and annual prizes are awarded to artists across various categories.
You can get a single ticket for the Festival of Arts, giving free entrance to the Sawdust Festival and Art-a-Fair venues. In the 1960s, the burgeoning art scene in Laguna Beach began bifurcating. First, the more left-field artists split from the traditional fine artists and set up the Sawdust Festival (named after the unusual floor covering at its first event), which co-opted a vacant lot on North Coast Highway.
Then, after two years, a further rift took place. One group of artists relocated the Sawdust Festival further north on Laguna Canyon Road, while the remaining artists rebranded as Art-a-Fair and moved to downtown Laguna Beach. Both venues highlight an eclectic range of local craftspeople and artists with affordable works for sale across all media. The Art-a-Fair's exterior, which is psychedelic and multicolored, is worth seeing for yourself.
Pageant of the Masters
A unique event, the annual Pageant is an open-air show held at the Forum Theater, featuring tableaux vivant (living pictures) where actors recreate famous old master paintings depicting key moments from American history.
Over 1200 people audition for a part of the living artworks annually, with 50 to 60 performers chosen for each season. Shows feature all the stagecraft of a Broadway musical, including live orchestra, original score, narration, lighting, and stage design. The show is the Laguna Beach arts scene's jewel.
The show is performed nightly throughout the summer season, and combined tickets for the Pageant and Arts Festival are available.
Wine Tasting
There are several places to sample wines close to Laguna Beach. The Laguna Canyon winery has a tasting room that is open daily (apart from Mondays and holidays) from 12 pm until 5:30 pm. They also offer monthly dinner events and are available for party and corporate hire.
The Palazzo Winery Tasting Room, situated by the Laguna Beach visitors' center, offers beginners, intermediate, and advanced tasting experiences, focusing chiefly on Napa Valley wines. These 60 to 90-minute sessions are held three times daily. These tastings are pretty popular, so folks interested in experiencing them should book an appointment to guarantee a slot.
Art Classes
Given Laguna Beach's history as a creative hub, it's unsurprising that many art classes are available, including Laguna College of Art and Design's Saturday life-drawing classes and instruction from the Laguna Plein Air Painters Association. The Sawdust Festival runs year-round courses such as ceramics, Navajo beadwork, or silk scarf painting. LOCA Arts Education and the Laguna Art Museum offer classes for adults and kids, and some local artists host private tuition sessions.
Entertainment
Laguna Beach Nightlife
Laguna Beach has plenty to offer, whether it's a languorous meal with drinks, cocktails at a dive bar, or a sea view you're after. The sunsets are spectacular, and if you head over to the Rooftop Lounge atop La Casa Del Camino Hotel, you'll have a perfect viewpoint. There are several other excellent ocean view terraces and bars to enjoy.
For indoor entertainment, Laguna Beach has its fair share of dive bars and nightclubs where you can boogie until the small hours to reggae, 80s retro, or rock and roll, to name just a selection. Two of the best-known music venues are reggae-specializing Mozambique and the eclectic White House (a nightclub for over 100 years), which hosts everything from open mic singer-songwriter nights to late-night DJ sessions.
Food Scene
Laguna Beach has excellent restaurants, many with ocean views, some of them with tables merely feet from the crashing breakers. Be prepared to spot a pod of dolphins as you sip your Napa Valley wine.
Seafood is a local specialty, with eateries offering everything from calamari to oysters and lobster. Vegans and vegetarians will find fare of their liking, too, with extensive menus available at many restaurants.
Mexican food is big here; you'll have no difficulty finding a tasty, loaded taco or salty margarita.
Parks and Beaches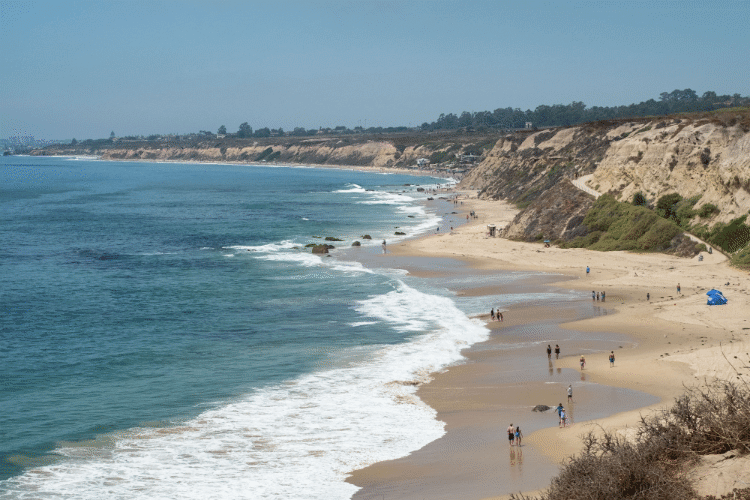 Laguna Beach is undoubtedly known for its coastal parks and beaches. There are inland parks worth exploring, too! Here are a few of note:
Main Beach – right off the downtown shopping district, complete with a boardwalk, playground, public restrooms, and beach volleyball courts.
1000 Steps Beach – descend the 9th avenue stairway (223 steps in fact) to reach this cliff-lined oasis, one of the largest beaches in the area. Beach volleyball, surfing, and snorkeling are popular activities here.
Victoria Beach – lots to do in this secluded cove, including visiting the Pirate Tower, the circular pool, volleyball, paddle-boarding, and more
Heisler Park – situated on rocky bluffs, this oceanside park has walking trails, tidepools, picnic tables, lawn bowling, and a gazebo famous as a wedding photo location.
Aliso Beach Park – the only beach in the city with a sizable parking lot, Aliso is the annual skimboarding world championship location. There are also fire pits for starlit conversations after the sunsets.
Crystal Cove State Park – a 2400-acre park with hundreds of miles of trails and 3.5 miles of protected shoreline. Perfect for trail-running and hiking, the park also contains the federally listed Historic District at Los Trancos Creek, with more than 40 rustic coastal cottages dating to the 1930s and 40s.
Laguna Coast Wilderness Park – situated inland in the San Joaquin Hills, this 7000-acre wilderness area contains ridgeway views and Orange County's only natural lakes (after which the city was named).
Hiking, Biking, and Surfing
There is a vast range of paths and walkable routes in Laguna Beach. You may choose from a stroll along the Crystal Cove State Park coastal trail to a heart-pumping ascent of the Water Tank. There's a route for everyone, from walkers, to trail hikers, to runners. Paths cross through 20,000 acres of coastal hills, state parks, and beaches.
The Old Emerald Trail to Bommer Ridge is an 8.2-mile circuit particularly favored by mountain bikers. Other great bike routes are available in Aliso Canyon, Crystal Cove State Park, and the Laguna Coast Wilderness Park. In Aliso Canyon, look out for the mysterious Car Wreck, an old automobile mysteriously submerged in the valley floor, forming a spooky local landmark.
Surfers have plenty of swells to choose from in Laguna Beach. Locals love the variety of breaks available, ranging from Brooks Street's epic left to Thalia Street's gentle soft-tops with waves up to ten feet. Hollow barrel waves can be ridden at Rockpile, a local surfers' favorite.
Architecture
Due to its boho history and idyllic location, Laguna Beach homes are an eclectic mix of architectural styles with a notable Art Deco and Mediterranean style preference.
Inspired by the Arts and Crafts movement, Californian Craftsman homes began to appear along the coast in the early 1900s. The Craftsman home was popularized by Pasadena-based architects Charles Sumner Green and Henry Mather Greene, and Laguna Beach's Rohrer Arts Gallery is a prime example of this style.
The Mediterranean Revival style is evident in stucco-finished public buildings like the Laguna Presbyterian Church and the City's Fire Station with its Spanish-inspired tower.
Modernism flourished in Laguna Beach in two contrasting forms – fluid Art Deco lines in buildings such as the Fetneh Blake boutique and Modern Streamline concrete structures like Hangover House with its rectangular block design and dramatic vertical integration into the surrounding hillside.
Shopping & Dining
In 2018 Yelp voted Laguna Beach the #1 city to shop local due to over 100 locally-owned boutiques and surf shops plus galleries selling works by local artists. Indeed, local-produced products for sale extend to clothing, cosmetics, and jewelry.
Of course, you can still find your high street brands and hide out in the mall on a rare rainy day at Crystal Coves or Boat Canyon. When you're hungry from lugging those bags around, over thirty restaurants within Laguna Beach are open for lunch or dinner, ranging from beachfront bistros to Mexican cantinas.
Laguna Beach Climate
The weather is reliably balmy in Laguna Beach from mid-March to late November. Daytime average temperatures range from 68° F in January to 80° F in August and September. Cooled by sea breezes, temperatures rarely reach the 90s, unlike much of California's interior. Winters can be a little chilly, but it never freezes.
You might expect three or four rainy days a month between March and September, rising to 15 to 18 days per month over the winter. Snow on the hills is a once-in-a-decade rarity.
Smog levels are low – the AQI (air quality index) is "good" and rarely tops 48 compared to 178 at Long Beach.
Schools in Laguna Beach
Laguna Beach has two elementary schools (El Morro and Top of the World), one middle school (Thurston), and Laguna Beach High School. These four institutions are all part of the Laguna Beach Unified School District. They are all public schools.
For more information, visit the LBUSD website.