Living in Glendale, California [Insider's Guide]
Posted by Tony Mariotti on Tuesday, January 18, 2022 at 9:27 AM
By Tony Mariotti / January 18, 2022
Comment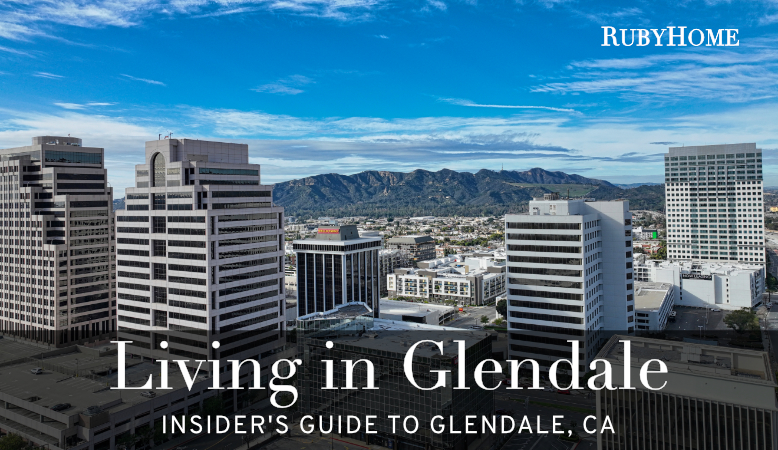 Glendale is a suburb of Los Angleles that sits where the eastern end of the San Fernando Valley and the western end of the San Gabriel Valley meet, just 10 miles north of Downtown Los Angeles.
It is perhaps best known as home to Brand Boulevard, the main commercial strip that runs through the center of town on its north/south axis. The street contains an auto mall and a high-end retail mall, The Americana at Brand.
The climate, quality of life, and job opportunities draw many to consider living in Glendale. What follows is a deep dive into the city and what folks can expect if they are considering moving here.
Glendale History
Like the rest of Southern California, the Glendale area was once inhabited by Native Americans, then ruled by the Spanish, followed by Mexican rule, and then part of the territorial United States. California became a state in 1850, one year after the gold rush (no small coincidence). In 1884, locals formed the original townsite and named it Glendale, followed by incorporation in 1906.
Glendale is a tight-knit community partly due to the influence of several waves of immigrants to the area. 54% of residents here are foreign-born (compared to 27% in CA and 13% nationally). What's more, Glendale has one of the largest concentrations of Armenian families in the United States.
Many Armenian and Lebanese who fled the Lebanese Civil War (1975-1990) made Glendale their home. The next wave of immigrants came to live with friends and families during the fall of the Soviet Union in the late 1980s. The impact on the city's food scene, culture, and entertainment cannot be understated.

Life in Glendale, California
Shopping
Even in the age of e-commerce, brick-and-mortar malls in Glendale continue to draw crowds from around the region. Two big shopping centers dominate the downtown area and happen to be right next to each other. Quite convenient.
Glendale Galleria is a longtime favorite shopping center with many retail stores from Target to Macy's. Parking is plentiful and free.
The Americana at Brand sits right across the street from the Galleria. It is a newer shopping center (2008) and mixed-use complex with luxury movie theaters in a park-like setting. Upscale retailers include Tiffany & Co., Apple, Kate Spade, Nordstrom, and Sur La Table. It is also a residential community of 100 condominiums, Excelsior at Americana at Brand.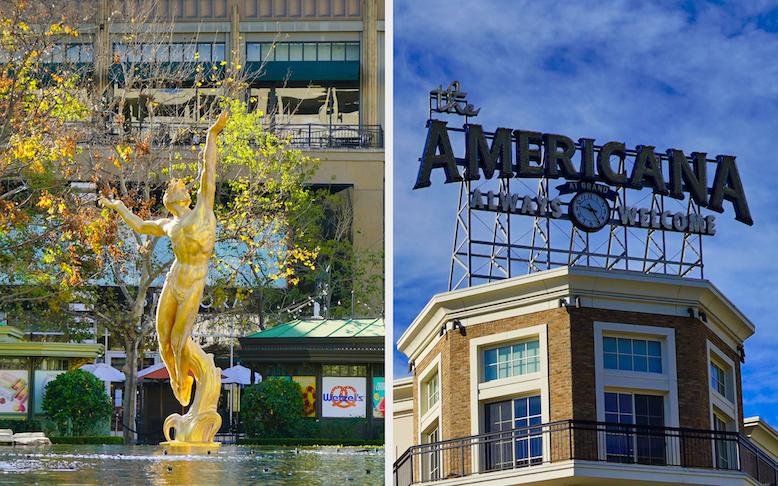 Glendale's premier shopping destination is The Americana at Brand
Food
Like much of Los Angeles, cultural diversity means food diversity. Folks can find fantastic gastronomic opportunities all over town.
You'll never go without Greek, Thai, Vietnamese, Japanese, Armenian, Lebanese or Mexican dishes. Meaning, folks are never too far from kebabs, sushi, pastries, burritos, or pho.
Glendale is not known for epic nightlife, but its proximity to Los Feliz, Silver Lake, Hollywood, and Downtown Los Angeles (DTLA) makes it easy to find livelier versions of a night out. However, one wishes to chill out with friends, family, or co-workers, there are plenty of local watering holes here.
Nearby Atwater Village Farmers' Market is a great way to stock up on fresh fruits and veggies while supporting local businesses. The market is open every Sunday from 10 am to 2 pm.
Climate
The skies here are sunny year-round. The Mediterranean climate here, characterized by mild winters and warm summers, means temperatures rarely get too hot or too cold like you would expect in the desert areas farther north and east of the city.
From October to December, Santa Ana Winds move through Southern California, bringing very low humidity and warm wind gusts up to 70 mph. Dry air gushes from north to south, sweeping across the foothills and blasting through narrow canyons.
Transportation
The local commuter rail system, Metrolink, makes it easy to get from Glendale to Downtown Los Angeles or out to Hollywood Burbank Airport (formerly Bob Hope Airport and uses the airport code BUR) and beyond in either direction. Public transportation lines provide an alternative to driving, easing the burden of commuting in LA's notoriously heavy traffic. Metrolink continues to grow in popularity, and line extensions increase ridership.
The city's proximity to the Hollywood Burbank Airport (BUR) is no small matter as it is a much better airport than LAX. How so? Security lines are shorter at BUR, and there is far less traffic in and out of the terminals, so dropping off or picking up friends and family is easy. Short-term and long-term parking lots abutting the airport are cheaper than LAX, too. Routes are limited, so you won't be able to catch a non-stop to NYC, but if your travel plans include short hops around the West Coast or connections through major hubs, BUR is the best choice.
Parks & Recreation
City, County, and State parks form a triumvirate of park operators that offer several outdoor recreation opportunities and sports facilities.
The City of Glendale's Community Services & Parks (CSP) Department operates 36 parks and additional community facilities (nearly 50 altogether). Their Community Centers accrue over 500,000 drop-ins per year. The CSP even maintains historical sites and a museum.
Sports fields for soccer, softball, and baseball abound at the Glendale Sports Complex. The facility is situated at the base of the Verdugo Mountains, providing convenient access to several trails.
More significant parks and small pocket parks dot the area. Some of the more popular facilities include:
Lower Scholl Canyon Park
Carr Park
Moyse Baseball Field
Fremont Park/Glendale Tennis Academy
For more rugged outdoor adventures, check out the Verdugo Mountains. This is where you'll find long and challenging trails for biking and hiking. The trails are also used for horseback riding. The Verdugo Mountains Open Space Preserve is known for its lush vegetation and over 2,300 mature oaks. The preserve covers 244-acres and is operated by the California Department of Parks and Recreation.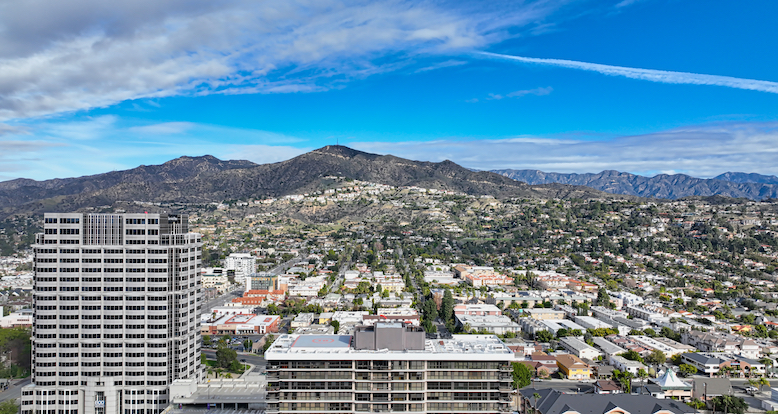 The Verdugo Mountains sit just north of Downtown Glendale
Golf
Glendale CSP operates Scholl Canyon Golf & Tennis Club, a municipal 18-hole course with panoramic views of Downtown Los Angeles out to the Pacific Ocean.
Chevy Chase Country Club is a private facility with a 10-hole golf course (yes, you read that correctly), restaurant, pool, and gym, to name a few of its many amenities.
Nearby Griffith Park offers a 53-mile trail network for hikers, walkers, and equestrians. The park has three municipal golf courses. The Wilson and Harding Courses are 18-hole championship courses. The executive Roosevelt Course is perfect for quick outings when one's time is limited. The City of Los Angeles Department of Recreation and Parks operates the park and its facilities.
Glendale Points of Interest
History buffs love visiting the Catalina Verdugo Adobe (1828), part of the original Rancho San Rafael and the oldest verified building in Glendale. It remains intact and protected under the city's conservation laws. The surrounding area is now a 1.3-acre park containing the historic Oak of Peace, where leaders from the US and Mexican Armies met to discuss terms of surrender to end the Mexican-American war in 1847. The tree is considered the birthplace of California.
The Brand Library and Arts Center is a library with a twist; instead of just focusing on books and videos, they place a unique emphasis on visual arts and music. In addition to regular library services, the library offers educational programs for kids in the world of art, dance, and music. Adults can enjoy art galleries and free classes.
Try Moonlight Rollerway, Glendale's largest and most popular roller-skating arena, if you like lighthearted fun. Meet your friends there for special events, weekly "open skates," and DJ-curated music selections.
The Assistance League of Glendale's Thrift Alley is a local favorite for "thrifters" looking for books or vintage treasures. Founded in 1937, during the depths of the of The Great Depression, the league has been giving back to the community for a very long time. Proceeds are used directly in the Glendale community in several meaningful and impactful ways, including (to name only a few) free clothing, SAT preparation courses, senior luncheons, and academic scholarships.
Forest Lawn Memorial Park is a cemetery and a world-renowned art museum. You read that right! Fine art exhibits and burial plots are all in the same place. What's more, the park gets rave reviews on Yelp highlighting the immaculately-manicured lawns, rolling hills, views, and sculptures that adorn the grounds. It's also the resting place of many celebrities.
Community Calendars
Here are a few resources that will help keep you up-to-date on activities in Glendale and surrounding areas. The City of Glendale's community calendar includes civic-related events, from nature hikes to city council and planning commission meetings.
The Downtown Glendale Association site also posts yoga classes, ballets, live theater plays, concerts, the annual Glendale Cruise Night, and film society screenings.
Glendale, CA Schools
There are many schooling options in Glendale. Public schools operate under the Glendale Unified School District (GUSD) banner. The district has 21 elementary schools. There are several private schools with religious and ethnic affiliations. There is also one junior college, Glendale Community College.
GUSD Middle Schools
Roosevelt Middle School
Rosemont Middle School
Toll Middle School
Wilson Middle School
GUSD High Schools
Allan F. Daily High School
Clark Magnet High School
Crescenta Valley High School
Glendale High School
Herbert Hoover High School
Private Schools in Glendale
Chamlian Armenian School
Glendale Adventist Academy
Holy Family High School
Salem Lutheran School
Glendale Statistics
Top Five Employers in Glendale
Glendale Adventist Medical Center
Glendale Unified School District
City of Glendale
Dreamworks Animation
Glenair, Inc.
Nestlé (USA Headquarters)
Glendale is also headquarters for Avery Dennison (office and consumer products) and International House of Pancakes or IHOP (restaurant).
Quick Stats
Estimated Population: 201,167
Zip Codes: 91201, 91202, 91203, 91204, 91205, 91206, 91207, 91208, 91214 and parts of 91020, 90041 and 91214.
Elevation: 522 feet
Land Area: 30.63 square miles
Population Density: 6,386 people per square mile (Average for LA County)
Interesting Facts
Baskin-Robbins, famous for its "31 flavors" of ice cream was founded in Glendale in 1945.
Glendale is also home to the first Bob's Big Boy restaurant in 1936.
Grand Central Airport was the departure point for the first regularly scheduled coast-to-coast flight in the United States. Charles Lindbergh piloted the first flight.