Living in Beverly Hills - Here's What it's Like [Insider's Guide]
Posted by Tony Mariotti on Monday, June 25, 2018 at 10:19 AM
By Tony Mariotti / June 25, 2018
Comment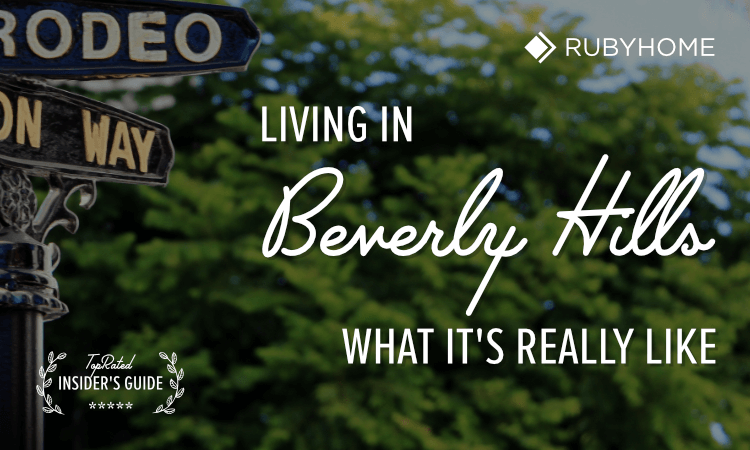 Beverly Hills is clearly the most famous area in Los Angeles County and perhaps Southern California. It is both a place (a stand-alone municipality surrounded by Los Angeles) and a symbol (the embodiment of the entertainment industry, fame, and wealth.)
Generations have been introduced to the city through film cameos and music lyrics, from Irving Berlin's "White Christmas" to the movie Pretty Woman. Even on of the city's zip codes, 90210, is famous; it's possibly the most recognizable in the world since the broadcast of the 90s television series bearing that numeric string in its name.
But did you know that Beverly Hills is a small town (about 35,000 residents)? Technically, it's a suburb of Los Angeles. Not many tourists or outsiders would guess that Beverly Hills is a close-knit town. Kids grow up, go to Beverly Hills High School (or a private school), and develop the lifelong friendships just like kids anywhere else. Admittedly, life here is a little more affluent and complex. But, roots and relationships here run deep.
As far as the geographical layout of Beverly Hills, it is divided into north and south sections by Santa Monica Boulevard where Pacific Electric once operated streetcars along their Red Line. Locals still refer to the northern and southern areas of the city as "north of the tracks" or "south of the tracks." North of the tracks refers to the City of Beverly Hills and parts of the City of Los Angeles that reside north of Santa Monica Boulevard up to Mulholland Drive. South of the tracks refers to Downtown Beverly Hills and adjacent residential neighborhoods.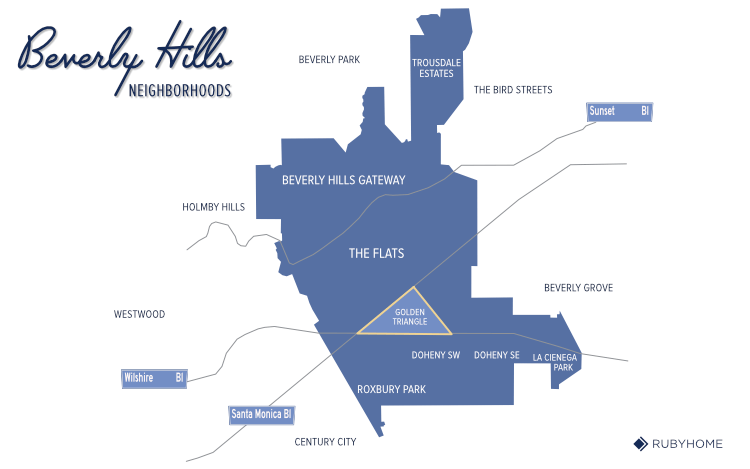 North of the Tracks
Beverly Hills Flats
The Flats section of town sits between Santa Monica and Sunset Boulevards. Topographically, the neighborhood is fairly level and the large lot sizes are conducive to building estates and luxury homes, which explains why so many Beverly Hills mansions can be found along its tree-lined streets. Architecturally, homes in Beverly Hills Flats range from stately French Chateaus and Georgian Estates to Spanish Revival and Modern abodes.
Daily routines can be as normal as everywhere else, including a good number of residents getting up and going out for their morning exercise. And, one of the best places to do so is Beverly Gardens Park, an extended greenway that follows the northern edge of Santa Monica Boulevard. The gravel path is perfect for walking and jogging. Runners can weave into and around The Flats to extend the length of their route. You'll pass the Lily Pond, Beverly Hills Sign, a few sculptures and the Electric Fountain. You might even see a few ducks or folks practicing Tai chi and the lawn.
The Beverly Gardens Park is also home to the twice-a-year (May and October) artSHOW where over 200 international and local artists present their work. The beauty of this event is that visitors can interact directly with painters, sculptors, jewelers, and artisans. Talking with artists makes for a richer experience. The vibe is casual, and there are food trucks, beer and wine gardens on site. You can make a day of it. Even dogs are allowed!
A block with inside The Flats neighborhood, at the corner of Walden Drive and Carmelita Avenue, sits Spadena House – a storybook home that locals call "The Witch House." Among its adjacent stately manors, this residence really stands out; its whimsical architecture, pitched rooflines and lead-paned windows resemble something straight out of Hansel and Gretel.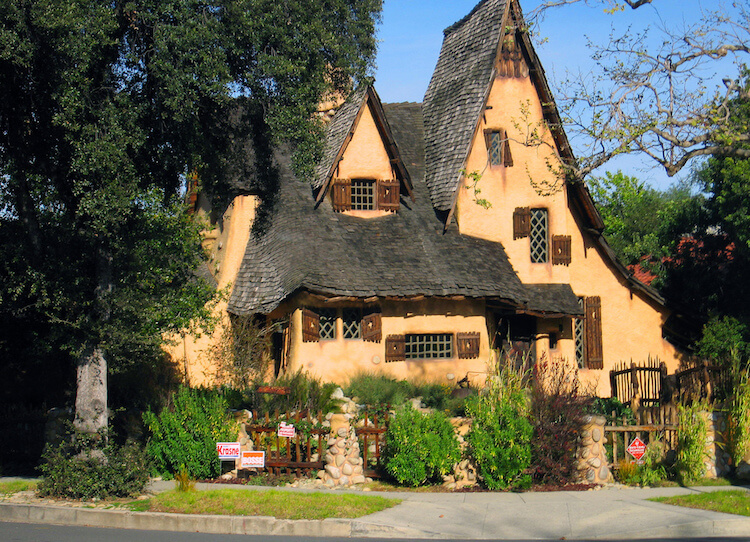 Flickr / Lori Branham
Beverly Hills Gateway
Head north of The Flats to find the entry points to Benedict and Coldwater Canyons. These main roads start drivers on a gradual climb, deeper into the Santa Monica Mountains. While this portion of Beverly Hills is primarily residential, the iconic Beverly Hills Hotel (A.K.A. the Pink Palace) sits just off Sunset across from Will Rogers Memorial Park. The banana leaf wallpaper, Polo Lounge, bungalows and poolside cabanas create a winning combination of opulence and casual comfort. Greystone Mansion is the last noteworthy public attraction before motorists make it fully into the hillside - a Tudor Revival mansion and notable filming location (Batman & Robin, The Big Lebowski, The Dirty Dozen to name a few), the park grounds are open to the public daily. In 1928, the time it was built, it was the most expensive home in California. Homes in Beverly Hills Gateway are among the most expensive in Los Angeles County.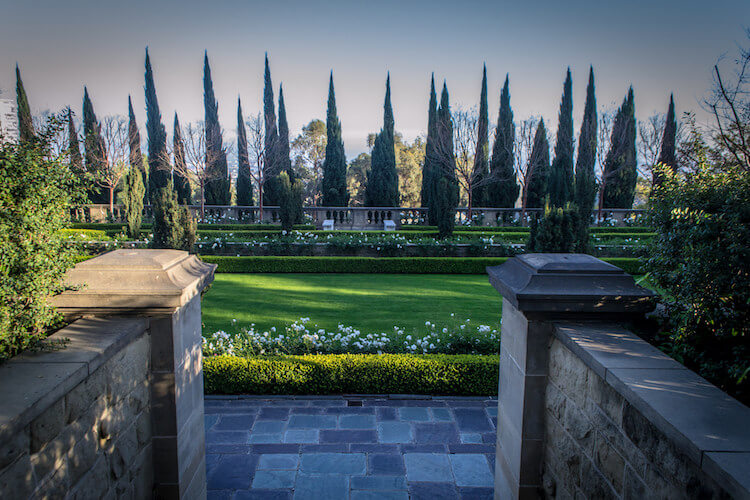 Flickr / Emily
Trousdale Estates
Just northeast of the Greystone Mansion sits Trousdale Estates, an enclave known for its high concentration of Modern and Mid Century Modern luxury homes. The natural setting (plenty of trees and lush landscaping) creates a relaxed vibe. When residents aren't admiring the vegetation and architecture, they can gaze across the L.A. Basin; the neighborhood is positioned for gorgeous city views. Trousdale Estates sits within the City of Beverly Hills.
Beverly Hills Post Office (BHPO)
If you push further into the hills, just past Beverly Hills Gateway and to the west of Trousdale Estates, you'll find several more residential neighborhood, enclaves, and gated communities nestled in the Santa Monica Mountains. The remaining subdivisions are part of what is called the "Beverly Hills Post Office" area; it refers to home with 90210 addresses but are part of the City of Los Angeles, not Beverly Hills. On basic level, it indicates who picks up your trash or suppresses fires.
The Beverly Glen and Benedict Canyon neighborhoods stretch north and south following the ravines and tines of the hills between Trousdale Estates and Bel Air. People thinking of moving to Beverly Hills that require extra security and privacy will want to check out the gated communities of Beverly Park, Mulholland Estates, and The Summit.
South of the Tracks
Golden Triangle (Downtown Beverly Hills)
The Golden Triangle is the commercial core of the Beverly Hills and much more.
Not everything in BH is glitz and glamour. The city is eminently functional and useful to its residents. For example, Beverly Hills Dog Park (344 Foothill Rd), is a convenient off-leash stomping ground for dogs right in the heart of downtown. But there's a catch: the park is only available to registered city residents (and their guests), hotel guests and people who work in Beverly Hills. If you try to sneak in, beware that park rangers monitor the grounds and will issue citations.
Do you like fresh produce and supporting local farmers? Check out the small, friendly and convenient Beverly Hills Farmers' Market which operates on Sunday mornings from 9am to 1pm. Shopping the market is a low friction affair as nearby parking is plentiful and free. Roughly 60 vendors occupy the stalls. There is a small petting zoo for kids.
The Beverly Hills Public Library is another cherished resource for locals and offers what you'd expect from a local library – a big selection of books, programs, and events for all ages - from toddlers to teens and adults. Several "story time" periods are available for younger kids, and there are reading groups for adults. The library even has a U.S. passport service which comes in handy for a quick application or renewal. Here's a hot tip for folks looking to read or study at the library: head to the back to the Quiet Reading Room.
Rodeo Drive
In the heart of the Golden Triangle stands the world-renowned for Rodeo Drive, Los Angeles' crème de la crème of high-end shopping and fabulous restaurants. Al fresco dining is common, and daytime espresso quaffing at sidewalk tables gives folks here the chance to relax, take in the sun, and people watch. The atmosphere is convivial and - trust me - there's plenty to see and talk about.
While Rodeo Drive is a street with a worldwide reputation for upscale shopping and exotic cars rolling up and down it, it is much shorter than many imagine. It's only three blocks long. But within that diminutive patch of pavement and sidewalks sits extravagant boutiques known for exceptional customer service and hidden price tags. As the old J.P. Morgan quote goes, "If you must ask how much it costs…" Nary a traditional department store is within sight.
Tourists and paparazzo flock to the area with cameras at-the-ready in hopes of snapping pictures of celebrities. To the famous and instantly recognizable, it can feel like living in a fishbowl.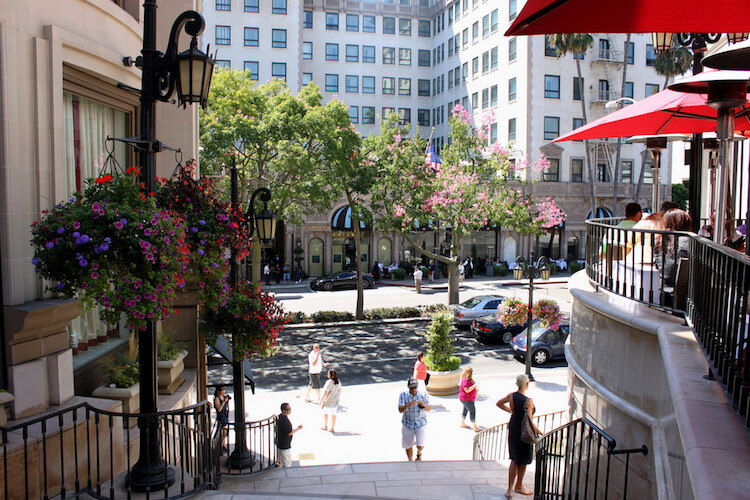 Flickr / Prayitno
Beverly Hills Doheny SW & SE
Just south of Rodeo, across Wilshire Boulevard, there are two residential areas near Beverly Hills High, Doheny SW and Doheny SE. In these neighborhoods, you'll find homes in the single-digit millions as opposed to the north of the tracks where double-digit million homes are more common. Home here sit on symmetrically-shaped lots laid out on a grid system. Each block has its own species of uniformly planted trees such as Southern magnolia, pink cedar, and queen palm.
Roxbury Park
The Roxbury neighborhood is home to a park of the same name, one of a few favorite resources for locals. Here you will find a place to pause on lush green grass under shade trees. It's a great spot for a picnic or letting your kids run around and blow off steam. The park includes a variety recreational facilities – a playground and areas for baseball, basketball, tennis, sand volleyball and lawn bowling. Within the park's borders sits the Roxbury Library, another handy local resource.
Each year, the City puts on Woofstock 90210, a fun family-friendly event with food, live entertainment and pet adoption/rescues. Over 35 vendors pack the park with displays for pet products and services. The parade and talent competition culminate with award ceremony for "best dressed" and "most talented" pets.
La Cienega Park
To the east of Roxbury is La Cienega Park and neighborhood. La Cienega Park offers an abundance outdoor workout stations and is a nice alternative to an indoor gym. After all, the weather in Los Angeles is mostly sunny, so why not take advantage of it and exercise outside?
In fact, there are several equipment pieces that are good for full-body circuit training – rowing, cross country ski, elliptical, and leg press machines, etc. Combined with the jogging track, which is short but viable (3.2 laps = 1 mile), fitness enthusiasts will find a winning combination of cardio and strength training possibilities.
There are three baseball diamonds, seasonally converted to soccer fields for league play (all ages). There's a playground for kids. Dogs are welcome, too, if they stay on a leash. Late evening movies in the park are projected onto large inflatable screen. The Community Center houses adult and senior recreational classes and rooms are available to rent.
Across the street is La Cienega Tennis Center, Frank Fenton Field, and Margaret Herrick Library each of them also operated by the City of Beverly Hills. Concessionaire Beverly Hills Tennis provides tennis lessons for all levels.
Things to Do in Beverly Hills
A Word About Beverly Hills Nightlife
Despite the daytime beehive of activity found in Beverly Hills, it's not widely considered a nightclub kind of town. Businesses, other than restaurants and a few bars, close early. If you want to take it up a notch, a better bet is to hop over to West Hollywood (WeHo) and the Sunset Strip. That's where you'll find most of the action.
Here are a few daytime activities to keep one busy; real gems that locals enjoy:
Afternoon tea at the Beverly Hills Hotel
Espresso sipping and people watching at Urth Café
Beer, bourbon, and burgers at The Honor Bar
Dinner and drinks at Mastro's – recommendations include the bone-in ribeye, lobster mashed potatoes, and warm butter cake dessert
Get a mani/pedi and your nails done at Kote Beauty House
Treat yourself to something sweet: buy a cupcake from an ATM machine at Sprinkles Cupcakes' flagship bakery.
Fun Facts About Beverly Hills
The triumvirate of Beverly Hills, Bel Air and Holmby Hills combine to form the colloquial "Platinum Triangle" of highly affluent Los Angeles neighborhoods.
The Beverly Hills Hotel was built on a former lima bean field. The shores of its pool were once small beaches made from imported sand from Arizona.
In fact, all of Beverly Hills was once a Spanish lima bean ranch. The first home was built here in 1907.
The city has been acknowledged for its urban forestry master plan with the Tree City USA award each year for three decades. The parks and recreation department maintains all parkway trees and protects indigenous species growing on private property.
Beverly Hills is home to the first Cheesecake Factory restaurant (1978).
Nearby
Neighborhoods
West Hollywood
Holmby Hills
Bel Air
Beverlywood
Rancho Park
Shopping
Beverly Center
Robertson Boulevard
The Grove / Original Farmers' Market
Museums
LACMA
The Getty Center
Hammer Museum
The Paley Center for Media
Museum of Tolerance
Golf
Los Angeles Country Club
Rancho Park Golf Course
Final Thoughts About Life in Beverly Hills
Beverly Hills is a small town in a big city. While known for its glamour, mansions and wealth, life here can be pretty normal for its residents. There's a lot more going on here than shopping. Locals get to know each other. There's a sense of belonging and civic engagement. Events like the weekly farmers' market, annual Woofstock 90210 and twice-yearly artShow bring the community together to celebrate life in one of the most desirable (and pricey) zip codes in the United States. Beverly Hills is walkable and livable, even though it sits in the heart of a major metropolis. Parks (and mini-parks) create green zones and open spaces to stretch out and relax, enjoy a picnic, exercise or give your dog the chance to burn off some pent-up energy. The city's master planning efforts not only protects trees, but protects property values and keeps the area aesthetically appealing.