Living in Beachwood Canyon: Here's What It's Like
Posted by Tony Mariotti on Friday, July 20, 2018 at 8:35 AM
By Tony Mariotti / July 20, 2018
Comment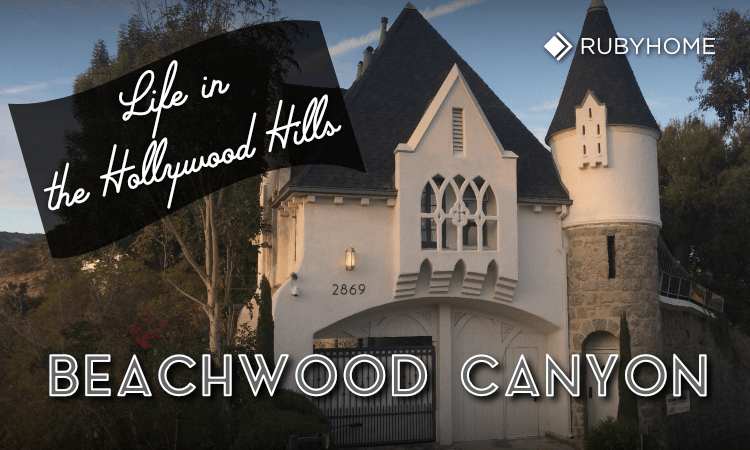 Beachwood Canyon is wedged into the eastern portion of the Santa Monica Mountains and sits directly below the iconic Hollywood Sign. It is home to one of the original Hollywood Hills neighborhoods, Hollywoodland, perched on the southern facing slopes. Many Angelinos don't know the area by name. But it's easy to explain where it is. Here's a conversation I've had many, many times:
FRIEND: Where do you live?
ME: Beachwood Canyon.
FRIEND: Where's that?
ME: Right below the Hollywood Sign.
FRIEND: Oh, yeah! I know that area.
The neighborhood is divided into two areas; Lower Beachwood which is comprised mostly of apartment complexes, and Upper Beachwood (a.k.a. Hollywoodland) which is peppered with single-family residences. Properties here are known for their 'front row' view of the Sign to the north and sweeping views of the Los Angeles Basin and Downtown to the south.
Tree-lined Beachwood Drive cuts straight up the middle of the canyon; it's the major artery that feeds all the side streets. Some side streets are steep and all are curvy. Driving around can be confusing to first-time visitors. It's easier to get around if you visualize lower Beachwood Drive as a tree trunk and upper Beachwood as its branches.
Living here feels like making a home in a nature reserve. It is especially suited for work-at-home, creative occupations like writer, artist, composer or musician. Yet, Beachwood Canyon is a sanctuary smack dab in the middle of an enormous city. Residents get all the benefits of living in natural setting but with easy access to all of Los Angeles' world-class amenities.
That's not to say traffic on Beachwood Drive doesn't get a little crazy. With the advent of GPS-enabled smartphones, curious tourists regularly flock to the area, increasing congestion on Beachwood Drive. Periodic traffic jams grind vehicles to a slow crawl, especially on weekends and holidays.
As the number of tourists flooding the area has grown, the neighborhood associations (two of them) have successfully lobbied the city to restrict parking and trailhead access to abutting Griffith Park. Still, you'll see tourists standing in the middle of Beachwood Drive - at high risk to themselves and resident's annoyance - snapping pictures with the Sign in the background.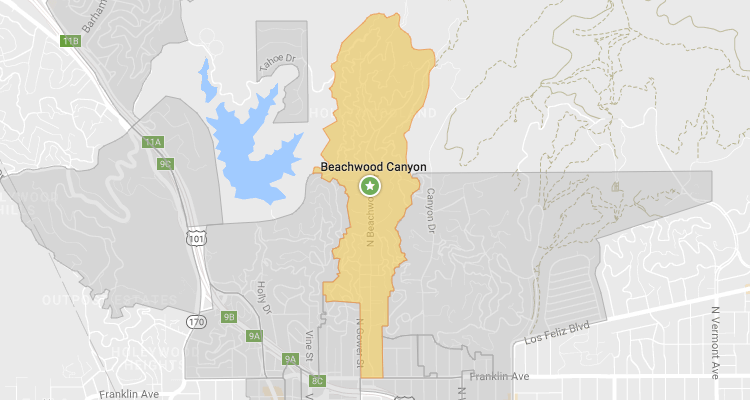 Climate
Beachwood Canyon residents enjoy Southern California's notorious year-round sun. Winters are mild and summers are hot and dry. This is a desert after all.
Los Angeles County has several microclimates, or small distinct zones, each with a unique climate. For example, the temperature is generally hotter in the San Fernando and San Gabriel Valleys than the Los Angeles Basin. Drive a few miles and you'll feel the temperature easily change by 10 degrees or more. While the basin cools off at night from the inflowing marine layer, the surrounding valleys stay quite warm.
Since Beachwood Canyon sits within the hilly divide between the basin and valleys to the north, the temperature near the bottom of the canyon can be considerably cooler than the top. The difference becomes quite apparent if you go for a morning bike ride. Riders cycling up the Hollywood Hills are met with warmer air as they ascend and chilly air on the way down.
Mudslides and fires pose a couple natural hazards of living in a hot, dry hillside area. While few, when they happen, fires are met with swift and stiff resistance from the local authorities.
Beachwood Canyon's Idyllic Setting
History
The Hollywood Sign and Beachwood Canyon neighborhood are intertwined by more than mere proximity. Did you know upper Beachwood Canyon is a real estate development called "Hollywoodland?"
The Hollywood Sign was originally a real estate billboard erected to promote the new neighborhood in 1923 and included the last four letters "L-A-N-D." Developers erected and lit the Sign with 4,000 light bulbs so it could be seen from miles away. The final four letters were removed in 1949 during a repair job. Originally made of wood, the letters decayed and were replaced with sheet metal and finally steel letters in 1978. Today, the Hollywoodland neighborhood entrance is marked by two towers.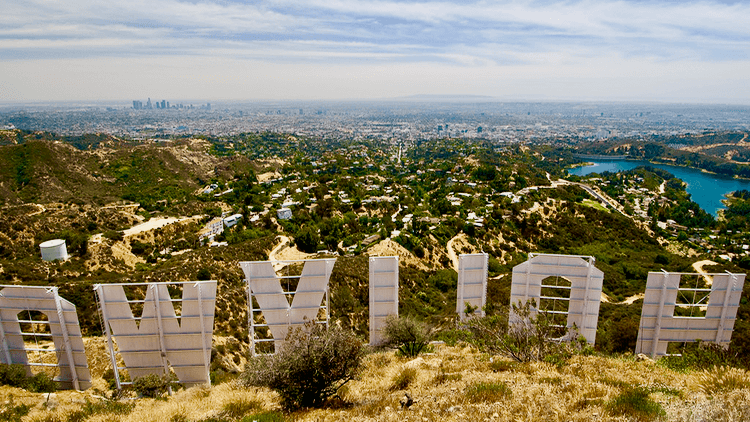 Flora and Fauna
Before the development of Hollywoodland, the hillsides of Beachwood Canyon had very few trees. Sparse oaks, holly bushes, greasewood, sage and poppies dotted the landscape. Today, you'll spot nonnative plants and trees like eucalypti (introduced in 1865) and palms.
The Hollywood Hills come alive each spring, starting with verdant grasses and indigenous wildflowers. By May each year, the upper hills dry out, creating a golden glow that continues throughout the hot, dry summer and fall seasons.
Even though Los Angeles is the second-largest city in the United States, Beachwood Canyon never lets you forget its wild roots. You'll see solo coyotes on hikes and hear packs of them at night, fiercely engaged in initiation rituals, their high-pitched barks echoing throughout the canyon. This is not place to leave domesticated pets outside on their own.
Summer nights in the canyon are the best. You'll hear crickets produce their soft, droning soundtrack to the shimmering city lights. Birds here are really active at night, singing to one another, punctuating the rest of the nighttime reverberations.
Beachwood Canyon abuts Griffith Park, the nation's largest urban wilderness park. You'll always see hikers, but you may also see or hear several critters, including:
Rabbits
Deer
Owls
Squirrels
Snakes
Lizards
Spiders – including everyone's creepy favorite, tarantulas
Mountain Lion – there's a cougar, tagged and tracked (named "P-22") known to occasionally migrate throughout the Santa Monica Mountains
Foxes once roamed the area, but have mostly been pushed out by coyotes. I've yet to see a fox on my hikes, but I keep my eyes open just in case. I see rabbits mostly in the morning and snakes in the late afternoon.
Architecture & Landscaping
Today, landscaping in Beachwood Canyon includes nonnative shrubs, trees and flowers. Grasses and drought-tolerant vegetation such as succulents, perennials, and rosemary grow easily here. Gravel and stone are also commonly used.
Beachwood Canyon homes come in all shapes, sizes, and architectural styles. Designs of the original homes built in the 1920s included French Normandy, English Tudor, Spanish and Mediterranean. Thereafter, Modern homes - including Mid-Century Modern and glass houses - gained a foothold in the foothills.
Walking through the neighborhood creates a sense of architectural history as you pass German-influenced Storybook homes (a whimsical fairy tale style a la Hansel & Gretel popularized in the 1920s) and mid-century modern houses. There's even The Hollywood Castle available to rent for parties, photo shoots or use as a filming location!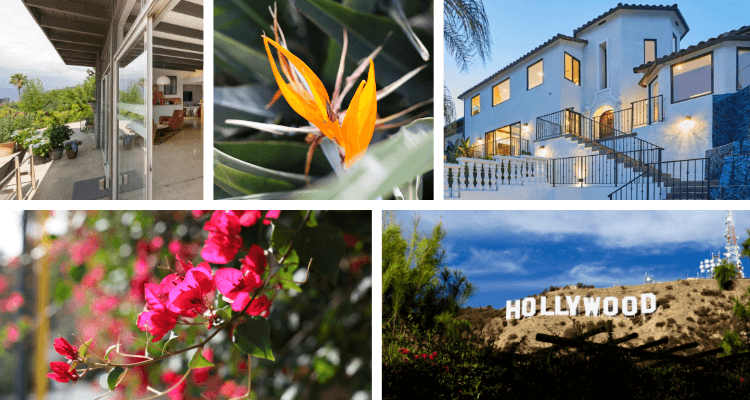 Things to Do in Beachwood Canyon
Hiking Griffith Park / Hollywood Sign - trailhead access at the top of Beachwood Canyon to Griffith Park changes periodically. A series of controls made by the City of Los Angeles, aimed at reducing non-resident traffic to the area, include parking restrictions and gate closures. However, there are still a few ways into to the park from the top of the canyon. Currently, the best way into Griffith Park is to enter from Bronson Canyon, Wonder View Trail Head or the Ferndell park entrance. You can always get out of the park as the gates open outwardly; you won't get trapped. Trails extend to Griffith Observatory and Wisdom Tree.
Folks willing to make the climb to Mt. Lee are rewarded with a killer 360-degree view of the San Fernando Valley to the north and the L.A. Basin to the south. On clearer days, you can see the San Gabriel Mountains, Catalina Island and the Ports of Long Beach and Port of Los Angeles, and their Gantry cranes. The trail terminus puts hikers above the Sign, so the closest view of it is of the back from above.
Beachwood Canyon Secret Stairs – a collection of six public staircases, great for a glute workout or to use as shortcuts between streets. Beachwood's stairs are one of several staircase projects around the city originally designed to create easy passage to-and-from trolley cars and busses before L.A. became a car town. Today, the stairs are designated historic landmarks.
Sunset Ranch – stables at the terminus of Beachwood drive offers daytime and evening horseback tours of Griffith Park. Get sweeping views of L.A. Basin, Downtown and the Hollywood Sign up close without breaking a sweat.
Lake Hollywood Park – a dog-friendly park with unobstructed views of the Hollywood Sign. The park is a pleasant patch of green grass in an otherwise desert landscape. Small playground and a few picnic tables make it a place to relax with or without Fido.
Hollywood Reservoir – an unusually quiet and peaceful 3.3-mile walk, run or bike ride around Lake Hollywood. Enter from the north or south gate near the reservoir dam. It's a paved, secluded path with shade trees along the route. Spending time here makes for an excellent respite from the bustling city just over the ridge tops.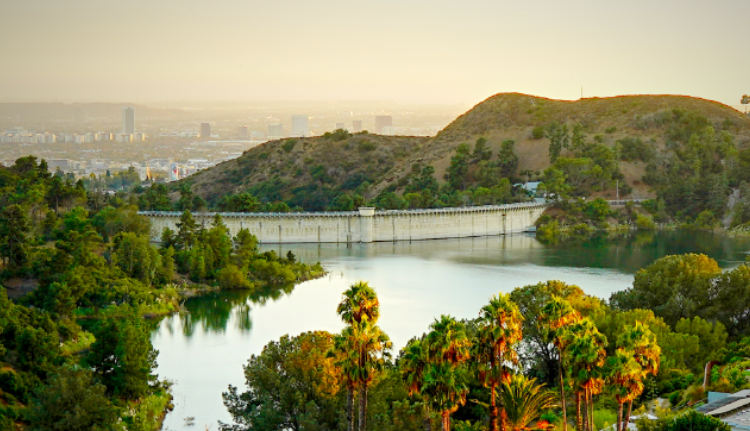 Shopping and Dining
Upper Beachwood Canyon
Beachwood Village - sits a mile up Beachwood Drive from Franklin Avenue. It's home to several small businesses including a grocery store, restaurant and flower shop.
Beachwood Market - the anchor tenant of Beachwood Village, tucked into the canyon, about a mile up Beachwood Drive from Franklin Boulevard. The store is very convenient when you don't want to drive down the hill and get caught up in heavy morning or evening commuter traffic. If you live in Beachwood Canyon and run out of something, Beachwood Market saves the day. The in-store deli is popular with hikers looking for a sandwich and a soda. Better yet, buy some cheese and crackers and pick out a good bottle of wine.
In the back of the store, you'll find a real butcher shop. You can choose your cut of meat, have it weighed on scale, wrapped in butcher paper and handed over the counter from their butcher. It's old school. And awesome.
Beachwood Café - the local favorite for farm-to-table fare in a casual diner atmosphere. You can tell, with every bite, that the owners place a heavy emphasis on high-quality ingredients. You get the sneaking suspicion they care a great deal about the art of making delicious food. What's more, the menu takes inspiration from an assortment of tastes, from mac & cheese, cold somen noodles to coq au vin Provencal. Wine and craft beers are also available.
Lower Beachwood Canyon
101 Coffee Shop - a retro diner complete with wood-grained Formica and menu items like burgers, salads, waffles, shakes and malts, cherry or vanilla Coke, or a Coke float. Yeah, it's a soda fountain. You may recognize it from film or TV - like Swingers or Entourage.
Monastery of the Angels - unusual and possibly hard for many to believe, Hollywood has been home to monastic nuns since 1924. After scouting a permanent location, cloistered Dominican nuns took residence at their current location, Monastery of the Angels, in 1949. What's more, Angelinos give the pumpkin bread the nuns sell rave reviews. The next time you hear someone proclaim that everyone in Hollywood is fake, tell them to go suck on a bag of bread!
Franklin Village - fan out from the base of Beachwood Canyon and walk a block east, there're you'll find Franklin Village, a collection of busy restaurants and retail stores. Notable and long-time institutions include Birds (American), La Poubelle (French) and Upright Citizens Brigade (live comedy). There's even a book store. Gelson's market is another grocery store close to home for folks living in Beachwood or Bronson Canyons.
Fun Facts
The Hollywood Sign is not lit at night - despite the pictures you see of the Hollywood Sign at night, with its dashing white letters glowing brightly, it's never lit. Sign illumination ended in 1999. There are two theories why it went dark. The first theory involves the Enron-manufactured brownouts of the late 1990s. The company's energy traders deliberately cut power to portions of the California grid in a price manipulation scheme. In response to the periodic – and at the time unexplained – power outages, the City of Los Angeles responded with a conservation campaign. Lights to the Sign were turned off as a symbolic gesture, reminding everyone across the city to be energy conscious. The second explanation is that the lights were turned off to prevent tourists from flooding the residential area at night. It's my belief the both are true; the lights were turned off because of energy conservation measures and stayed off at the request of the neighborhood's residents.
Pictures of the sign are usually Photoshopped - when you see the Hollywood Sign in pictures or film, it magically stands alone. In fact, that is a Photoshop trick wherein the many municipal microwave and radio towers next to it on top of Mt. Lee are erased. In film - scenes from Invasion of the Body Snatchers (1956), Mulholland Drive (2001) and A Lot Like Love (2005) were shot here.
Hollywoodland Bus - the first public transportation here was a Model A Ford that served the neighborhood starting in 1931.
Speakeasy - mobster Bugsy Siegel opened an illicit watering hole on Durand Drive in 1938.
Nearby
One of the perks of living in Beachwood is the quick access to the 101 Freeway, which funnels you to Downtown Los Angeles (DTLA) or out to the San Fernando Valley. Depending on traffic conditions, you might skip the freeway all together and wind your way up and down Sunset Boulevard. Surface streets tend to work better when the freeways are jammed.
Beachwood is served by public transportation, the DASH - Beachwood Canyon, a shuttle that connects Beachwood Village to Hollywood. From there, you can connect to LADOT busses or the Red Line at Hollywood/Vine subway station. The Red Line is a fast, convenient way to get to Downtown L.A. or North Hollywood. Nearby neighborhoods and attractions:
Hollywood Bowl
Greek Theatre
Thai Town
Hollywood
Hollywood Walk of Fame
Bronson Canyon
Final Thoughts on Beachwood Canyon Living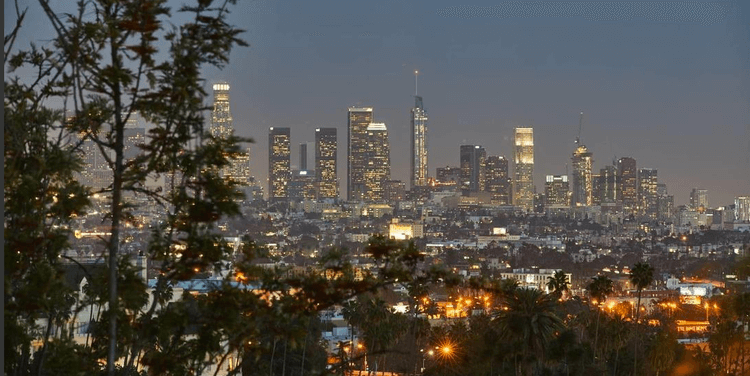 You can feel the rich history of early Hollywood as you stroll past fanciful, architecturally-diverse homes. This is hillside living at its best, with some of the finest view properties in Los Angeles.
While centrally-located in a big city, Beachwood Canyon feels like a private hideaway surrounded by nature. It's easy to hike during day and then cruise down the road for an evening of delicious Thai food and a concert. You're never far from the action. But if you prefer to hole up in the hills and work on your next screenplay, there may be no better place in Los Angeles to do it!