What's Inside Celebrity Homes?
Posted by Tony Mariotti on Tuesday, May 17, 2022 at 10:50 AM
By Tony Mariotti / May 17, 2022
Comment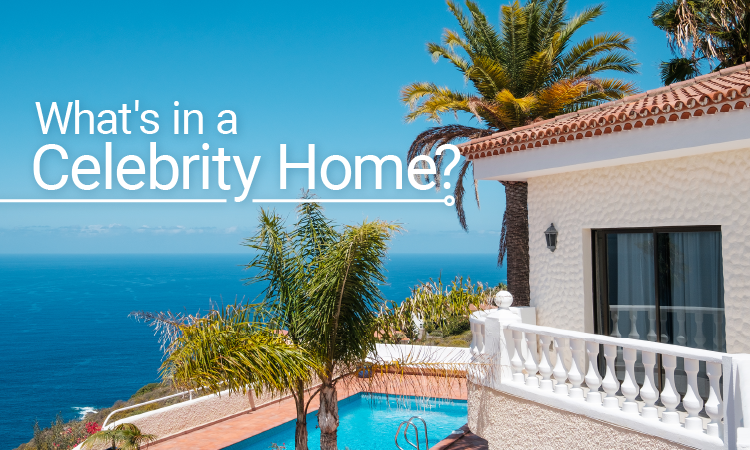 Inside Celebrity Homes? [Study]
Celebrity mansions are incredibly fascinating, often what many would dream of living in one day. From the outside alone, these homes exude wealth, either through their architectural style or more modern fittings. Some of the features on the inside could justify the expended high price tags. But if you want to live in a celebrity-style mansion, you may have to work for thousands of years at your current salary.
And in that vein, we have compiled data from 128 different celebrity homes, looking at the average cost per square foot, the luxury home features, and how long the average American would have to work at their current salary to afford such a residence. Keep reading to see what celebrity homes include and what you would need to do for one of your own.
Key Takeaways
The average celebrity home purchase price was just over $11.5 million and had an average interior size of over 10,000 square feet.
Jeff Bezos ($165 million), Beyonce Knowles and Jay-Z ($88 million), and Larry Ellison ($80 million) own the most expensive primary celebrity residences in America.
Roughly 2 in 3 celebrity homes are in the Los Angeles real estate market.
If they saved every penny, the average American would need to work 3,085 years to afford Jeff Bezos' home.
Of the celebrity homes studied, 91.7% had a swimming pool.
Some of the most unique celebrity home features included a bowling alley, an oxygen therapy room, and an underground vault.
Notoriously Lavish Homes
Our research kicks off with what everybody wants to know: How much do celebrities pay for their houses? Who has the most expensive residence? And can these enormous numbers be put into perspective? You'll find the visual answers to these questions below.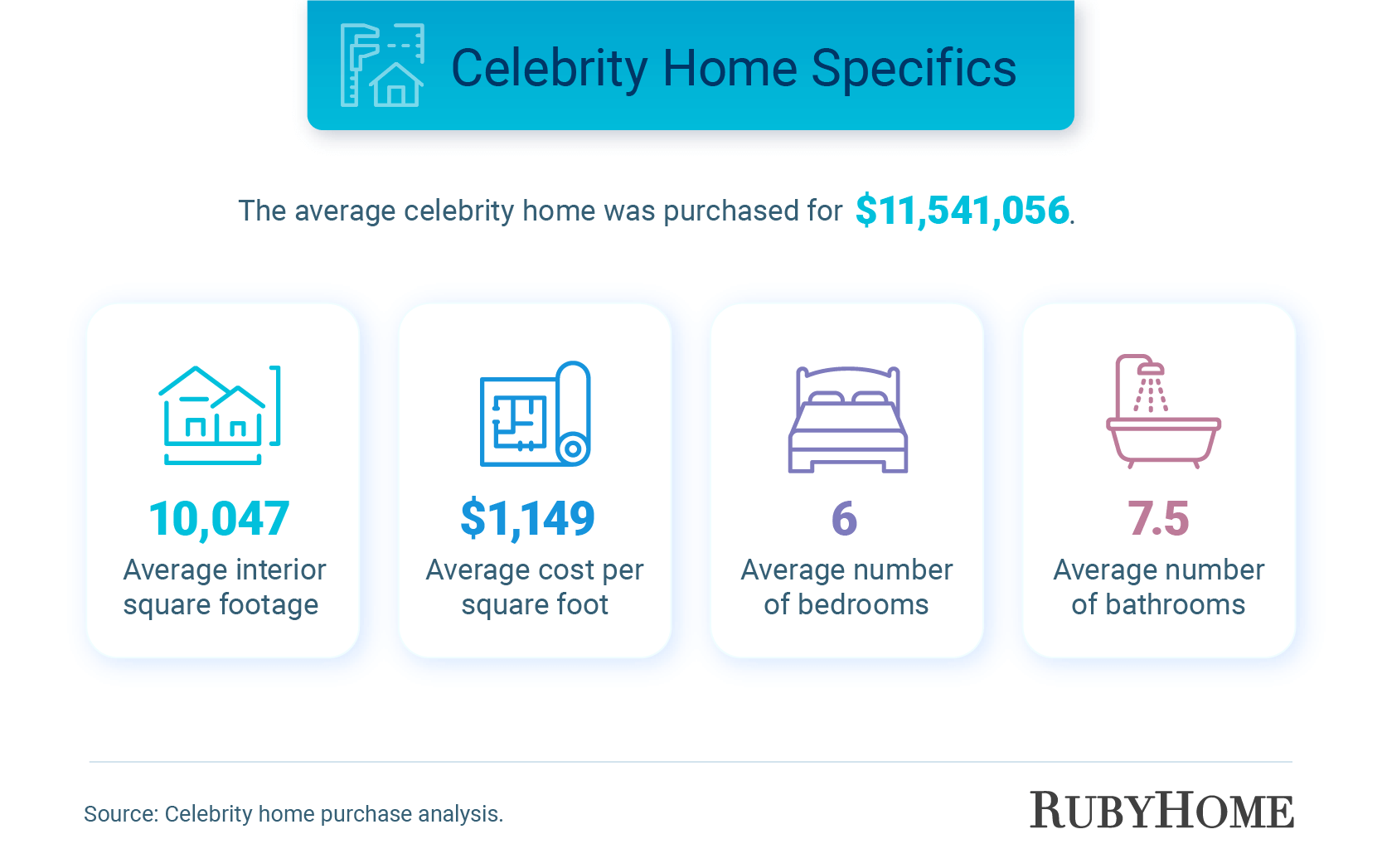 Of the 128 celebrity homes we studied, the average price was well over $11 million—$11,541,056 to be exact. This paid for an average of 10,047 square feet, six bedrooms, and 7.5 bathrooms. However, having additional square feet did not equate to a better price per-square-foot. While the average American pays approximately $122 per square foot, the average celebrity pays $1,149—nearly 10 times as much. Of course, the average American is also paying far, far less for their home overall—just under $375,000, on average. Predictably, nicer locations and amenities increase the cost of every inch purchased.
Although no longer the richest man on earth, Jeff Bezos does have the most expensive celebrity home. His primary residence (only one of several) was purchased for $165 million. He spent almost double the cost of the next-most expensive celebrity home, that of Beyonce Knowles and Jay-Z, purchased at $88 million. Bezos also forked out over 4,000 times more than the amount spent by the new richest man on earth, Elon Musk. After tweeting that he wished to "own no home," Musk bought a very modest $50,000 unit. You may also notice that Warren Buffett's name is missing from this list—the business magnate lives in a relatively modest family home in Omaha.

Two in 3 celebrity homes were in or around Los Angeles, California (including those of Bezos and Beyonce). LeBron James' $36.8 million residence is in Beverly Hills, Kylie Jenner's $36.5 million estate is in Holmby Hills, and George Lucas' $33.9 million mansion is in Bel Air. A few famous people did opt for the opposite coast while maintaining the luxury of their West Coast peers. Larry Ellison, for instance, spent $80 million on his North Palm Beach, Florida, residence, while Tiger Woods spent $40 million to live in Jupiter, Florida. Madonna, Hugh Jackman, and Woody Allen spent $32.5 million, $25 million, and $22.6 million on their residences in New York City, respectively.
Luxury Made Tangible
If these numbers are difficult to wrap your head around, the next section of our research may help. Here, we compared the total cost of celebrity homes with the average American salary to determine how many years of work it would take for most people to afford these aspirational abodes.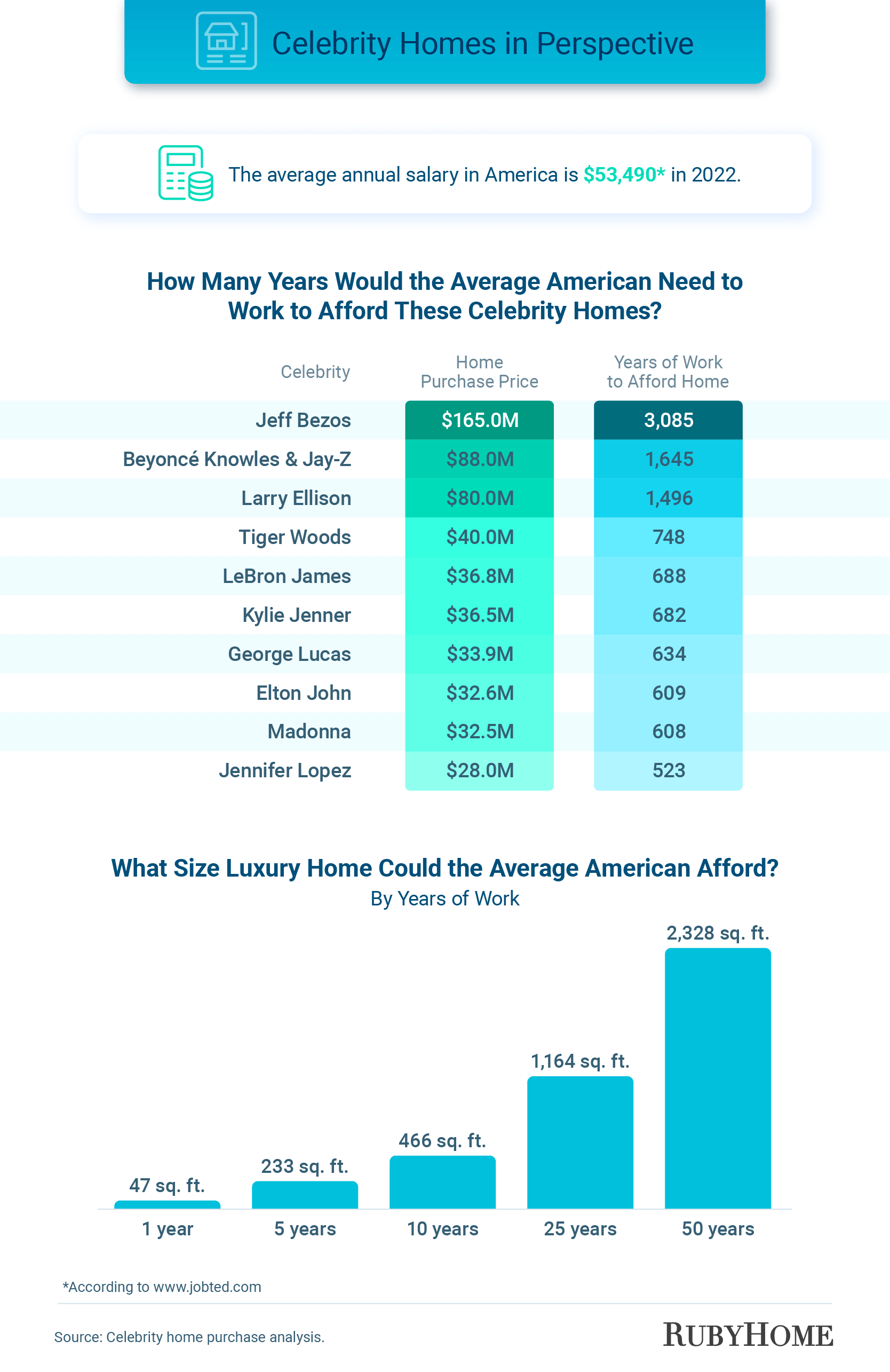 In 2022, the average American salary is $53,490 per year, according to Jobted. At this rate, you would need to work (and save every penny) for 3,085 years to afford Jeff Bezos' home—more than 40 average lifetimes. To afford something more "modest," like Beyonce and Jay-Z's $88 million mansion, you would have to work for 1,645 years. Even Jennifer Lopez's $28 million home would require 523 years of work.
The extravagance feels more pronounced when portrayed in multiples of your lifetime. Looking at these figures slightly differently, the math also shows that the average employee would need to work for 50 years to afford a home over 2,300 square feet—almost 8,000 square feet smaller than the average celebrity home.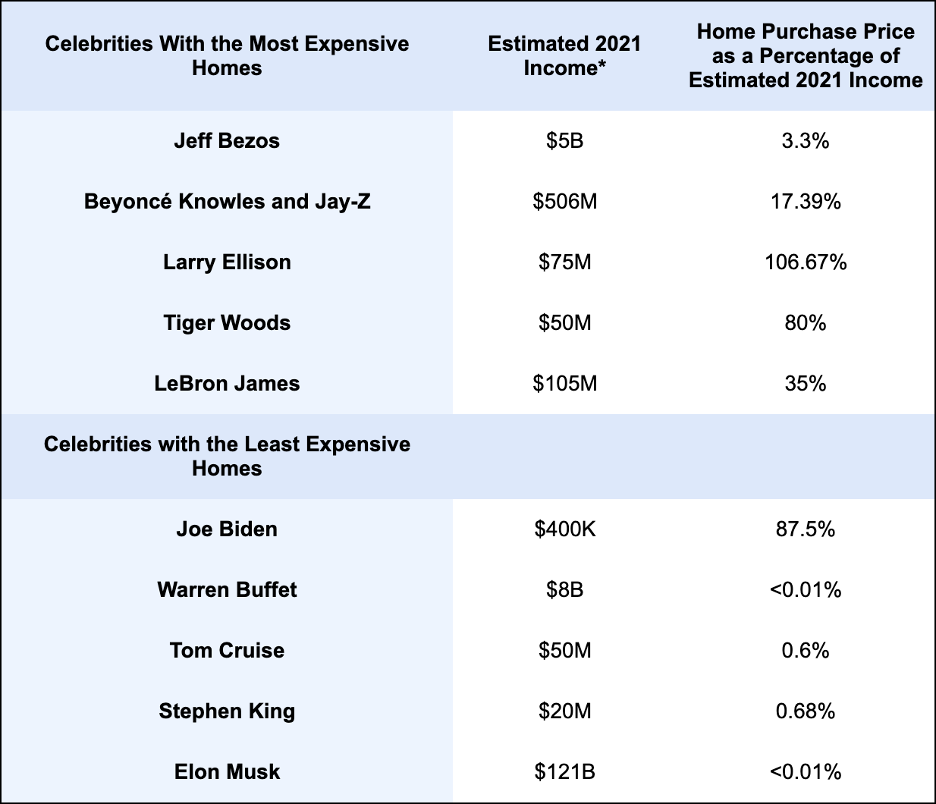 *Sourced from Bloomberg Billionaires Index
Celebrities can afford these homes because they receive significantly more money per year than $53,490. Jeff Bezos, for example, took home an estimated $5 billion in 2021 alone. Therefore, his $165 million house cost just 3.3% of what he made in one year. That said, house prices weren't a drop in the bucket in terms of percentage for everyone. Larry Ellison spent more than 100% of what he made in 2021 on his home, while Joe Biden spent 87.5% of his annual salary on his $350,000 home. However, these annual incomes are not representative of their total net worth.
Celebrity Homes' Interior
So for what exactly are celebrities dishing out these millions? Our final piece of research reveals the most common interior and exterior features of the 128 celebrity homes studied.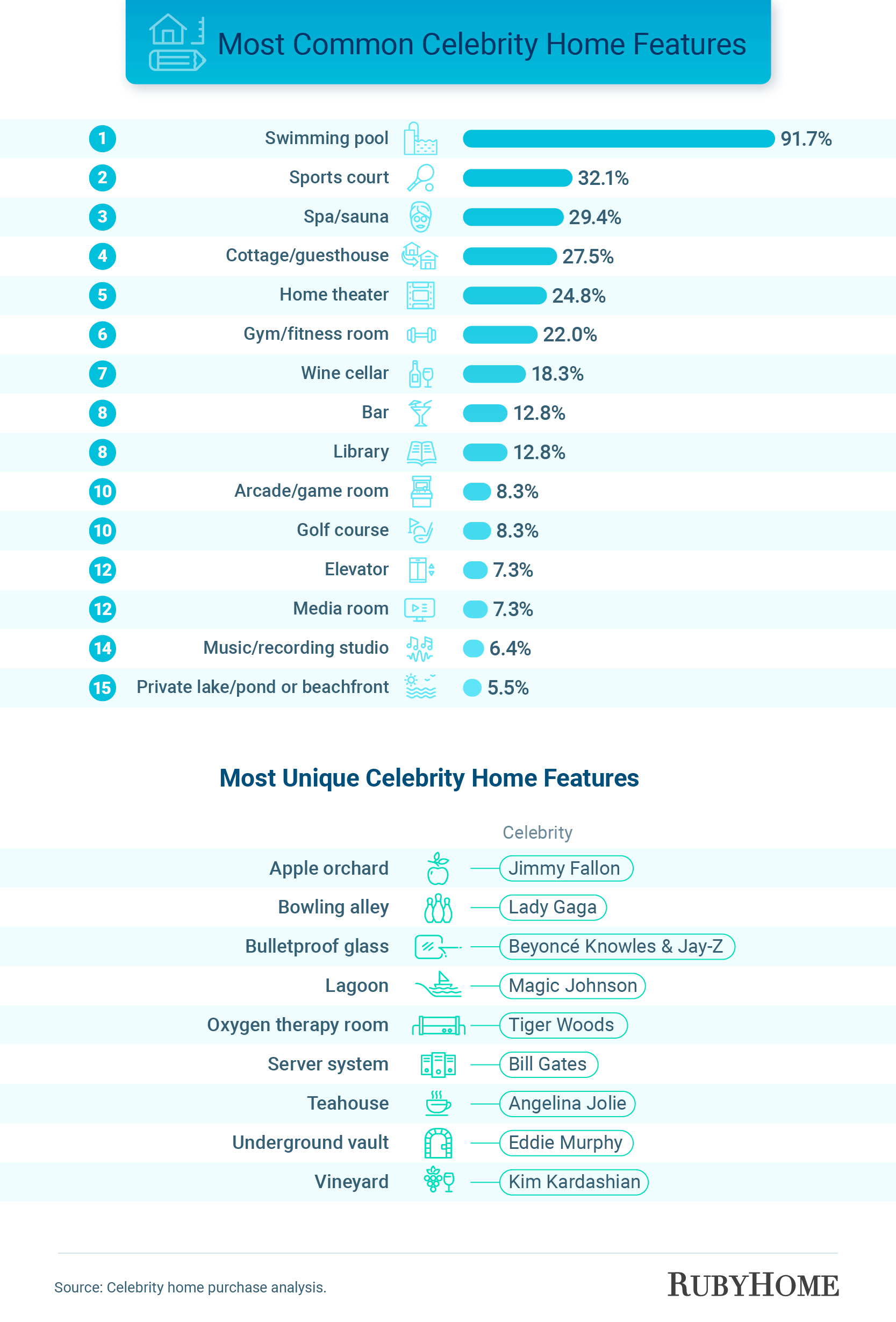 Very few celebrity homes are complete without a swimming pool. More than 9 in 10 celebrity houses included one—and not just any swimming pool. Magic Johnson, for instance, actually has an artificial lagoon. Swimming wasn't the only lavishly catered-to physical activity. Nearly a third had some type of sports court, such as a tennis or basketball court. Twenty-two percent also had a gym or fitness room. And Tiger Woods wasn't the only one to have a golf course on his property. In fact, 8.3% of all the homes featured a golf course component.
On the less physical (yet still lavish) side, 18.3% had a wine cellar, while 12.8% had a bar. Kim Kardashian even has an entire vineyard on her property. On the fun side, Lady Gaga has a private bowling alley. Not all expensive features were necessarily fun and games, however. Many features were clearly intended for their owners' health and security. Beyonce and Jay-Z have bulletproof glass, Eddie Murphy has an underground vault, and Tiger Woods owns an oxygen therapy room.
Summary
Celebrity homes aren't just costly: Some are so expensive they're worth more than most people will see in multiple lifetimes. The average American would have to work for more than 3,000 years to buy Jeff Bezos' home or several hundred years to afford Kylie Jenner's abode. Often, some of this astronomical cost is attributed to features such as a fantastic swimming pool or a place to play sports at home. But the definition of opulence can begin way before checking either of those boxes.
About RubyHome
RubyHome is a luxury real estate brokerage based in Los Angeles and operates in several West Coast markets.
Methodology and Limitations
We compiled a list of celebrities and billionaires across numerous professions and industries who have primary residences in the United States for this study. For each, we researched the most recent articles mentioning their current primary living residence. Specifically, we gathered home location, purchase price, interior size, number of bedrooms, number of bathrooms, and specific features of the home that stood out. In total, we collected this data for 128 celebrity homes. All mentions of home price throughout the study refer to purchase price.
Fair Use Statement
Want to give the rest of your audience a peek into America's most expensive celebrity homes? You're welcome to share this research; just be sure you link (dofollow) back to this page, and your purposes are noncommercial.