iBuyer Statistics (2023)
Posted by Tony Mariotti on Sunday, April 2, 2023 at 2:45 PM
By Tony Mariotti / April 2, 2023
Comment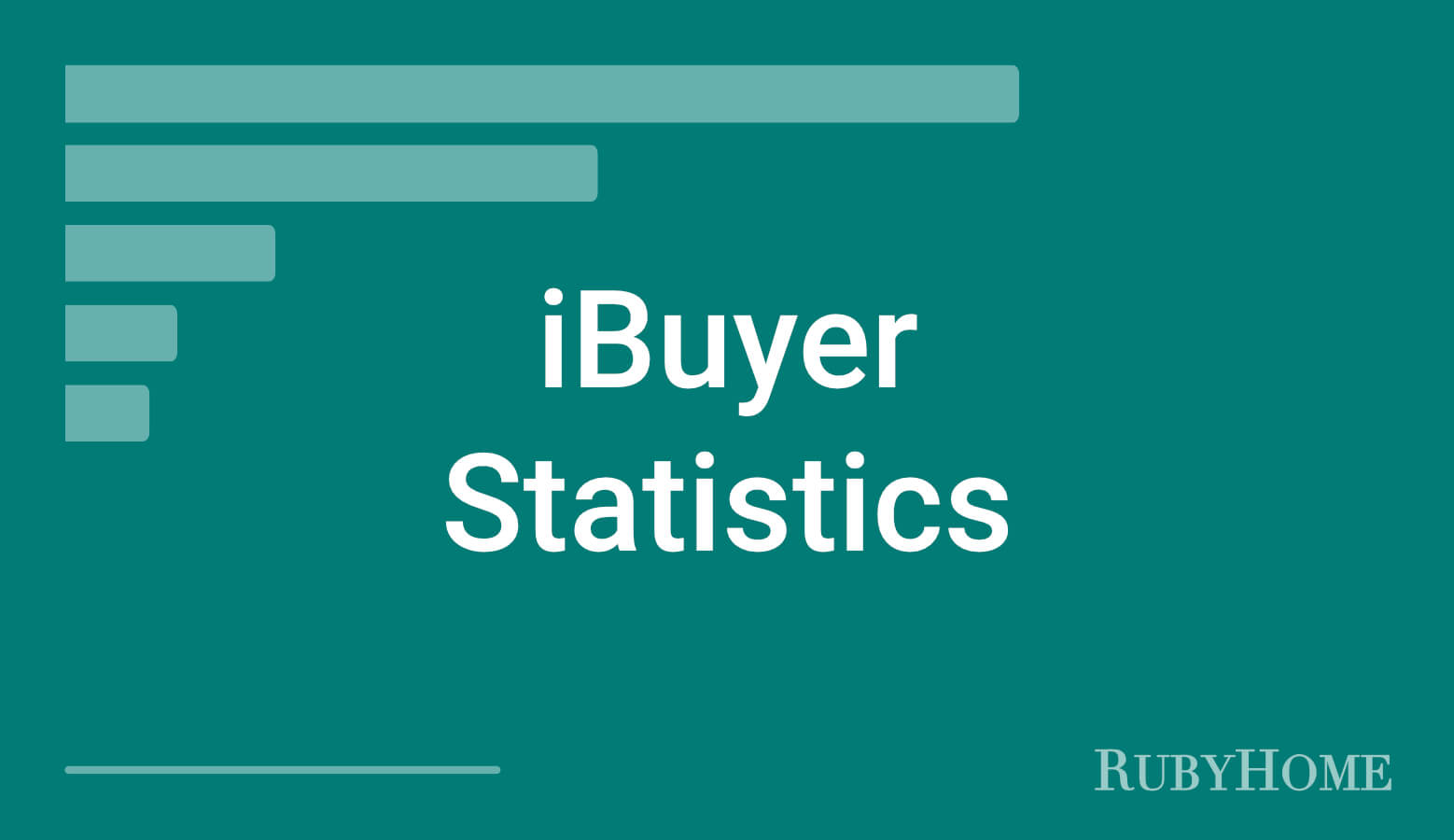 What is an iBuyer?
An iBuyer, or "instant buyer," is a real estate company that uses algorithms and technology to buy and resell homes quickly. The model was first introduced to the U.S. market in 2014 by Opendoor, the current largest U.S. iBuying company.
From the vital iBuyer's statistics to industry profitability, here's a summary of what you'll find in this post, part of our real estate stats series:
iBuyer Key Stats
1% of the U.S. single-family homes were sold to iBuyers in 2022.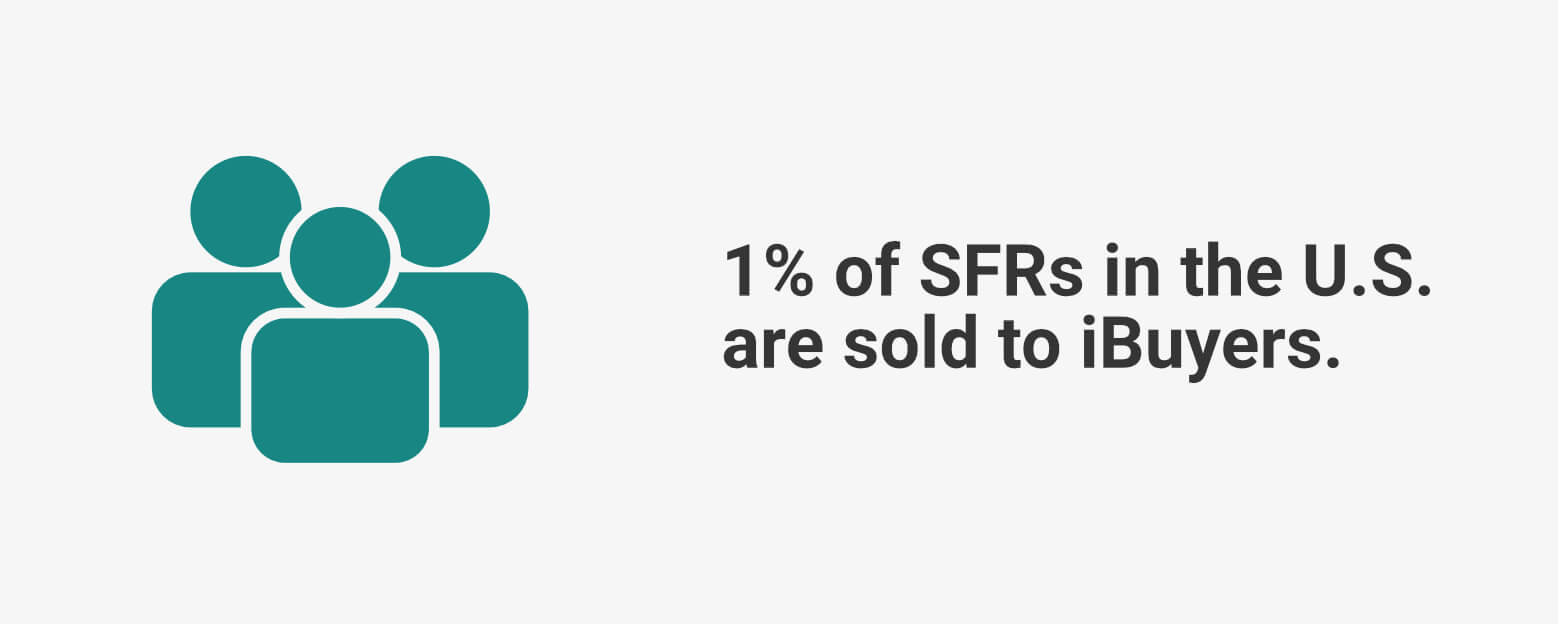 In Atlanta, 6% of residential homes were sold to iBuyers in 2022.
Opendoor and Offerpad combined contributed most of the sales in the iBuyer segment in 2022.
Opendoor generated $15.6B in revenue, or 79% of total sales in the iBuyer market, in 2022.
Opendoor and Offerpad reported net losses of $1.4B and $148.6M, respectively, in 2022.
In November 2022, Redfin shut down its iBuying operations, citing the increased cost of financing as a primary concern.
In August 2022, Opendoor was fined $62M by the Federal Trade Commission for misleading its customers into believing that Opendoor paid more for homes than the open market.
Since December 2022, Offerpad has remained under the threat of being delisted from the New York Stock Exchange as the company's shares plummeted.
How iBuying Works
With iBuyers, homeowners can receive cash offers for their qualifying homes in as few as 24 hours. Getting paid quickly is the main benefit for the sellers who do not need to list the home with an agent, pay for property photos, open the home to showings and open houses, negotiate with buyers, or wait for a 30-day escrow period. However, the main drawback is the seller recieves a lower price compared to what their home could fetch on the open market.
After purchasing a home, iBuyers resell it for profit through their digital platforms. iBuyers operate on tight margins and must resell quickly to minimize their holding and interest costs. Slim margins make iBuyers especially sensitive to market fluctuations – a slight decline in average home prices may turn iBuyer's business profitability upside down.
Homes that iBuyers Want to Buy
iBuyers are often confused with house "flippers," but the iBuying model is different. iBuyers view homes as a commodity and look for properties that match the following description: "averagely priced and sized, without customizations, and in good shape."
Here are the attributes of a home that all iBuying companies want:
Types of Properties: Single-family residences, condos, and townhouses
Lot Size: 0.5 - 1.5 acres
Valuation: $100K - $600K
Interested in reselling homes as quickly as possible, iBuyers look for properties in a good-to-great shape, with minimal or no improvement needed.
| What an iBuyer Wants | What an iBuyer Doesn't Want |
| --- | --- |
| Ready-to-market with no repairs or renovations | Fixer-uppers or homes that require extensive work. |
| Median value homes that are close to the average fair market price. | Luxury homes or homes are priced higher than the area's median value. |
| Basic or standard blueprints with no customizations. | Unique or custom features or fixtures. |
| Modern construction though not necessarily new. | Old with construction dating back 50 years or more. |
iBuyer Market Share
In 2022, iBuyers accounted for about 1% of the total U.S. sales of single-family homes, a 23% decline from 1.3% the previous year.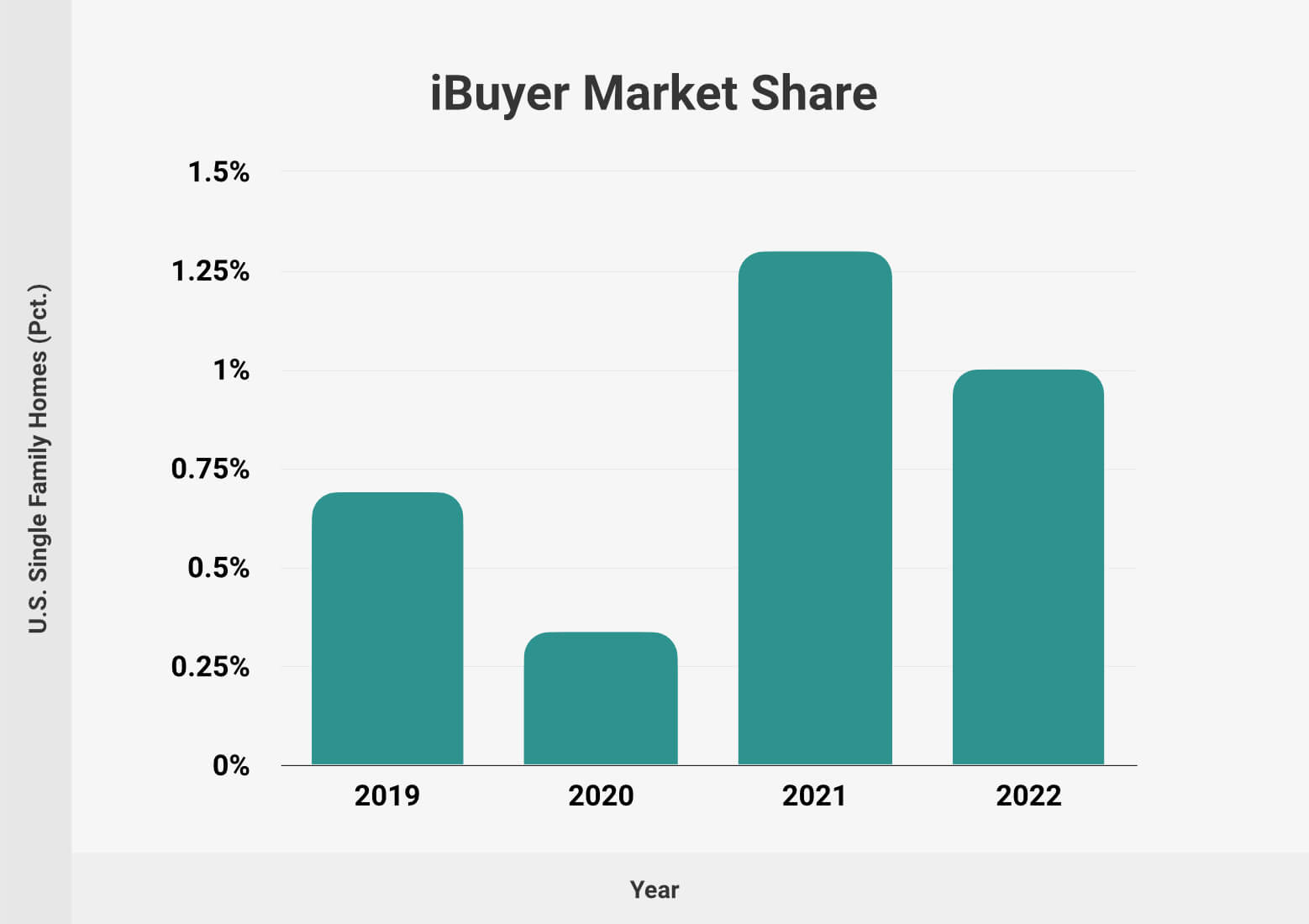 Here is a table showing the data for iBuyer market share since 2019.
| Year | Homes Sold in U.S. | Homes Sold to iBuyers | iBuyer Market Share |
| --- | --- | --- | --- |
| 2019 | 4,765,000 | 32,726 | 0.69% |
| 2020 | 5,066,000 | 17,224 | 0.34% |
| 2021 | 5,413,000 | 70,369 | 1.3% |
| 2022 | 4,480,000 | 44,800 | 1% |
How we calculated: 4,480,000 single-family homes were sold in the U.S. in 2022. Of these, 34,962 homes were sold to Opendoor, and 9,034 homes were sold to Offerpad, the two largest companies dominating the iBuyer segment. 43,996 single family homes were sold to Opendoor and Offerpad together, or 1% to the total U.S. market.
Sources: NAR, Opendoor, Offerpad

With Redfin closing its iBuyer operations, Opendoor and Offerpad dominated the iBuyer market in 2022. With insignificant contributions from the smaller players, the market leader Opendoor accounted for roughly 79% of the total iBuyer market segment.
Here is a breakdown of Opendoor's and Offerpad's market share in 2022.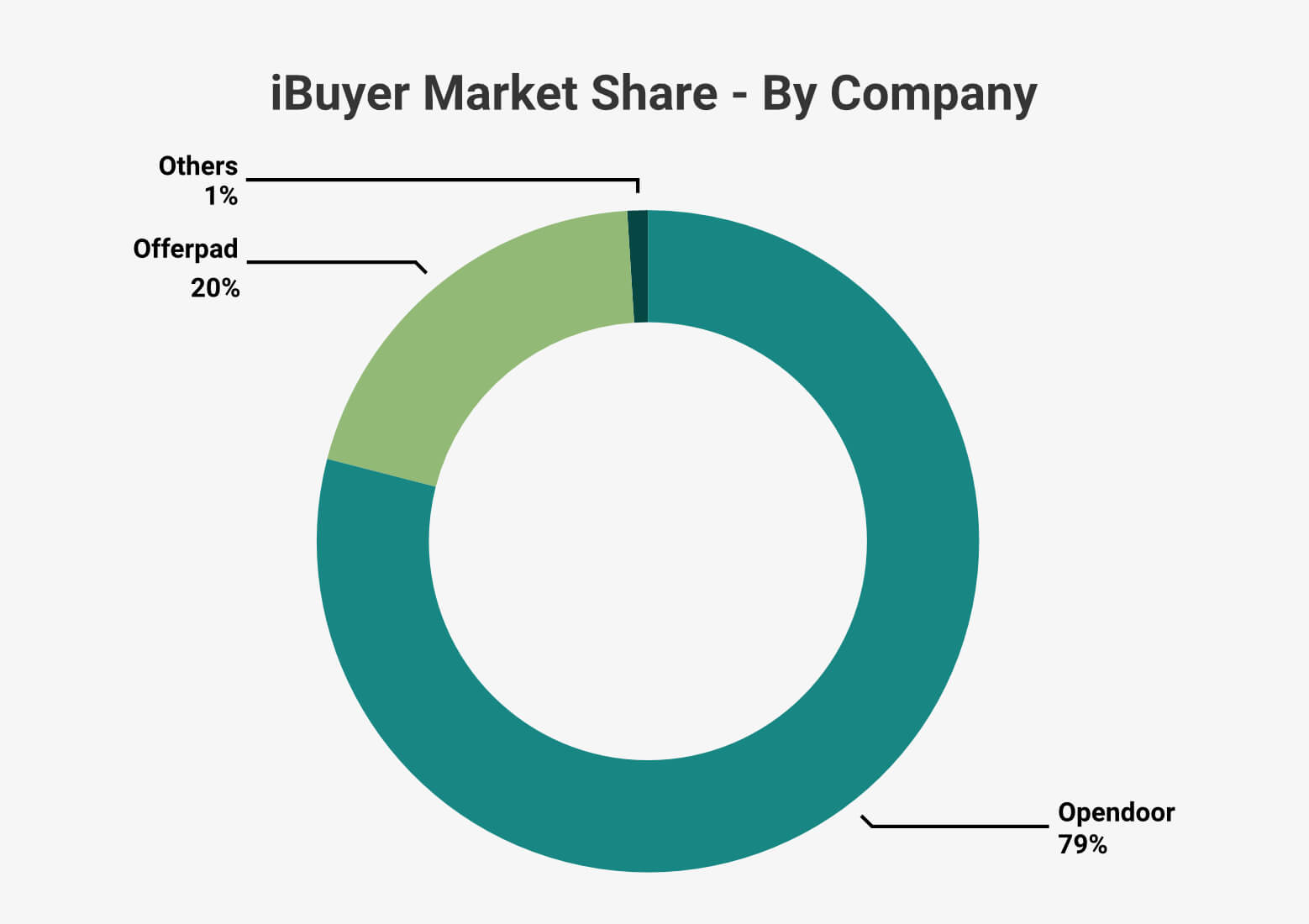 Here is a table of iBuyer market share, by company and by year.
| Year | Opendoor | Offerpad | Others |
| --- | --- | --- | --- |
| 2019 | 64% | 16% | 20% |
| 2020 | 48% | 24% | 28% |
| 2021 | 51% | 13% | 36% |
| 2022 | 79% | 20% | 1% |
Top iBuyer Companies
Because iBuyers purchase homes for cash rather than financing, the iBuyer market is capital-intense and driven by well-funded, multi-billion-dollar public companies (no scrappy start-ups here).
Two of the four leading players, Zillow and Redfin, have recently exited the market due to their inability to support the iBuying model. The two remaining large companies that still operate in the iBuyer segment are Opendoor and Offerpad.
2022 was a challenging year for iBuyers due to the downturn in the U.S. residential market and the rising cost of financing.
Opendoor and Offerpad held home inventories acquired in the previous year at the peak of housing prices. Selling those inventories at lower prices in 2022 reduced those two companies' home resale margins by nearly 60%. Rising interest rates also slowed home sales and increased expenses for new acquisitions.
Opendoor
Despite generating $15.6 billion in annual revenue in 2022, Opendoor reported a $1.4 billion net loss at the end of the year. To minimize its operating expenses, the company terminated 18% of its sales force, shut down its mortgage and brokerage operations, and reduced its home acquisition by 45% in Q3 and Q4 2022.
In August 2022, the Federal Trade Commission fined Opendoor $62 million "for cheating potential home sellers by tricking them into thinking they could make more money selling their home to Opendoor than on the open market using the traditional sales process."
Offerpad
Offerpad reached $4 billion in revenue in 2022, a 91% increase over the previous year. Offerpad reported a net loss of $148.6 million in 2022, including $94 million in inventory impairments.
In December 2022, the New York Stock Exchange notified Offerpad that the company might be delisted if its stock traded below $1. Offerpad has been trading at $0.48 – $0.75 per share in the most recent 6-month period.
Largest iBuyer Markets
With low home resale margins, iBuyers aim to improve their bottom lines by increasing transactional volume. Thus, iBuyers are relentlessly expanding geographically and developing new markets, even when times are tough.
In 2022, Opendoor added seven new markets and operated in 51 U.S. metro areas. Offerpad added five new markets in 2022 and reached 29 U.S. markets.
iBuyers primarily focus on developing new lucrative metro areas located on the south and west coast of the U.S.
In 2022, Atlanta, GA, had the largest share of iBuyer transactions, where iBuyers accounted for nearly 6% of the total market transactions. Here are the top 10 U.S. metro areas by the iBuyer share: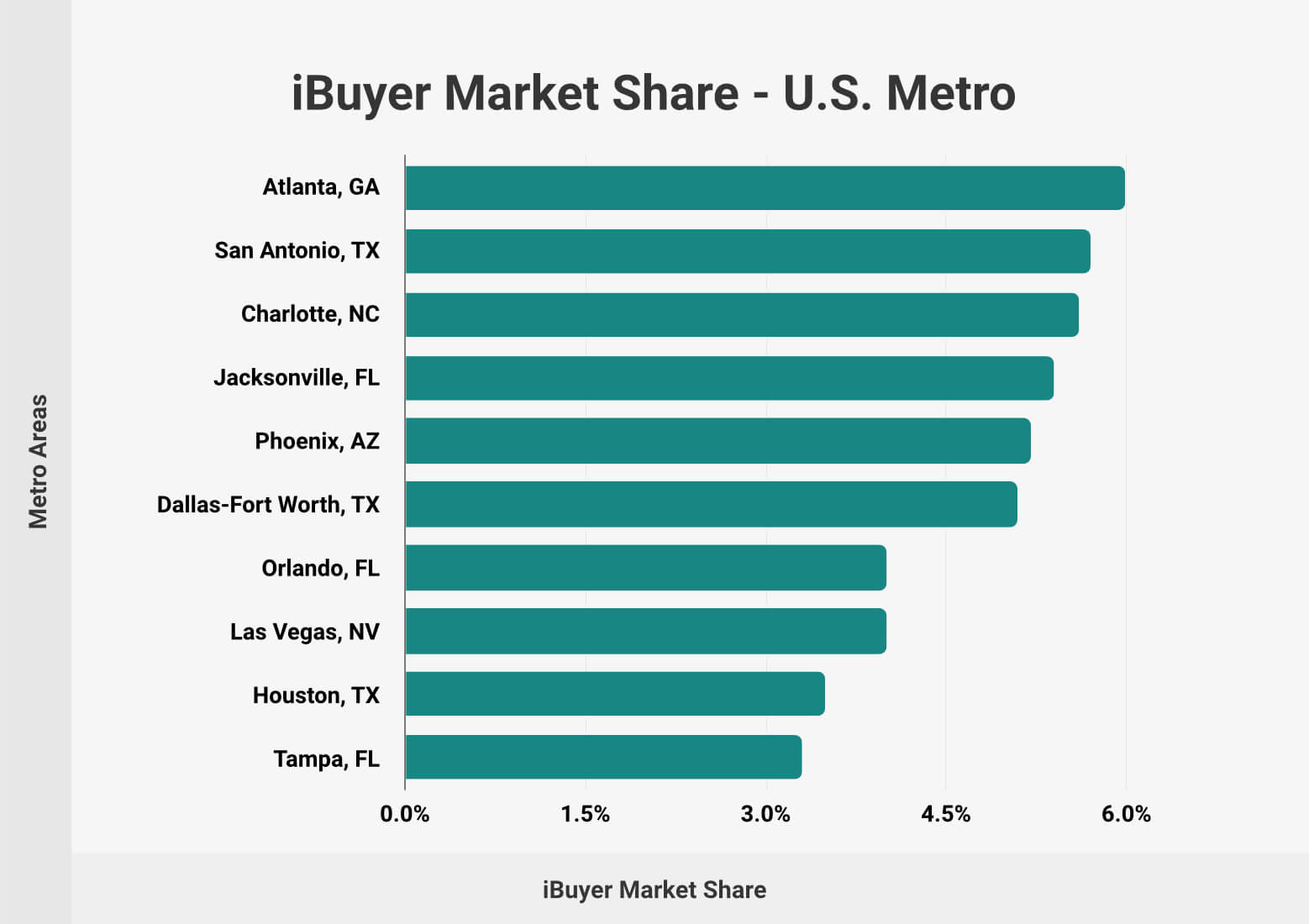 Here is a table of the largest iBuyer markets by share:
| U.S. Metro Area | iBuyer Share |
| --- | --- |
| Atlanta, GA | 6.0% |
| San Antonio, TX | 5.7% |
| Charlotte, NC | 5.6% |
| Jacksonville, FL | 5.4% |
| Phoenix, AZ | 5.2% |
| Dallas-Fort Worth, TX | 5.1% |
| Orlando, FL | 4.0% |
| Las Vegas, NV | 4.0% |
| Houston, TX | 3.5% |
| Tampa, FL | 3.3% |
Source: Zillow
Do iBuyers Make Money?
iBuyers have three primary sources of revenue: service fee, closing fee, and home resale margin.
The service fee is the iBuyer's equivalent of the agent's commissions. The home sellers pay the service fee, typically 5%.
The closing fee includes title insurance, loan fees, and other ancillary services that iBuyers provide (if any). The closing fee is paid by the home buyers, typically 2.5%.
Resale margin is the difference between what the iBuyer paid for a home and how much they sell it for, typically 4% - 12%.
The resale margin is the primary source of revenue for iBuyers. Unfortunately, when the residential real estate market slows and home prices drop, resale margins decrease, impacting profitability.
For sellers, the resale margin is their opportunity cost. With only one offer from an iBuyer -- a single opinion of value – home sellers miss their chance to attract as many interested buyers as possible. Essentially, by working with an iBuyer, home sellers trade convenience for price discovery on the open market.
iBuyer Revenue Growth
Over the past few years, iBuyers demonstrated impressive revenue growth. Opendoor generated $15.6 billion in revenue in 2022, a nearly 94% increase compared to 2021. Offerpad reached $4 billion in revenue in 2022, a 91% growth over the previous year.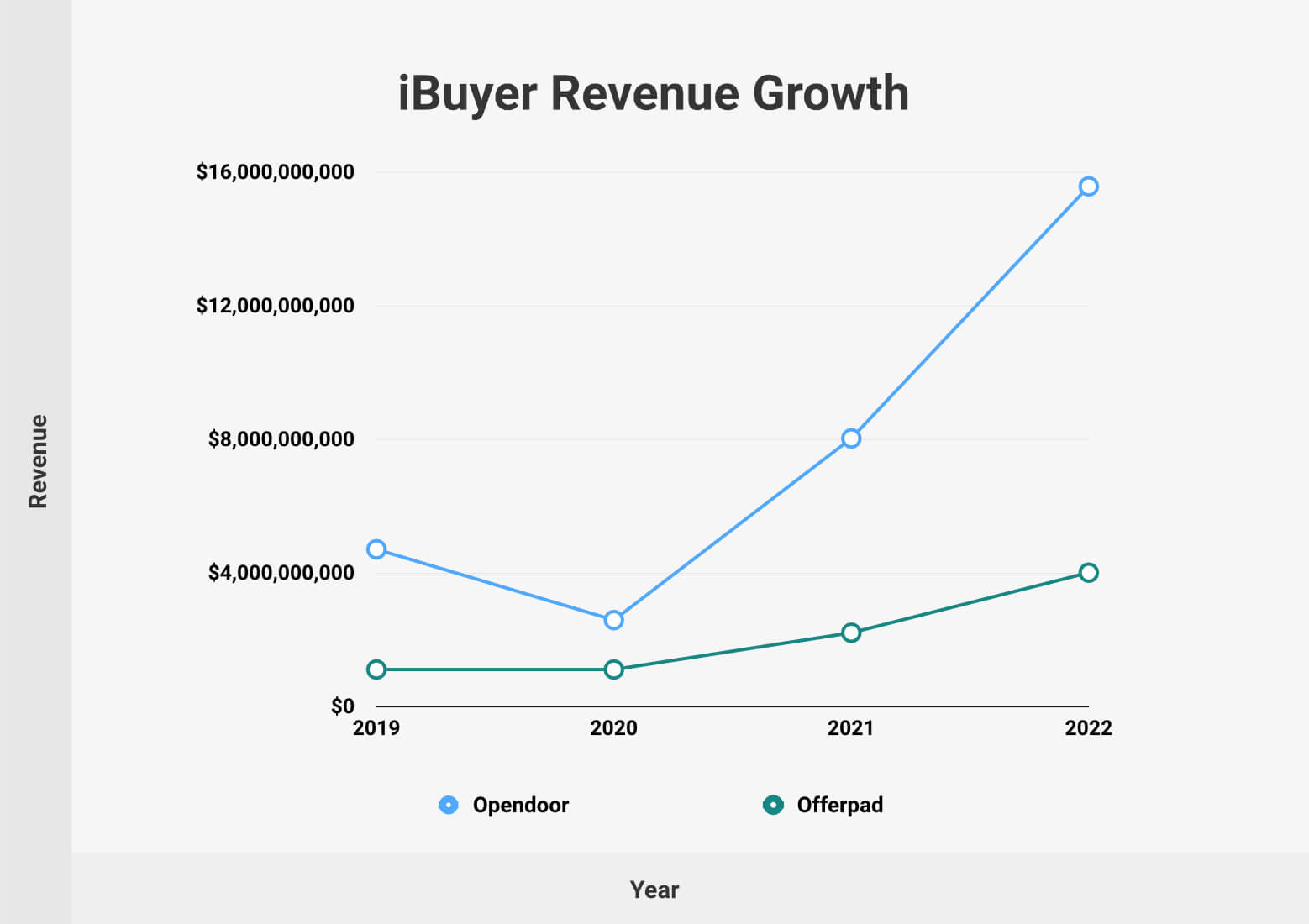 Here's a breakdown of Opendoor and Offerpad revenue since 2019:
| Company | Opendoor | Offerpad |
| --- | --- | --- |
| 2019 | $4,700,000,000 | $1,100,000,000 |
| 2020 | $2,580,000,000 | $1,100,000,000 |
| 2021 | $8,020,000,000 | $2,200,000,000 |
| 2022 | $15,567,000,000 | $4,000,000,000 |
iBuyer Profits
Despite the high revenue growth, the iBuyers' profitability has been slim-to-negative.
Opendoor reported an income loss each year the company has been in business. Offerpad had a profitable year once – in 2021 - at the housing market's peak.
In 2022, Offerpad posted a net loss of $148.6 million, and Opendoor reported a net loss of $1.4 billion on top of sizeable historical losses.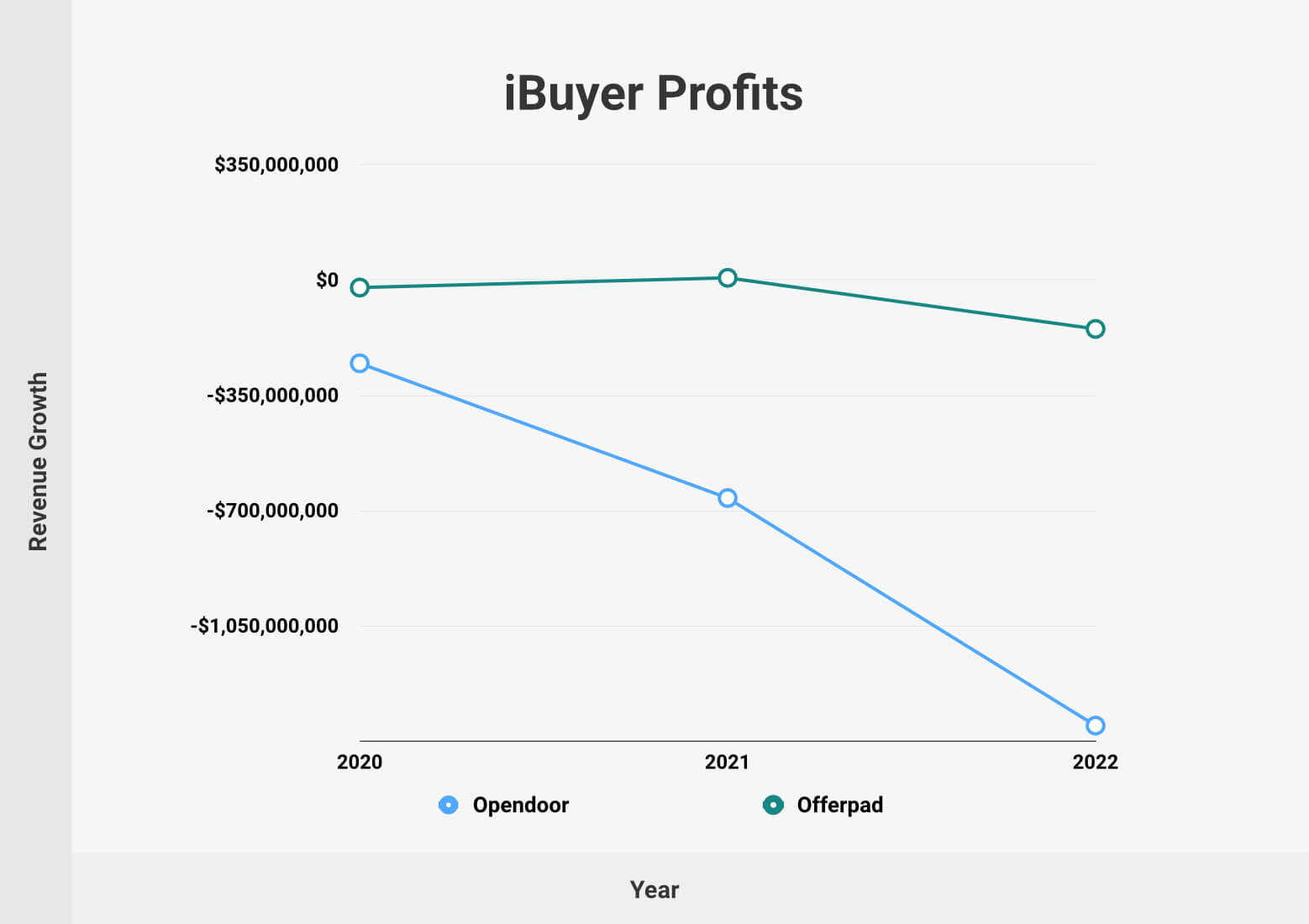 Here's a breakdown of Opendoor and Offerpad's net income since 2020.
| Year | Opendoor | Offerpad |
| --- | --- | --- |
| 2020 | ($253,000,000) | ($23,000,000) |
| 2021 | ($662,000,000) | $6,500,000 |
| 2022 | ($1,353,000,000) | ($148,600,000) |
Conclusion
iBuyers have been generating remarkable revenue volumes. They've also been losing money yearly, bearing a question of viability.
The current iBuyer market is down to two large companies, and their investor support is dwindling. Initially excited about the revenue growth, the investors are now paying more attention to profitability and other indicators attributed to a healthy business, putting significant pressure on iBuyers to turn things around or quit.