What to Do With Pets When Selling Your Home [Pro Tips]
Posted by Tony Mariotti on Tuesday, May 2, 2017 at 11:27 AM
By Tony Mariotti / May 2, 2017
Comment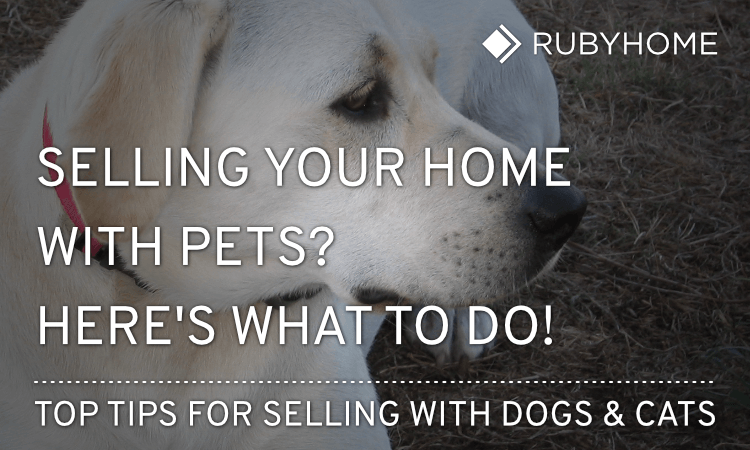 Many Homes on the Market Have Pets
One big goal, when selling your home, is to make it appealing to the widest possible audience. Sellers routinely spruce up their homes and sometimes go as far as professional staging. Whatever you decide, selling a home with pets deserves special consideration and extra effort to make it attractive to the greatest range of potential buyers.
In addition to cleaning and preparing your home, you'll need to start thinking about how you'll manage your four-legged (or two-legged, for those who have birds) family members while your house is on the market and shown to prospective buyers.
You're not alone. Pets are ubiquitous in American households. According to the American Veterinary Medical Association, over 40 million U.S. households have companion animals (dog or cat) within the home.
| | Dogs | Cats | Birds |
| --- | --- | --- | --- |
| Households owning (pct.) | 36.5 | 30.4 | 3.1 |
| Households owning | 43M | 36M | 3.7M |
| Number owned per household (avg.) | 1.6 | 2.1 | 2.3 |
| Total number in United States | 70M | 74M | 8.3M |
Family pets hold a special place in the hearts of the home sellers, no doubt. Many buyers may also have pets. But, when their focus shifts to assessing a highly-considered purchase, such as a home, pets can become a potential hindrance in several ways.
1. Animals can become nervous and unpredictable when strangers enter your home.
Many animals freak out when they encounter strangers in their home. Homes are a well-defined territory, something to defend against intruders.
Dogs have a tendency to bark. Barking creates a pretty big distraction that will make it difficult for buyers to focus on features of your home. Visitors should be able to inspect and assess without interference – to notice the gorgeous view, custom cabinets or other details that make your house a compelling place to live.
Pets can make prospective homebuyers nervous, especially for homebuyers who come to view your home with their children.
Furthermore, there's a safety issue with pets and home showings, a potential legal liability. State Farm reports an average $30k payout per dog bite claim in California. While preparing to sell your home, it's a good idea to check your current coverage and homeowner's insurance policy.
2. Home shoppers may have pet phobia.
My mother is frightened of flapping bird wings. While it's easy to label this as an irrational fear, I do recall her telling me once (jokingly), when I was very young, "When you grow up and buy a house, if you ever want to keep me away, get a bird." She later explained that, as a young woman, she'd seen Alfred Hitchcock's The Birds which has made her uncomfortable around birds ever since. Suffice to say, Mom wouldn't feel very comfortable viewing a home for sale with any birds inside, caged or not.
I called Mom, while writing this post, to confirm the details regarding the incident above and she recounted this gem, too: she once viewed a property for sale and was greeted by two Dobermans that came running around the side of the house. Raised with dogs all her life, she knew how to manage the situation. Suffice it to say, it was still pretty scary.
I'm sure if you ask around, you'll find many anecdotes about home selling and pets. Your goal is to prevent the kind of conditions that might lead to a real estate nightmare!
3. Prospective buyers may have severe pet allergies.
One in ten people is allergic to household pets. As a home seller with pets, who wants to make your home appealing as possible, that's not a ratio you can ignore. In fact, children between ages six and nineteen are more likely (14%) to have a pet allergy. Given these statistics, if a family of four comes to view your home, there's a good chance one of them could react to pet dander.
4. Buyers may not have pets or allow them indoors.
Homebuyers with no pets, nor the desire to have any, may look particularly close for indications of wear and tear on the property during the showing. They'll be less tolerant of imperfections.
Similarly, some pet-owning home shoppers may prefer to keep their furry friends outdoors. They may be equally concerned with the effect pets sometimes have on the condition of the home.
Here's the impression you'll want to give: "Gee, the owners had a dog and cat, but their home is so clean. It probably doesn't matter." What follows are simple solutions to achieving the best presentation of a pet-inhabited home.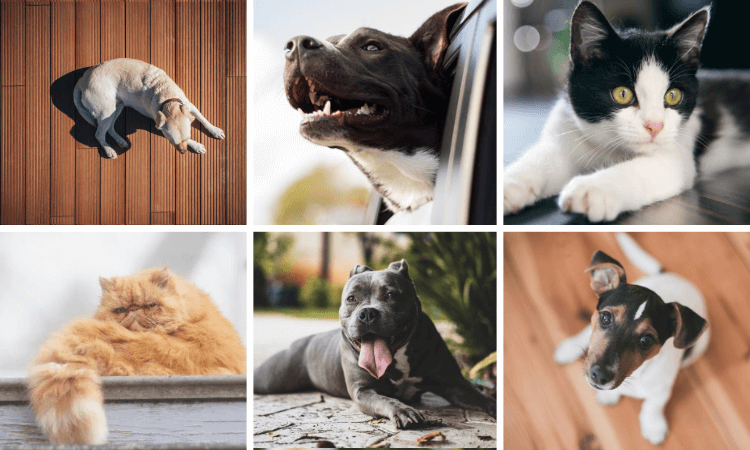 Prepare to Sell Your Home With Pets
When you put your house up for sale, it's no longer about you or Fido. This is the time to create an environment that gives potential buyers a more favorable impression of your property; one in which they can visualize making their future home.
Home sellers are likely to be emotionally attached to their home and equally emotionally attached to their pet(s). This is human nature. But given potential concerns of buyers outlined above, it behooves you to make an effort to leave very little evidence (sight, sound or smell) of pets that reside in your home.
Here are some ways clean and minimize any concerns home buyers may have.
Declutter
Presenting a clutter-free home to potential buyers is widely regarded as one of the basic "best practices" for sellers. Every good listing agent will recommend it.
With pets, decluttering requires even more diligence. Make sure all the pet accouterments (pet toys, bedding, etc.) are clean, consolidated and stowed away. Don't forget to tackle your front and back yards, too.
Deodorize
Pet odor is one of the trade-offs of pet ownership. First and foremost, make sure the property is free from animal droppings. Inside and out. I know a buyer who saw turtle droppings on the floor while viewing a home. Her only comment was, "How tidy are these people?" If a seller leaves dung plainly scattered about, what less visible filth is in store? Suffice it to say, she didn't walk away with a favorable impression.
Professional Carpet Cleaning
Carpet cleaning should be part of your overall home cleaning operation. Professionally cleaned carpets look best and leave a good impression with prospective buyers. What's more, professional cleaners have the chemicals and tools to handle spot cleaning – which is especially helpful for pet-stained areas and spots made by humans, like spilled espresso (the creation of which of which I am guilty). Whoever is hired can tackle the tough stains that need extra attention.
DIY Carpet Cleaning
While professional cleaning comes highly recommended, you can save a few bucks by renting a steam machine from your local hardware store. You even can make your own (safe and natural) cleaning solution to use with the steamer or for spot cleaning.
Homemade carpet cleaning solutions are easy to make because they use common household ingredients like vinegar, baking soda and dishwashing liquid. You might want to consider adding citronella oil (or another essential oil) to leave behind a pleasant scent. Add the following to a small spray bottle:
1 cup warm water
1 tsp. dishwashing liquid
1 tbs. white vinegar
1 tsp. baking soda
(Optional) a few drops of essential oil (depending upon concentration)
Replace Carpet / Treat Subfloor
Sometimes home sellers will need to dig deeper to get rid of pet odors. Carpets saturated with pet smells may need to be replaced. What's more, subfloors might need special attention. In really tough cases it may also be necessary to spray the woodwork underneath the house with a straight vinegar and water solution. A pump sprayer, like the ones used for gardening) will come in handy.
Drapes
For severe cases of pet odor permeating a home, dry cleaning draperies may be necessary.
Area Cleaning
Some rambunctious pets do a fantastic job of smashing their noses or paws against glass surfaces. Pay special attention to cleaning windows and sliding doors. Foyers and hallways (tile, wood floors, etc.) can also accumulate grime that requires a good cleaning.
Invite family or friends to do a "smell check" after you've cleaned and removed pet toys, washed bedding in hot water, and sealed food in an air-tight container. A visitor walking into any portion of the house shouldn't be hit with the smell of wet dog or the kitty's sandbox.
Repair Pet Wear and Tear
Does Fluffy like to scratch the carpet to sharpen her claws? You may need to replace it, or if possible depending on the amount and location of the damage, place an area or throw rug over the section for the showing. However, covering up damage with a rug is only quick and temporary fix. Repair work is required before closing.
Check for scratches on interior and exterior wood doors. Depending on the severity of the damage, refinishing may be needed. Baseboards also tend to get scratched up.
From the buyer's perspective, additional wear and tear translate into increased cost. Indeed, should they be interested in your home and make an offer, repairs are likely to be included in the contingencies before closing escrow.
Spruce up Your Backyard
Are there holes in the yard because Fido likes to dig? Fill them, fix them, do whatever you need to make the property attractive to potential buyers. Blend planting soil with sand or compost (50/50) to regenerate the grass.
In addition to filling holes, trolleys or tie-outs in your backyard lead to dog-worn paths in the turf; you'll want to patch these little trails, too. Consider painting the dog house, preferably in a light color as dark paint absorbs heat, which can be dangerous.
Go on poop patrol and round up any droppings you find. Don't forget to check under the shrubs. If your pet consistently uses your patio or deck as a restroom, consider pressure washing their surfaces.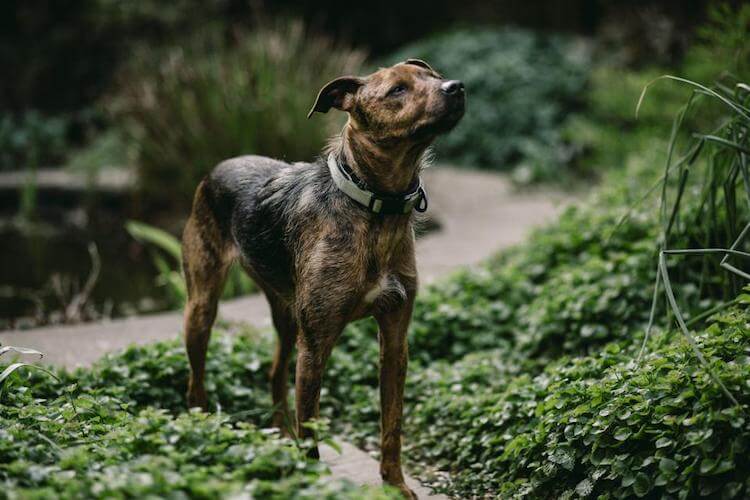 Pet Management During Home Showings
When pets become agitated or frightened, there's no guarantee how they will respond. Maybe they've never scratched or bitten past visitors. However, this is a different situation. And, depending on your home insurance carrier, you may be financially liable should a home buyer decide to litigate. At a minimum, you'll want a plan to isolate and control pets for unscheduled showings. For showings scheduled in advance, consider removing pets from your property.
Unscheduled Showings
Some showings will be spontaneous, where a showing agent has access to a lock box, and your house needs to be vacated as soon as possible. Here are a few ways to handle this situation.
Crate dogs in a separate room like your garage. While crate-trained dogs are typically easy to manage, they may go nuts when they see strangers. But this is still better than nothing.
Better yet, have a plan where your pet can stay with neighbors. This is generally the most convenient option. If available, ask friends and family members if Fido or Fluffy can spend the afternoon with them. Most of us know someone within a reasonable driving distance who won't mind lending a hand.
Some home sellers take their dog for a walk during showings. If showings take place in the evening (as many do), it might be a good time to go out for dinner or run errands like grocery shopping, etc. and take your pet with you.
Scheduled Showings
In most cities, animal day care facilities and other short-term boarding solutions are available should friends or family not be able to take your pets. It is much less costly to board them for a few hours than it is to either lose the sale or get hit with a lawsuit due to a biting or scratching incident. If boarding isn't an option, wash dog beds, furniture, litter boxes and mop the floor to remove dander and urine. Stow dog beds or mats. Accordingly, if there are kitty litter boxes, remove them for the showing.
Marketing a Pet-Friendly Home for Sale
So far, this article makes selling a home with a pet sound like a liability. In fact, there's some potential upside. Highlighting pet-friendly home features and nearby amenities can very likely appeal to certain buyers (pet owners). Here are some things you can do:
Include pet-friendly features like a big backyard or a built-in dog door in your property description. Utility sinks, mud stations and wash tubs located right off the garage are advantageous. A friend from Cedar Park, TX reminded me of the warm water hose bib he installed outside - a luxury for pets who enjoy an outdoor shower. Some homes even include custom kitty litter cabinets. HEPA filters are also a plus.
Highlight features like fences or kennels that protect pets from coyotes. They are particularly useful in SoCal areas like the Hollywood Hills and neighborhoods that abut Griffith Park or the San Gabriel Mountains.
Your home's proximity to dog-friendly parks, places where Fido gets some extra room to run, can also be appealing. Be careful how you describe a nearby park; there's a big difference between off-leash and leashed parks (where citations run couple hundred bucks per pet, not per incident, which can really add up if you have more than one dog running amok).
Call attention to nearby pet grooming businesses, veterinarians, pet hotels/hostels and doggie daycares.
Final Thoughts on Selling a Home with Pets
Home selling can be an emotionally charged process for both buyers and sellers. As pet owners, there are many things we overlook out of love for the furry, fuzzy and feathered family members. Conversely, buyers entering your home for the first time have no emotional attachment. They'll be looking for a clean, organized space where they can easily imagine themselves at home.
Taking some time to view the home from a buyer's perspective will give you a better vantage point for improving your home's appeal. Plus, you'll increase the likelihood of completing the sale quickly. Ultimately, the entire family, pets included, will benefit from creating a buyer-friendly atmosphere throughout the home selling process.