House Fire Statistics (2023)
Posted by Tony Mariotti on Wednesday, July 19, 2023 at 3:45 PM
By Tony Mariotti / July 19, 2023
Comment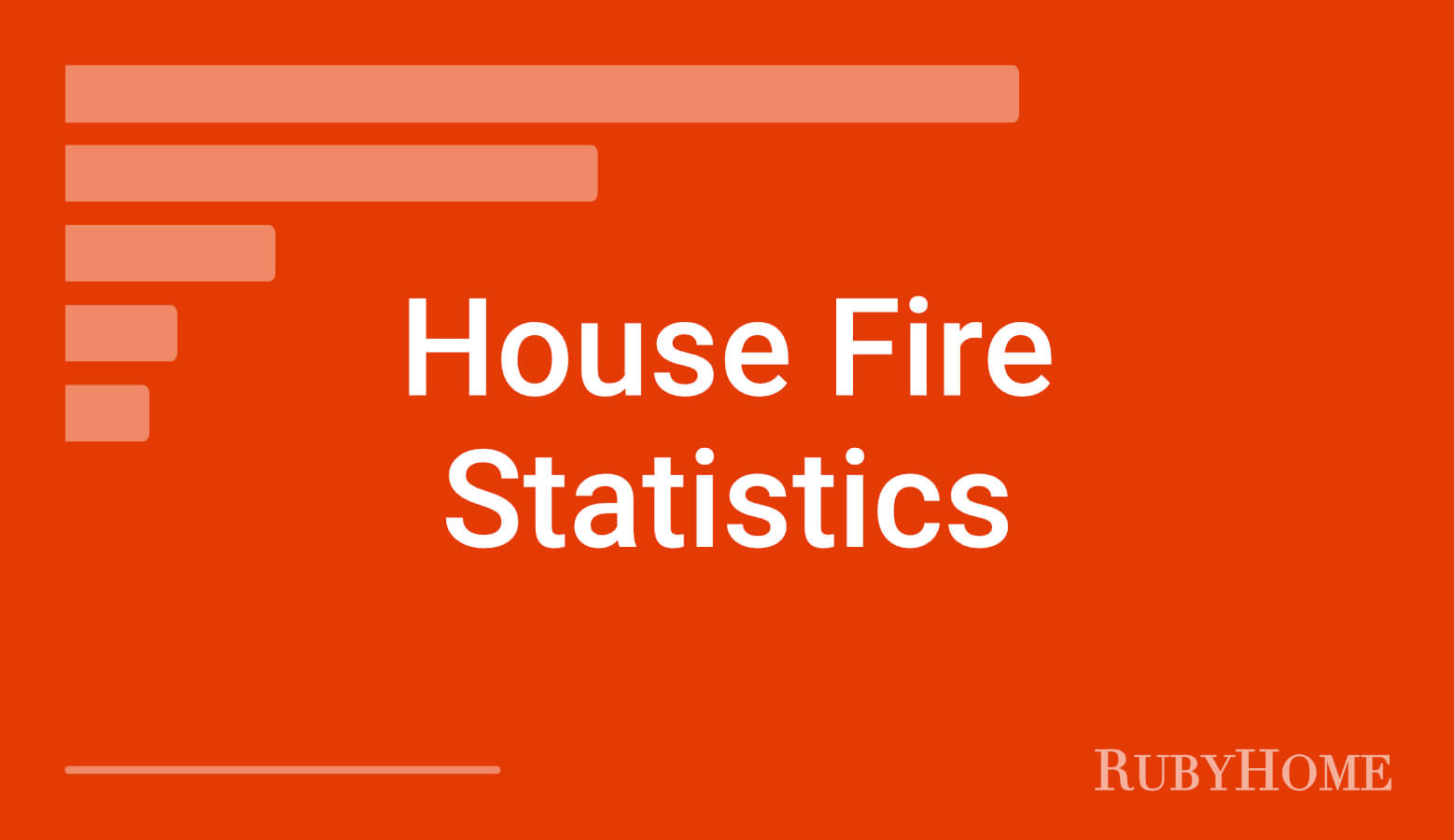 This article is part of RubyHome's series on real estate statistics.
House fires can have devastating consequences, causing injuries, property loss, and even civilian deaths. In this article, we will delve into house fire statistics, and cover the following areas in detail:
Key House Fire Stats
343,100 homes experience a structural fire in the U.S. each year.

House fires cause over $9 billion in damages each year.
Every 23 seconds a fire department must respond to a fire somewhere in the U.S.
The most common causes of house fires are cooking (49%) and heating equipment (13%).
On average house fires cause 2,840 civilian deaths per year.
In 2021, there were over 11,000 fire-related injuries from 338,000 house fires.
How Many House Fires Are There Each Year?
Fires are a common problem, with hundreds of thousands of occurrences in the U.S. every year:
On average, there are 343,100 house fires in the U.S. each year.
Of the total dwellings above, there were 86,000 apartment fires in 2020.
Roughly 1 in 413 houses experiences a house fire each year.
The average number of house fires has come down significantly from the 1980s and 1990s, for example in the year 1980 there were 734,000 house fires whereas 2021 saw 338,000 house fires. Here we can see the downward trend in the number of house fires over the years: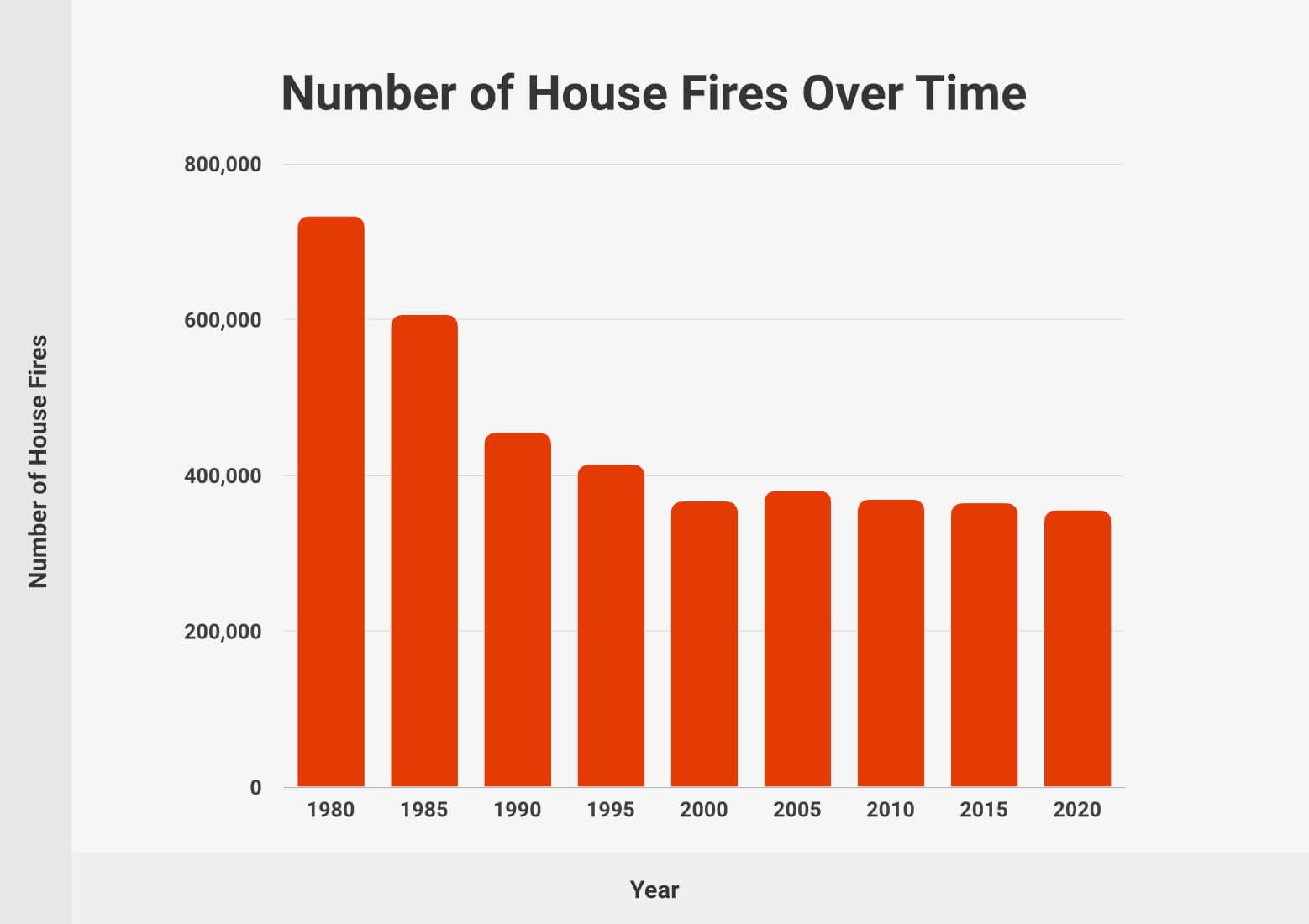 Between 1980 to 2000 there was a significant reduction in the number of house fires, then things start to level off after the turn of the century.
Where & When Do House Fires Originate?
The National Fire Protection Association (NFPA) has published a lot of insightful data as to where and when house fires occur.
Where Do House Fires Originate?
Due to cooking being the leading cause of house fires, the kitchen is the most common area where house fires begin.
Kitchen (44%)
Other (38%)
Bedroom (6%)
Outside (5%)
Chimney or flue (4%)
Living Room (3%)
When Do House Fires Occur?
House fires are more common during winter months than summer and occur more often during the daytime. That said, house fires that occur at nighttime are more deadly.
From January to March, there are on average 106,900 house fires in the U.S.
From July to September, there are on average only 75,000 house fires.
33% of home fires occur between 4:00-9:00 PM, but these only account for 15% of deaths.
February is the most common month for home fires with an average of nearly 40,000 occurrences.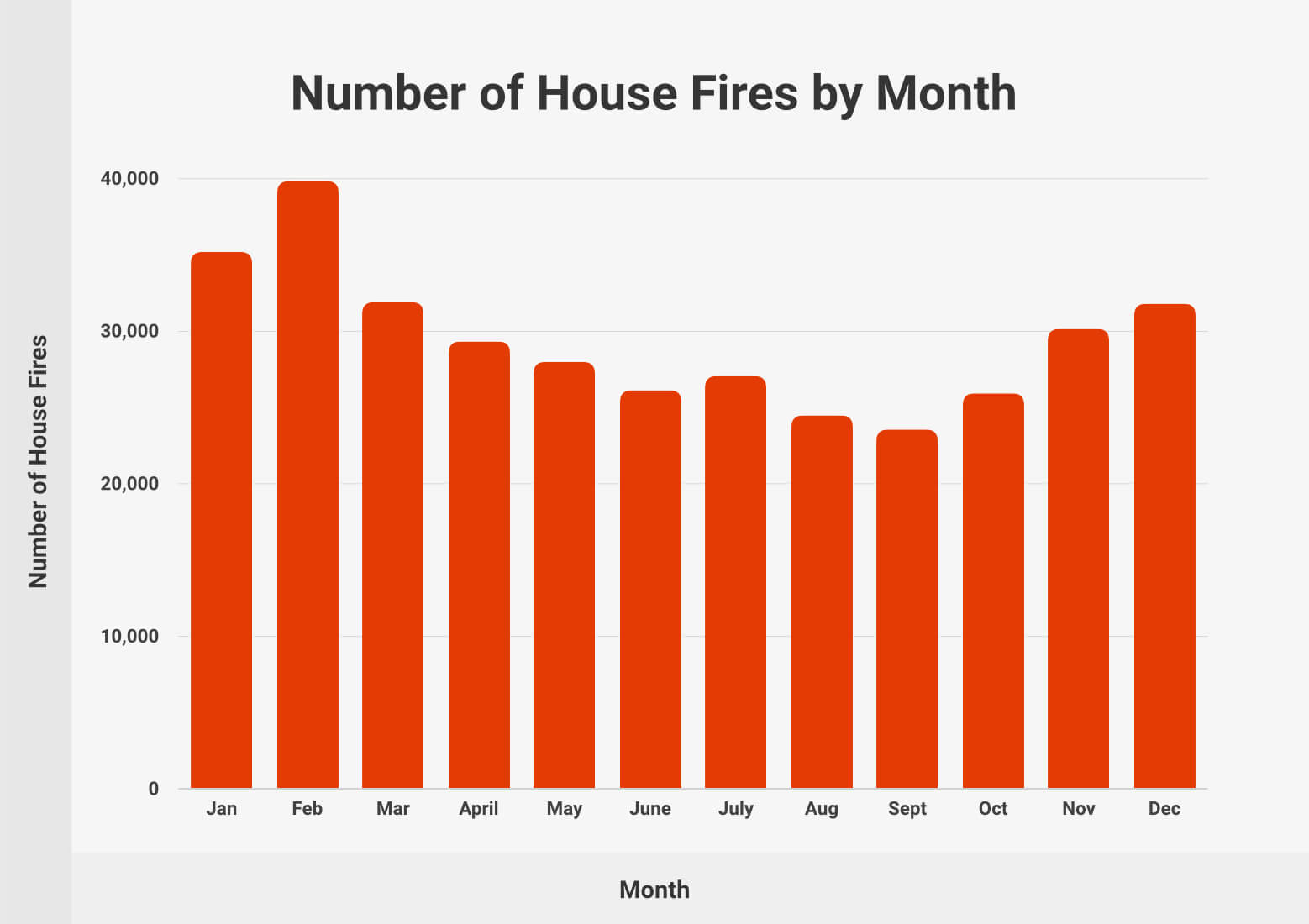 What Are the Leading Causes of House Fires?
The major causes of home fires are home accidents, which can be broken down into five categories: cooking, heating equipment, electrical distribution and lighting equipment, intentional fire setting, and smoking materials.
Nearly half (49%) of house fires between 2016 and 2020 were caused by cooking.
Cooking causes on average 166,430 house fires per year.
The second leading cause of home fires is heating equipment, accounting for 13%.
Candles are the cause of 2% of house fires every year, or roughly 7,200 fires.
Here is a breakdown of all the reported causes as reported by the NFPA: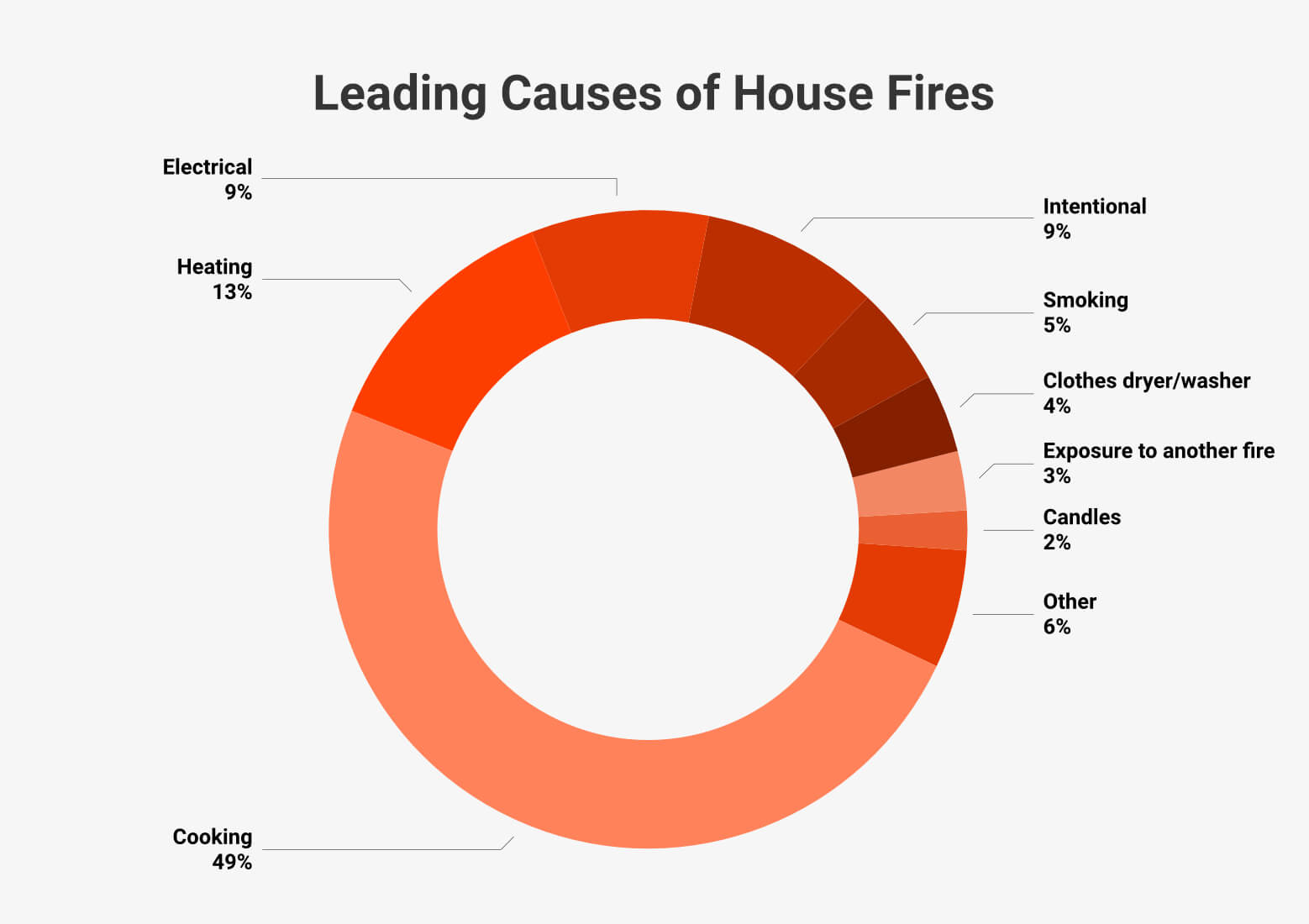 Here is a table of causes:
| House Fire Origin | Percentage |
| --- | --- |
| Cooking | 49% |
| Heating | 13% |
| Electrical | 9% |
| Intentional | 9% |
| Smoking | 5% |
| Clothes dryer/washer | 4% |
| Exposure to another fire | 3% |
| Candles | 2% |
| Other | 6% |
Economic Impact of House Fires
According to the NFPA, house fires cause on average $9 billion of property damage every year in the U.S. in 2023 dollars (after adjusting for inflation).
Although cooking accounts for nearly half (49%) of all house fires, it accounts for just 16% of the economic damage. Here's a breakdown of the economic damage by cause of the fire:
| Year | Property Damage (2023 Adj.) |
| --- | --- |
| 2016 | $8.64 billion |
| 2017 | $9.05 billion |
| 2018 | $9.15 bilion |
| 2019 | $8.70 billion |
| 2020 | $9.41 billion |
| 2021 | $10.00 billion |
House Fire Injury & Death Statistics
According to the U.S. Fire Administration, there were 2,840 civilian deaths in 2021 due to house fires. There were also 11,400 fire-related injuries.
There is a fire-related death on average every 3 hours in the U.S.
Older adults were the age group most likely to die in a home fire.
Most house fire deaths are caused by smoke inhalation.
For every 1,000 reported home fires, there are 7.9 deaths.
For 60% of house fire deaths, a smoke alarm was either not present or not operational, a trajedy given the vast number of low-cost, battery-powered alarms and smart home devices available.
Here is a breakdown of the number of deaths in relation to the cause of the fire:
| Cause of Fire | Annual Deaths |
| --- | --- |
| Smoking | 620 |
| Cooking | 520 |
| Heating | 480 |
| Electrical | 390 |
| Intentional | 360 |
House Fires & Homeowners Insurance
According to the Insurance Information Institute, claims for fire and lightning are much less common than water and wind damage.
1 in 385 insured homes makes a fire or lightning damage claim each year.
1 in 35 insured homes makes a wind or hail insurance claim.
1 in 60 insured homes makes a water damage or freezing claim.
The average insurance claim after a house fire is $77,340.
Fire damage claims are typically 7X more costly than wind and hail claims.
Homeowners insurance usually aids in covering the expenses related to fire damage, including repairs to your home, unattached structures, and personal belongings. Here's an overview of how each type of coverage can be beneficial.
Dwelling Coverage
Under homeowners' insurance, the structure of your home, along with attached structures like a garage, is typically protected.
Detached Structures
Referred to as "other structures coverage," this aspect of homeowners insurance helps pay for structures on your property that are not physically connected to your home. Examples include sheds, detached garages, and fences.
Personal Property
Homeowners insurance generally extends coverage to your personal belongings, including appliances, furniture, and clothing. It helps protect these items against specific risks, often referred to as "perils" in insurance policies, such as fire and lightning strikes. If your personal belongings are damaged or destroyed in a fire, homeowners' insurance may cover the expenses involved in repairing or replacing them.
It is important to note that homeowners' insurance coverage for wildfire damage may vary depending on your location, which can be tricky areas like the foothills and mountain areas of California. It is recommended to carefully review your policy to understand whether it includes any specific coverage for wildfires.
Preventing House Fires
By implementing a few simple measures and adopting responsible habits, you can significantly reduce the risk of a devastating fire in your home. Here are some tips:
Ensure that your home is equipped with smoke detectors on every floor and test them regularly to ensure they are functioning correctly.
Consider installing a fire extinguisher in an easily accessible location, such as the kitchen, and familiarize yourself with its proper usage.
Maintaining a clean and clutter-free living space is essential for fire prevention.
Keep flammable materials like curtains, furniture, and rugs away from heat sources such as heaters and candles.
Avoid overloading electrical outlets and ensure that all cords and wires are in good condition, without any frays or exposed wires.
Regularly inspect and clean chimneys and heating systems to prevent the buildup of flammable materials.
Practice responsible cooking habits by never leaving the kitchen unattended while cooking, especially when using stovetops or ovens.
Keep flammable items like potholders, dish towels, and paper towels away from the stove.
If you have young children, establish a "kid-free zone" in the kitchen to minimize the risk of accidental fires.
Ensure that everyone knows how to safely exit the house in case of a fire and designate a meeting point outside.
By following these preventive measures and maintaining a vigilant mindset, you can greatly reduce the likelihood of a home fire and safeguard the lives and property of your household.
Conclusion
House fires happen every year, all around the U.S. Although not as common as wind or water damage, when house fires happen, they cause a lot of property damage as well as injuries and death. With proper measures and habits in place, homeowners can greatly reduce the risk of lowing their home to fire.
Sources
National Fire Protection Association
Insurance Information Institute