Home Inspection Statistics (2023)
Posted by Tony Mariotti on Sunday, October 8, 2023 at 1:30 PM
By Tony Mariotti / October 8, 2023
Comment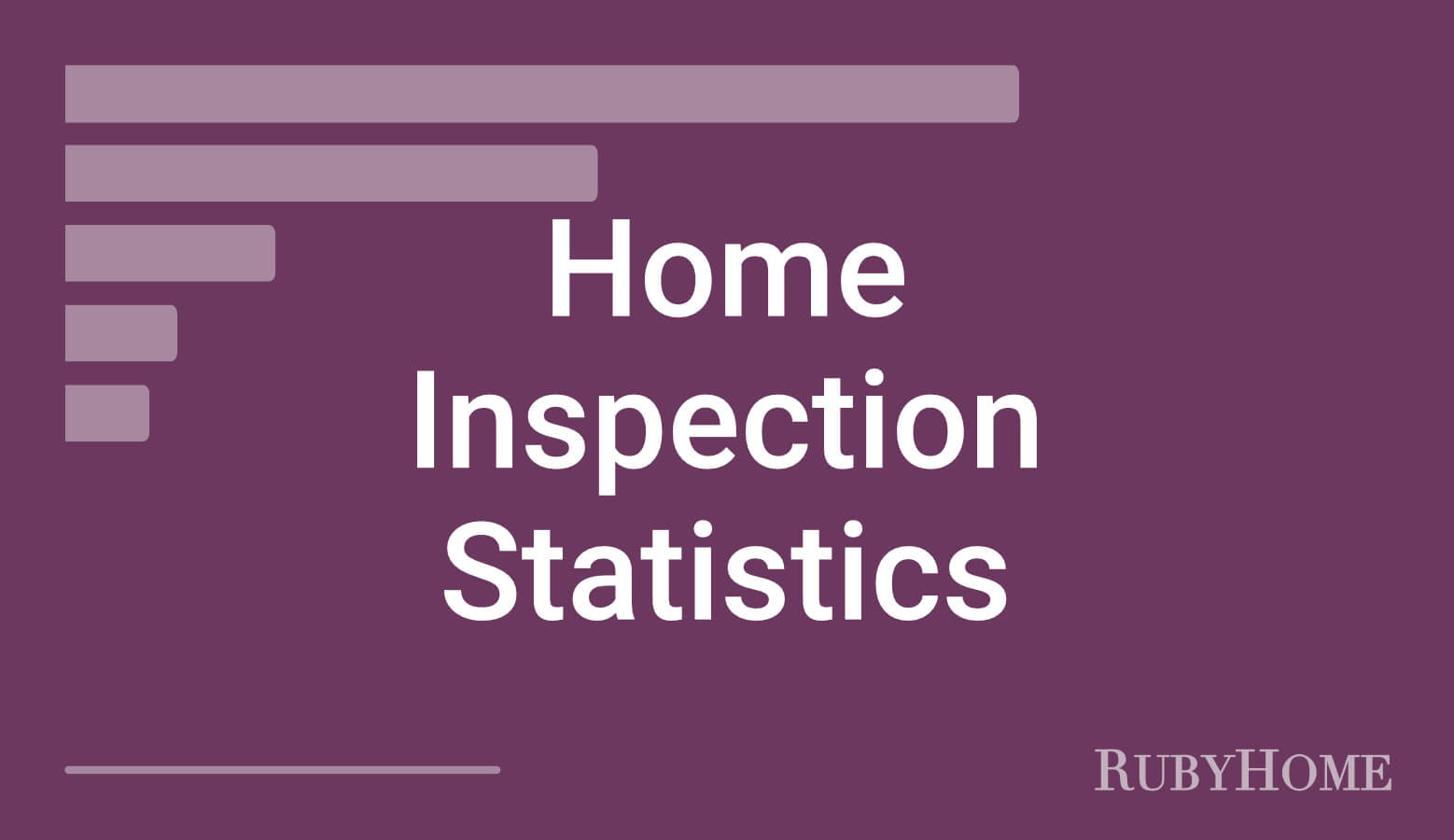 Home inspections play a vital role in the real estate world, offering buyers, sellers, and homeowners peace of mind when it comes to property transactions and maintenance. In this article, we'll delve into the world of home inspections and uncover essential statistics in the following areas:
Key Home Inspection Statistics
88% of homebuyers use an inspector when purchasing a new home.

The average cost for a home inspection is $377.
86% of home inspections reveal something that needs to be fixed.
46% of people use home inspection results to negotiate a lower home sale price.
Home inspection information often saves buyers $14,000 on the final sale price of a home.
How Much Do Home Inspections Cost?
General home inspections cost $377 on average, of which the home buyer is typically responsible for paying. In general, inspections ranging from $200 to $500 would be considered normal,
The exact price will vary depending on the size of the home, its location, and how extensive it is. Older homes may also be more costly if inspectors need to take more time. Certain findings may warrant having a specialist visit the home as is often the case for issues involving mold, sewers, drainage, chimneys, and HVAC systems. With luxury homes in exclusive neighborhoods sometimes costing a bit more.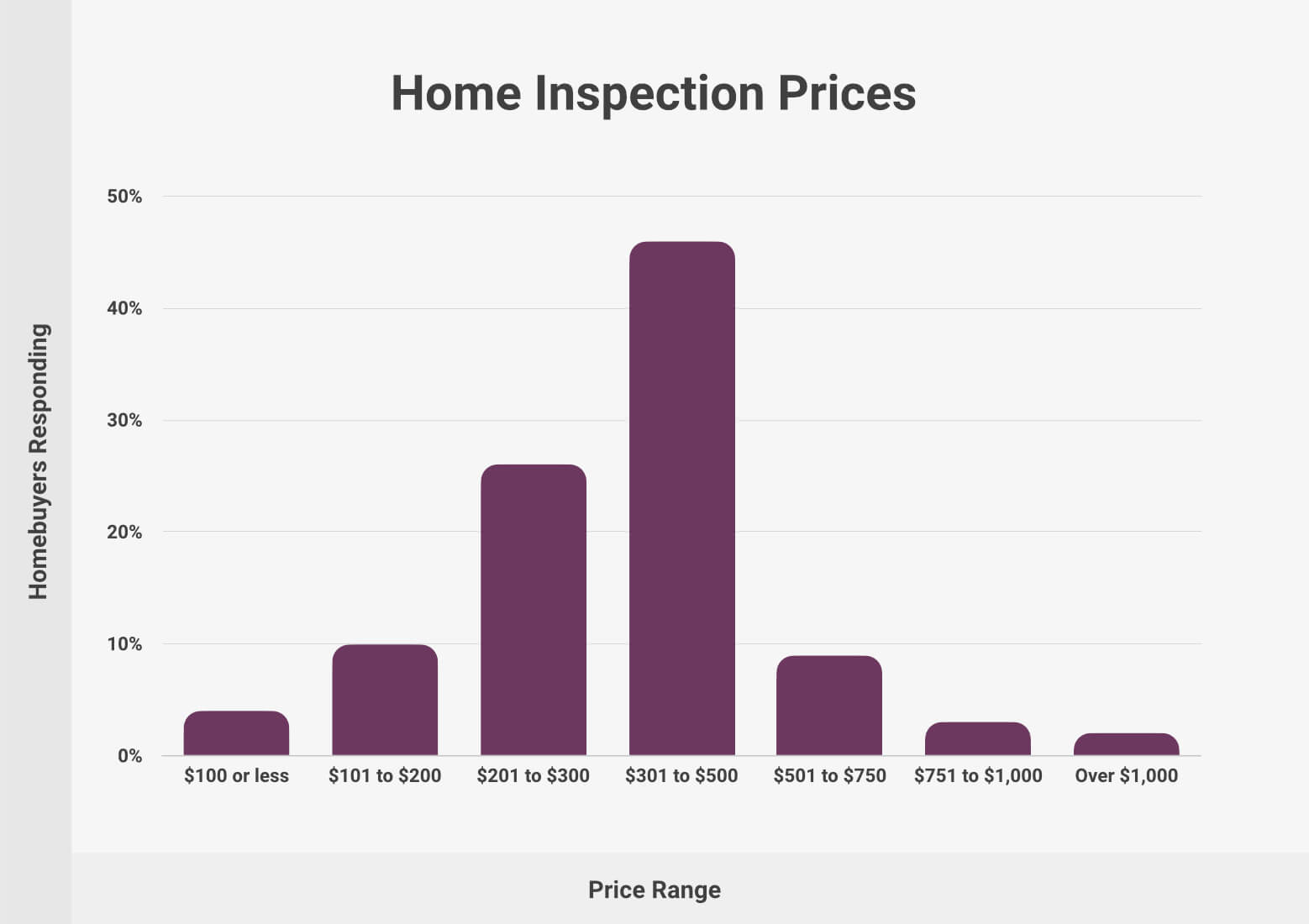 What Do Home Inspectors Examine?
During a home inspection, a qualified inspector evaluates various aspects of a property to assess its condition and identify any potential issues. Normally an inspector will find some flaws - major or minor - with a reported 86% of home inspections finding something that needed to be fixed.
Here are some of the key areas and components that inspectors typically examine during a home inspection:
Structural Integrity: During a home inspection, the inspector assesses the property's foundation for cracks or signs of settling and evaluates the overall framing of walls, floors, and ceilings for any structural issues.
Exterior: This category encompasses the inspection of roofing materials, siding (e.g., stucco or brick), windows, doors, and gutters and downspouts. Inspectors check for issues such as roof damage, water infiltration, and proper sealing.
Interior: Inside the home, inspectors examine walls, ceilings, and floors for cracks, stains, or water damage. They also assess the condition of electrical systems, plumbing systems, and appliances, ensuring they operate safely and efficiently.
Basement, Crawlspace, and Attic: This category includes the evaluation of below-grade areas for signs of water intrusion, potential foundation problems, insulation levels, ventilation, and signs of moisture or mold.
Plumbing: Inspectors check for leaks, adequate water pressure, and drainage issues throughout the plumbing system.
Fireplaces and Chimneys: The condition of the chimney and flue is assessed, along with any issues related to fireplaces or wood-burning stoves.
Miscellaneous: This category covers landscaping, drainage, and the condition of any outbuildings or detached structures on the property. Inspectors also ensure safety and code compliance in various areas of the home.
After the inspection, the inspector typically provides a detailed report with their findings, which may include recommendations for repairs or further evaluations by specialists in certain areas.
It's important to note that a home inspection is a visual examination, and general inspectors do not perform invasive or destructive testing.
Buyers and sellers can use the inspection report to negotiate repairs or price adjustments as part of the real estate transaction.
Defects Revealed by Home Inspections
86% of home inspections find something about a home needs to be fixed. Here are some common issues inspections uncover: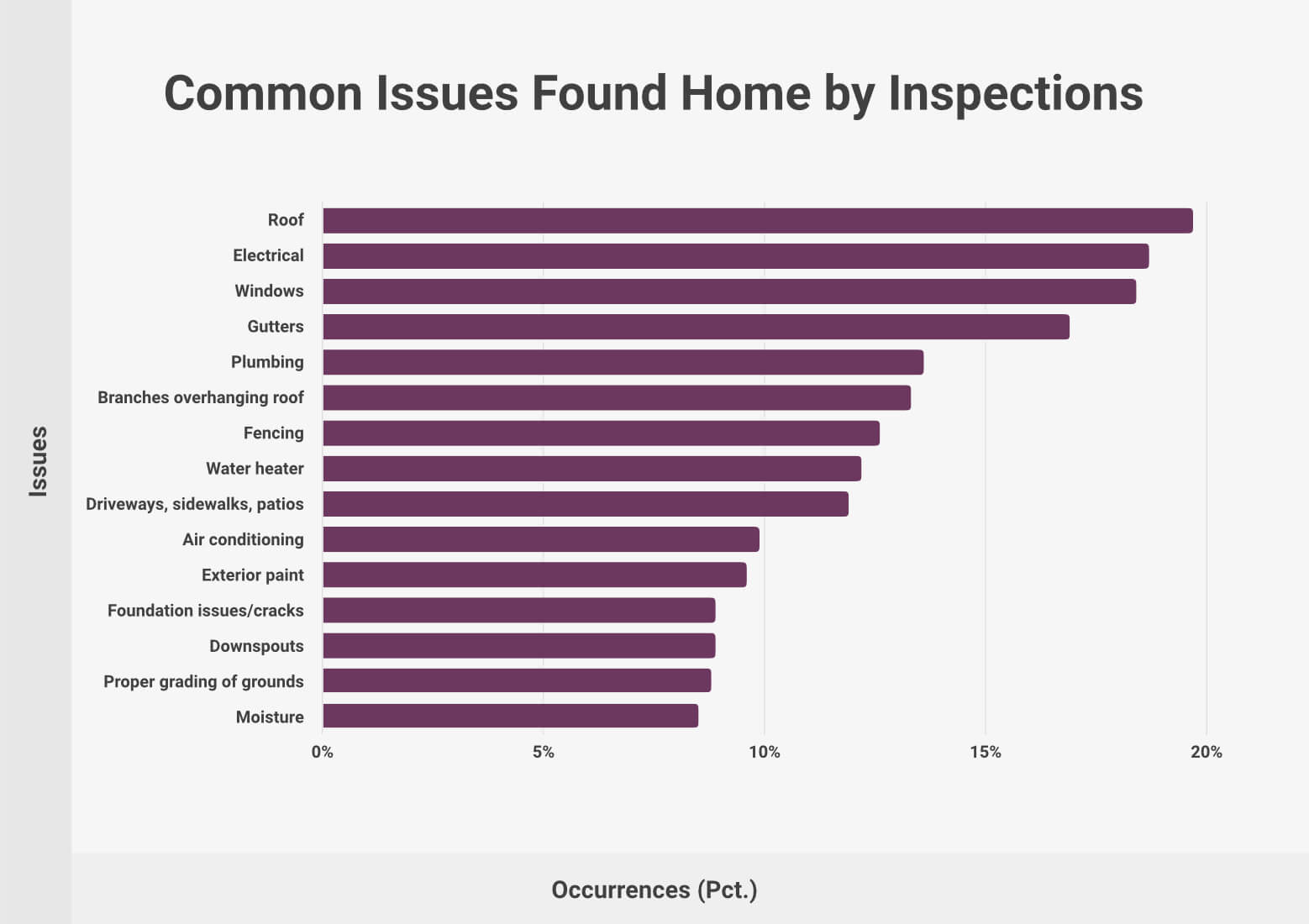 The most common problems associated with inspections are related to the roof (19.7%), electrical (18.7%), and windows (18.4%).
Roof flaws could range from small cosmetic issues to cracks and leaks that could cause water damage.
Electrical issues pose serious problems as wiring issues could lead to execution or house fires.
Windows that are not properly sealed can result in higher utility bills which can really add up over time.
How Problems Affect Home Prices
46% of people use home inspection results to negotiate a lower price on their home. On average, buyers were able to negotiate and close $14,000 below the list price when finding problems on an inspection and using it in their negotiation.
Are Home Inspections Common?
88% of homebuyers using an inspector when finalizing a home purchase.
Of the people who got a home inspection, 83% said their mortgage lender required it.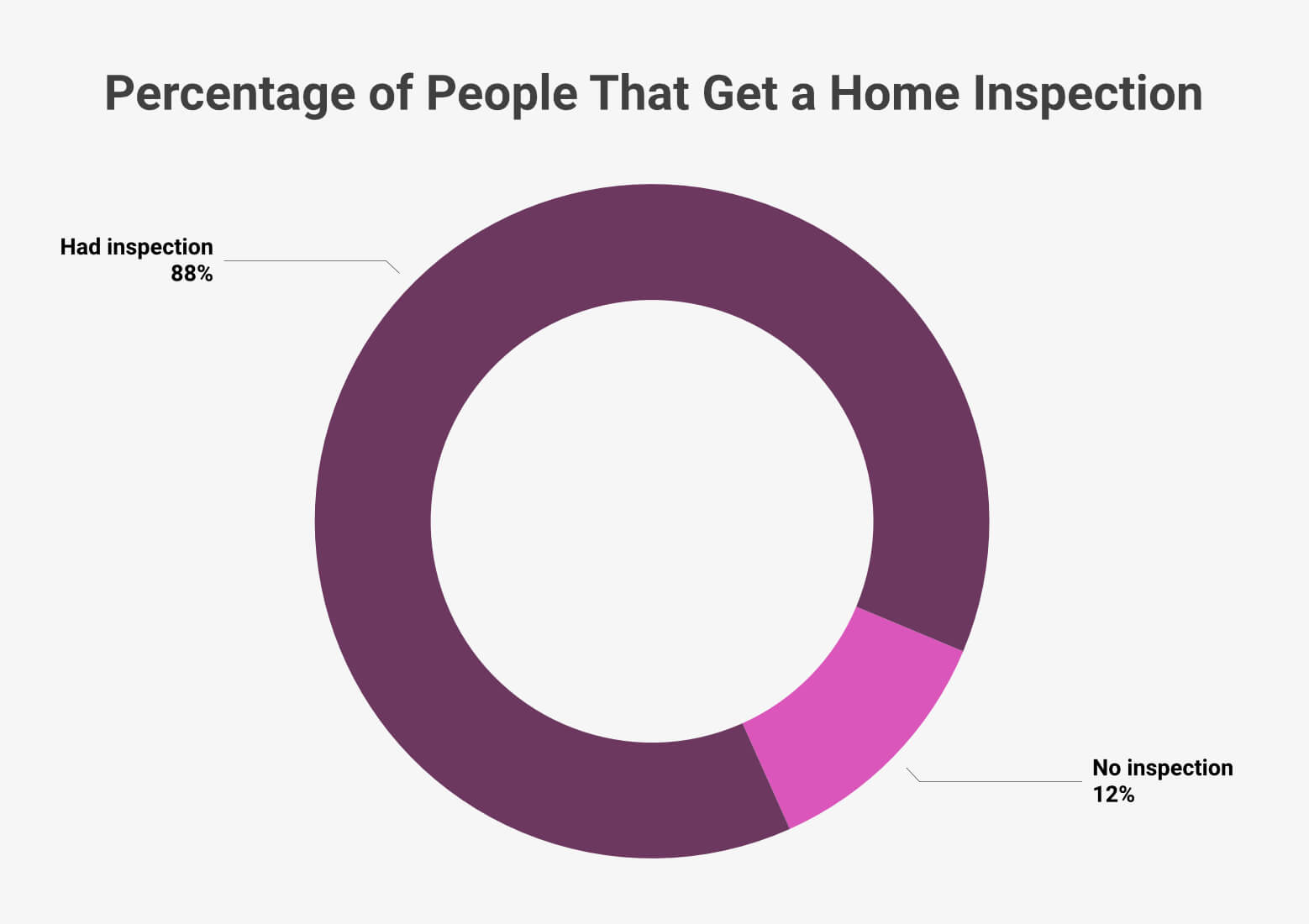 This high prevalence of home inspections demonstrates their widespread acceptance as a crucial step in ensuring the safety and integrity of a home investment.
Under normal circumstances, it's never advised to skip a home inspection, however, the small portion who decide not to have one may do so for a variety of reasons.
For example, they may waive it to make the offer more attractive to the seller and speed up the closing process.
If a home is a new construction, the home may still be under the builder's warranty, giving buyers a greater degree of comfort.
How Do People Find a Home Inspector?
72% of people only consider one inspector before ordering an inspection. In addition, 58% of people chose an inspector based on their real estate agent's recommendation. Here's a breakdown of how homebuyers most frequently find their inspectors: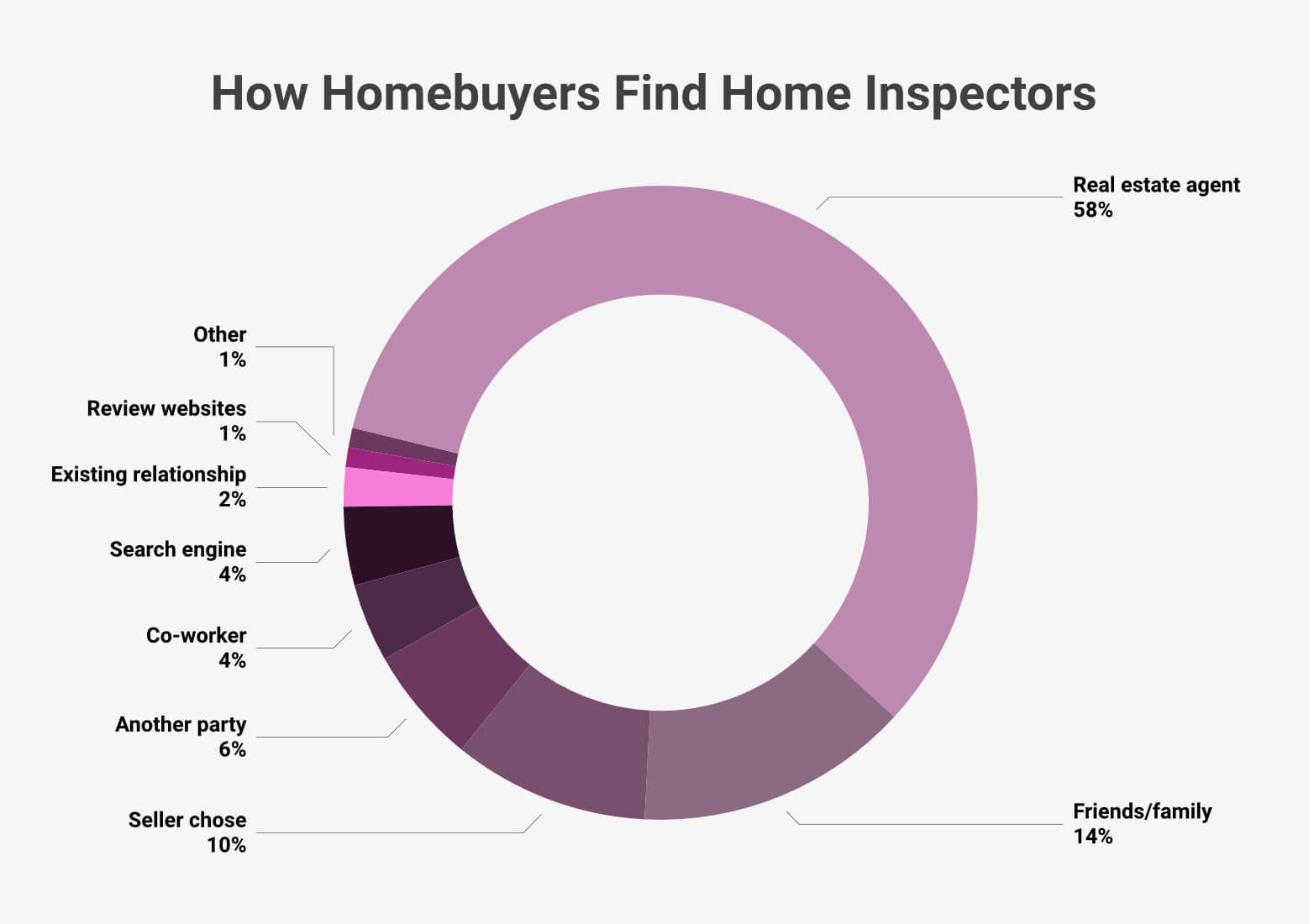 How Many Home Inspectors Are There?
There are over 10,500 home inspectors in the U.S. Here are some interesting insights into their demographics:
86% of home inspectors in the U.S. are male versus 14% female.
The average home inspector is 50 years old.
The average home inspector's salary in the U.S. is $51,264.
69.2% of home inspectors are white, followed by 12.8% Latino and 8.1% black.
Most home inspectors (83%) work at private companies rather than in the public sector.
Conclusion
Home inspections are a critical component of the home-buying process, with 88% of buyers recognizing their importance.
While the average cost of a home inspection is $377, statistics show that in 86% of cases, inspectors identify issues requiring attention. Leveraging this information often results in substantial savings, with buyers negotiating an average of $14,000 off the final sale price.
Home inspections reduce financial risks and offer home buyers peace-of-mind, making them an invaluable step in the journey of purchasing or selling a home.
Sources
National Association of Realtors