Fun Things to Do in Griffith Park [Insider's Guide]
Posted by Tony Mariotti on Monday, December 5, 2022 at 11:45 AM
By Tony Mariotti / December 5, 2022
Comment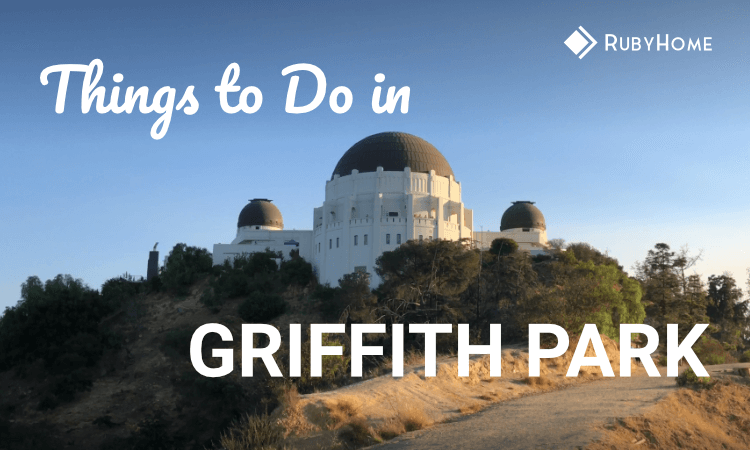 Named after controversial mining magnate and philanthropist Griffith J. Griffith, the 4,310-acre Griffith Park is the second-largest city park in California. Griffith originally acquired the property, having bought the area that was Rancho Los Feliz, a Mexican land grant. Griffith donated 3,015 acres of what now comprises most of the park's land to the City of Los Angeles in 1896. He later donated an additional 1,000 acres along the L.A. River.
Initially celebrated for his generosity, Griffith spent two years in prison for shooting his wife in 1906 (she survived but lost an eye) while intoxicated and suffering paranoid delusions. Once freed, Griffith tried to repair his good standing with further donations to the City of Los Angeles, and later willed much of his fortune to build an amphitheater, observatory, planetarium, and kids' vacation camps.
Over the years, the area has survived devastation from raging wildfires. In 2007, an 817-acre swathe of the park was engulfed in flame, driven by the Santa Ana winds, and 29 firefighters perished tackling the blaze. However, such incidents are comparatively rare.
The park receives an astonishing 10 million visitors annually. It's not difficult to see why it's such a popular destination. Situated in the heart of Los Angeles, Griffith Park is an area of outstanding natural beauty, character, and historical significance. It boasts a wealth of attractions and activities.
Let's have a look at just some of there is to explore in this remarkable landscape.
Los Angeles Zoo and Botanical Gardens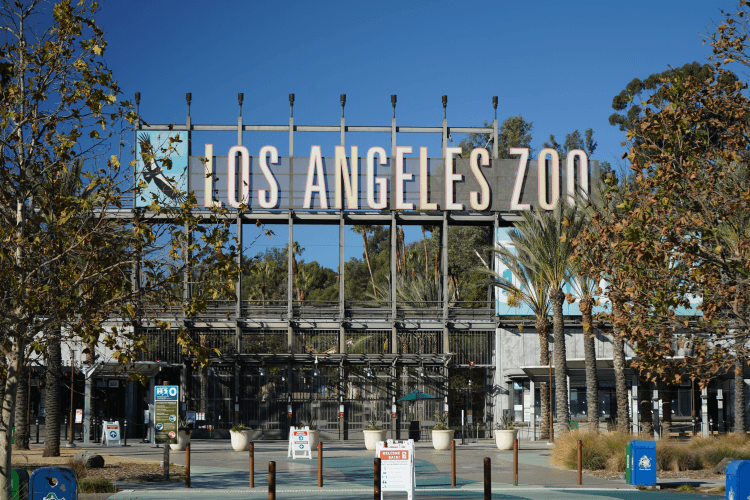 The L.A. Zoo was founded in 1966 and covers 133 acres close to the original 1912 Griffith Zoo site.
Home to around 1100 animals, the zoo helps conserve numerous endangered species, such as snow leopards, western lowland gorillas, and orangutans, who live in their own recreated rainforest enclosure. The zoo boasts sizable habitats for chimpanzees, prairie dogs, komodo dragons, and Asian Elephants. You will also find Masai giraffes, sea lions, and LAIR, the recently-completed large reptile and amphibian center.
The zoo's official accreditation as a botanical garden is sometimes overlooked. Its grounds feature a well-curated and bio-diverse selection of cycads, eucalypts, and other climate-friendly trees, shrubs, and flowers.
Griffith Observatory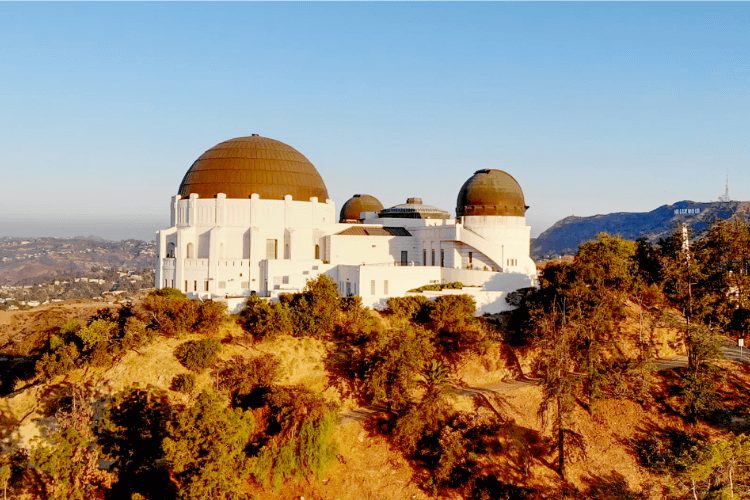 Opened in 1935, Griffith Observatory is another of Mr. Griffith's legacies. It's 12-inch Zeiss refractor has been squinted through by over seven million visitors, making it the most popular telescope in the world. As well as science and technology exhibitions, the Observatory building is an art deco architectural highlight. From the ground, visitors have one of the best vantage points to view the Hollywood Sign (see below) and downtown Los Angeles. Serious stargazers can attend a lecture in the Leonard Nimoy Event Horizon theater, visit the planetarium for a guided tour of the heavens or look through the telescope itself.
Movie buffs should look out for the bust of James Dean. The film Rebel Without a Cause includes interior and exterior scenes shot here.
Hollywood Sign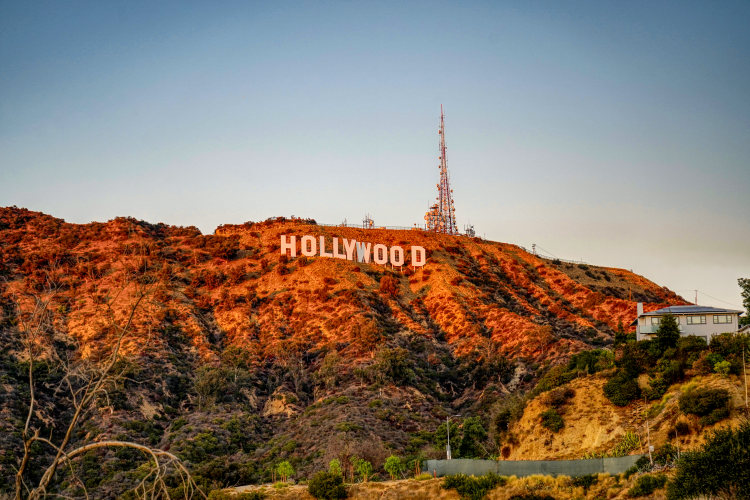 Once a giant advertisement for the Hollywoodland real estate tract, the Hollywood Sign is one of America's most iconic landmarks. The 45-foot-high letters, erected in 1923, with the last four letters removed in 1949, stand proud against Mount Lee in the Hollywood Hills.
Griffith Park visitors can hike to the sign from several trails. Most hikers start from the Bronson Canyon entrance (from the southwest area of the park) or the Observatory parking lot.
During a 1978 campaign to raise funds to restore the sign, nine notable Americans each donated a share of the $250,000 required. The donor for one of the O's was none other than screen and recording legend Gene Autry. In 2005, the original sign's remains were sold on eBay for $450,000 by entrepreneur Dan Bliss, who had kept it in his basement for a quarter of a century.
Autry Museum of the American West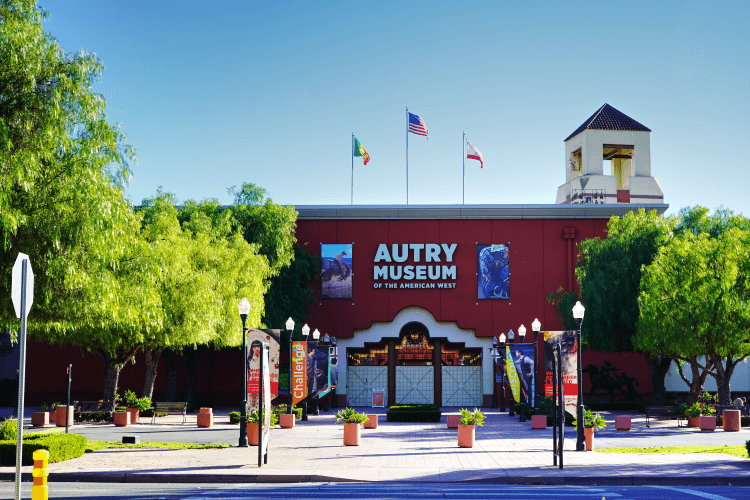 Autry Museum of the American West is another highlight of the park and hugely important institution which is much more than merely a shrine to the singing cowboy. Autry founded it in 1988, although he died a month before it officially opened. The museum occupies two sites. In Griffith Park, just west of Glendale, you'll find a substantial permanent collection detailing an inclusive history of the American West, as well as regularly changing temporary exhibits. There's a recently expanded firearms collection, an art gallery, and a well-stocked shop.
The museum boasts more than 238,000 Native American artifacts and hosts Native Voices, the only theater to focus exclusively on new works by indigenous North American playwrights.
The Greek Theatre
One the parks favorite things to do for Angelinos is taking in a show at The Greek Theatre, an outdoor arena built in the classical amphitheater layout. The venue is another donation to the city from Griffith J. Griffith. The auditorium can hold up to 5900 visitors and has hosted concerts by, among others, Bruce Springsteen, Aretha Franklin, Sir Elton John, and Frank Sinatra. The Greek belongs to a pantheon of legendary outdoor concert venues.
Travel Town Museum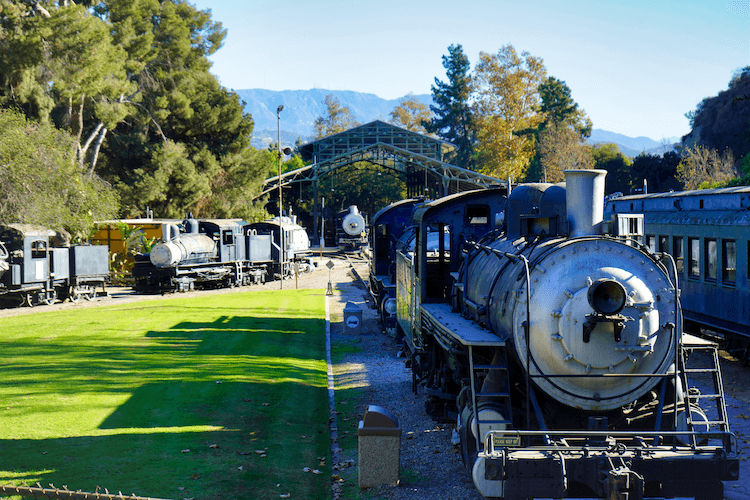 Situated just south of the L.A. River and Ventura freeway at the northwest of the park, the Travel Town Museum holds a fantastic collection of engines, freight cars, and cabooses, many of them dating back to the steam-powered railroads of the late 1800s. Charlie Atkins, a Parks and Recreation Department employee, initiated the museum in the 1940s (along with enthusiastic friends). It opened in 1952.
Some of the more elegant cars can be booked for private occasions. The museum's highlights include a 1937 Union Pacific sleeper and a beautiful 1864 Stockton Western Pacific locomotive.
Los Angeles Live Steamers Railroad Museum
If you haven't had quite enough locomotion, hop on over to the park's other steam train museum, about a half-mile along Zoo Drive heading east. A group of volunteers hand-built and operate this repository of steam-power know-how and history. They'll gladly demonstrate the world's first long-distance travel technology in action, with scaled-down working trains.
Big enough to ride (just) the scaled model trains are painstakingly recreated by hand by LALS members. Their museum has steam, diesel, and electric trains, with a remarkable 1.5 miles of track, complete with scaled-down buildings, bridges, and tunnels. The tracks include working switches and signals.
There are also several full-size cabooses and dorm cars, and you can also see the original barn that once graced Walt Disney's backyard.
Disney was an early member of LALS, the steam enthusiasts' society, and it was in this same barn that he created his contributions to the communal railroad.
Sunset Ranch
If museums aren't you're thing, and you prefer to get out into the wild, Sunset Ranch might be the place for you. Located at the top of Beachwood Drive, the ranch offers access to 52 miles of horse riding trails in the park. Guided two-hour or day-long tours are on offer, and these include a sunset tour, which might offer the very best view of that famous Hollywood Sign. You can also board your horse here for competitive rates. Be aware that some of the trails have precipitous mountain paths, so this might not suit those with a significant fear of heights!
Griffith Park Pony Rides (Ceased Operations)

For 74 years, the iconic Griffith Park Pony Rides was a top attraction in the park. For many locals and tourists, it was their first horseback experience. For the littlest ones, it also included a petting zoo. However, in December 2022, the City of Los Angeles did not renew the business' contract due to concerns over animal welfare. The rides were located on Crystal Springs Drive, which runs along the southeast border of Griffith Park.
Spokes 'N Stuff
If mountain bikes are more your transport of choice, you can rent one from this Spokes 'N Stuff just southwest of the L.A. Zoo. They are open for fair weather hiring only but don't close until sundown most days so that you can make the most of the Southern Californian sunshine. More adventurous mountain bikers can explore the lower reaches of the Santa Monica mountains. Road cyclists might prefer to stick to the better-maintained and smoother recreational bike paths in and near the park.
Golf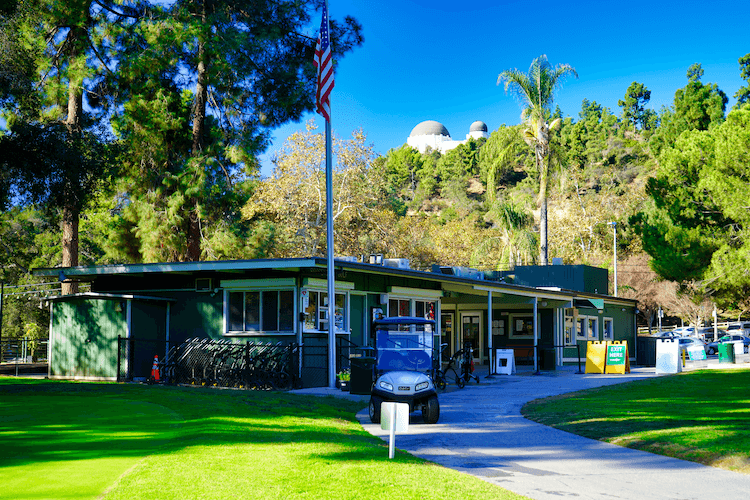 Finally, if you want to be outdoors enjoying the scenery but prefer something more sedate, there are three public golf courses within the park perimeter that are operated by the City of Los Angeles.
Named after Presidents Wilson, Roosevelt, and Harding, all three courses boast spectacular mountain backdrops. You may even have to shout "fore!" at a grazing mule deer as you tee off. Wilson and Harding are 72-par, 18-hole courses, while Roosevelt offers a 33-par, 9-hole 'walking only' course with enough contours and obstacles to test your mettle.
I hope this rundown has whetted your appetite to get out into the wilder side of Los Angeles, as well as visit some of its most iconic sights.