Gated Communities in Los Angeles
Posted by Tony Mariotti on Thursday, July 4, 2019 at 9:06 AM
By Tony Mariotti / July 4, 2019
1 Comment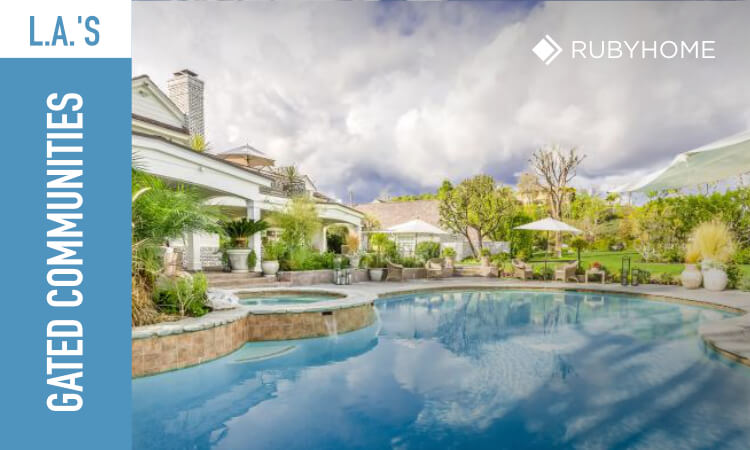 Bel Air
Bel Air Crest
Bel Air Crest is a 24-hour, guard-gated community just above Getty View Park in Bel Air. Depending on the position of the home, homeowners and their guests can enjoy vistas that include the Getty Museum, the Los Angeles Basin, and the Pacific Ocean.
The resort-style neighborhood is a planned development that is subdivided into two sections, Custom Homes and Canyon Homes respectively. Houses in the Canyon Homes section range in size from 2,500 to 4,500 square feet and sit on lots that average 8,000 square feet. Houses in the Custom Homes section range from 9,000 to 15,000 square feet and sit on lots ranging from 16,000 to 30,000 feet.
Residents here enjoy their privacy and proximity to the 405 Freeway where one can immediately head south toward LAX or north toward the San Fernando Valley. Better yet, dodge heavy traffic and take surface streets to nearby Brentwood Village or Beverly Hills. There's a feeling of quiet remoteness yet never being too far away from the amenities of a large metropolis.
Bel Air Crest has a community clubhouse, children's playground, putting greens, tennis courts, paddleball courts, basketball courts, pool, and fitness center.
Bel Air Park
Bel Air Park is a gated community that sits between Mulholland Drive and Bel Air Crest just off the 405 Freeway. There are 145 single-family homes, many with territorial views of the Sepulveda Pass and the nearby Brentwood subdivision of Mountaingate. Bel Air Park is quiet, and the streets are wide - both attributes contribute to its bucolic atmosphere.

Moraga Estates
Moraga Estates is a 33-home subdivision in Los Angeles at the end of Moraga Drive. This prestigious, 24-hour guard-gated community sits in a canyon near Lower Casino and Sepulveda Pass in Bel Air. The enclave is known for its privacy and solitude.
Homes here are predominantly Mediterranean-style architecture. Lots are very large for the area (1/2 acre or more) which creates plenty of space for tennis courts and pools, both of which are standard amenities for estates here. Other architectural styles can be found here, too, like Traditional and Tudor.
Beverly Hills
Beverly Park
Beverly Park is made up of two guard-gated communities that sit within the Beverly Hills Post Office (BHPO) area of Los Angeles. The North Beverly Park and South Beverly Park subdivisions have large lots that can accommodate huge homes or mega mansions. The HOA mandates a minimum size for houses here: 5,000 square feet. Some estates in the neighborhood are nearly 40,000 square feet.
A variety of residences have been built here since the neighborhood's founding in 1990 including Contemporary, French, Mediterranean, Modern, and Traditional homes. The privacy and exclusivity of Beverly Park have made it a favorite celebrity enclave.
Beverly Ridge Estates
Beverly Ridge Estates is a guard-gated community in Beverly Hills Post Office (BHPO) area of Los Angeles. This exclusive neighborhood sits between Coldwater Canyon Drive and Franklin Canyon Park. Custom homes here are 10,000 square feet on average, and lot sizes are quite large. Grand custom homes sit along a single street that runs through the neighborhood, Beverly Ridge Terrace.
Custom homes here have canyon views and sweeping territorial panoramas. City lights glow across the Los Angeles basin at night.
Bowmont Estates
Bowmont Estates is a private gated community in Beverly Crest that sits just off Mulholland Drive within the Beverly Hills Post Office (BHPO) area. Street addresses within this prestigious community include Bowmont Drive or Kimridge Road – and all homes end with the 90210 zip code. Properties in Bowmont Estates have canyon and territorial views. At night, you can see city lights across the L.A. Basin. During the day, one can see all the way to the Pacific Ocean and Catalina Island.
Hidden Valley Estates
Hidden Valley Estates is a gated community in the Beverly Hills Post Office (BHPO) area of Los Angeles. This celebrity enclave abuts Franklin Canyon Park to the west, and the eastern border sits near the crest of the Santa Monica Mountains where Coldwater Canyon meets Mulholland Drive.
There are less than a handful of streets in this bowl-shaped, private neighborhood. Their names include Lime Orchard Road, Hidden Valley Road, and Contini. Lot sizes here are quite large compared to other communities in BHPO. Homes here have territorial and canyon views.
Mulholland Estates
Mulholland Estates is a gated community that sits right off Mulholland Drive near its intersection with Beverly Glen Boulevard. The exclusive neighborhood lies within the boundaries of Sherman Oaks (City of Los Angeles), but like the rest of the Beverly Hills Post Office (BHPO) area, homes here sport the "Beverly Hills, CA 90210" street address.
The privacy of Mulholland Estates draws many celebrities to buy houses here. Of its 95 luxury homes, many are newer; most custom-built homes here were built in within a few years of the millennium, from 1988 to the early 2000s. Lot sizes are over-sized and can exceed 1 acre.
Oak Pass Road
Fewer than 40 residences sit along Oak Pass Road, a gated community in the upper Benedict Canyon section of the Beverly Hills Post Office (BHPO). Living here offers one privacy, security, and a sense of remoteness while still being conveniently located near big city amenities like shopping, dining, art, and cultural events.
The oldest homes along Oak Pass Road date back to the 1930s. Over the years, homes in a variety of architectural styles have been added to this small, exclusive neighborhood. Some houses here site on over-sized lots that range from 1 to 3 acres.
The Summit
The Summit is a gated community in the Beverly Hills Post Office (BHPO) area of Los Angeles. The celebrity enclave sits just north of Mulholland Drive near the junction with Coldwater Canyon Drive. With 80 homes in the subdivision, The Summit among the largest gated communities in SoCal. It is also one of the most prestigious.
Homes here have city, canyon, and territorial views. Most of the estates have backyard pools and tennis courts. The architectural style of homes for sale in The Summit includes Cape Cod, Colonial, Contemporary, Mediterranean, Traditional, and Tudor.
Wallingford Estates
Wallingford Estates is a small gated community in Beverly Crest (Beverly Hills Post Office) that sits along a ridge above Benedict Canyon. Wallingford Drive runs down the spine of the hill, and the fifteen homes within the enclave sit on either side of it.
At the end of the private drive sits Wallingford Estate, an iconic mega mansion that dominates the southern tip of the ridge. The home sits on a nearly six-acre lot. The primary and secondary residence the combine for 52,000 square feet of under-roof living space.
Brentwood
Brentwood Circle
Brentwood Circle is a prestigious guard-gated community in Brentwood, Los Angeles. The enclave is positioned just north of Sunset Boulevard at the base of Sepulveda Pass. Its northern border abuts the Getty Center. Bel Air and Westwood sit just cross the 405 Freeway.
Big luxury homes sit along wide, tree-lined streets. Lot sizes here are also generous. Properties are filled with lush landscaping. Backyard pools are commonplace. This is a perfect neighborhood to search for homes if you love Mediterranean, Mid Century Modern, or French Provincial architecture.
Residents enjoy Brentwood Circle's proximity to nearby Brentwood Village with its shops, restaurants, cafes, and fitness centers. If you work from home, you'll love the convenience of the bank and post office, too.
Brentwood Country Estates
Brentwood Country Estates is a guard-gated community that sits on the southern facing slopes of the Santa Monica Mountains in Brentwood. High-profile and celebrity residents enjoy privacy, exclusivity and killer views of the coastline, Pacific Ocean, and Catalina Island.
Estates, mansions, and mega mansions sit along Chanlon Road, the subdivision's only street. Lot sizes are enormous when compared to other properties in Los Angeles.
The Hilton family - of the hotel chain that bears their name - developed Brentwood Country Estates. The community covers 250 acres with only 14 estates. To find a bigger spread in L.A. County, you'll need to keep moving north to Malibu.
Mountaingate
Mountaingate is a neighborhood of Brentwood that sits atop the Santa Monica Mountains in the Sepulveda Pass. Many homes here are positioned to take advantage of the city, canyon, and territorial views.
Mountaingate is a planned community of 298 residences and sports a mix of single-family homes and condominiums which makes it unique for a gated community. There are several subdivided areas, each with their unique characteristics.
Single-Family Homes
Stoney Hill - a guard-gated community of 109 single-family homes that include a community pool and spa. It contains six additional neighborhoods within its boundaries like The Vista, which has its own separate gated entrance.
The Crown - an electronically-gated collection of 71 single-family homes with two tennis courts, a pool, and a spa.
Mountain Crest Lane - this is the most prestigious community in Mountaingate with only four custom-built mansions.

Townhomes
The Ridge - a guard-gated neighborhood of 72 townhomes that has a separate community pool
The Terrace - an electronically-gated collection of 24 townhomes
The Mountaingate Country Club has two golf courses, pro shop, tennis courts, and spa. Memberships to the CC are available for purchase separately.
Hancock Park
Fremont Place
Fremont Place is Los Angeles' first gated community and located in Hancock Park. Iconic concrete pillars mark main entrance on Wilshire Boulevard where Rossmore Avenue terminates.
The fifty-acre tract was developed in 1911 and the first mansion was built in 1916. Originally, Fremont Place had 48 lots, but over the years some were subdivided. Today, there are 73 mansions.
In the 1900s and 1920s, as the affluent residents of Los Angeles began to migrate up Wilshire Boulevard, the Greater Wilshire/Hancock Park area started to fill with luxury homes, estates, and mansions. The economic boom of the 1920s sealed Hancock Park's fate as an affluent area of the city; its enclaves like Fremont Place and Windsor Square attracted industrialists, motion picture stars, and civic leaders.
Hollywood Hills
Valley Oak Drive
Valley Oak Drive is the only gated community in the Hollywood Hills. It is nested in The Oaks neighborhood at the base of Bronson Canyon, just a few blocks from Griffith Park, Los Feliz, and Thai Town. The private and exclusive celebrity enclave has very few homes in it. In fact, it's so quiet and peaceful that deer frequently stop by to say hello to its residents.
One of its most beloved and historic homes is Artemesia, the Arts & Crafts masterpiece designed by Frank A. Brown that was built in 1913. The home sits at the highest point of the Valley Oak Drive neighborhood and features classic Craftsman characteristics like shake siding and thick roof beams that give the home a Swiss Chalet vibe.
Los Feliz
Laughlin Park
Laughlin Park is a gated community in the Los Feliz neighborhood of Los Angeles. This longtime celebrity enclave was developed in 1913. Some of Laughlin Park's first residents were early Hollywood film legends like Charlie Chaplin, Cecil B. DeMille, and W.C. Fields.
The subdivision started with 40 homes. Over the years, several lots split and now Laughlin Park has roughly 77 homes. However, estates and mansions here sit on relatively large lots when compared to other Los Angeles neighborhoods. Visiting home shoppers will notice the architectural diversity, which includes styles such as Beaux Art, Contemporary, Craftsman, Mediterranean, Modern, Traditional, and Tudor.
This wooded and gorgeously landscaped exclusive neighborhood sits across Los Feliz from Griffith Park near the Ferndell entrance. Many homes in Laughlin Park have direct views of the Griffith Observatory.
Malibu
Serra Retreat
Serra Retreat sits in Eastern Malibu near Malibu Mart, one of the few commercial centers of a mostly-rural Malibu. The enclave gets its name from the Serra Retreat Center, a Catholic retreat and conference center operated by Franciscan Friars. The grounds of the center occupy one of the hills in the neighborhood.
Visitors and residents enter by way of two guarded gates, one right of the Pacific Coast Highway (PCH) and the other across Malibu Creek via Cross Creek Road. The community has roughly one hundred oversized lots.
Hillside homes have views of the Pacific Ocean, Malibu Lagoon, and Malibu Pier. The remaining houses are tucked into the rural flats of Lower Malibu Canyon, under the canopies of sycamore and eucalyptus trees.
Malibu Colony
Malibu Colony is a beachfront gated community. Its entry gate sits across the PCH from Malibu Country Mart. The neighborhood runs along the Pacific Ocean and abuts Malibu Point and Malibu Lagoon State Beach.
Lot sizes here are small, about 30 feet wide on average. On the north side of Malibu Colony Road, some larger lots have enough space for a tennis court or a small pool. Oceanfront lots on the south side of the road are long and narrow, suitable for shotgun-style luxury homes.
While the properties here are some of the most expensive homes in Los Angeles, the beach plays a central role in the lifestyle; thus, the vibe is decidedly laid back. The neighborhood has a long history of famous residents dating back to the 1920s.
Malibu Cove Colony
Malibu Cove Colony is another gated enclave in Malibu comprised of luxury beachfront homes. The lots here are wider than the similarly-named Malibu Colony neighborhood just five miles south. As such, the houses here are more uniformly shaped (square) than rectangles, which give their interiors a more 'open' feel than some of the narrow, shotgun-style beachfront homes down the road.
All the homes in this small community run along the shoreline; there are no homes across the street north of Malibu Colony Drive. In fact, the houses are built right on the beach, elevated upon concrete piles that have been driven through the sand and deep into the sandbanks. For homeowners here, the front yard is the beach itself, with waves lapping up to the front of the house.
Sea Level Drive
The gated community of Sea Level Drive is comprised of two small sections of oceanfront luxury homes nestled within the ungated Broad Beach neighborhood.
In the first section, East Sea Level Drive, homes are positioned one of two ways, those that sit directly on the sandbanks on pier foundations and homes across the street that are one row back from the water.
On West Sea Level Drive, the enclave's other small section, one home is oceanfront, while the balance are perched on the bluffs above the shore.
 
These two sections combined contain a mix of narrow and wide lots, so there's a balance of shotgun homes and square-shaped homes. There are 37 residences in total.
San Fernando Valley
Hidden Hills
Hidden Hills is a stand-alone municipality and gated community in western Los Angeles County. Once a pastoral corner of the San Fernando Valley, it is now known for being a celebrity enclave but offers a lot of privacy and is a quiet alternative to living in a congested metropolis. It is one of the most expensive cities in California (and the United States).
A.E. Hanson, developer of Rolling Hills Estates and Palos Verdes Estates, designed and developed Hidden Hills in the 1950s. All estates and mansions in Hidden Hills must meet the exacting standards of the Hidden Hills Community Association's Architectural Committee.