Gardening Statistics (2023)
Posted by Tony Mariotti on Monday, September 5, 2022 at 10:25 AM
By Tony Mariotti / September 5, 2022
Comment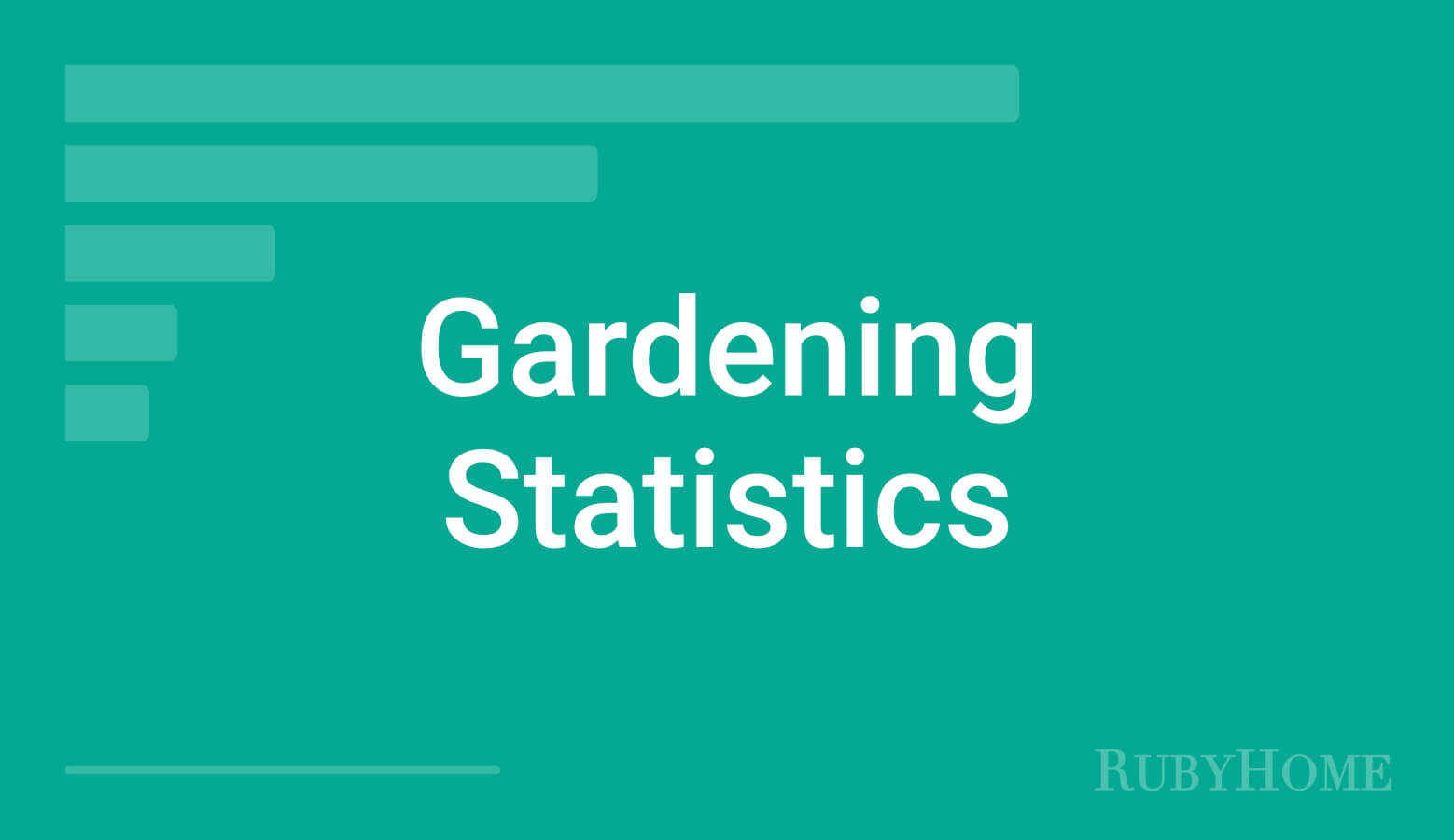 In this post, we've collected the most recent U.S. gardening statistics. Here's the summary of what you'll find:
Key Gardening Stats
55% of U.S. households (71.5 million households) garden.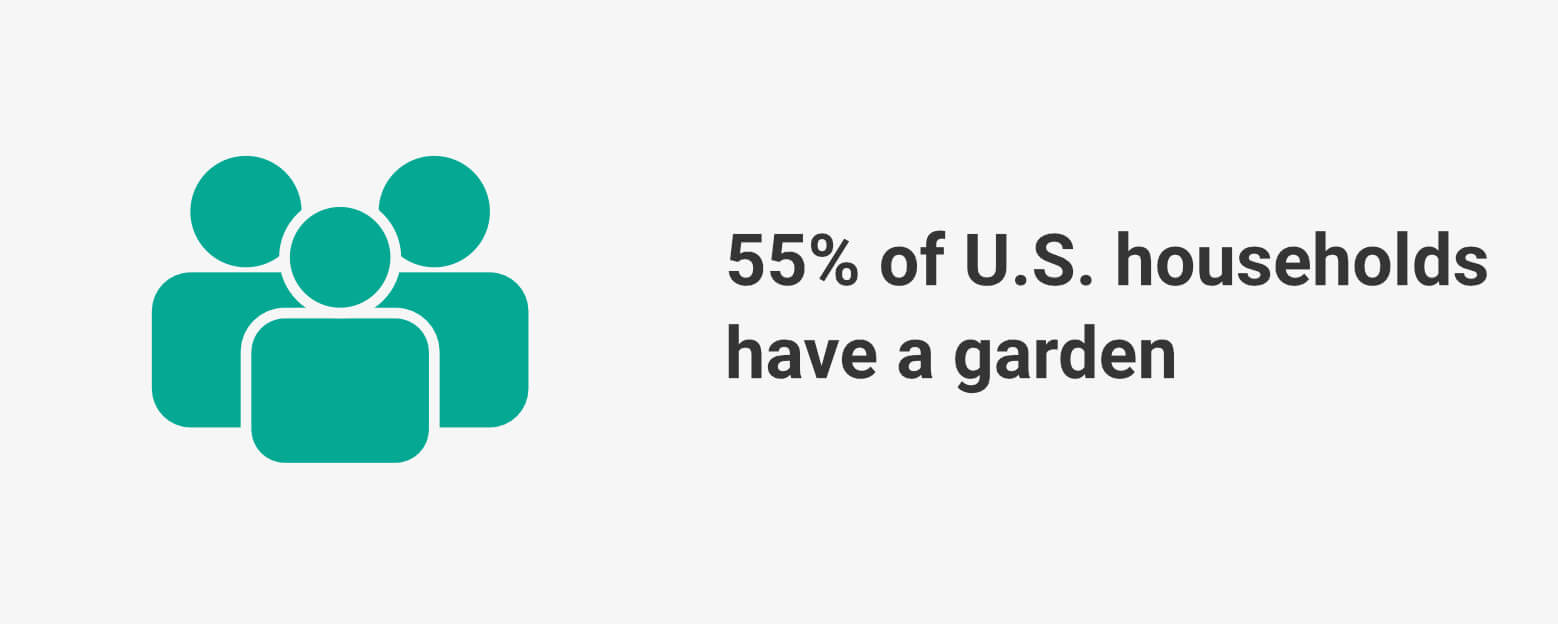 18.3 million U.S. households started gardening in 2021.
The U.S. is one of the top 3 gardening countries.
55% of people garden to create a beautiful space, and 43% garden to grow food.
Tomatoes are the most popular homegrown vegetables and found in 86% of food gardens.
The average U.S. garden is 600 sq.ft. and produces $600 worth of food.
The average return on food gardening investment was 757% in 2021.
A 100-200 sq.ft. food garden can feed one person year-round.
People garden 5 hours a week on average.
29% of U.S. gardens are in the South.
How Many People Garden?
Research by Scotts Miracle-Gro and Wakefield found that over half of the country, 55% of American households, are engaged in gardening activities.
This translates to 71.5 million gardening households, or 185.9 million people, ranking the U.S. among the top 3 gardening countries worldwide, preceded by Australia and China.

In 2021, 18.3 million households started gardening, and 42% of all gardeners spent more time on gardening activities. However, it remains to be seen whether these trends, which developed during the Covid-19 lockdown, continue.
Sources: Garden Center, Garden.org, U.S. Census
2021 Gardening Demographics
According to the 2021 gardening statistics research by Axiom Marketing, slightly more males than females currently engage in gardening activities. The typical gardener is a homeowner between 35-44 years old, married, well educated, and earns an annual household income that exceeds the national average.
Gardening by Gender
Although gardening is often seen as a female hobby, a shift in recent years resulted in over half of gardeners being male.
Source: Axiom
Gardening by Age
A growing percentage of gardening millennials represents another recent shift in gardening. While people between 35-44 years old still garden the most, millennials are now trailing not too far behind.
Ages 29-34 (millennials) - 29%
Ages 35-44 - 35%
Other - 36%
Source: Garden Research
Gardening by Marital Status
Most gardeners are married.
Married - 71.6%
Single - 11.6%
Widowed - 6.8%
Divorced - 5.6%
Other - 4.5%
Source: Axiom
Gardening by Income
Over half of the U.S. home gardeners earn an annual income of $75K or more, and 34% earn $100K or more, well above the 2021 national median annual income of $79.9K.
$100K and higher - 34.1%
$75-$99K - 20.5%
$50-$74K - 2.6%
$25-$49K - 17.1%
$25K and lower - 5.8%
Source: Axiom
Gardening by Dwelling
Not surprisingly, 91% of people who garden are homeowners, and their gardening takes place in their backyards. Condominium or apartment owners and renters usually garden indoors, do container gardening, or join a community garden.
Homeowners - 91.2%
Other - 8.2%
Source: Axiom
Gardening by Education Level
U.S. home gardeners are well educated. According to the National Gardening Association.
79% of people who garden attended college or are college graduates.
The Most Popular Gardening Activities
In 2021, growing flowers was the most popular gardening activity, followed by growing vegetables and houseplants.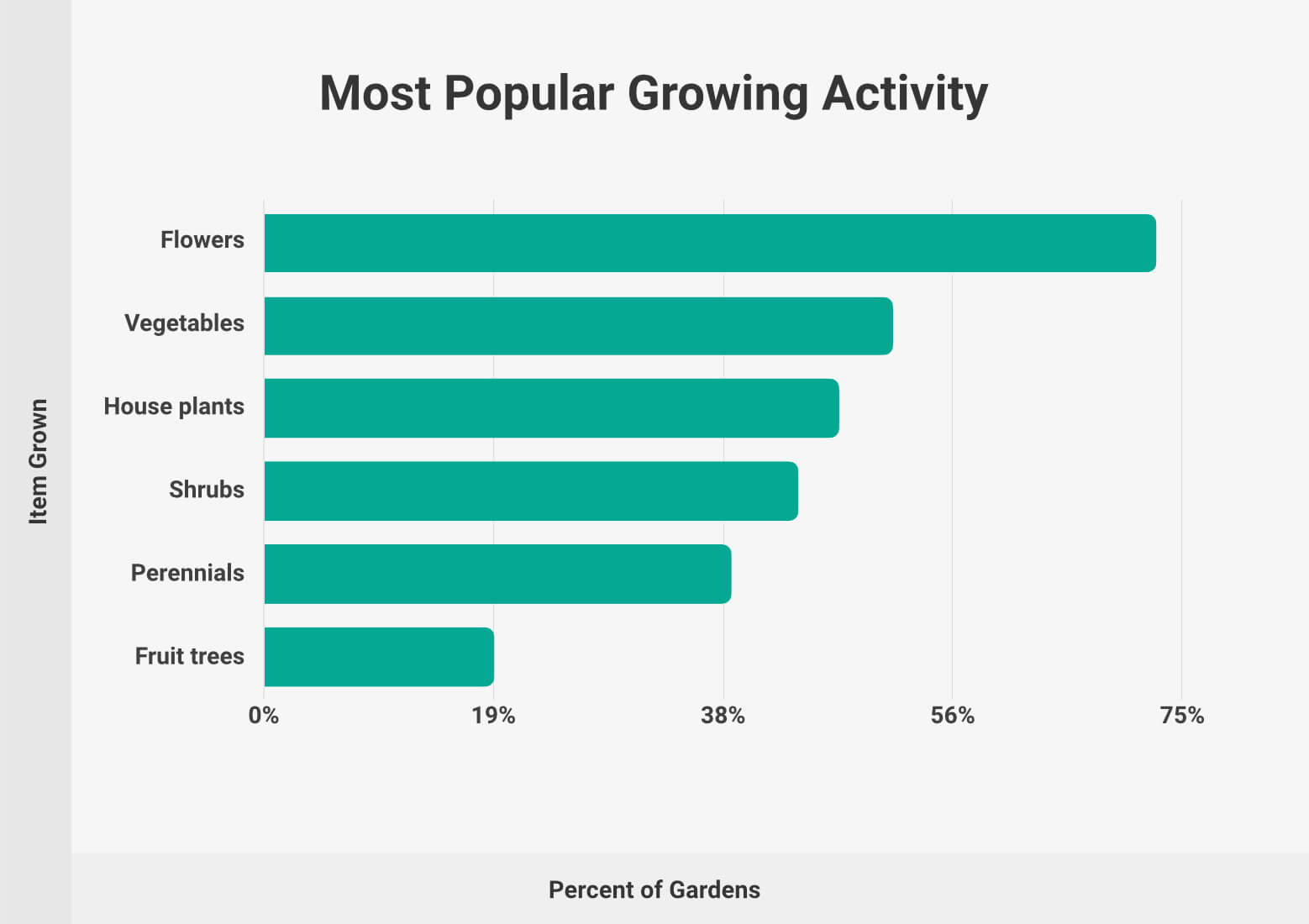 Here's a breakdown of 2021 gardening activities by popularity.
| Growing Activity | Percent of Gardeners |
| --- | --- |
| Flowers | 72.90% |
| Vegetables | 51.40% |
| House plants | 47.00% |
| Shrubs | 43.70% |
| Ornamental/perennials | 38.20% |
| Fruit trees | 18.80% |
Source: Axiom
Growing food (fruits, vegetables, berries, and others) has been the fastest-growing gardening category in the past five years.
According to the National Gardening Association, 35% of U.S. households, or 42 million households total, grew vegetables, fruits, and other foods in 2021, an increase of 6 million from five years prior. Most of the growth came from millennials and families with children.
Within the food category, growing vegetables was the most popular trend, and tomatoes were the most popular vegetable grown in 86% of the food gardens.
Top 10 Homegrown Vegetables
| Vegetable | Percent of Gardens |
| --- | --- |
| Tomatoes | 86% |
| Cucumbers | 47% |
| Sweet peppers | 46% |
| Beans | 39% |
| Carrots | 34% |
| Summer squash | 32% |
| Onions | 32% |
| Hot peppers | 31% |
| Lettuce | 28% |
| Peas | 24% |
Source: Garden Research
Top Reasons People Garden
When asked why people garden, 55% of gardeners aimed to create a beautiful outdoor space, 43% wanted to grow their food, and 25% saw gardening as a good exercise.
Here is a breakouth of reasons people garden:
| Reason for Gardening | Percent of Gardens |
| --- | --- |
| Beautiful outdoor space | 55% |
| Like to growing plants | 49% |
| Homegrown fruits and veggies | 43% |
| Something to do | 41% |
| Exercise | 25% |
Source: Axiom
Gardening Health Benefits
As an exercise, gardening is comparable to biking, walking, or jogging. Gardening activities, such as pulling weeds, strengthen cardiovascular health, and increase muscle tone and dexterity.
Additionally, multiple scientific studies linked gardening to emotional well-being and an increased sense of accomplishment and happiness.
Here're some of the key findings from research studies by UNC Health and Princeton University:
Gardening fosters self-esteem and a sense of accomplishment.
Gardening relieves stress, anxiety, and depression.
Gardening increases the level of vitamin D, vital for the normal functioning of the immune system.
Gardening increases the level of serotonin, a brain chemical responsible for the feeling of happiness.
Sources: Healthline, Science Daily, UNC Health Talk
How Much Does Gardening Cost?
An initial gardening investment usually includes seeds, soil, fertilizer, and gardening tools.
Gardening tools and planting seeds are usually inexpensive. For an average-sized food garden, the tools cost around $100, and the seeds cost about $2.8 for 50 seeds, on average. The cost of soil ranges from $534 - $2400, depending on the type of plants and the depth of soil required for these plants.
The annual garden maintenance costs are less significant. The National Gardening Association estimates that U.S. gardening households spend an average of $70 on maintaining their gardens.
The same study determined that the average garden yielded $600 worth of produce (roughly $1 per square foot), resulting in a $530 average return on gardening investment or a 757% ROI after the first-year startup costs.
Most (and Least) Cost-Effective Foods to Garden
To understand whether a food plant is a good investment, we should consider the planting costs, added care (if any), and how much the plant would produce.
For example, gardening strawberries or asparagus in the yard is not a good investment, as they are expensive to plant, require extensive care, and don't produce much food per plant.
On the other hand, growing tomatoes, zucchini, or summer squash are great investments, as these vegetables cost little to plant, require almost no extra care, and produce abundant food.
Here's the breakdown of planting costs vs. returns for some of the most popular foods in U.S. gardens.
| Plant | Cost of Seeds | Harvest Value | ROI |
| --- | --- | --- | --- |
| Green beans | $2.10 | $10.68 | 508.6% |
| Zucchini | $3.00 | $12.40 | 413.3% |
| Summer squash | $3.00 | $12.40 | 413.3% |
| Blueberry bush | $13.30 | $38.70 | 291.0% |
Sources: USDA, Garden Reasearch
How Much Time Does Gardening Take?
Gardeners spend 5 hours a week on average tending to an average-sized garden.
The average size of a U.S. garden is 600 square feet, while the median garden is 96 square feet or 12 feet by 8 feet of ground.
In other words, while 50% of the U.S. gardens are 96 square feet or smaller, some gardens are bigger than 600 square feet (for the 600 sq. ft average to remain true).

100-200 sq. feet of the food garden space is sufficient to feed one person with the garden produce year-round.
Here's the table showing the minimum time commitment required for food gardens of different sizes and the number of people they can feed.
| Garden Size | Hours/Week | People Fed/Year |
| --- | --- | --- |
| 100-199 sq.ft. | 0.5-1 hr | 1 person |
| 200-399 sq.ft. | 1-2 hrs | 1-4 people |
| 400-799 sq.ft. | 3-5 hrs | 2-6 people |
| 800-1499 sq.ft. | 4-6 hrs | 4-8 people |
| 1,500-2,000 sq.ft. | 6-8 hrs | 6-10 people |
Professional Gardening Services
While most people see gardening as a DIY project, professional gardening services are also available.
A professional gardener can help select plants, flowers, or trees that grow well in soil conditions and with the amount of sunlight available in the garden. Planting services range anywhere from $47 to $2,000, depending on the size and scope of the project.
Professional gardeners can also be hired for weed control and soil fertilization for $65-$90 per service.
A weekly professional gardener costs $35-$80 per week, or $1,820 - $4,160 per year, making the home garden less cost-efficient but, perhaps, more doable.
Source: Thumbtack
The Best Regions for Gardening

The U.S. South has the most gardens per capita, followed by the Midwest and West regions of the country.
| Region | Percent of Food Gardens |
| --- | --- |
| South | 29% |
| Midwest | 26% |
| West | 23% |
| Northeast | 22% |
Source: Garden Research
This somewhat even distribution per region demonstrates people's willingness to garden no matter where they are – in Florida, where the growing season is year-round, or New York, where gardening is limited to just five months a year due to the weather conditions.
Best States for Gardening
Generally, the best places for gardening have softer climates (no drastic temperature changes or severe freezing), richer soils, longer growing seasons, and a large variety of plants that are well-adapted to the state's growing conditions.
Based on these criteria, the best states for gardening (in no particular order) are:
Alabama
Arizona
California
Florida
Georgia
Hawaii
Louisiana
Maryland
Mississippi
Nevada
North Carolina
Oklahoma
Oregon
South Carolina
Tennessee
Texas
Utah
Virginia
Washington
The average minimum winter temperature remains above 10 degrees Fahrenheit in all of these states resulting in milder winters.
Growing seasons differ by state, with the shortest season of 9 months (March – November) and the longest of 12 months (January – December), allowing for multiple crops within the same season.
All states listed above belong to Zone 8, 9, or 10 of the USDA Hardiness Zone Classification and are geographic areas defined by a milder climate relevant to the successful growth of many vegetables, fruits, and herbs.
Source: USDA
Conclusion
Gardening, whether strictly for food production or to beautify one's property, is one of the most popular activities among U.S. households, with 55% participating. Flowers and vegetables top the list of most popular gardening activities. In increasing numbers, Millennials are taking up the mantle of gardening in the United States, which should keep the country in the top three gardening countries worldwide.