FSBO Statistics (2023)
Posted by Tony Mariotti on Saturday, October 7, 2023 at 4:45 PM
By Tony Mariotti / October 7, 2023
Comment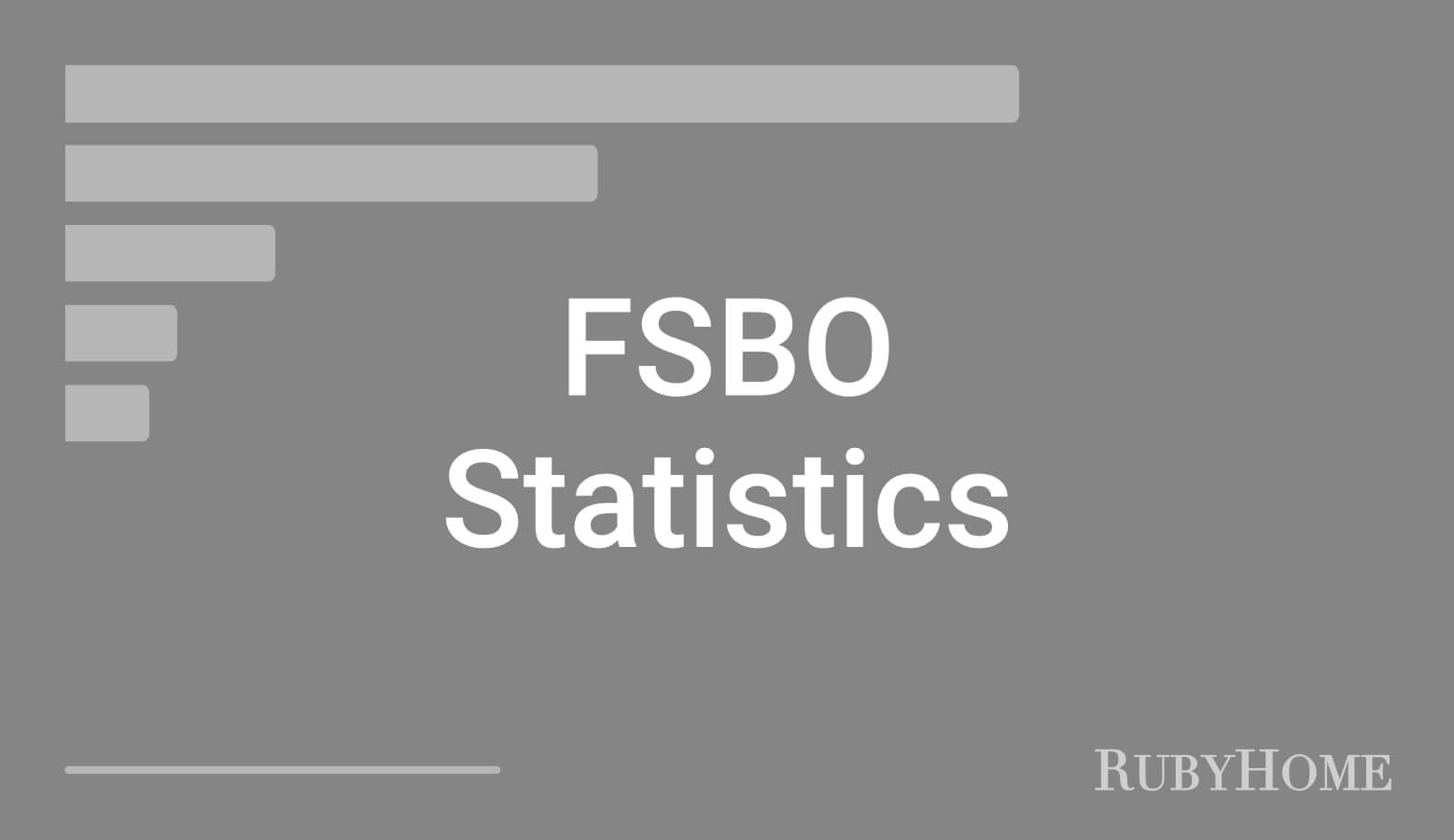 In real estate, For Sale by Owner (FSBO) refers to homeowners who sell their properties on their own, without the help of a real estate agent. In this article, we'll provide a straightforward look at this DIY approach to selling one's home and cover the following topics:
Key For Sale by Owner Stats
FSBOs account for roughly 10% of all U.S. home sales.

13% of people in rural areas sold their home via FSBO versus 6% in suburban areas.
In 2021, the average FSBO home sold for $225,000 while the average price for agent-assisted home sales was $330,000.
Comparable homes typically sell for 5.5% less when a seller chooses to go the FSBO route.
50% of FSBO sellers knew their buyer before deciding to sell their home.
The average listing agent commission is 5.37%, split between the listing agent and the buyer's agent.
How Many Homes are FSBO?
In 2021, FSBOs accounted for roughly 10% of all U.S. home sales, up from 7% in 2020. However, the long-term trend has seen FSBOs decrease in popularity. In 1981, when the NAR first started keeping track, the percentage of people selling their homes via FSBO was 15%.
Here's a nationwide breakdown of the methods Americans use to sell their homes: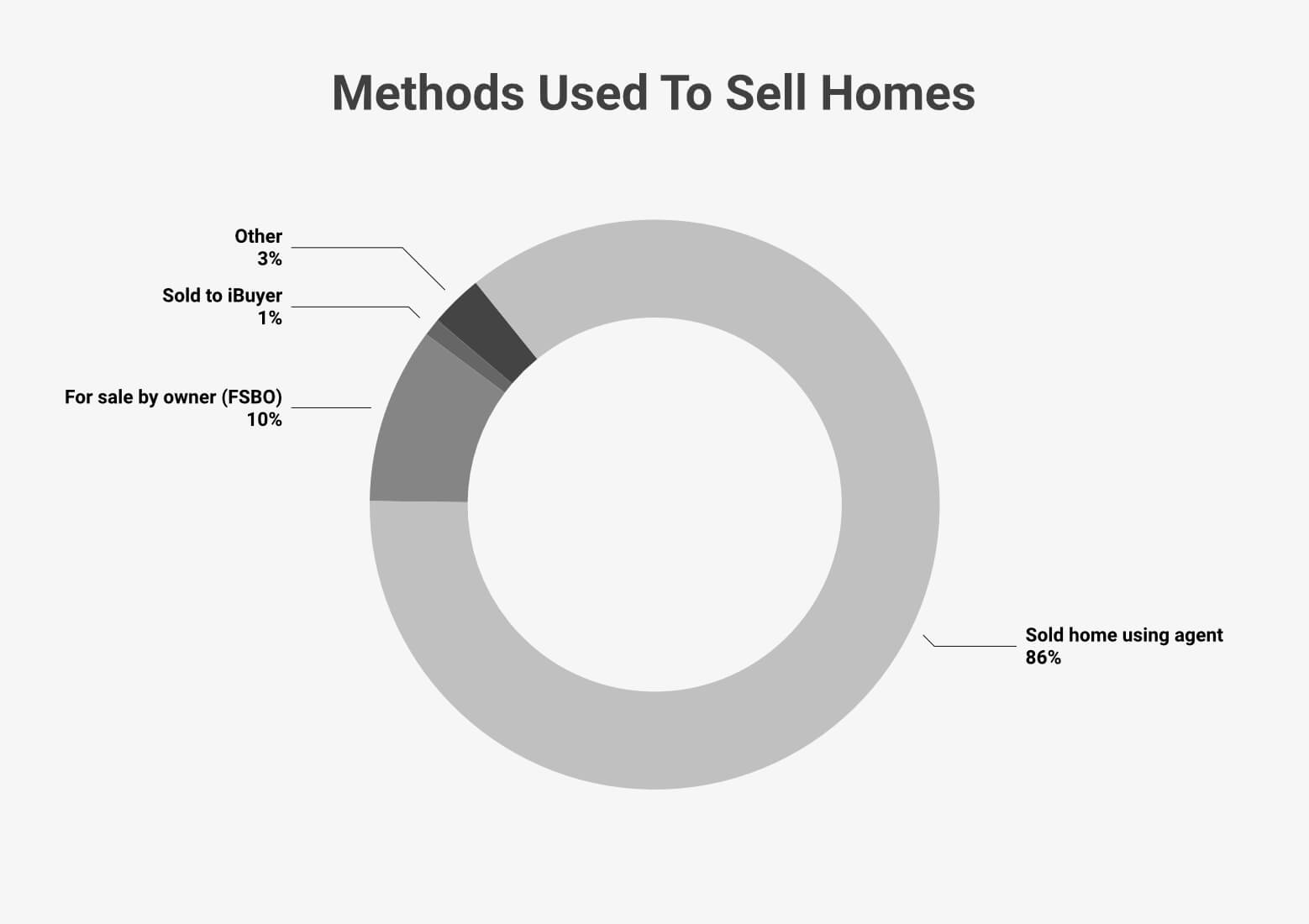 It's worth noting that around 1% of people first try to sell their homes themselves but then use an agent. The reverse case also happens, with 1% of people first listing with an agent, but then deciding to sell their home themselves.
Who Are FSBO Sellers?
This DIY approach to selling your home varies in popularity based on location, with 13% of rural homeowners opting for FSBO, compared to 6% in urban and suburban areas like Los Angeles.
Here are some more notable characteristics of homeowners who choose to sell their homes via FSBO:
Older Americans aged 76-96 were the age group most likely to sell their homes via FSBO with 13% choosing this method.
64% of FSBO sales are made by married couples.
81% of FSBO homes sold are single-family homes.
The median household income of FSBO sellers in 2020 was $96,700, more than $10,000 lower than the median for agent-assisted sellers.
Why People Sell Their Homes Via FSBO
61% of people say a top reason for choosing to sell their home via FSBO is that they believe it will save them money.
Here are the top reasons FSBO sellers choose to sell their homes themselves: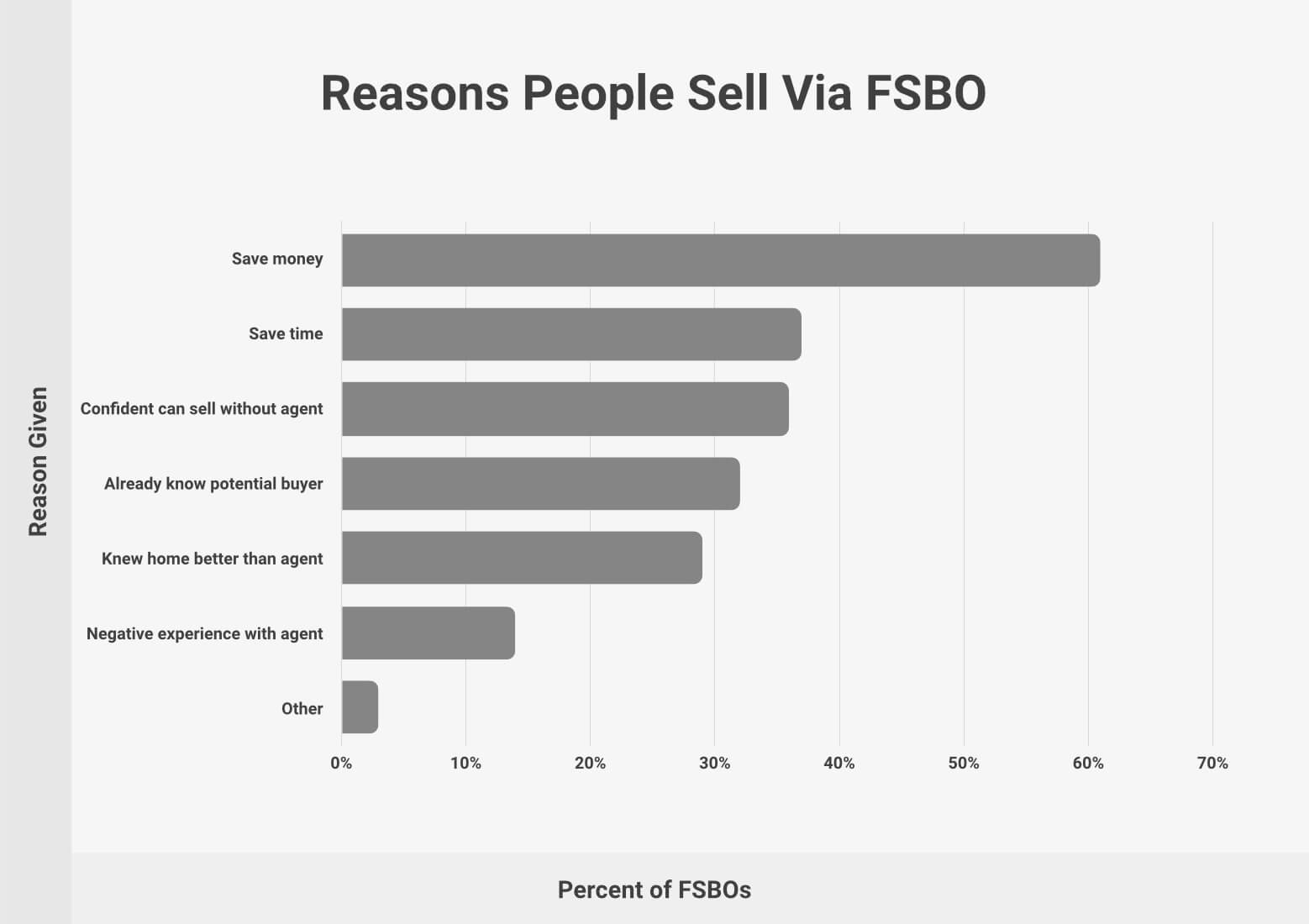 Realtor vs FSBO Sales Price Differences
In 2021, data show that the average FSBO home was sold for $225,000, notably lower than the average price for agent-assisted home sales, which stood at $330,000.
It's essential to note that this price disparity can be partially explained by the fact that rural homes, where FSBO is more common, tend to have lower values.
Geographic differences aside, when controlling for home size and location, similar FSBO-sold homes typically sell for 5.5% less than their agent-assisted counterparts.
Since most FSBO sellers still pay a commission to the buyer's agent, in most cases going the FSBO route is less profitable for sellers.
Average Realtor Commission Rates
In the United States, the typical realtor commissions are 5.37%, usually split 50/50 between the buyer's agent and the seller's (listing) agent. The commission to both agents is normally paid by the seller of the home.
This means that if you sell a $250,000 home, you'll pay about $13,425 in fees, while selling a $800,000 home would cost you around $42,960 in fees.
Since comparable FSBO-sold homes normally go for 5.5% less than agent-assisted homes sold, not having to pay the selling agent's commission typically won't save FSBO sellers in the long run.
In addition, when someone sells their home themselves, they normally offer to pay a commission to the buyer's agent. Sellers usually do this because they know that if they don't offer a commission, buyers' agents might not show their homes to potential buyers. Also, the person selling their home on their own might not be very familiar with the whole process, so having a buyer's agent on the other side can be helpful.
Even though buyer's agents work for the buyer and not the seller, they can still do important things like writing up the contract, negotiating, and guiding the buyer through the home-buying process. So, they may play a valuable role in making the sale happen.
Pros and Cons of FSBO
Here, we break down the advantages and disadvantages of FSBO.
FSBO Pros
Not Paying the Listing Agent Commission: One attractive reason for many to sell their homes via FSBO is that they can avoid paying the 2.5%-3% commission to the listing agent. For a home worth $500,000, this could be a savings of $12,500-$15,000. While this is the potential upside, FSBO homes statistically sell for a bit less, so there's the potential risk of leaving money on the table.
Control Over the Process: selling on your own gives you complete control over showcasing your property and negotiating terms with buyers.
Direct Communication: FSBO sellers can communicate directly with potential buyers, addressing questions and concerns promptly, potentially expediting the sale.
Shorter Time on the Market: Approximately 50% of FSBO sellers already know their buyers before selling, which can lead to a quicker sale. In fact, FSBO homes few days on the market, about a week less than traditional sales on average. However, if the home doesn't sell quickly, the home can sit on the market longer without having an agent to help.
FSBO Cons
Lower Sale Price: Statistically, FSBO homes tend to sell for about 5.5% less than those sold with the assistance of real estate agents. While you might save on commissions, this difference in sale price can often offset those savings.
Complexity: Selling a home involves navigating complex legal and financial processes. FSBO sellers may find it challenging to handle contracts, negotiations, and the closing process without professional expertise.
Limited Exposure: FSBO listings may not receive the same level of exposure as those listed with real estate agents. This can result in a longer time on the market and potentially lower sale price.
Pricing Challenges: Determining the right asking price can be a struggle for FSBO sellers, potentially leading to overpricing or underpricing, which can deter potential buyers.
Emotional Stress: Directly handling negotiations and the sale process can be emotionally taxing, particularly if you have a personal attachment to your home.
Conclusion
In essence, the decision to go FSBO should be made thoughtfully, taking into account the potential for both cost savings and impact on the final sale price.
The FSBO route can lead to quicker sales in cases where the seller already knows the buyer, but it can also result in a longer time on the market.
Seeking professional guidance or using a flat-fee MLS service can help mitigate some of the challenges associated with FSBO, while still allowing you to retain more control over the sales process.
Sources
National Association of Realtors (NAR1, NAR2)