Fleur de Lys Mansion | 350 N Carolwood Drive, Los Angeles
Posted by Tony Mariotti on Wednesday, April 2, 2014 at 7:38 AM
By Tony Mariotti / April 2, 2014
Comment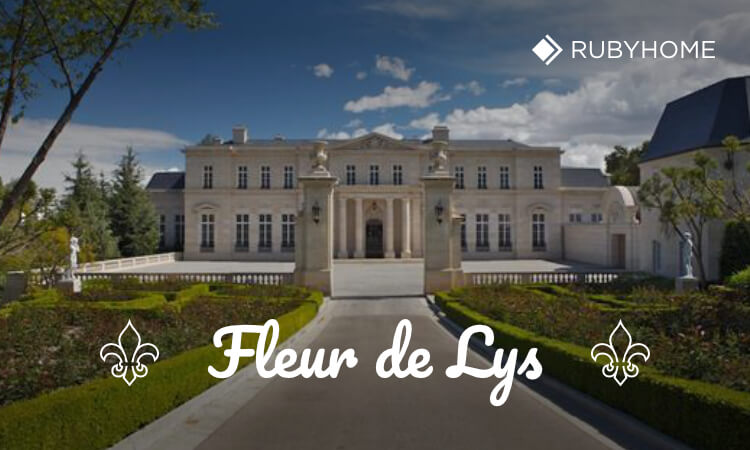 Updated February 5, 2021
How hot is the ultra-high-end real estate market in Los Angeles? Hot enough for a home to attempt to break the elusive $100 million barrier for the first time in Southern California and become one of the most expensive homes in Los Angeles. And the home in question sold after being on-and-off the market (but always available if you knew who to call) since 2007. Not only did the mansion find a buyer or even two buyers; the house sold after a bidding war between three billionaires.
Fleur de Lys Mansion
The home that attempted to break the $100 million barrier in Los Angeles was none other than Fleur de Lys, located at 350 N Carolwood Drive, a mansion known as much for its optimistic price that was never lowered as much as it was known for the extravagant luxuries found on a lot of over 4 acres. The final closing price was originally reported at $102 million in an all-cash transaction with only a ten-day closing period. That figure was later revised downward to $88.3 million. While some reports say the home was sold with antique furniture, Sotheby's auctioned off at least a portion of the antiques from the home in a 2008 sale. At over 35,000 square feet, the original sale price was good for $2914 per square foot, an extremely high number for a home of this size since price per square foot tends to drop off as the size of a mega mansion increases.
Suzanne Saperstein, the seller, first listed the mansion in 2007 for $125M, a price she never reduced despite the economic downturn and real estate crash.
Not surprisingly, the mansion is located within the Platinum Triangle, which consists of Holmby Hills, Bel Air, and Beverly Hills. The listing and most reports say the home is located within Holmby Hills, the area most commonly associated with Carolwood Drive, but the property technically lies within the Beverly Crest (a.k.a. Beverly Hills Post Office) neighborhood in the southernmost section of that neighborhood which is a narrow strip of land between the borders of Beverly Hills and Holmby Hills.
Built in 2002, it has been said the design was based on the Vaux-le-Vicomte palace outside Paris, but architect Richardson Robertson III of Robertson Partners, an architecture firm based in Los Angeles, claims many of the neoclassical design elements he used were actually inspired from the Gilded-Age mansions of Newport, Rhode Island.
Fleur de Lys is steel-framed with a limestone-faced edifice and sits on rollers to protect the mansion during earthquakes. Inside the mansion are 12 bedrooms, 15, bathrooms, a glided ballroom big enough to hold 500 guests, a 3000 square foot wine cellar with tasting room, a two-story library, a 35mm digital movie theater, a beauty salon, a dance studio, and a music room.
The driveway, at over 600 feet long, ends in a large motor court built of granite stones recycled from Manhattan streets when the sewer system was upgraded on the New York City island. The mansion also features a secondary staff and service entrance.
The 4-acre lot, surrounded by manicured trees, features formal gardens a lawn the size of a football field, a tennis court, a jogging track, and a swimming pool facility complete with a spa and fitness complex.
Staff quarters include a dedicated security center, a dining room, offices, and a separate house on the grounds for the estate manager.
What Does This Mean for Los Angeles?
The previous record price for a residential sale in Los Angeles County was the trade of Casa Encantada, located at 10644 Bellagio Road in Bel Air, when Dole CEO David Murdock sold to Gary Winnick for $94 million in 2000. And in 2011, British Formula 1 racing heiress Petra Ecclestone bought The Manor, located at 594 S Mapleton Drive in Holmby Hills from Candy Spelling for $85 million. It is rumored Ecclestone was in escrow to purchase Fleur de Lys for a similar amount but the deal fell apart when Saperstein asked Ecclestone to cover her moving expenses and exclude a $700,000 fountain from the sale, but Ecclestone has publicly said she preferred The Manor because she found it to be more of a family home. Saperstein likely has no regrets waiting another 2+ years to cash out with an additional $17 million profit.
The highest sale on record in the United States is a mansion sold in Northern California's Los Altos Hills, which sold last year for $117.5 million. It has been speculated the sale included additional provisions, thus inflating the price, since the buyer, Masayoshi Son, the second richest person in Japan, with a net worth of over $7 billion, and the seller, Tully Friedman, are business associates.

Back to Los Angeles and what this sale means in the context of today's real estate market. For one, it solidifies how hot the Los Angeles market is right now and how the year-over-year increases trend higher as the price point rises. As the numbers come in from the first quarter of 2014, we will see the luxury market is outpacing the lower price points and the ultra-high-end market is the hottest segment of the market.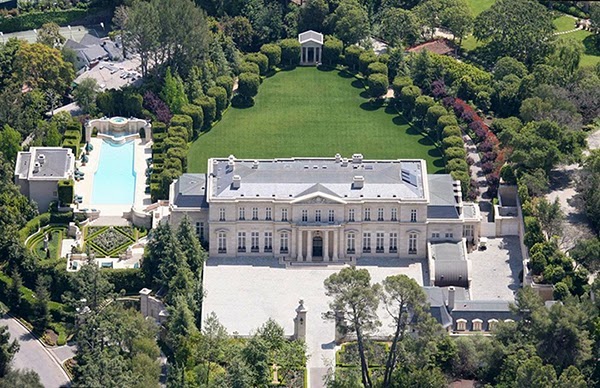 Another thing to note is size (of the livable square footage) still matters when it comes to trophy properties in Los Angeles. This should come as no surprise as a 60,000sf mansion is nearing completion in Bel Air, but it is worth noting how Fleur de Lys sold for well above the anticipated selling prices of two more pedigreed homes on larger lots. Within a few days of each other this February, Fleur de Lys, Owlwood, and the Singleton Mansion were all said to have sales pending. We now know the Fleur de Lys rumor was false (or the pending deal fell apart), so the facts and figures pertaining to the other two sales should not be taken as recorded fact.
The Singleton Mansion at 384 Delfern Drive was listed for $75 million and is said to be in escrow for a figure in the low $60 million range. The listing is marked as pending in the Los Angeles MLS, so the sale price will become public record. If the rumors prove true, the Wallace Neff-designed home of 15,520 square feet on 7.65 acres fetched nearly $40 million less than Fleur de Lys.
Owlwood has been shrouded in mystery since it was first quietly shopped as a pocket listing for $150 million and since it was never publicly listed chances are the sale price will never officially be known. The sale said to be pending in February was pegged at $75-85 million, still a significant amount less than the recent blockbuster sale. Considering Fleur de Lys is a home built on 4 acres in 2002, many in the know assumed Owlwood would command the higher price since it offered over 10 acres and a 12,000sf home with as rich a history as any in Los Angeles, a mansion designed by Robert Faquhar for the real estate developer Arthur Letts, founder of Holmby Hills and Westwood.
The one thing Fleur de Lys had going for it in breaking the record for sale price of a home in Los Angeles was a bidding war. When pricing a home, never forget a bidding war will always bring about the best price in the quickest amount of time. And if it is a bidding war between three billionaires, sit back and enjoy.
With buyers willing to pay a premium for square footage over pedigree and land, do not be surprised as developers continue to build spec homes with an end goal of squeezing as much livable square footage as possible onto a lot. Yes, developers must abide by the hillside ordinance and the various anti-McMansion laws on the books, but the trend of maximizing a site will continue as long as the wealthy continue to invest in Los Angeles real estate.

And now that high-net worth homeowners (and everyone else) know the money is out there, the ripple effect of this sale will continue for some time. The two places we will see this effect are in price increases and new listings in the ultra-high-end market. Long before a price adjustment takes place in the market, it takes place in the minds of homeowners who believe a record-breaking sale increases the value in their own property. And they are usually correct, if only because of the homeowners' new perceived value of their property. The sale of Fleur de Lys signaled it is still a seller's market in the ultra-luxury real estate market, so sellers will list at higher prices and have a comp to point toward in seeking higher sale prices in negotiations. Those sellers who are audacious enough will go so far as to raise their asking price no matter how long a property has been shopped with no buyers to show for it.
I can guarantee owners of Westside trophy properties who had not previously thought of selling have either fielded calls to gauge their interest or have made calls themselves to ask, "What is my home worth?"
Two billionaires, one Chinese and one English, lost out in the recent bidding war, so chances are those two buyers are looking at other properties. With deep pockets and a willingness to spend a lot of money on a trophy property, chances are we will see one or two additional blockbuster sales in the near future. The most likely mansions to trade and possibly set a new record sales price?
1011 N Beverly Drive in Beverly Hills (a.k.a. Beverly House): A 20,570 square foot mansion on a 3.53 acre lot recently being shopped for $115 million after being listed for $165 million in 2007-08. The trophy property lays claim to an impressive pedigree as it was designed by architect Gordon Kaufmannfor banker Milton Getz, was bought by Marion Davies for William Randolph Hearst, hosted Jonh F. Kennedy and Jacqueline Onassis for their honeymoon, and was featured in films such as The Godfather and The Bodyguard. The mansion is currently available as a rental for $600,000 per month.
10644 Bellagio Road in Bel Air (a.k.a, Bellagio House, Casa Encantada, or Weber Mansion): A 28,725 square foot mansion on a 8.4 acre lot rumored to be available for $225 million. The mansion was designed by architect James Dolena and has been the home of Conrad Hilton, David Murdock, and Gary Winnick.
355 N Carolwood Drive in Holmby Hills (a.k.a. Carolwood Estate or Disney Estate): a 35,000 square foot mansion on over 3 acres asking $90 million. The land was once owned by Walt Disney, but his home was razed after the current owner bought the property.
UPDATE: As expected, Beverly House, located at 1011 N Beverly Drive in Beverly Hills, is being actively shopped as a pocket listing for $135 million dollars as of Wednesday, April 2nd. The $135 million asking price is $20 million higher than the most recent asking price.
UPDATE: 4 days after closing, the new owner has listed 350 Carolwood as a rental asking $400,000 per month. The listing says the home is only available for lease terms of at least one year, but this is the type of property typically rented out for events and as a filming set.
UPDATE: It appears Los Angeles does not have its first true sale of a home for $100 million as 350 N Carolwood is showing on public record as selling for $88.3 million. The home was purchased with artwork and antique furnishings, which pushed the price to $102 million. In order to reduce property taxes, the buyer purchased the furnishings separate and the sale price of the home itself was corrected to $88.3 million, which is good for the second highest amount ever paid for a home in Los Angeles, behind the $94 million paid for Casa Encantada.The $400,000 a month rental listing for Fleur de Lys was withdrawn after a week on the market. I have not confirmed whether a lessee has been found for the property.
UPDATE: Los Angeles officially has its first 9-figure residential sale as the iconic Playboy Mansion at 10236 Charing Cross Road in Holmby Hills sold on August 12, 2016 for $105,000,000 to the next door neighbor. Although public property records report the sale to be an even $100,000,000.