Top 10 Famous Movie Houses [Ranked]
Posted by Tony Mariotti on Tuesday, May 17, 2022 at 1:37 PM
By Tony Mariotti / May 17, 2022
Comment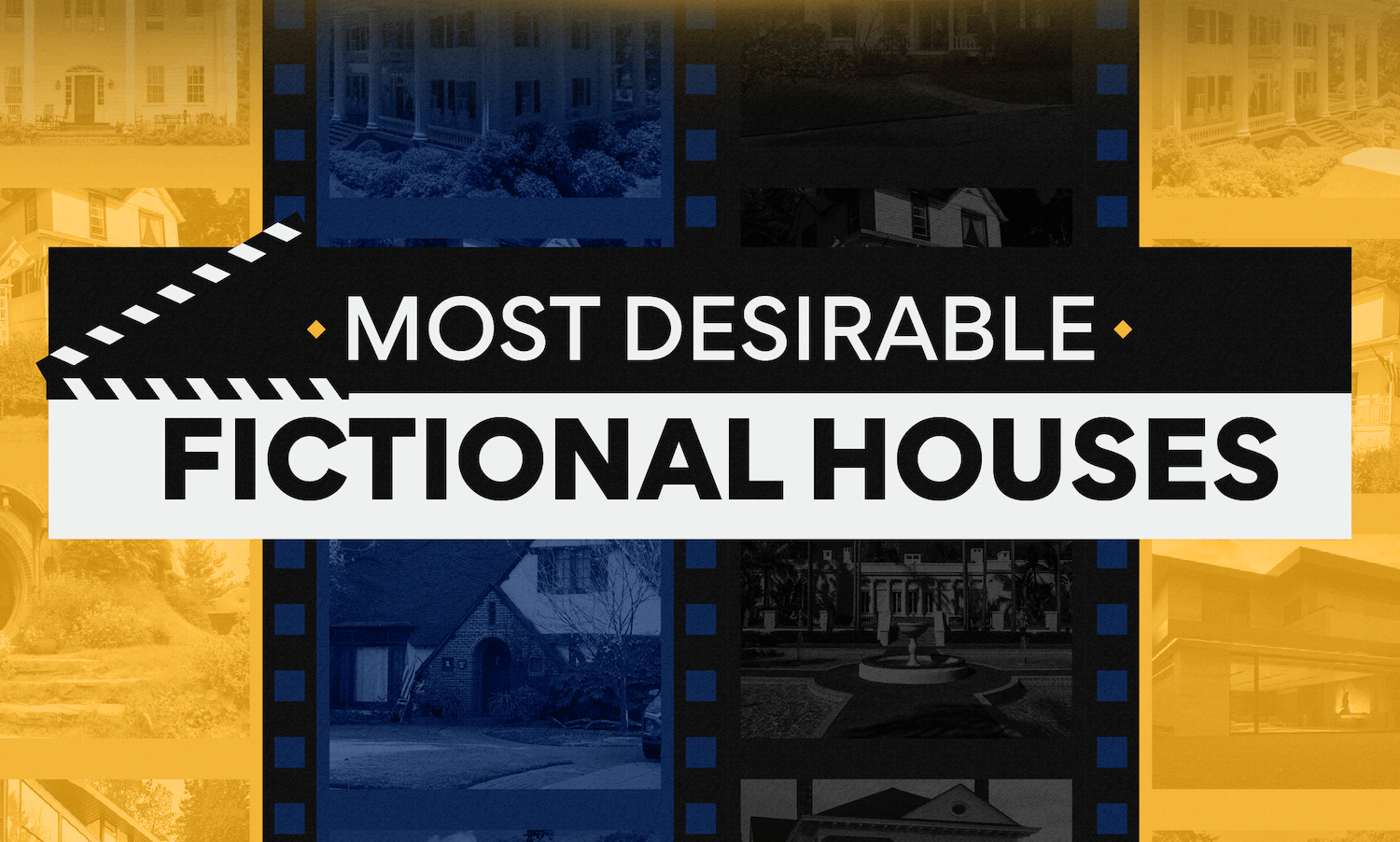 While houses portrayed in films are part of a fictional storyline, many exist in real life. We were curious to know who would like to own the real-world versions of famous movie homes, so we surveyed 1,279 people. Our survey helped us determine how preferences differ based on dimensions like age and gender. And, we kept digging. We found out the price they were willing to pay and how far people would go to cover the cost of buying one.
Key Takeaways
The most desirable fictional home among movie fans is "Twilight"'s Cullen house.

Seventy-nine percent of Gen Zers wouldn't mind taking on a second mortgage to live in Edward Cullen's house.

Americans would pay $5 million to live in Tony Montana's "Scarface" mansion.
Nearly half of Americans would utilize their children's college savings to pay for their dream movie home.
The Most Wanted Famous Houses
People had different answers about where they'd like to live in an ideal—albeit whimsical—world when it came to famous movie homes. From coast to coast, survey respondents outlined their top ten most desirable fictional homes in which to live.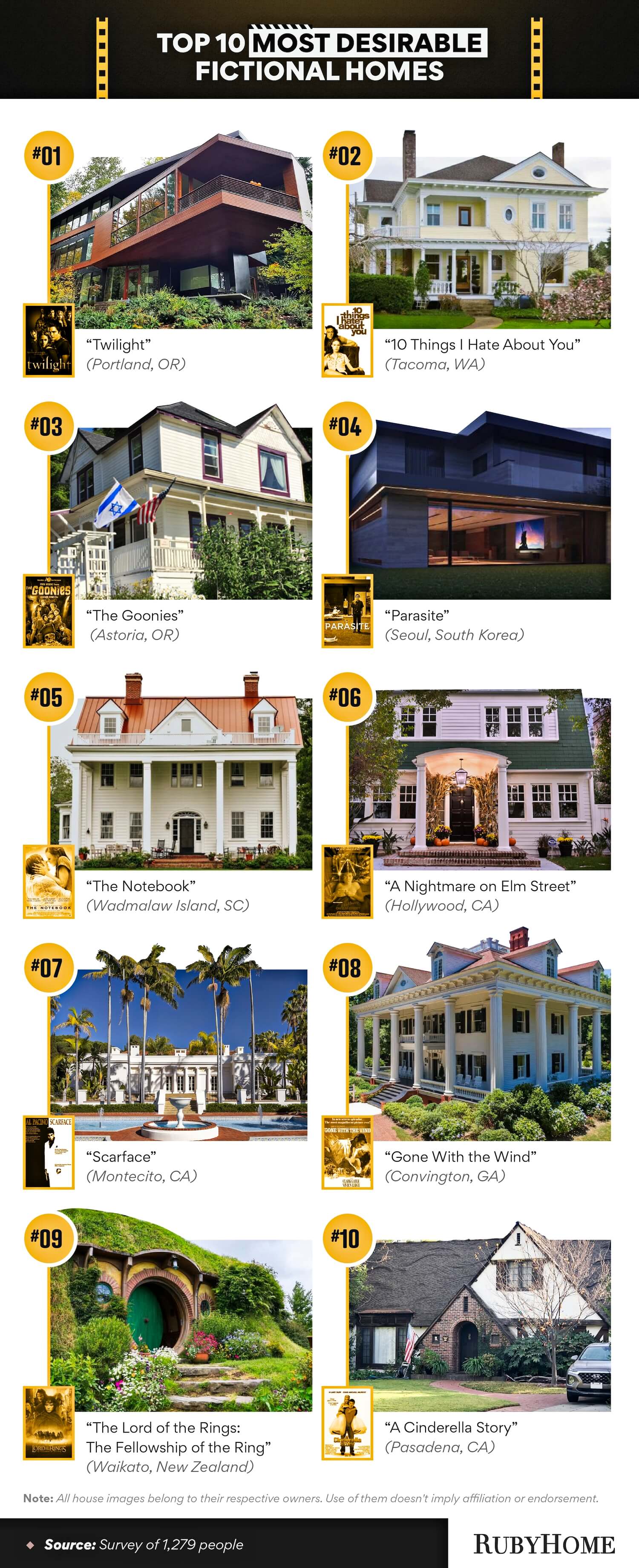 Coming in at No. 1 was the Cullen residence from the blockbuster "Twilight" movie saga. By the numbers, the five films from this franchise amassed over $3 billion worldwide at the box office. While the movie's romantic and fantasy-related aspects enthralled audiences, viewers couldn't help but wish they could live in the house where the Cullens, a family of vampires, resided in Portland, Oregon. The real-life home is owned by John Joke, a director of footwear design at Nike.
The second most desired fictional home in "10 Things I Hate About You" sits in the same spot as it was in the film in Tacoma, Washington.
Rounding out the top three is the Goon Docks from the 1980's classic adventure "The Goonies." Most of the film was shot in Astoria, Oregon, which remained parallel with the film's storyline.
Have you noticed a trend? All of the top famous movie homes are in the Pacific Northwest. California is also a leading state as 3 of the top 10 were in California, including houses in Hollywood ("A Nightmare on Elm Street"), Montecito ("Scarface"), and Pasadena ("A Cinderella Story").
Famous Movie Houses Ranked by Gender and Age
Now, let's look at the differences in preferences between genders and generations.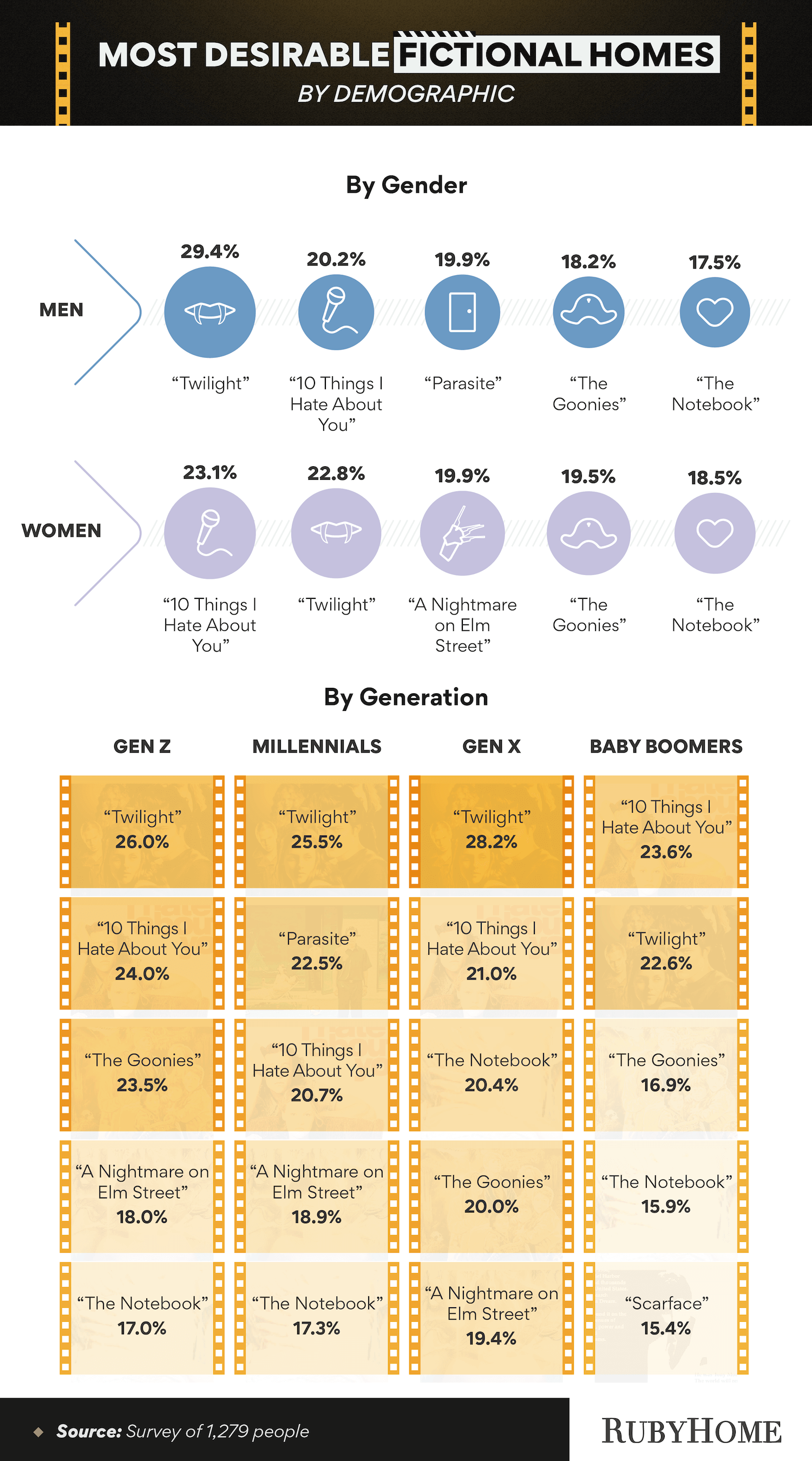 The most desirable fictional home for men was the Cullen household in the "Twilight" series, as nearly 30% of them wished they could call that home their own. For women, "Twilight" landed in the number two spot - where 22.8% felt the same way. Leading the pack for women and in second place for men was the lovely home from "10 Things I Hate About You," where 23.1% of the former cited it as their top fictional dream house. "The Goonies" and "The Notebook" claimed the number four and five spots for both men and women, but men were interested in the house from "Parasite" to round out their list, while women were attracted to the "A Nightmare on Elm Street" house, clearly unperturbed by its spookiness in the film.
By generation, the Cullen residence captured the hearts of Gen Zers, Millennials, and Gen Xers alike, while ranking second for baby boomers. The "10 Things I Hate About You" house was baby boomers' first choice and was a top-two pick for Gen Z and Gen X. Also, Gen Z and Gen X had the identical five preferred movie houses, just laid out differently. Based on their preferences and the fact that the average release date of these movies is 1996, we can assume respondents felt a sense of nostalgia associated with them.
How Much Would People Pay for a Famous House?
Daydreaming about living in your fantasy home is one thing, but what lengths would people go to make it a reality? On a financial level, pretty far, it seems.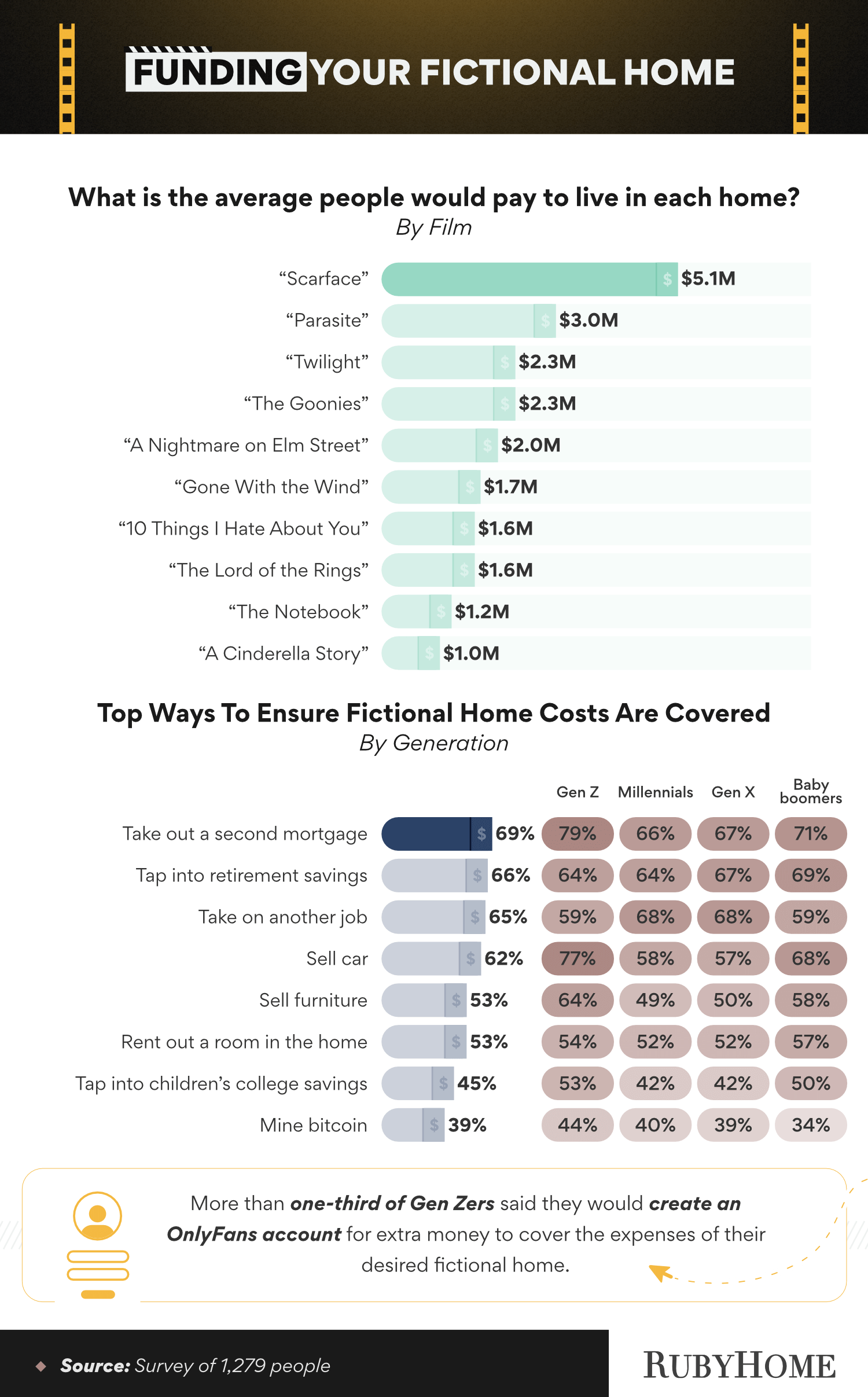 While the Cullen home from "Twilight" has been a clear-cut favorite famous movie home for many respondents, it wasn't where people would shell out the most money. The house from the 1983 crime/drama "Scarface" was, by far, the most theoretically expensive place that our surveyees would purchase. Its theoretical price tag was $5.1 million, which was $2.9 million more than the next costliest house - the one from "Parasite." Here's a reality check: the 2,000-square foot "Scarface" mansion in Montecito was listed for a cool $40 million earlier this year. Those surveyed would naturally be thrilled to acquire this 10-acre estate for eight times less than its recent asking price.
Not everyone has $40 million, let alone $5 million, to shell out for a fictional dream home, but many would go to great lengths to raise the necessary capital. Gen Zers were the most likely to follow through on five of the eight top strategies—taking out a second mortgage, selling their car, selling their furniture, tapping into their children's college savings, and mining bitcoin.
Some respondents were also quite keen on monetizing their bodies to accrue capital. For example, a third of Gen Zers said they would create an OnlyFans account (a subscription-based platform where people can sell or purchase content, often in a sexual context). Forty-six percent of Gen Zers would also consider selling their sperm or eggs to afford their dream fictional home. Overall, a fifth of Americans would also look to their body for financial gain—20% said they would sell one of their organs for cash, and 18% would part ways with some of their blood plasma in exchange for some coin. A tenth of survey takers admitted that they'd flip their dream home for a profit if the opportunity presented itself.
Famous Movie Home Locations
We know which famous houses people want to live in and how much they'd spend to realize that dream. Let's now circle back to where these homes are located (in the films).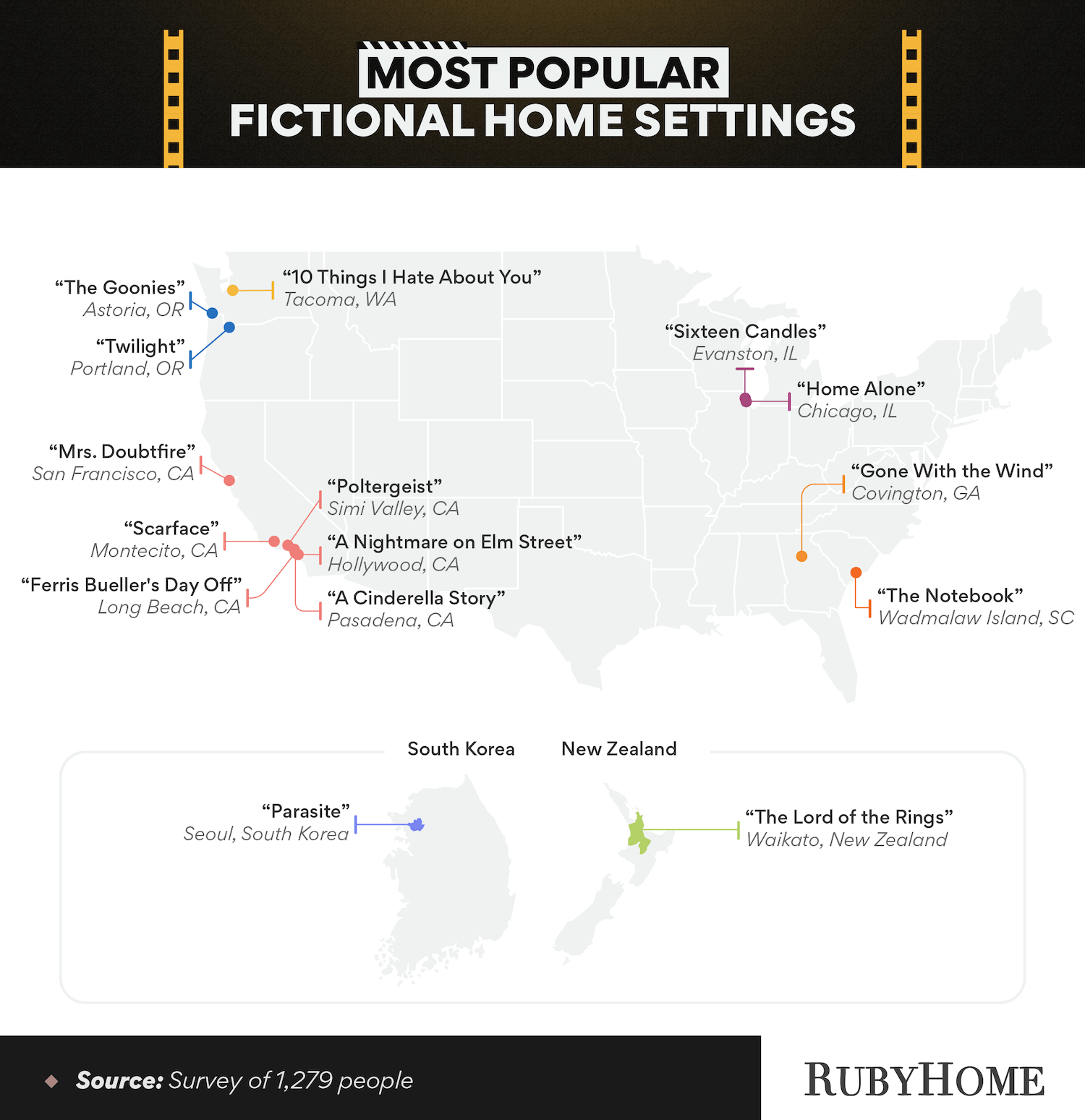 As mentioned earlier, filming on the West Coast was a popular choice among screenplay writers and film directors. As we can see on the map, nine of the most desired fictional homes were a part of movies set in Washington, Oregon, or California. We've touched on some of the houses up north, but let's see what the buzz is about further south in California.
Though "A Nightmare on Elm Street" will likely forever be known as one of the greatest horror movies, there's nothing scary or off-putting about the beautiful home that takes center stage in the film. While the story takes place in the nonexistent town of Springwood, Ohio, the house sits in Hollywood, California. In January 2022, it sold for just shy of $3 million. The home includes 3 bedrooms, 4.5 bathrooms, a pool, and a guest house.
Other California-based residences on the list of most desirable famous homes included the mansion in "Scarface" (Montecito) and the residence from "A Cinderella Story" (Pasadena). Homes from "Ferris Bueller's Day Off" and "Mrs. Doubtfire," two widely popular films that didn't quite make the top ten, are also in California (Long Beach and San Francisco, respectively).
Summary
You'd be hard-pressed to find someone who thought that the fictional homes touched on in this article were anything but stunning. The Cullen residence, in particular from the "Twilight" saga, was the cream of the crop in the mind of most respondents.
That said, people were willing to spend the most money to become the homeowner of the gorgeous estate from "Scarface." In theory, to raise the amount of capital they were comfortable spending to cover the cost of purchasing their fictional dream home (which, by the way, was usually much less than the actual going price), they would be willing to take out loans, dip into their children's college saving funds, and even monetize their body.
Whichever home they had their eye on, though, was likely to be located in some part of California. The Golden State has always been a popular destination to shoot films, and the houses used in said films can be borderline magical. Your dream could become a reality more quickly than you think.
About RubyHome
RubyHome is a luxury real estate brokerage based in Los Angeles and operates in several West Coast markets. We help our clients find and acquire their dream homes.
Methodology
We surveyed 1,279 people who watch movies often. Respondents chose which home they would like to own by showing them pictures of each. Among those surveyed, 50% were men, and 50% were women. Generation breakdown was as follows:
Generation Z: 16%
Millennials: 35%
Generation X: 34%
Baby boomers: 15%
Short and open-ended questions (outliers) were removed.
To help ensure that all responders took our survey seriously, they were required to identify and correctly answer an attention-check question. Survey data has certain limitations related to self-reporting.
The margin of error of our sample size was: +/- 3% with a 95% confidence interval.
Fair Use Statement
Want to give your audience a peek into America's famous movie homes? You're welcome to share this research; be sure you link (dofollow) back to this page, and your purposes are noncommercial.