Documents Needed for Mortgage Pre-Approval
Posted by Tony Mariotti on Sunday, September 25, 2016 at 3:14 PM
By Tony Mariotti / September 25, 2016
Comment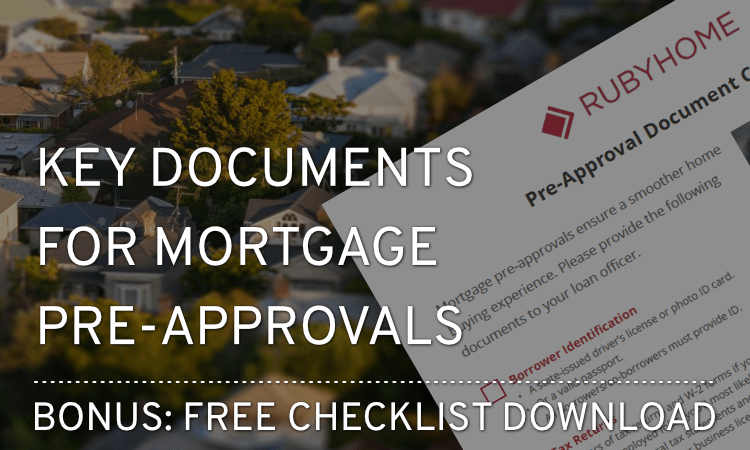 Key Takeaways:
Mortgage pre-approvals ensure a smoother home buying experience
The pre-approval process begins when your lender creates a loan file with your loan application and credit report
You'll add a few mortgage pre-approval documents to the loan file
Your lender returns a loan estimate to you along with any other required loan disclosures
As an added bonus, at the bottom of this article, you can download a pre-approval document checklist. Save it to your hard drive and print it out. You can use it to keep track of your progress.
Mortgage Pre-Approval Advantages
If you plan to buy a home soon, getting a mortgage pre-approval is a good idea. Here's why.
You will save time because your home shopping will be more focused.
You'll be able to search for homes in a well-defined price range and not stray into properties you cannot afford. You'll have an easier time dealing with your real estate agent and getting in-home viewings. Most agents won't work with clients who are not pre-approved. And many sellers will only allow agents to show their home to pre-approved buyers. If you are pre-approved, those two barriers go away.
Sellers will take you more seriously and that come in handy when it comes time to make an offer. You'll be in better position to negotiate. Any offer coming from you is viewed as legitimate because the seller knows you are ready and able to buy.
Lastly, pre-approvals reduce the risk of any unwelcome surprises because you have a much clearer picture of your mortgage situation going into the mortgage loan process. From start to finish, you can expect a smoother experience.
Starting a Loan File
Your point of contact with a lender, typically a loan officer, will create the initial loan file. The first two things that go into it are the mortgage application (also known as the Fannie Mae 1003) and credit report.
Mortgage application
The loan application begins with basic information about your employment history and financial assets. Applications may be filled out online or in-person. Today, the vast majority are started online by the borrower (basic information) and completed by the lender (who adds mortgage calculations and closing cost estimates).
Credit report
When the loan application is filled out, the credit report is pulled by your loan officer. The report is called a "tri-merge" because it shows three scores from the major credit agencies Experian, Trans-Union and Equifax. The middle of the three scores is used for underwriting. Credit reports give lenders an "official" look at your financial responsibility, which helps them assess risk. Here are some of the things that show up in a credit report:
Credit score
Credit history of trade lines, past accounts, past payment history (i.e. how many 30-day, 60-day or 90-day late payments have been noted, per account)
Credit inquiries
Public records for bankruptcies, overdue debts (in collections), foreclosures, law suits, liens, judgements and wage attachments (garnishments)
Documents for Mortgage Pre-Approval
Now that the application and credit report are in the loan file, it's time to upload or send your pre-approval documents to your loan officer. In most cases, you'll conveniently upload them online. As mentioned, very few loans these days require you to take mortgage pre-approval documents to a physical office space.
There are four (4) main types of documents needed for a mortgage pre-approval. You may be asked for a few more, depending on your circumstances (covered below). Underwriters, the people who make approval/rejection decisions about loans, review the following:
1. Borrower Identification
A state-issued photo ID driver's license or identification card. A valid passport will also suffice.
All borrowers/co-borrowers must provide ID.
2. Tax Returns
2 years of tax returns and W-2 forms if you work for a company.
If you are self-employed, then you'll most likely be asked for a profit & loss (P&L) statement and federal tax statements for the last two years. You may be asked for your business license or a letter from your CPA.
3. Pay Stubs
Provide the most recent 30 days of pay stubs or profit/loss statement.
4. Bank Statements
Provide 2 months of the most recent, complete bank statements. Include all pages for all accounts. Statements must show your complete account numbers.
Savings
Checking
Brokerage statements
401k
IRAs
Roth
403b
Other Documents for Pre-Approval
Each loan is as unique as the borrower applying for it. If applicable, the following documents may also be requested of you:
Bankruptcy discharge paperwork
Divorce decree
Pension statement
Social Security/Disability Statement
Home Owners Association (HOA) Statement
If you own other properties, you may be asked for current mortgage statements and a homeowner's insurance declaration for each property
Initial Disclosures
During the pre-approval stage, your loan officer will provide "initial disclosures" to you. They are meant to help you understand the credit terms of the proposed mortgage. Initial disclosures are required by law and must be delivered to you within three (3) days of your mortgage application.
You will receive a Loan Estimate, formerly called Good Faith Estimate (GFE). The loan estimate itemizes the anticipated costs of making the loan as well as the ongoing costs (e.g. monthly payments). You'll also see how your mortgage payments might change in the future, if applicable, as would be the case with an adjustable rate mortgage (ARM). Here are main line items in a loan estimate:
Loan amount
Interest rate and APR
Term
Monthly payment
Closing costs
Prepayment penalties, if any
Pre-Approval Letter
After assembling and reviewing the application, credit report and documents needed for mortgage pre-approval, the mortgage underwriter will render either a "yes" or "no" decision. If the answer comes back "yes," your lender can issue a pre-approval letter.
The pre-approval letter spells out things like the maximum loan amount, type of home loan and any conditions that must be met before final mortgage approval is made. Conditions include things like a satisfactory property appraisal and proof of a clear title. The letter is not a guarantee to lend you the money, but it puts you one step farther down the path to owning a home.
Why does this matter? Well, the pre-approval letter can be shown to your real estate agent and the seller of the home you're interested in buying. You'll be viewed as a serious buyer who is ready and able to make a purchase.
Download Your Pre-Approval Document Checklist