What is the DINK Lifestyle? [Survey]
Posted by Tony Mariotti on Tuesday, May 17, 2022 at 12:14 PM
By Tony Mariotti / May 17, 2022
Comment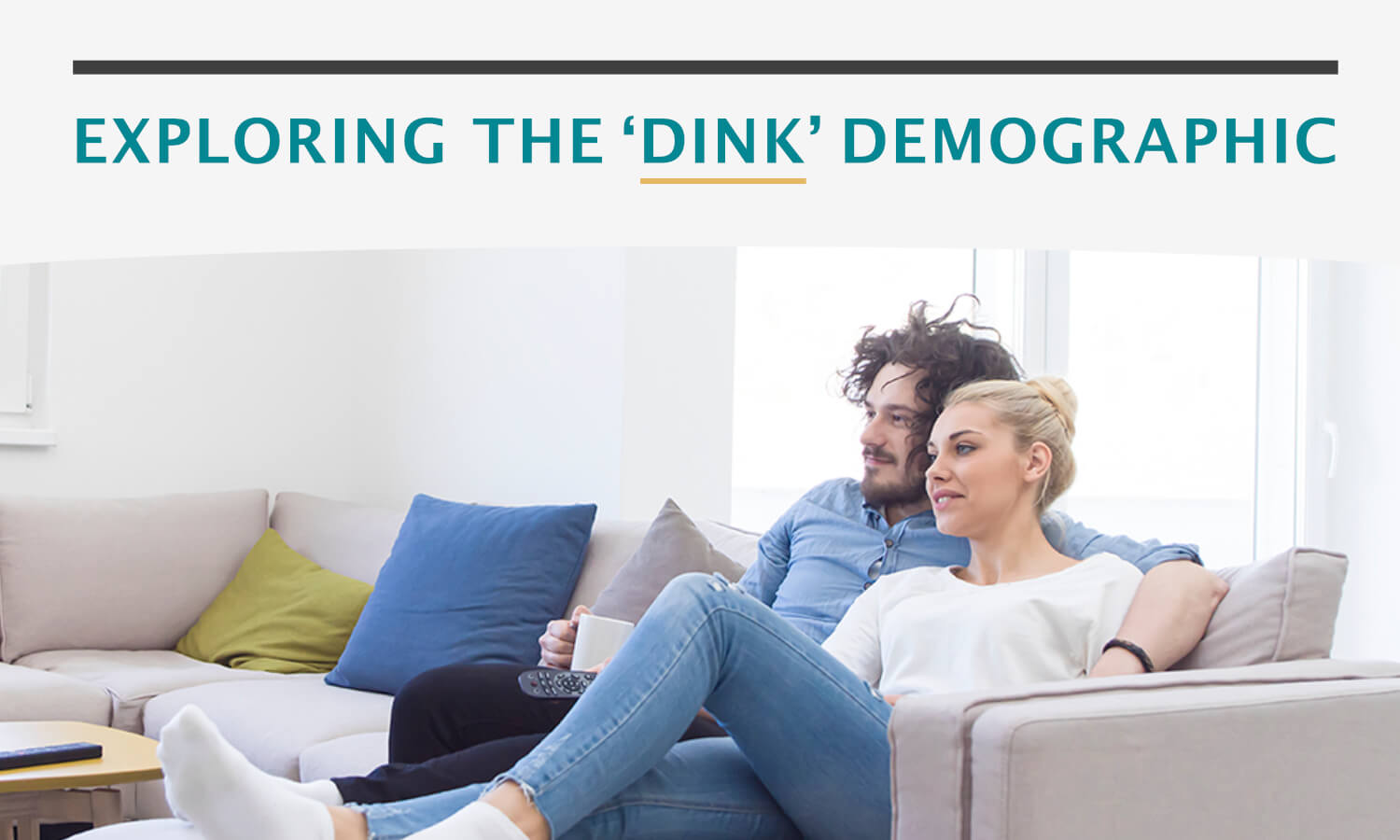 For many, the path to the American dream includes owning a home, starting a family, and eventually retiring into a relaxing post-career stage of life.
However, this isn't the case for many Americans born after 1997. In fact, for a good portion of Gen Zers, the ultimate goal is to become a dual income, no kids (DINK) household.
We surveyed 1,024 Gen Zers and asked them about their financial future, whether they want to have children, and what a fulfilling life looks like to them. Continue reading to learn more about this generation's goals and outlook on life and the DINK lifestyle.
Key Takeaways
Nearly 1 in 4 Gen Zers expect to be a DINK household someday, while 38% of respondents remain undecided.
More than 1 in 4 Gen Zers don't want to have children.
Only 52% of Gen Zers believe they can live a luxurious lifestyle while having children.
The median household income for DINKs is $138,035, compared to $103,005 for non-DINK households.
DINK Households
The survey started by asking Gen Zers a vital question: What exactly is important to them? What drives their day-to-day goals when it comes to pursuing their dreams? How does having children fit into those goals? Take a look at their answers below.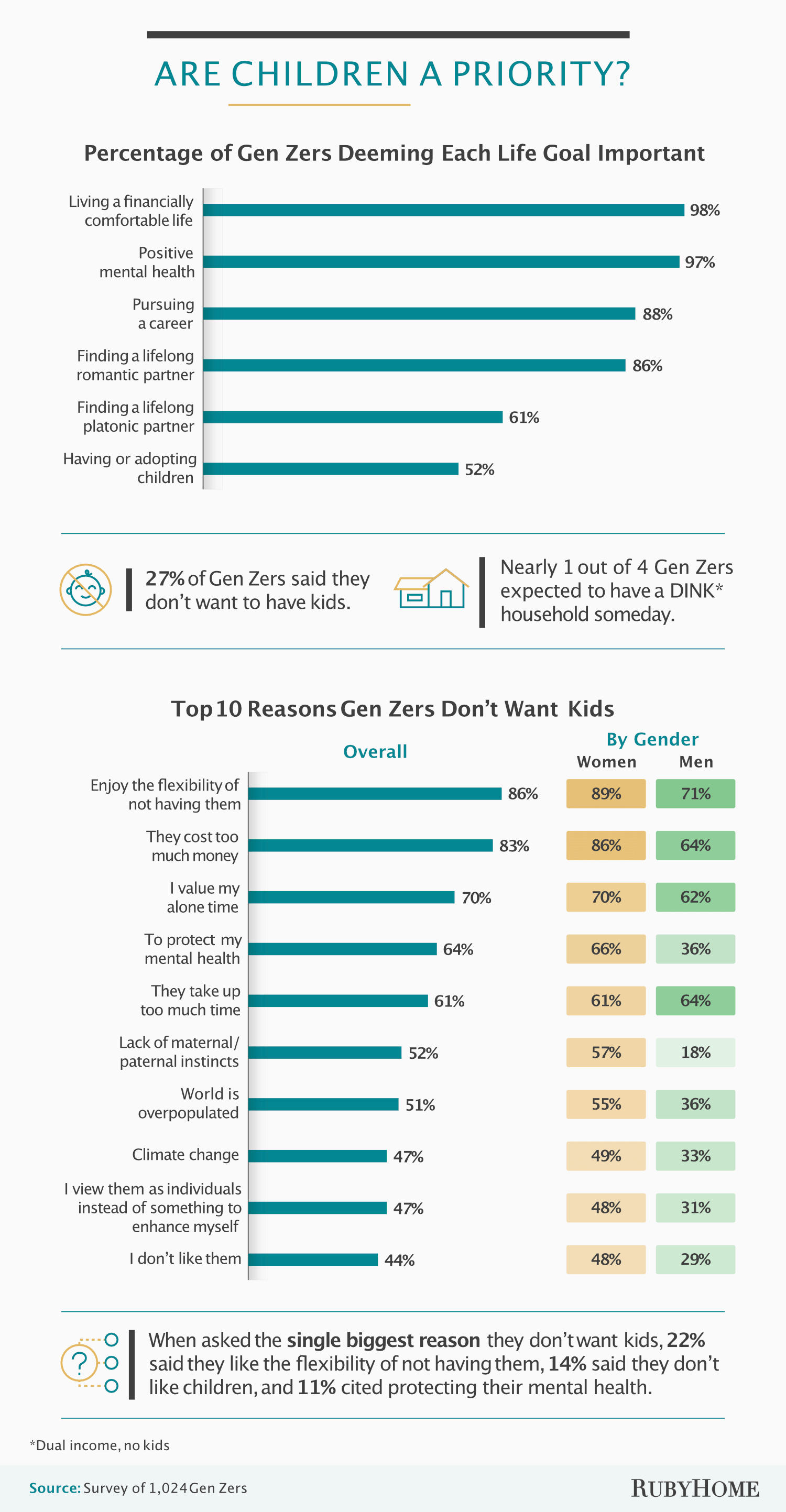 When asked to rank the importance of specific life goals, 98% of Gen Zers agreed that living a financially comfortable life is their top priority. Positive mental health was just behind financial stability: 97% of Gen Z ranked it as a highly important life goal.
While pursuing a career and finding a lifelong romantic partner were still important (88% and 86% of respondents, respectively), these two goals didn't rank at the top of the list for Gen Zers. Even further down the list of importance was finding a lifelong platonic partner, as only 61% cited this goal as necessary. A platonic life partnership (PLP) is a new name for an unconventional yet permanent relationship and living situation that dates back to colonial times.
Gen Z ranked starting a family as the least important life goal, with only 52% saying that having or adopting children was a priority. When asked how many children would be ideal, only 20% of Gen Zers surveyed said they wanted a big family with three or more children. The largest portion of respondents (41%) said having just two children would be ideal, while another 10% said they would want one child at most. Only 2% of those surveyed said they already had children, and a substantial 27% of Gen Zers said they didn't want any kids.
We asked survey participants who didn't want kids to give all the reasons contributing to their stance. The most common reason was that the individual enjoyed the flexibility in life that being without kids afforded them: 86% of respondents cited this mindset overall.
Eighty-nine percent of women and 71% of men chose flexibility as their top reason for not wanting kids. Women also chose financial concern and alone time as the next most important reasons for not having kids, while men were concerned about finances and time commitments. Eighty-three percent of respondents overall believed children cost too much money.
While 64% of Gen Zers who don't want kids said their mental health played a role in their decision, only 36% of men cited this, while 66% of women were concerned with the mental health impact of having kids. Researchers agree that there are links between childbirth and adverse mental health outcomes, such as depression, but more research on the long-term mental health effects of having children is required.
DINK Average Income
DINK households earned a median income of $138,035, while non-DINK households earned $103,005. City living and the opportunity to earn more income could play a role in deciding to forgo starting a family.
DINK Home Ownership
Owning a home was a top priority for most Gen Z participants regardless of their desire to start a family. Eighty-seven percent of those surveyed overall said they want to own a home in the future.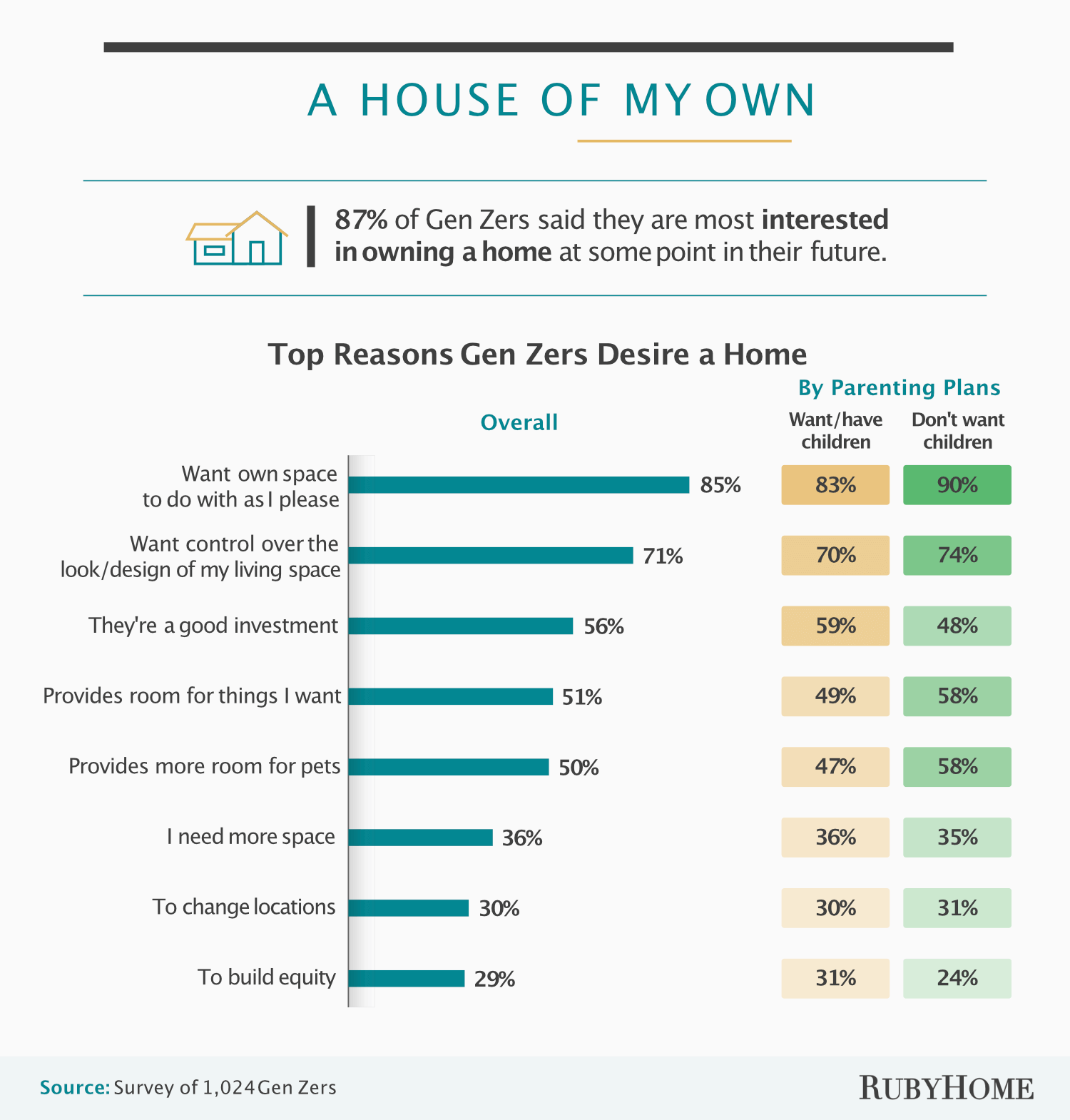 Most Gen Zers said the drive behind this desire was either wanting their own space to do with as they please (85%) or wanting to have control over the aesthetic of their residence (71%). Having more room for the things they wanted was selected more often by those who didn't want kids than those who did, while pets were another disparity between these two groups. Fifty-eight percent of those who didn't want kids said they wanted more room for their pets, while less than half of those who wanted kids said the same. Only 30% of respondents said the impetus behind homeownership was to relocate, and even less—29%—said that the financial impact of building equity was important.
Where Do DINKs Live?
Gen Z seems to want to forgo having children more than any previous generation, while the DINK lifestyle grows nationwide. The national average in the U.S. for the percentage of DINK households is 6.26%. But are DINK households more common in metropolitan areas or specific geographic locations? Check out the map below for the answers.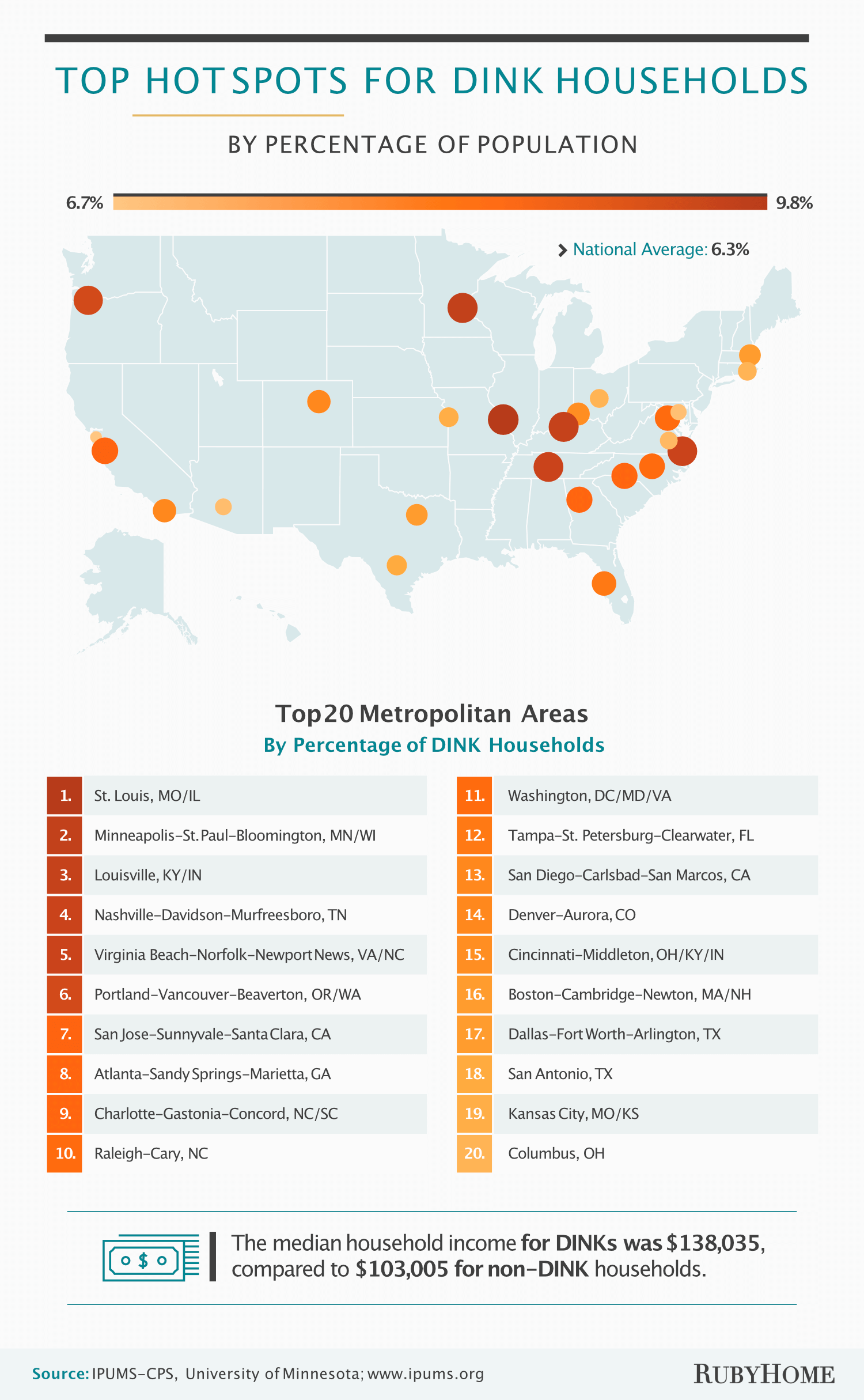 Top 20 U.S. Metros by Percentage of DINK Households
1. St. Louis, MO
2. Minneapolis, MN
3. Louisville, KY
4. Nashville, TN
5. Virginia Beach, VA
6. Portland, OR
7. San Jose, CA
8. Atlanta, GA
9. Charlotte, NC
10. Raleigh, NC
11. Washington, DC
12. Tampa, FL
13. San Diego, CA
14. Denver, CO
15. Cincinnati, OH
16. Boston, MA
17. Dallas, TX
18. San Antonio, TX
19. Kansas City, MO
20. Columbus, OH
The U.S. metropolitan area with the highest percentage of DINK households was St. Louis at 9.8%. Following closely behind was Minneapolis-St. Paul-Bloomington at 9.6% and Louisville, Nashville-Davidson-Murfreesboro, and Virginia Beach-Norfolk-Newport News at 9.5%.
What Do DINKS Expect from Life?
The next portion of the survey sought to discover how Gen Z planned to spend the money they would earn in the future. Do they want to invest in the real estate market, or would they prefer to put their funds toward traveling and other experiences? How will their desire to have—or not have—children impact their future spending goals?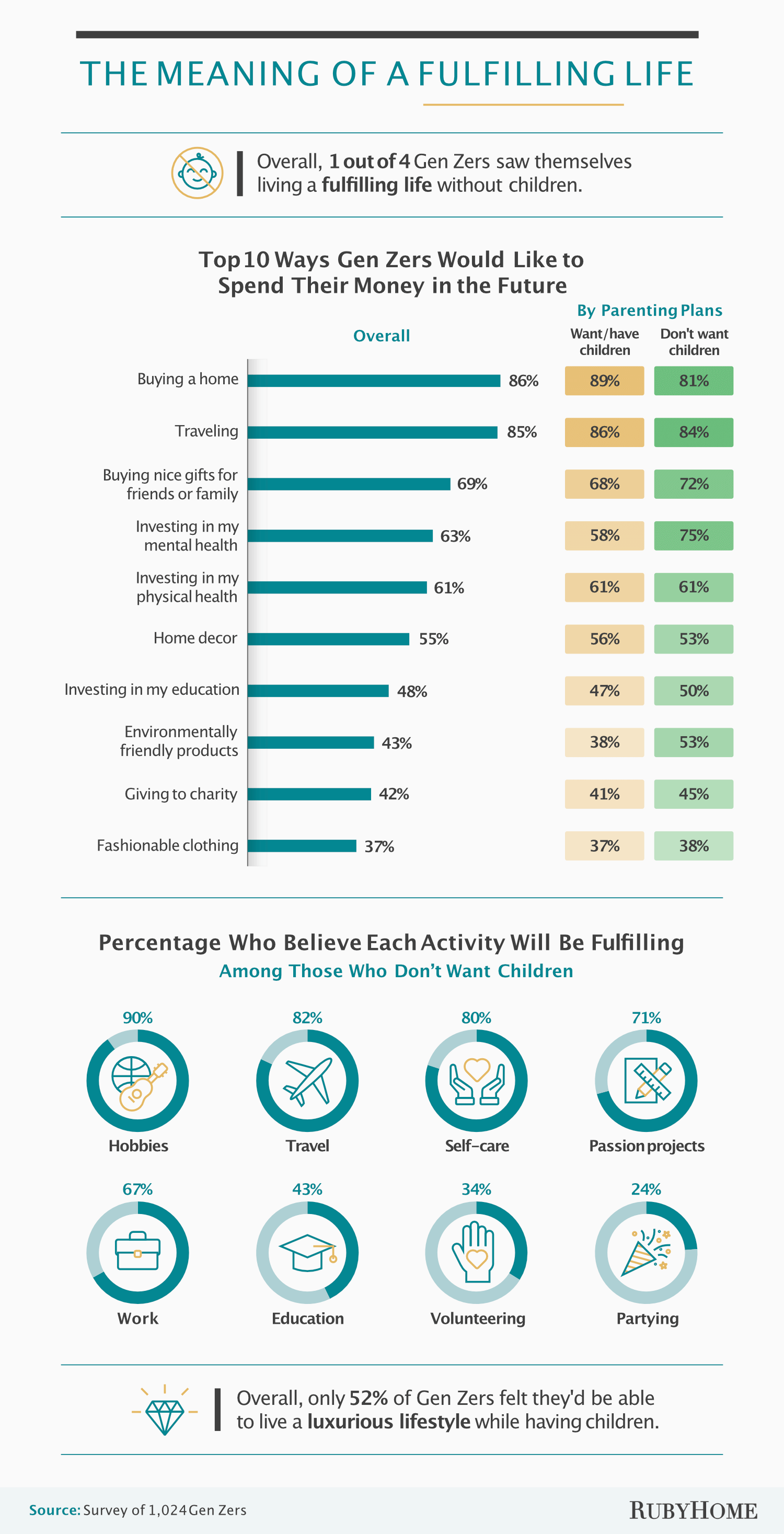 Gen Z is often thought of as a value-weak generation that wastes money on extravagant lifestyles instead of being financially prudent. However, the values reflected among those we surveyed tell a different story.
Most of our participants selected buying a home and traveling as the top two ways they'd like to spend their future money, with 86% choosing homeownership and 85% selecting travel. Those who already had—or expressed wanting to have children—selected buying a home at a slightly higher rate than travel, while those who didn't want to have kids opted for the travel experience slightly more often than homeownership.
The option to invest in their mental health revealed a disparity between those who wanted children and those who didn't. Seventy-five percent of those who didn't want children said they would like to spend money on improving their mental health, while only 58% of those who wished to or already had children said the same. More than 4 in 10 respondents said they would give to charity with their future money, while 37% said they would invest in dressing fashionably.
After discovering how Gen Z would spend their hard-earned money, we aimed to determine where participants who didn't want kids thought they would get the most fulfillment in life. Our results revealed that 90% of respondents who said they didn't want to have children believed their hobbies would fulfill them, while 82% said they would find fulfillment in traveling, and 80% said they would find fulfillment in self-care.
Only 34% believed volunteering would lead to a full life, and even fewer—24%—said that partying would give them fulfillment.
Summary
While having children has been a logical and expected step for couples in past generations, Gen Z thinks differently. Having children is a far lower priority for Gen Zers than growing their wealth or having enjoyable, fulfilling life experiences, like hobbies and travel. Whether economic or lifestyle factors drive their pursuit of the DINK lifestyle, this upcoming generation clearly isn't swayed by traditional expectations.
About RubyHome
RubyHome is a boutique real estate brokerage operating in West Coast luxury markets.
Methodology and Limitations
For this project, we incorporated data from the IPUMS-CPS (Integrated Public Use Microdata Series Current Population Survey) conducted by the United States Census Bureau to see where people living the dual income, no kids (DINK) lifestyle are located around the United States.
We also surveyed 1,024 Gen Zers to see how many would like to achieve the DINK lifestyle. 77% were women, 17% were men, and 6% identified as nonbinary.
For short, open-ended questions, outliers were removed.
To help ensure that all respondents took our survey seriously, they were required to identify and correctly answer an attention-check question. Survey data has certain limitations related to self-reporting.
The margin of error: plus or minus 3% with a 95% confidence interval.
Fair Use Statement
Want to show your audience these survey findings about Gen Z's values and the DINK demographic? Feel free to share this research for non-commercial purposes, and be sure to link back (dofollow) to this page when doing so.