Carroll Avenue Los Angeles: History and Homes
Posted by Tony Mariotti on Saturday, December 26, 2020 at 2:00 PM
By Tony Mariotti / December 26, 2020
Comment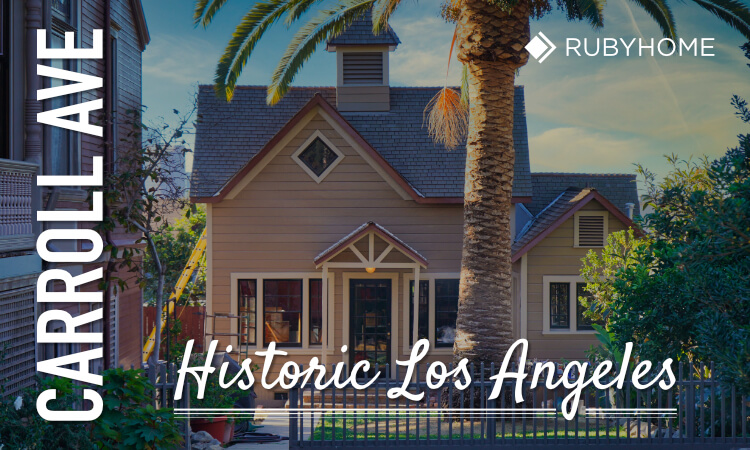 Carroll Avenue has the highest concentration of Victorian Houses in Los Angeles. Why is that? During the boom years of the late 1800s, Angelino Heights became one of the city's first residential districts (and thus one of the oldest). The two-block-long enclave within the neighborhood, Carroll Avenue, is where the city's elite built their magnificent residences.
Considered so significant, historically, culturally, and architecturally, the City of Los Angeles designated Angelino Heights as a Historic Preservation Overlay Zone (HPOZ) in 1983. The HPOZ designation prevents owners from making anachronistic alterations in terms of look or materials, helping to preserve Carroll Avenue as a living museum of graceful old Los Angeles.
Carroll Avenue History
Los Angeles began as a community of "Californios," Spanish and Native American settlers who were given land grants to found missions, pueblos, and ranches in the region. Following the Mexican-American war, many of these settlers had to mortgage their properties to American investors for cash to enter the new Republic's currency-based economy. Where previously a barter economy had flourished -- wherein the main items of trade included skins, tallow, brandy, and wine -- monetary capitalism quickly took root.
A boom time began with the coming of the transcontinental railroad and the rail network's expansion between 1869 and 1876. The economy further accelerated by competing rail operators engaging in a price war. At one point in 1885, it was possible to travel from Los Angeles to Kansas City for $1.
Wealthy families moved out west for the improved climate and new commercial opportunities, snapping up properties in the hills overlooking verdant valleys. Crescent-shaped roads were leveled, encircling the hills with straight, terraced avenues which meant the homes lining these streets would have sweeping vistas.
The affluent new settlers from the Midwest and Eastern seaboard brought fashionable Victorian styles to the west, even as they fell out of favor back home.
Civil infrastructure was developed, including a reservoir in 1868 (Echo Park Lake) and a viaduct carrying water over 12 miles to the rest of Los Angeles' inhabitants. In 1880, a little over 11,000 settlers lived in the city. By 1896, the population of Los Angeles had swollen to 97,382.
By the 1940s, Victorian-style homes were considered unfashionable, and the post-war housing boom created whole new neighborhoods in modern or eclectic styles far removed from faded Victorian grandeur. However, a conservation movement grew up to protect Angelino Heights' valuable real estate from the redevelopment. In the late 60s and 70s, restoration-minded individuals began to buy up old Victorian homes. In 1976, residents set up the Carroll Avenue Restoration Foundation, which became the Angelino Heights Community Organization in 1981. After two years of lobbying, in 1983, the AHCO succeeded in winning the region its HPOZ status. Angelino Heights was first neighborhood in the city to receive the distinction.
Carroll Avenue Homes
Below you will find a sample of a few homes along Carroll Avenue. In addition to Victorian style homes, Italianate and Craftsman homes also line the street.
Pinney House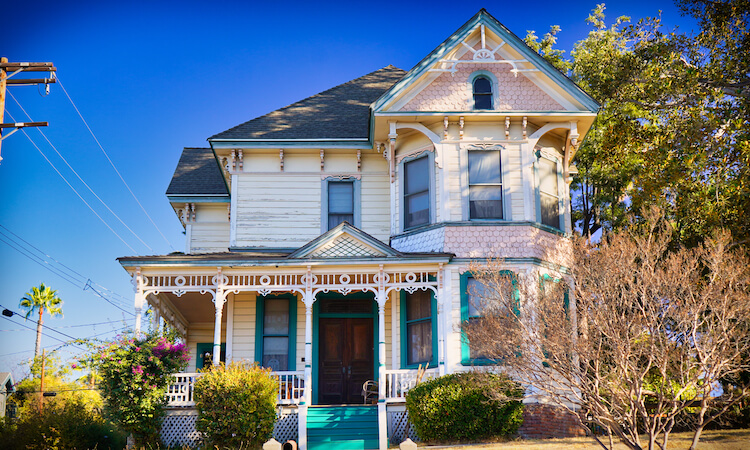 Built in 1887 by industrialist Henry Pinney and occupied by his son Charles until 1980 (he died at the remarkable age of 106), this is a prime example of Eastlake Victorian style. Named after British architect and writer Charles Eastlake, this Queen Anne variant style takes its inspiration from the handcrafted ornamentation of contemporary 1880s furniture.
True to the Eastlake aesthetic, the Pinney house's exterior features fish-scale shingles and an elaborately latticed porch. It is finished in delicate pastel shades, contrasted with white-painted structural details. A hint of the Italianate style can be seen in the bracketed cornices under the eaves.
This home's interior has been preserved with all its period detail, and its landscaping is intact from the original design, including the Moreton Bay fig tree adjacent to the façade.
Foy House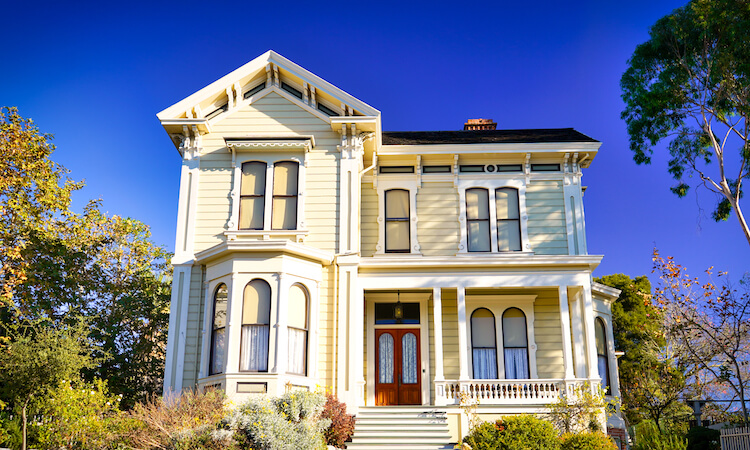 Built in 1872, this house is the oldest in Angelino Heights, at least in terms of construction. It has actually been relocated twice, having originally stood at the corner of 7th Street and Figueroa, then being moved in 1902 to Witmer Street, before finding its current Carroll Street location in 1992.
Architect Ezra Kysor, who also designed St Vibiana's Cathedral, built this home for the Foy family, whose most notable member was Mary Foy, LA District's first female librarian and a leading figure in the women's suffrage movement.
In style, the house borrows from Italian villas, with its comparatively minimal footprint yet tall construction, long arched windows, shallow-slanted roof, and angled bay windows. The owner has reconstructed several once-lost architectural features, including the exterior window canopy. True to the vertical emphasis of the Italianate style, the first floor boasts 13ft high ceilings.
Phillips House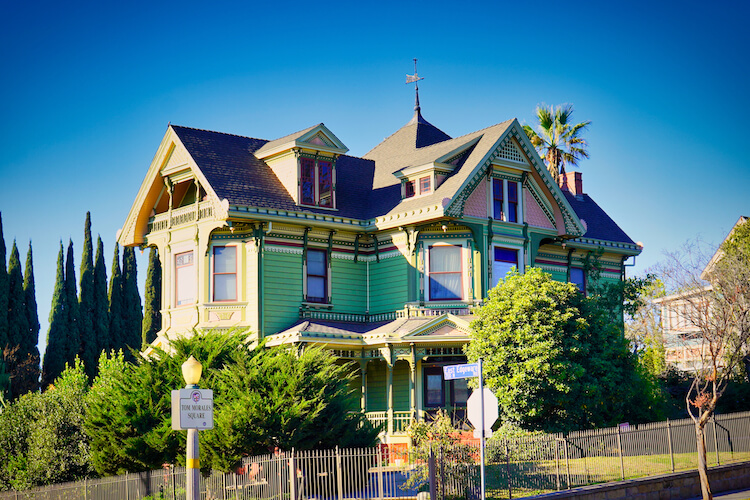 One of the grandest residences on the Avenue, the 1887 Phillips House, was the brainchild of developers George O. Ford and James B. Myer, who commissioned three other Avenue properties. This triple-story home combines the symmetries inherent to the Eastlake Style with the decorative extravagance of the Queen Anne variant of the Victorian mode.
Iowan hardware merchant Aaron Phillips was the house's first owner, moved in with wife Maria and daughter Grace in 1887 and Grace inherited and occupied the property until 1942.
The colorful yellow-green paintwork and layered decoration are highly typical of the Queen Anne style, as are the patterned eaves and window surrounds. Its beautifully landscaped grounds complement the house.
Sessions House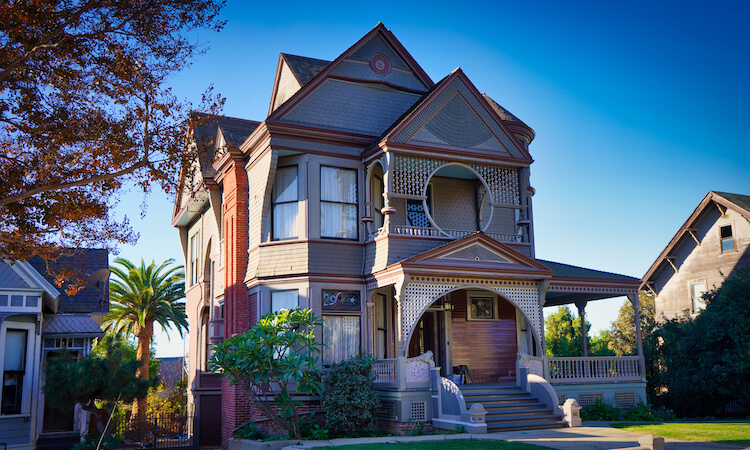 The highly unusual Sessions House combines a modern Californian take on the Victorian style with Moorish and Eastern influences, including the circular and arched trellis designs decorating the second-floor balcony and grand first-floor veranda.
Famed San Franciscan architect Joseph Cather Newsome wanted to create a specifically Californian home style, which he termed "peculiarly graceful." The Sessions House embodies that ideal, combining a Moorish-influenced round tower, Oriental trellis decoration, and a double front gable with geometric patterning. The lower windows are angled and, on the tower, curved, to capitalize on the Californian light maximally.
Designed in 1889 for dairy magnate Charles Sessions, this Queen Anne style home is not short on opulent detailing, including a pair of bearded dogs guarding the front steps and many different decorative shingles on its facade. It's one of the most distinctive homes on the Avenue.
Sanders House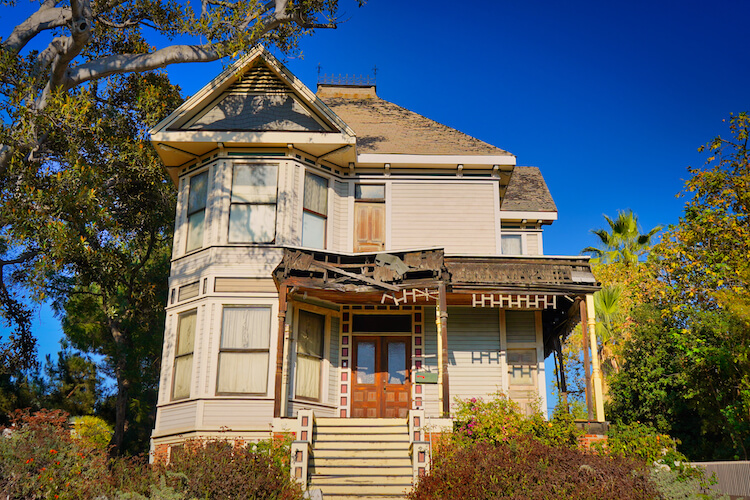 Pop culture enthusiasts may immediately recognize the Sanders home from Michael Jackson's 1983 Thriller film, directed by John Landis. The house's state of significant dilapidation attracted the director's eye, as well as its advanced age. In fact, many properties along Carroll Avenue have appeared in film and television, including Mad Men, J. Edgar, and Charmed.
Built for import-export businessman Michael Sanders in 1887, on an earlier property that had fallen into disrepair, the house was later converted into a two-floor duplex. It is currently unoccupied and in need of some TLC. Half-shaded by a big tree, the house still has a spooky gothic vibe and combines a simplified Victorian aesthetic with aspects of the Stick and Craftsman styles.
Scheerer House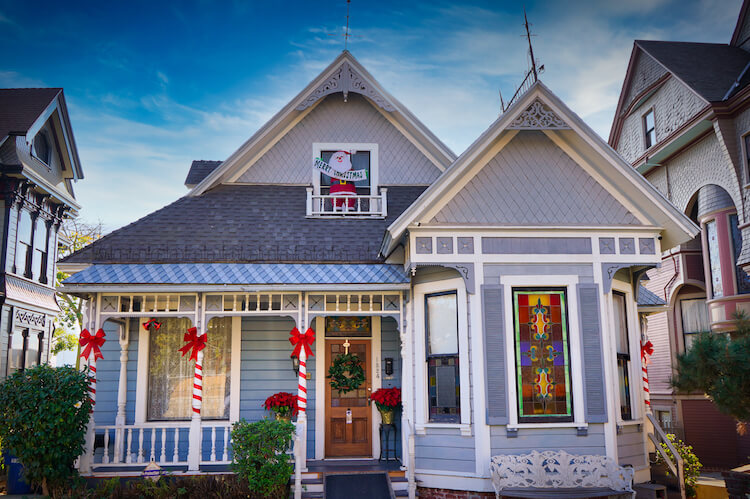 Queen Anne is a style that lends itself to grandiosity, but it's also possible to find more modest examples, such as Carroll Avenue's Scheerer House. Built in 1887, it's an example of a "plan-book" house, built on-site from pre-constructed elements.
Businessman John Scheerer would have seen his future home in a catalog, such as those produced by Sears or Montgomery Ward, then had it shipped to its present location for assembly by local craftsmen. Although it's technically a "pre-fab," the house demonstrates the high degree of craftmanship common to the era.
A fashionably asymmetrical façade is notable for its diamond-shaped shingles, intricate wrought-iron detailing, and a wooden-spindled porch nestling under the front eaves. Tall picture windows are framed by white-painted verticals, echoing the Stick style, and decorative weathervanes surmount the roof.
Additional Resources
Today, Carroll Avenue and the Angelino Heights neighborhood are part of the broader Echo Park region of Los Angeles. There are many well-preserved turn-of-the-century homes for sale with oodles of character. A few fixer uppers that come on the market from time to time, too. The central location of Echo Park near Downtown Los Angeles and the 101 Freeway make it highly accessible and close to plenty of action like theaters, shopping, dining, and entertainment (Staples Center, et al.) These links will take you to relevant articles and real estate information.